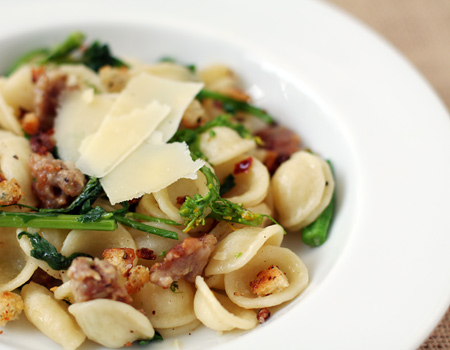 I've eaten broccoli rabe twice. The first time, I hated it. We spent something ridiculous like $6 for a bunch of broccoli rabe (obviously out of season) in the grocery store. Can't remember exactly what we did with it, but I do remember how bitter the final product was. Expensive and unenjoyable, bordering on inedible. I was robbed by the rabe.
But this time, I loved it. Broccoli rabe (pronounced rahb, sometimes spelled raab, and not technically related to broccoli at all), when cooked properly, is an unusual and healthy addition to any meal. This bunch from our CSA was especially young and tender, and we ate it all, from stems to the florets and even the delicate yellow blossoms.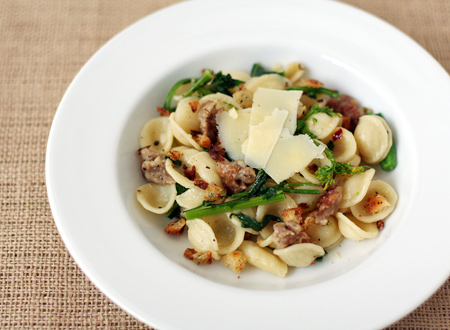 This recipe has you blanche the rabe first to remove much of the bitterness, and then pairs it beautifully with a sweet Italian sausage to balance out what bitter flavor is left. The crunchy, garlicky topping gives the dish a unique rustic texture and an unprecedented flavor, and may be the best part of the whole meal. This dish is a masterpiece of textures and flavors. Crunchy, meaty, and soft. Hearty with a hint of bitterness, yet subtly sweet and sweetly spicy at the same time. A success, through and through.
Orecchiette with Italian Sausage, Broccoli Rabe and Crunchy Garlic Breadcrumbs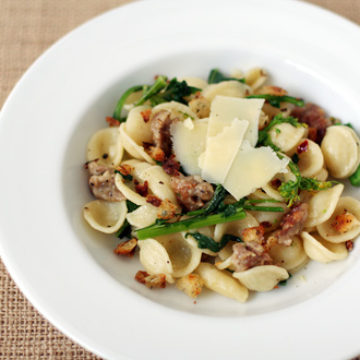 Ingredients:
3-4 slices stale country bread, roughly chopped
salt and pepper, to taste
1/2 teaspoon garlic powder
1/2 teaspoon dried basil
1/2 teaspoon dried oregano
3 tablespoons olive oil
1 pound broccoli rabe, trimmed and cut into pieces
1 tablespoon extra virgin olive oil, or more as needed
1 tablespoon chopped garlic, or more to taste
1/2 lb sweet Italian sausage, removed from casings
Pinch red pepper flakes
1 pound orecchiette pasta
Salt & freshly ground black pepper, to taste
Directions:
In a food processor, combine bread with salt, pepper, and dried herbs. Pulse briefly until bread breaks down into roughly 1/4-inch chunks.
Heat 3 tablespoons olive oil in a large skillet. Add breadcrumbs and toss until well coated. Saute until golden brown and crispy, being careful not to let the smaller pieces burn. Remove from heat and set aside.
Bring a large pot of salted water to a rolling boil. Add broccoli rabe, and boil for 5-10 minutes or until tender (this will depend on the variety and size of your pieces).
Meanwhile, heat the oil in a large skillet over medium-low heat. When hot, add the garlic and cook until it begins to sizzle, about a minute; add the sausage and red pepper flakes and continue cooking until nicely browned, 5 to 7 minutes.
Scoop the broccoli out of the water with a slotted spoon or small strainer and transfer it to the skillet. Cook over medium-high heat, adding some of the pasta water as needed to help soften the broccoli.
In the already-boiling water, cook the pasta according to package directions. When the pasta is just barely al dente, drain, reserving about a cup of the cooking water. Add the pasta to the skillet with the broccoli and sausage and a couple of tablespoons of the reserved cooking water as needed; toss with until well combined. Season with salt and pepper. Top with breadcrumbs and parmesan cheese, as desired.
Did you make this recipe?
Let us know what you think!
Leave a Comment below or share a photo and tag me on Instagram with the hashtag #loveandoliveoil.