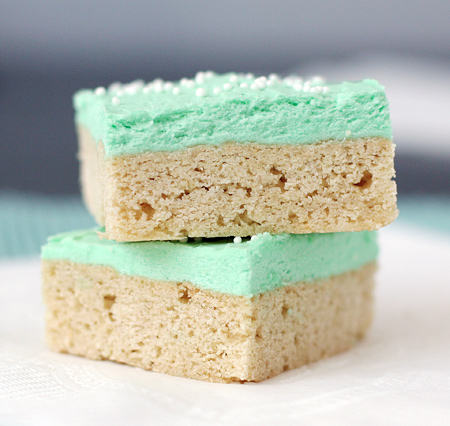 I used to have an obsession with Grandma's Sugar Cookies. You know, the giant pink frosted ones. It's been quite some time since I've had one, and recently I've been craving that sugary goodness. So when I saw this recipe for sugar cookie bars, I knew I had to make them immediately.
Whereas typical sugar cookies require a day's commitment, to refrigerate, roll, bake, and decorate, the simple act of baking it as a bar cookie simplifies that process immediately. No rolling. No cutting. No painstaking decorating of dozens of individual cookies.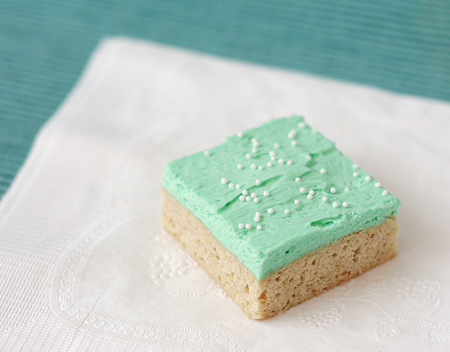 The final result, while I wouldn't say it's exactly like the Grandma's cookies (which is probably a good thing – who knows what they put in those things!), it is just as satisfying. It's as if a sugar cookie and a sheet cake had a summer fling. Nine months later, you'd end up with these. They taste like a sugar cookie but feel like a dense cake, which I loved since I like my cookies soft to begin with.
So if you are craving a sugar cookie but are too lazy to break out the rolling pin, give these a go. Looking back, I should have colored the frosting pink rather than the minty green they ended up (pretty, yes, but deceiving—being that they contain no mint whatsoever). There's just something so perfectly nostalgic about pink frosting atop a sugar cookie.
Sugar Cookie Bars
Ingredients:
Cookies:
1 cup unsalted butter, at room temperature
2 cups granulated sugar
4 large eggs
2 teaspoons vanilla extract
5 cups all-purpose flour
1 teaspoon salt
1/2 teaspoon baking soda
Frosting:
1 cup butter; at room temperature
1 teaspoon vanilla extract
pinch of salt
4 cups powdered sugar, sifted
5 tablespoons milk
food coloring, if desired
Directions:
In a large bowl with an electric mixer, cream butter and sugar until fluffy. Add eggs, one at a time, mixing well after each addition. Mix in vanilla.
In a separate bowl sift together flour, salt, and baking soda. Slowly add to butter mixture and mix just until combined. Grease a large rimmed baking sheet (a 13×18 or 10×15 jelly roll pan) or line with parchment paper. Gently and evenly spread out batter onto sheet.
Bake at 375 degrees F for 10-15 minutes (mine took more like 20-25 minutes), until light golden brown and a toothpick comes out clean. Allow to cool completely before frosting.
To prepare frosting, in a large bowl, beat butter until fluffy. Mix in vanilla and salt. Add powdered sugar (1 cup at a time) until combined, then add milk & mix until smooth and spreadable. Add a few drops of color, if desired. Spread over cooled cookie, then cut into bars.
Did you make this recipe?
Let us know what you think!
Leave a Comment below or share a photo and tag me on Instagram with the hashtag #loveandoliveoil.