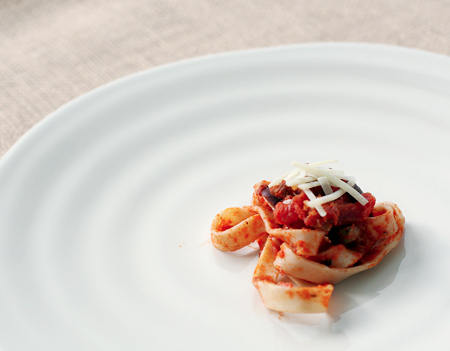 Ladies and gentlemen, I'd like to present to you Taylor's photographic debut! Just look at that white space (actually, I think he was mocking me here, but it's a nice shot nonetheless). He cooks, he cleans, he photographs… if only I could get him up here to actually write this post (alas, he's downstairs mopping right now, and I'm not going to stop him).
He's going to kill me for posting this.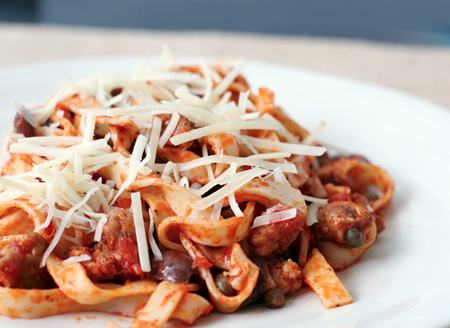 This is a simple dish, and while we substituted raw Italian sausage for the cooked Chorizo originally called for in the recipe, I think any seasoned meat would work swimmingly in this pasta. Taylor often says (when we cook a perfectly acceptable vegetarian pasta dish), "This would be so much better with Italian Sausage." Well, he finally got his wish.
Spaghetti with Italian Sausage and Olives
Ingredients:
4 anchovy fillets, drained, chopped, plus 1 tablespoon oil from can
1 pound raw Italian Sausage or Chorizo, casing removed
3 garlic cloves, chopped
1 28-ounce can crushed tomatoes with added puree
1 cup pitted green olives, halved
1/4 cup drained capers
1 tablespoon smoked paprika
2 teaspoons dried oregano
12 ounces spaghetti or fettuccine
Directions:
Heat oil from anchovy fillets in heavy large deep skillet over medium-high heat. Add sausage and break apart with spoon. Cook until beginning to brown and crisp, stirring sausage often, about 7-10 minutes. Add anchovy fillets and garlic; stir 1 minute. Add crushed tomatoes, pitted green olives, drained capers, smoked paprika, and dried oregano. Simmer tomato sauce 5 minutes to blend flavors. Season sauce to taste with salt and pepper (taste it first! anchovies, olives, AND capers can make this dish very salty to begin with. We didn't add a speck of additional salt to it).
Meanwhile, cook spaghetti in boiling salted water until just tender but still firm to bite. Drain pasta; divide among plates. Top with sauce. Garnish with Parmesan cheese, if desired.
Did you make this recipe?
Let us know what you think!
Leave a Comment below or share a photo and tag me on Instagram with the hashtag #loveandoliveoil.