Sometimes, you just have to use up what's in the fridge. Call it guilt, not wanting to let perfectly good produce go to waste, or call it thrift, since we paid for that food, may as well use it. Whatever the motivator, the mis-matched, partially used, and almost forgotten bits and pieces must come out of the fridge eventually. Our solution is usually just to throw them all in a pasta. Which sometimes, doesn't go so well. You end up with a bland or just plain sorry excuse for a dinner.
But other times, this improvised leftover dish turns out to be simply delicious. I'd go so far as to say it is one of the best things we've made (for dinner) in weeks. And something we will intentionally purchase the ingredients to make again. Success. Our clear-out-the-fridge game show meal has now become a weeknight staple.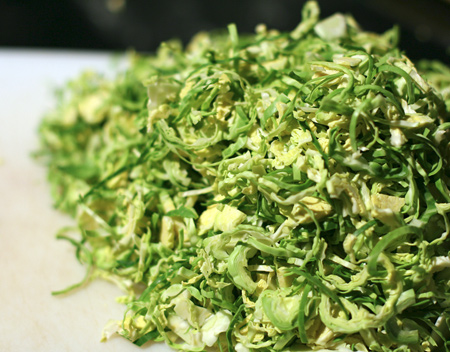 Brussels sprouts get a bad wrap. And sure, they can be bitter if cooked incorrectly (then again, chocolate can be bitter too, so what does that say about Brussels sprouts?) The trick to this dish, and keeping it's quick-cooking time in tact is the shred. Think of the sprout as a mini cabbage. Just thinly slice it crosswise much like you would a whole head of cabbage. What you end up with are nutty ribbons of Brussels sprout bliss. Yes, I just used Brussels sprouts and bliss in the same sentence. And I meant it, too.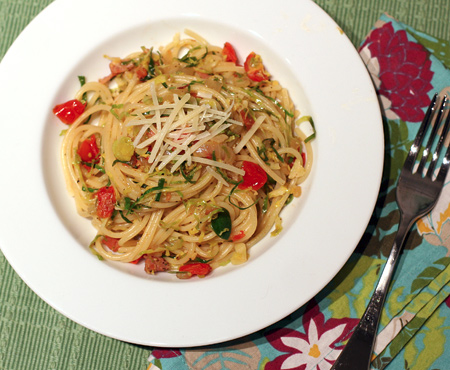 Sometimes the best pasta dishes are those that don't really have a sauce. There is no congealed, curdled, or creamy concoction coating the noodles… there is simply no need for it. Rather, the ingredients co-mingle with the spaghetti, playing off the pancetta and the nuttiness of the Brussel sprouts with the just barely cooked cherry tomatoes. Needless to say, there is no lack of flavor here.
Sauce is so overrated.
Spaghetti with Pancetta and Brussels Sprouts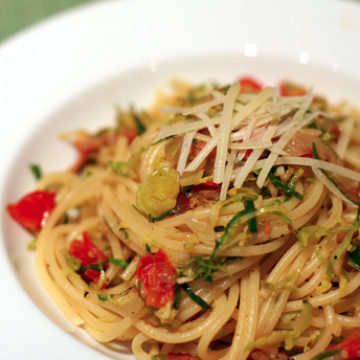 Ingredients:
16 oz. spaghetti
2 oz pancetta, cut into 1/2-inch pieces
1 onion, chopped
3 cloves garlic, minced
about 1 dozen Brussels sprouts, shredded (about 2 cups)
1 cup cherry tomatoes, halved
salt and pepper
1/2 cup Parmesan cheese
Directions:
Bring a large pot of water to boil. Cook spaghetti until al dente according to package instructions.
Meanwhile, preheat a large saucepan over medium heat. Add pancetta, and a dash of olive oil if your pancetta is particularly lean. Cook until just starting to brown.
Add garlic and onion and cook until fragrant, about 3 minutes.
Add Brussels sprouts to pan and cook until tender and slightly translucent, about 5 minutes. Add tomatoes and quickly saute until just softened. Season with salt and pepper to taste.
Drain spaghetti, reserving 1 cup of the pasta water. Add noodles to Brussels sprout mixture. Toss until coated, adding pasta water a bit at a time if necessary. Divide onto plates. Top with Parmesan cheese and serve.
Did you make this recipe?
Let us know what you think!
Leave a Comment below or share a photo and tag me on Instagram with the hashtag #loveandoliveoil.