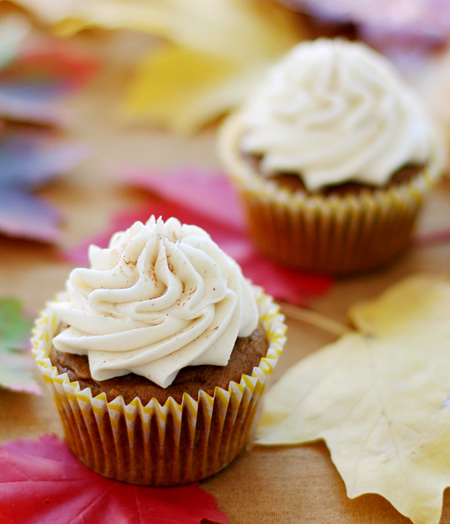 Pumpkin. Butternut squash. Sweet potato. Sometimes they can really be used interchangeably. While I feel I could taste the difference between these sweet potato cupcakes and my last batch of pumpkin cupcakes, I'm sure if you went out and told someone they were eating pumpkin they'd be none the wiser.
The sweet potato in these cupcakes makes them extra moist and delicious, and while I used canned puree, you could just as easily boil and freshly puree your own. When I decided on a maple buttercream for frosting, I was thinking maple, as in, you know, maple-glazed donut maple. Not quite what I got (even with 1/4 cup of maple syrup the flavor was barely distinguishable), but they were still tasty nonetheless. Must do more research into whatever 'flavoring' is used in the donut glaze (because it sure as heck isn't real maple), and get my hands on some for the next batch.
I don't know what it is about all things orange (well, except for carrots), that make me think of fall, but these cupcakes are no exception. They are fall all the way. Which explains my choice of backdrop (I actually sent Taylor on a stroll around the neighborhood and bring me back some pretty leaves, what a nice guy). Not that these cupcakes couldn't be enjoyed just as much in June, of course, but sweet potato, along with pumpkin, will always bring to mind fall and only fall.
Turns out I'm not the only one who enjoys the pretty fall foliage. Kitty got very excited by the pile of leaves Taylor brought home, and I had a hard time getting a photo that didn't have a tail disrupting the scene. She likes to pretend she's an outdoor kitty sometimes, and a pile of leaves is about as close as she's going to get.
Sweet Potato Cupcakes with Maple Spice Buttercream
Ingredients:
Cupcakes:
1 cup sweet potato puree (fresh or canned)
1/4 cup soymilk
1/3 cup oil
1/2 cup granulated sugar
1/2 cup brown sugar
1 teaspoon vanilla extract
1 cup all-purpose flour
1/4 cup almond meal
1/2 teaspoon baking powder
1/2 teaspoon baking soda
1 teaspoon ground cinnamon
1/4 teaspoon allspice
1/4 teaspoon salt
Frosting:
1/2 cup butter or margarine, room temperature
3-3 1/2 cups confectioners' sugar, sifted
1/4 cup maple syrup
1/4 teaspoon ground cinnamon
pinch ground allspice
1-2 tablespoons soy creamer or heavy cream
Directions:
Preheat oven to 350 degrees F. Line muffin pan with cupcake liners.
In a medium bowl, whisk together sweet potato puree, soymilk, oil, sugars, and vanilla. Sift in the flour, almond meal, baking soda, baking powder, salt, and spices. Add wet ingredients and mix until just combined.
Fill liners with 3 tablespoons batter (cups should be approximately 2/3 full). Bake for 20 to 22 minutes, or until toothpick inserted into the center comes out clean. Transfer to a wire rack and let cool completely before frosting.
To make frosting, cream butter. Add 1/2 cup confectioners sugar and mix until smooth. Add maple syrup, creamer, and spices, and mix to incorporate. Continue adding sugar, 1/2 cup at a time, mixing well between additions. Beat until light and fluffy. Add more creamer or sugar as needed to achieve the right consistency. Spread or pipe onto cooled cupcakes. Dust with cinnamon and enjoy!
Did you make this recipe?
Let us know what you think!
Leave a Comment below or share a photo and tag me on Instagram with the hashtag #loveandoliveoil.