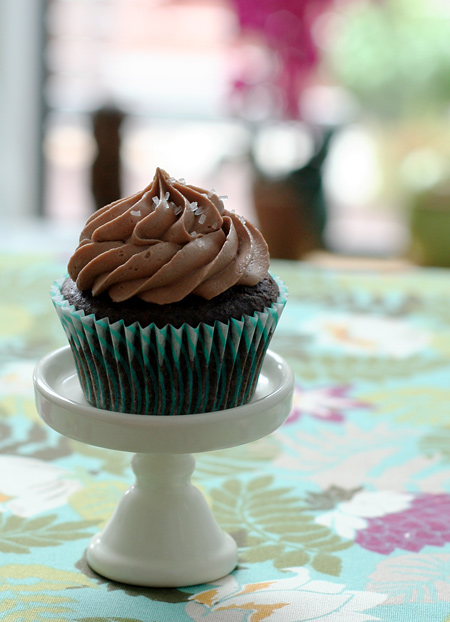 Spiked cupcakes anyone? These cupcakes, much like my last batch of Mocha cupcakes, will give you a bit of a buzz, albeit in a slightly different way. I probably went a bit overboard on the amaretto in the frosting (2 tablespoons is a wee bit strong for only 12 cupcakes), so I'll leave the recipe flexible and you can decide just how tipsy you'd like your cupcakes to be. Underage? Substitute 1/2 teaspoon almond extract for each tablespoon of amaretto. Granted, you won't get the tingle of the alcohol in your frosting, but you'll still have yourself some pretty darned good cupcakes.
These cupcakes arose from one of those, I. Must. Bake. Immediately. urges, that seem to be occurring on quite the regular basis (like, every weekend). Unfortunately, I think all my sugary concoctions are starting to take a toll on Taylor's teeth (not that he didn't have cavities before I met him) but I feel as though I'm making it worse. And me, who's been cavity-free my entire life, can't help but feel the twinge of guilt when he goes in for yet more dental work. Shudder. Maybe I need to start tossing my baked goods into the blender first and feeding him through a straw… that way the sugar never touches his teeth. Though, to be honest, a 'blended' cupcake kind of loses it's appeal… ew.
Thanks to everyone for your endearing comments about the new design. I'm still tweaking it daily (oh the woes of being a designer…) like the cool new footer I added yesterday, which will show you the most popular posts of late and the most recent comments. Don't forget to get yourself a gravatar too if you'd like to post a comment – the little picture next to your name will really let your personality shine!
Chocolate Amaretto Cupcakes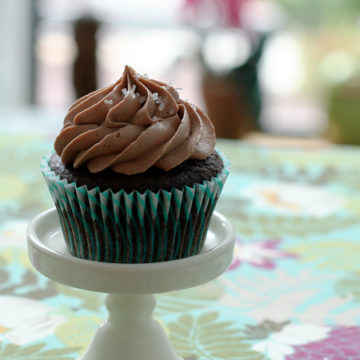 Ingredients:
1 cup coconut milk
1/3 cup canola oil
1 teaspoon vanilla extract
3/4 cup sugar
1 tablespoon amaretto liqueur
1 cup all-purpose flour
1/3 cup cocoa powder
2 tablespoons almond meal or finely ground almonds
3/4 teaspoon baking soda
1/2 teaspoon baking powder
1/4 teaspoon salt
For Frosting:
1/2 cup butter or margarine, room temperature
2 tablespoons cocoa powder
2 1/2 – 3 cups confectioners' sugar
1-2 tablespoons amaretto liqueur
2 tablespoons cream or soy creamer
Directions:
Preheat oven to 350 degrees F. Line muffin pan with paper liners.
Whisk together the coconut milk, sugar, oil, amaretto, and vanilla extract and beat till foamy. In a separate bowl, sift together the flour, cocoa powder, almond meal, baking soda, baking powder, and salt. Add in two batches to wet ingredients and mix until no lumps remain (or very few remain).
Pour into liners, filling each with about 3 tablespoons of batter. Bake 18-20 minutes, until a toothpick inserted into the center comes out clean. Transfer to a cooling rack and let cool completely.
For frosting, cream butter until smooth and fluffy, 2-3 minutes. Add in cocoa powder, along with 1/2 cup confectioners' sugar. Beat until combined. Beat in amaretto to taste. Continue adding sugar 1/2 cup at a time, adding cream as necessary, until light and fluffy, 3-5 minutes. Spread or pipe onto cooled cupcakes.
Did you make this recipe?
Let us know what you think!
Leave a Comment below or share a photo and tag me on Instagram with the hashtag #loveandoliveoil.