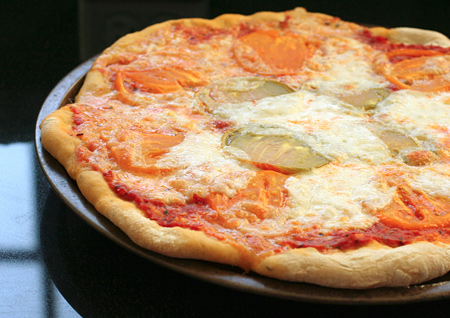 Am I the only one that is deathly afraid of turning my oven to anything higher than 475 degrees? It's just…. so… hot! But now that we have our own pizza stone, we thought we should give it a go. (And, just because we were curious, the absolute hottest our oven will even go is 525… what does that tell you?)
This was our first attempt at a pizza margherita, and while it tasted good, we'd do a few things differently next time.
1. Don't get mozzarella in brine. Get some that is a bit drier. This cheese juiced all over the place, including onto our brand spankin' new pizza stone, where it proceeded to burn to a nice black (that's never coming off) crisp. Lovely. So the next time we make this, we'll get some drier cheese.
2. Don't use green tomatoes. While I love the taste of the Green Zebra heirloom tomatoes, they turn a not-so-appetizing shade of pea soup after a few minutes in a hot oven. Now that I think of it, the yellow tomatoes don't look all that nice either. Maybe I'll stick with red ones. And definitely pat them as dry as possible before placing them on the pizza.
3. Leave a bigger border, or make a dough 'wall'. This pizza juiced all over the place, and since I spread the sauce pretty close to the edge, oozed off the pizza and onto the pizza stone. Next time, I'd leave a bigger border, and maybe even fold over the dough around the edges to keep all the juice in.
4. Fresh basil. Which we usually have, but we had given our plants to some friends to 'babysit' while we were out of town. We hadn't yet picked them up when we made this, so we used dried basil in the sauce. Still good, but fresh basil sprinkled on top would have been divine.
So despite the fact that we permanently stained our pizza stone, and had to turn the oven up just about as high as it would go, we ended up with a pretty darn good pizza. Sure, this recipe might say 6 servings. But the two of us managed to polish it off for dinner. I'd say that's a successful pizza!
Pizza Margherita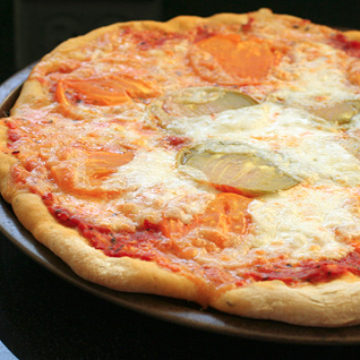 Ingredients:
Crust:
3/4 cup warm water
1 1/2 teaspoons dry yeast (from 1 envelope)
1 tablespoon extra-virgin olive oil
1 teaspoon salt
1 3/4 cups (about) unbleached all purpose flour
1 teaspoon whole fennel seeds
1 teaspoon dried thyme
Topping:
1 (14-to 15-ounces) can whole tomatoes in juice
2 large garlic cloves, smashed
2 tablespoons olive oil
4 basil leaves plus more for sprinkling
1/4 teaspoon sugar
6 ounces fresh mozzarella, cut into 1/4-inch-thick slices
2 small or 1 large heirloom tomato, thinly sliced
Directions:
To make crust, pour 3/4 cup water into large bowl. Sprinkle yeast over; stir to blend. Let stand 10 minutes to dissolve yeast. Add oil, salt, and herbs, then 1 1/2 cups flour. Stir until well blended (dough will be sticky). Turn dough out onto generously floured surface and knead until smooth and elastic, adding just enough flour to prevent dough from sticking, about 5 minutes (dough will be soft). Shape dough into ball; place in large oiled bowl and turn to coat. Cover bowl with kitchen towel. Let dough rise at cool room temperature until almost doubled, about 2 hours. Punch dough down; form into ball. Return to bowl; cover with towel and let rise until doubled, about 3 hours.
While dough rises, pulse tomatoes with juice in a blender briefly to make a chunky purée.
Cook garlic in oil in a small heavy saucepan over medium-low heat until fragrant and pale golden, about 2 minutes. Add tomato purée, basil, sugar, and 1/8 teaspoon salt and simmer, uncovered, stirring occasionally, until thickened and reduced to about 3/4 cup, about 40 minutes. Season with salt and cool.
At least 45 minutes before baking pizza, put stone on oven rack in lower third of electric oven (or on floor of gas oven) and preheat oven to 500°F.
Dust dough with flour, then transfer to a cornmeal-dusted pizza peel or large baking sheet. Pat out dough evenly with your fingers and stretch into a 14-inch round, reflouring fingers if necessary.
Spread sauce over dough, leaving a 1-inch border (there may be some sauce left over). Arrange cheese on top, leaving a 2- to 3-inch border. Top with tomato slices.
Slide pizza onto pizza stone. Bake until dough is crisp and browned and cheese is golden and bubbling in spots, 13 to 16 minutes. Using peel or baking sheet, transfer pizza to a cutting board. Cool 5 minutes before slicing.
Did you make this recipe?
Let us know what you think!
Leave a Comment below or share a photo and tag me on Instagram with the hashtag #loveandoliveoil.