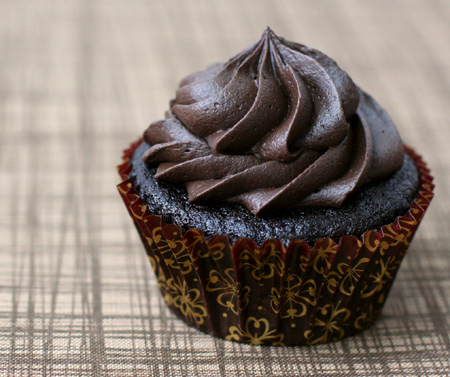 If you want to indulge in something incredibly rich and decadent, I can think of no better way than this cupcake. The moist chocolaty cake is paired with a caramel spiked dark chocolate buttercream, a chocolate on chocolate combination that can't be beat. Using the Special Dark cocoa powder gives the cupcakes themselves an almost coal-black appearance, a richness of flavor, and a decadence that regular cocoa just can't compete with.
I attempted to infuse the cakes themselves with caramel. Hoping for a gooey caramel center suspended in the cake, I plopped some caramel candies into the batter before baking. Makes sense, right?
Well, it didn't quite turn out as I planned.
Instead of a gooey center, the caramel sunk and spread out on the bottom, and then solidified, making for a solid caramel 'crust' on the bottom of the cupcake. You couldn't eat it with the rest of the cupcake, so it was basically like eating a cupcake followed by a caramel candy. I only added the surprise caramels to half of the cupcakes, so you never knew whether your first bite would sink in smoothly in the moist cake, or would it be stopped suddenly by a chewey block of caramel? It's like cupcake roulette.
Next time? The caramel-filled concept was a good one, but it needs work. I think maybe using a liquid caramel topping instead would work – a dollop on top of the uncooked batter before going in the oven. Or, go the filled route. Bake the cupcakes sans-caramel, and then pump them full of gooey goodness after they're good and baked.
Black & Gold Dark Chocolate Caramel Cupcakes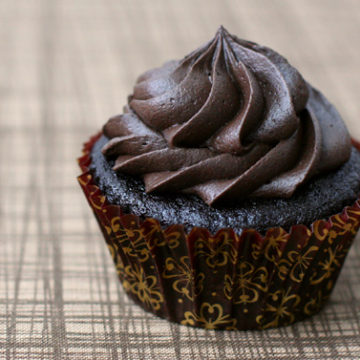 Ingredients:
1 cup coconut milk
1/3 cup canola oil
1 teaspoon vanilla extract
3/4 cup sugar
1 cup all-purpose flour
1/3 cup special dark cocoa powder
3/4 teaspoon baking soda
1/2 teaspoon baking powder
1/4 teaspoon salt
Frosting:
1/2 cup (1 stick) butter or margarine, room temperature
1/3 cup special dark cocoa powder
2 cups confectioners' sugar
2 tablespoons milk or soymilk
2 tablespoons caramel topping
Directions:
Preheat oven to 350 degrees F. Line muffin pan with paper liners.
Whisk together the coconut milk, sugar, oil, and vanilla extract and beat till foamy. In a separate bowl, sift together the flour, cocoa powder, baking soda, baking powder, and salt. Add to wet ingredients and beat until no lumps remain (or very few remain).
Pour into liners, filling each with 1/4 cup of batter. Optionally add a dollop of caramel sauce to each cup. Bake 18-22 minutes, until a toothpick inserted into the center comes out clean. Transfer to a cooling rack and let cool completely.
For frosting, cream butter until smooth and fluffy, 2-3 minutes. Add cocoa powder and beat until incorporated. Add 1 tablespoon soymilk and mix to combine. Add confectioners' sugar 1/2 cup at a time and mix until light and fluffy, 3-5 minutes total. Add caramel topping and mix well. If frosting is too thick, add more soymilk and beat until fluffy. If frosting is too soft, add more sugar and again, beat until fluffy. You want the frosting to keep it's shape when piped on to the cupcake, but still fluffy enough that it stays light and soft when eaten. Top with a drizzle of caramel sauce if desired.
Did you make this recipe?
Let us know what you think!
Leave a Comment below or share a photo and tag me on Instagram with the hashtag #loveandoliveoil.