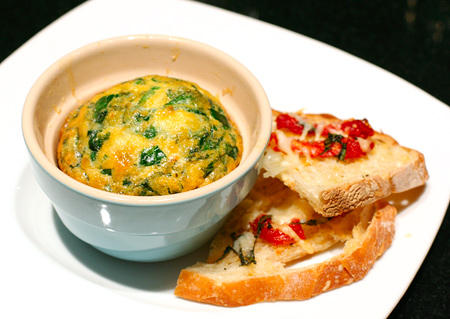 We're no strangers to fritattas. However, there's always an element of skill and patience required to make them – being able to cook a huge pan full of eggs all the way through, sometimes flipping the massive disk, is not easy.
Whoever the genius was that decided to move the fritatta into ramekins will be forever deserving of my thanks. And I honestly don't know if I'll ever make a regular full-pan size fritatta ever again. Seriously. Ramekin fritattas are just too perfect to make it any other way.
These little personal sized fritattas puff up in their ramekins almost like souffles. They are light and fluffy and the perfect size for dinner (or lunch or breakfast). While this recipe called for spinach and sundried tomatoes, you can basically use any veggies or greens that you may have left in your fridge. They are a great way to use up any produce that is on it's way out – a true clean-the-fridge type of meal.
Spinach and Sundried Tomato Fritatta
Ingredients:
Vegetable oil cooking spray
2 teaspoons olive oil
1 small shallot, chopped
1 cup packed fresh spinach, chopped
4 whole eggs
4 egg whites
8 sun-dried tomato halves, chopped
1/2 cup grated Asiago
2 tablespoons chopped fresh basil
1/4 teaspoon salt
1/8 teaspoon freshly ground black pepper
Directions:
Heat oven to 425°F. Coat 4 small baking dishes with cooking spray. Set aside. Heat oil in a large pan over medium heat. Cook shallot until soft but not brown, 2 to 3 minutes. Add spinach; cook 2 to 3 minutes. Remove from heat. Lightly whisk eggs and egg whites in a bowl. Stir in sun-dried tomatoes, cheese, basil, spinach mixture, salt and pepper. Spoon into baking dishes; bake until firm in the center, 12 to 14 minutes.
Did you make this recipe?
Let us know what you think!
Leave a Comment below or share a photo and tag me on Instagram with the hashtag #loveandoliveoil.