For my birthday a few weeks ago, my parents surprised me with a huge box of meat. Grass-fed, humanely-raised beef. Unusual, yes, and unexpected, but a welcome surprise. I commented that this box contained more beef than we had probably eaten in the past three years combined. So we've had to be quite creative in finding ways to use it.
Like these. Fajitas. Which we might normally make with chicken, but this time we were able to indulge with a bit of steak. The box has what are called "Fajita Packs", what else do you make with that except fajitas? So we altered the recipe slightly, since our steak was already cut into chunks. We just sauteed it with the spices rather than using the rub and sear method the recipe describes.
These are not greasy fajitas. They are fresh, flavorful, and very green. The combination of lime, cilantro, and avocado makes for one delicious fajita.
Now, we just have to figure out what to do with the other 3 fajita packs…
Beef and Avocado Fajitas
Makes 3-4 servings. Recipe from Epicurious.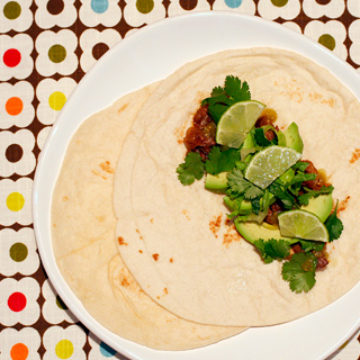 Ingredients:
1 1/2 lb flank steak, trimmed if necessary
1 tablespoon ground cumin
1 tablespoon chile powder
3/4 teaspoon black pepper
3/4 teaspoon cayenne
1 1/2 teaspoons salt
1 heart of romaine
2 firm-ripe avocados (8 to 10 oz each)
12 (6-inch) flour tortillas (not low-fat)
1 cup loosely packed fresh cilantro sprigs
Accompaniments: tomatillo salsa; lime wedges
Directions:
Heat a well-seasoned ridged grill pan (preferably cast-iron) over moderately high heat until beginning to smoke, then brush with oil.
While pan heats, pat steak dry and stir together spices and salt, then rub all over both sides of steak.
Grill steak, turning over once, 9 to 11 minutes total for medium-rare. Transfer to a cutting board and let stand 10 minutes.
Meanwhile, cut romaine crosswise into thin shreds. Quarter avocados lengthwise, then pit, peel, and cut lengthwise into 1/4-inch-thick slices.
While steak is standing, stack tortillas, wrapped completely in dampened paper towels, on a microwave-safe plate and cook in a microwave oven at high power (100 percent) until tortillas are hot, about 1 1/2 minutes.
Holding knife at a 45-degree angle, thinly slice steak across the grain. Serve with tortillas, avocado, romaine, and cilantro.
Did you make this recipe?
Let us know what you think!
Leave a Comment below or share a photo and tag me on Instagram with the hashtag #loveandoliveoil.