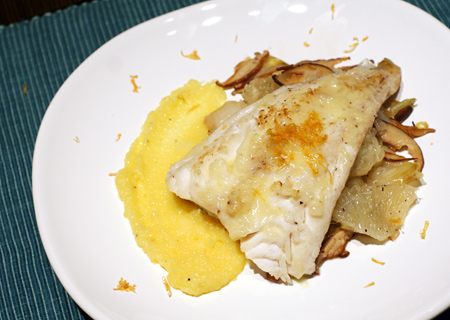 You have to know we didn't just eat banana tarts for Valentine's day. We're not that crazy. We actually ate a delicious dinner, something fancy enough it could have been at a fine dining restaurant. Unfortunately for us (and you, I guess) this fancy dish just didn't photograph well. It's very, well… yellow? Yellow sauce, yellow vegetables, yellow polenta… not exactly utilizing the better parts of the color wheel, that's for sure. Maybe using a red grapefruit instead of just the white one would have given it that little punch of color that it so desperately needed. And maybe that's why I haven't posted it until now, a week after Valentine's day. In fact, I wasn't going to post it at all, solely because of the photo, but I figured I didn't want you all to miss an opportunity for such a fabulous meal, even if it is a bit too yellow.
We couldn't find halibut, at least fresh halibut. So we went for something that looked (and sounded) similar, Haddock. And I'm sure any somewhat firm, white fish would work just fine here as well.
I don't have any particular criteria for a Valentine's day dinner. But I'm never content to pick something that we would eat any old night. The dish has to 'sound' fancy. Which usually means it takes a heck of a lot longer to make. This wasn't too bad, just over an hour or so by the time we sat down to eat.
We served the fish and veggies over some soft polenta. Next time I'd do the non-instant kind, which has a coarser texture and doesn't come out tasting quite like corn-flavored jello. But it still made a good base for the rest of the flavors which were quite good.
The best part? We enjoyed a dinner worthy of a $40 a plate price tag at any hoity-toity restaurant, and we cooked the whole thing for about $20 and a few hours of our time.
Halibut with Grapefruit Beurre Blanc
Ingredients:
For beurre blanc
3 grapefruit (preferably 2 white and 1 pink or red)
1/4 cup dry white wine
1 shallot, minced
2 tablespoons white-wine vinegar
1 1/4 sticks (1/2 cup plus 2 tablespoons) unsalted butter, cut into tablespoon pieces
For fish and vegetables
4 (1/2-inch-thick) halibut steaks with skin (1 1/2 lb)
3 tablespoons vegetable oil
1 lb fresh shiitake mushrooms, stems discarded and caps thinly sliced
2 Belgian endives, trimmed and cut crosswise into 1-inch-thick slices
Directions:
Make beurre blanc:
Finely grate 1 teaspoon zest from a grapefruit. Squeeze 1/2 cup juice from a white grapefruit.
Cut peel, including all white pith, from remaining fruit with a sharp paring knife and cut segments free from membranes. Chop enough grapefruit segments (use all colors) to measure 1/2 cup. Reserve 1 cup of remaining whole segments.
Boil juice, wine, shallot, and vinegar in a small heavy saucepan until reduced to about 1 tablespoon. Reduce heat to low and whisk in butter 1 piece at a time, lifting pan from heat occasionally to cool sauce and adding each new piece of butter before previous one has melted completely (sauce must not get hot enough to separate).
Stir in chopped grapefruit and season with salt and pepper. Keep beurre blanc warm in a metal bowl set over a saucepan of hot water.
Cook fish and vegetables:
Preheat oven to 250°F. Pat halibut dry and season with salt and pepper. Heat 1 1/2 tablespoons oil in a large nonstick skillet over moderately high heat until hot but not smoking, then sauté fish, in batches if necessary, turning over once, until golden brown and just cooked through, about 5 minutes total. Transfer fish to a shallow baking pan and keep warm in oven.
Wipe skillet clean and heat remaining 1 1/2 tablespoons oil over moderately high heat until hot but not smoking, then sauté mushrooms with salt and pepper to taste, stirring, until golden brown, 5 to 7 minutes. Add endives and sauté, stirring, until leaves are slightly wilted, about 1 minute. Stir in reserved whole grapefruit segments and remove from heat.
Serve fish over mushrooms, topped with beurre blanc and zest.
Did you make this recipe?
Let us know what you think!
Leave a Comment below or share a photo and tag me on Instagram with the hashtag #loveandoliveoil.