It happened again. I had one of my cupcake visions. And I couldn't shake it. I kept thinking about these cupcakes, constantly, even dreamed about them multiple times. And much like the last ones, the only way to stop obsessing was to hunker down and make them.
So I did.
What's odd about this is I don't usually like lemon-flavored sweets. Don't let any fruit get in the way of my chocolate is my usual sentiment. So the fact that I was focusing so much of my thought and attention on some lemon cupcakes makes no sense at all.
And you know what? These were surprisingly good! Very refreshing. Even for a lemon-dessert-skeptic like me. I enjoyed them very much. We made two variations, one all lemon, with lemon cake and lemon buttercream, and then another variation I'm calling Strawberry Lemonade, lemon cake with lemon strawberry buttercream. The later won in our very non-scientific not so blind taste test.
I used a variation on the tropical cupcake base I've used previously, with all coconut milk rather than soymilk (I thought the coconut would play nicely with the lemon). Upped the lemon zest and added some juice as well. The cake came out moist and lemony, but not too much so.
The frosting was tricky. I used a variation on the Swiss Meringue Buttercream I'd actually succeeded in making earlier (unlike the Mousseline Buttercream that I failed at so miserably). I'd be interested in hearing others' thoughts on this frosting recipe. I felt like the buttercream was nice and fluffy until the addition of the lemon juice and strawberry – it got very greasy and sloppy. It didn't 'break', but it wasn't fluffy like it had been prior to these additions. It still piped on the cupcakes reasonably well, and tasted rich and buttery, it just didn't behave like I thought it should. Ideas? Thoughts? I'm wondering what would happen if I tried almost a 'hybrid' buttercream – started with the meringue base, but then added some powdered sugar in at the end to fluff it and to cut the butter a bit. Would that work or would I kill it?
Nevertheless, another cupcake for the books. These are definite contenders for the wedding cupcakes, we'll have to see what else comes out of my head between now and June that might pass these by, but for now, definite contenders!
Strawberry Lemonade Cupcakes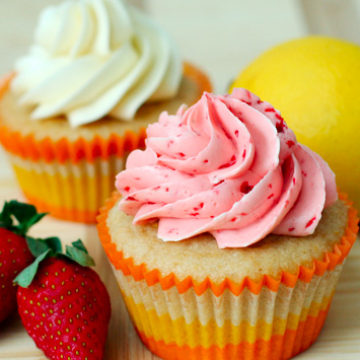 Ingredients:
Cupcakes:
1 1/4 cups all-purpose flour
1 teaspoon baking powder
1/4 teaspoon baking soda
1/2 teaspoon salt
1/2 cup granulated sugar
1/4 cup brown sugar, packed
1/3 cup oil
1 cup full fat coconut milk
2 teaspoons vanilla extract
1 teaspoon finely grated lemon zest
1 teaspoon lemon juice
Frosting:
2 ounces of fresh strawberries
1/2 cup granulated sugar
2 large egg whites
6 ounces unsalted butter, at room temperature
2 tablespoons lemon juice (approximately 1 large lemon)
1/2 teaspoon pure vanilla extract
Directions:
Preheat oven to 350?F.
In a large bowl, sift together flour, baking powder, baking soda, and salt. Add sugar and brown sugar and mix. Whisk together oil, coconut milk, lemon zest, lemon juice, and vanilla. Make a well in the center of the dry ingredients and pour in the wet ingredients. Mix until relatively smooth. Fill cupcake liners with a scant 1/4 cup of batter (should be just under 2/3 of the way full). Bake for 20-25 minutes or until golden, and toothpick inserted in the center comes out clean. Transfer to cooling rack and allow to cool completely.
To make frosting, first wash and hull strawberries and toss them into a food processor. Puree strawberries and set aside.
Add sugar and egg whites into a mixer bowl or another large heatproof bowl, fit the bowl over a plan of simmering water and whisk constantly, keeping the mixture over the heat, until it feels hot to the touch, about 3 minutes. The sugar should be dissolved, and the mixture will look like shiny marshmallow cream. Remove the bowl from the heat.
Using the whisk attachment on a stand mixer or with a hand mixer, beat the meringue on medium speed until it is cool, about 5 minutes.
Switch to the paddle attachment if you have one, and add the butter a tablespoon at a time, beating until smooth. Once all the butter is in, beat the buttercream on medium-high speed until it is thick and very smooth, 6-10 minutes. Don't freak out if your buttercream curdles or separates, keep beating and it will come together again.
Once the buttercream is thick and smooth, gradually beat in the lemon juice on medium speed, waiting until each addition is absorbed before adding more, and then the vanilla. By this point you should have a shiny smooth, velvety, pristine white buttercream. You can stop at this point if you want to stick with lemon buttercream. For strawberry buttercream, gradually add in strawberry puree, beating on medium speed until well incorporated.
Did you make this recipe?
Let us know what you think!
Leave a Comment below or share a photo and tag me on Instagram with the hashtag #loveandoliveoil.