Pearl Couscous with Olives and Roasted Tomatoes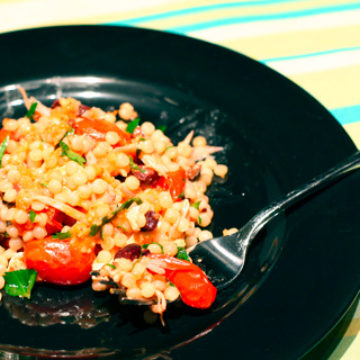 Ingredients:
For roasted tomatoes and dressing
2 pints red grape or cherry tomatoes (1 1/2 pound)
3 large garlic cloves, left unpeeled
1/4 cup extra-virgin olive oil
1/4 cup warm water
1 teaspoon fresh lemon juice
1 teaspoon salt
1/4 teaspoon black pepper
For couscous
2 3/4 cups chicken broth
2 1/4 cups pearl (Israeli) couscous
1 tablespoon olive oil
1/2 cup Kalamata or other brine-cured black olives, pitted and chopped
1/3 cup chopped fresh flat-leaf parsley
1/4 cup chopped fresh mint
1 teaspoon chopped fresh thyme
1 roasted chicken, shredded (optional)
Directions:
Roast tomatoes and make dressing:
Preheat oven to 250°F.
Halve tomatoes through stem ends and arrange, cut sides up, in 1 layer in a large shallow (1-inch-deep) baking pan. Add garlic to pan and roast in middle of oven until tomatoes are slightly shriveled around edges, about 1 hour. Cool in pan on a rack 30 minutes.
Peel garlic and purée with oil, water, lemon juice, salt, pepper, and 1/2 cup roasted tomatoes in a blender until dressing is very smooth.
Make couscous:
Bring broth to a boil in a 3-quart heavy saucepan and stir in couscous, then simmer, uncovered, 6 minutes. Cover pan and remove from heat. Let stand 10 minutes.
Spread couscous in 1 layer on a baking sheet and cool 15 minutes.
Transfer couscous to a bowl and stir in remaining ingredients, dressing, roasted tomatoes, chicken (if using), and salt and pepper to taste.
Did you make this recipe?
Let us know what you think!
Leave a Comment below or share a photo and tag me on Instagram with the hashtag #loveandoliveoil.