German Pancakes with Apples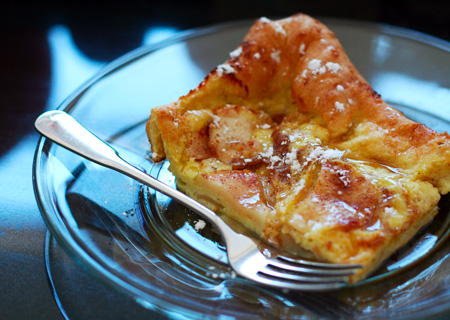 Ingredients:
1 cup milk
1 cup flour
6 eggs
1/4 teaspoon salt
6 tablespoons butter
Optional Apple Topping
1-2 apples, of your favorite variety, peeled, cored, and thinly sliced
1 tablespoon sugar
1 teaspoon ground cinnamon
1 teaspoon fresh lemon juice
2 tablespoons brown sugar
Directions:
Combine milk, flour, eggs, and salt in medium bowl and mix until just combined.
Move oven rack down to bottom 1/3 of oven, lower if you have a small oven. Place butter in a 13×9 inch pan sprayed with cooking spray, put in oven, and preheat to 450ËšF. When butter is hot and sizzling, remove from oven and carefully pour batter into pan.
Return pan to oven and bake for 25 minutes, or until golden brown and fluffy.
Slice and serve hot with maple syrup and powdered sugar.
To make Apple variation:
Combine thinly sliced apples in bowl and toss with sugar, 1/2 teaspoon cinnamon, and lemon juice. In a separate bowl, combine brown sugar and remaining cinnamon and set aside. Before pouring batter into hot butter, spread a thin layer of apple slices in bottom of pan (should use about 3/4 of the apples). Pour in batter, and arrange remaining apples sparingly on top. Sprinkle with brown sugar mixture. Put back in oven and bake as usual.
Did you make this recipe?
Let us know what you think!
Leave a Comment below or share a photo and tag me on Instagram with the hashtag #loveandoliveoil.