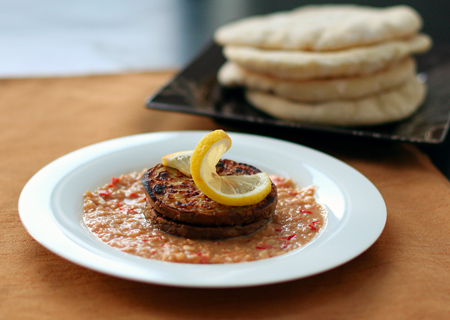 We had a bit of an eggplant fiasco a few weeks ago. Tried a new recipe that seemed promising, and it was the first time (ever?) that we've cooked something so bad that neither of us could eat it. Usually, when something isn't great it's just that, not great. But still edible at least. This, however, was not edible.
So the following week we decided that we needed some eggplant redemption. We needed to show that eggplant could be delicious (which we know it can) so we wouldn't have that last bad taste to remember it by. And then we found this recipe.
While I do have to say that Taylor makes the best peanut sauce this side of Thailand, this sauce is a tough contender. I think it's the fresh ground peanuts, instead of peanut butter, that put it over the top.
And don't think you can save yourself some time by skipping the first step. Salting the eggplant is CRITICAL is it draws out the moisture aka bitterness in it. I think that is where the eggplant mess began, as that recipe didn't seem to care that eggplant can be bitter as heck. So please, salt your eggplant, and let it hang out for a bit. You won't regret it later.
Indonesian-style Grilled Eggplant with Spicy Peanut Sauce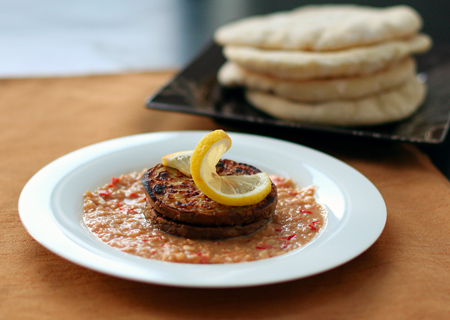 Ingredients:
1 eggplant (about 1 1/4 pounds), cut into 1/2-inch-thick slices
1 garlic clove, minced
1 shallot, minced
a 2-inch-long fresh hot red chili, chopped fine (wear rubber gloves), or 1/4 teaspoon crushed red pepper flakes
2 teaspoons Oriental sesame oil
1/4 cup ground roasted peanuts
2 teaspoons soy sauce
1 teaspoon sugar
2 teaspoons fresh lemon juice, or to taste
vegetable oil for brushing the eggplant
Directions:
Sprinkle the eggplant lightly with salt, let it drain in a colander for 30 minutes to 1 hour, then pat it dry.
In a small saucepan cook the garlic, the shallot, and the chili in the sesame oil over moderately low heat, stirring occasionally, until the vegetables are softened, add the peanuts, and cook the mixture, stirring, for 1 minute. Add the soy sauce, the sugar, the lemon juice, and 1 cup water, boil the mixture, stirring occasionally, until it is thickened slightly, and add salt and pepper to taste.
Brush the eggplant, patted dry, with the vegetable oil and grill it on an oiled rack set 5 to 6 inches over glowing coals, turning it, for 7 to 8 minutes, or until it is just cooked. Transfer the eggplant to a serving plate and spoon the peanut sauce over it. Serve with some fresh homemade pita, and enjoy.
Did you make this recipe?
Let us know what you think!
Leave a Comment below or share a photo and tag me on Instagram with the hashtag #loveandoliveoil.