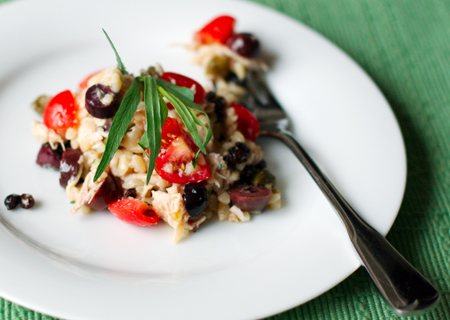 We made this some time ago… but I felt this dish was good enough that it deserved to be posted (the fact that I can remember that it was good means it was indeed, good!). We've made it again, without the chicken as well, so it can easily be converted to a vegetarian dish or side dish in no time.
Just be careful you don't overcook the orzo. Because orzo tends to take on a very slimy and mushy texture if overcooked. Err on the side of underdone if you're not sure. Especially if you plan to eat it again the next day. The pasta absorbs the dressing overnight and makes it even more mushy.
The recipe calls for Tarragon Vinegar. Which I couldn't find. So I muddled up some fresh tarragon in a few tablespoons of white wine vinegar and let it sit for a bit. Which was just fine and tasty. Though I've never had tarragon vinegar, so I couldn't tell you what you were missing substituting something else.
Mediterranean Orzo and Chicken Salad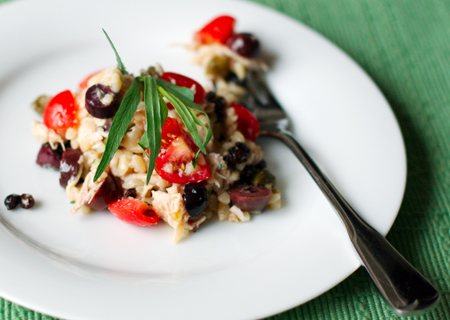 Ingredients:
6 tablespoons olive oil
2 tablespoons plus 2 teaspoons tarragon vinegar
1 tablespoon chopped fresh tarragon
1/2 tablespoon fresh lemon juice
1/2 tablespoon Dijon mustard
3 cups diced cooked chicken (from one 3-pound purchased cooked chicken – optional)
1/2 cup orzo (rice-shaped pasta; about 3 ounces)
1 cup halved cherry tomatoes (about 10 ounces)
1 6-ounce jar marinated artichoke hearts, drained
1/2 cup coarsely chopped pitted Kalamata olives
1/3 cup dried currants
1 1/2 tablespoons drained capers
Directions:
Combine oil, vinegar, tarragon, lemon juice, and mustard in small bowl; whisk to blend. Season dressing to taste with salt and pepper. Place chicken in medium bowl. Mix in 1/4 cup dressing.
Cook orzo in large pot of boiling salted water until just tender but still firm to bite. Drain. Rinse under cold water to cool; drain well. Transfer orzo to large bowl. Stir in remaining dressing and toss to coat. Add chicken mixture, tomatoes, artichoke hearts, olives, currants, and capers. Season salad to taste with salt and pepper and serve.
Did you make this recipe?
Let us know what you think!
Leave a Comment below or share a photo and tag me on Instagram with the hashtag #loveandoliveoil.