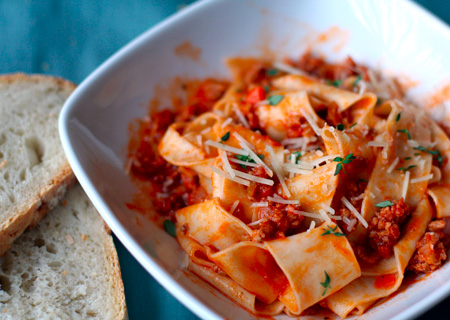 I've never been a fan of red sauces on pasta. Marinaras? No thank you. I'll take plain pasta with butter and parmesan over that any day.
But I don't know if I'd even consider this a real 'red' sauce. It's barely red – with only a few spoonfuls of tomato paste. The rest of the flavor comes from meats and vegetables, all combined and simmered until they just melt in your mouth.
We knew we wanted to try this with those really-wide noodles. But alas, have you ever seen those in a grocery store? So we made them. And it just reinforced to me how delicious fresh pasta really is. More delicate than dried pasta, it accompanies a sauce rather than being covered up by it.
To make these noodles, I ran the dough through the pasta rollers, and then instead of running it again through a cutter to make fettuccine, instead I folded the sheet of dough and cut it into 1/2″ wide strips. The noodles get wider as they cook, so cut them narrower than you'd think.
We made some modifications to the original recipe, including halving it (which made more than enough for 4), and substituting ground turkey instead of veal. Funny thing, we used half of most of the ingredients to make the sauce, except the garlic. That's a lot like our garlic-measurements in cooking—if a recipe calls for 2 cloves, that really means 4. A teaspoon of minced garlic really means more like a tablespoon. I always assume whoever wrote the recipes was using really big cloves. :)
Pappardelle Bolognese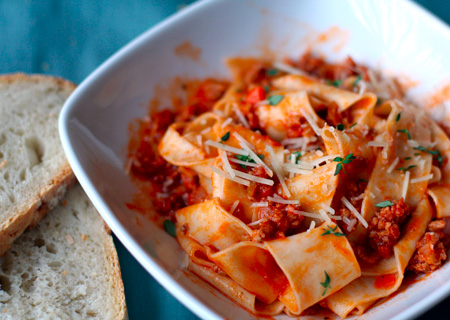 Ingredients:
1 medium onion, finely chopped
2 celery ribs, finely chopped
1 medium carrot, finely chopped
5 garlic cloves, thinly sliced
1/4 cup extra-virgin olive oil
1/4 lb bacon, ground or thinly sliced and pulsed in food processor until finely chopped
1/2 lb ground turkey
1/2 lb ground pork
1/4-1/3 cup tomato paste (more if you like it)
1/2 cup whole milk (or soy creamer)
1/2 cup dry white wine
1/2 cup water
1 teaspoon fresh thyme leaves
1 1/4 teaspoons kosher salt
1/2 teaspoon black pepper
3/4 lb fresh pasta, cut into thick noodles
Directions:
Cook onions, celery, carrot, and garlic in oil in a 6- to 8-quart heavy pot over moderate heat, stirring occasionally, until softened, about 5 minutes. Add pancetta, veal, and pork and cook over moderately high heat, stirring and breaking up lumps, until no longer pink, about 6 minutes. Stir in tomato paste, milk, wine, water, and thyme and gently simmer, covered, until sauce is thickened, 1 to 1 1/2 hours. Add salt and pepper and remove from heat.
Cook noodles until al dente. Drain well, and add into sauce. Toss to coat. Garnish with fresh parmesan cheese and a few thyme leaves.
Sauce may be made 2 days ahead and cooled, uncovered, before chilling, covered. Frozen, it keeps for 1 month.
Did you make this recipe?
Let us know what you think!
Leave a Comment below or share a photo and tag me on Instagram with the hashtag #loveandoliveoil.