The breadmaking continues… I'm determined to flub my way into bread making success. This would be attempt #3 (score: decent – 1, not so good – also 1.)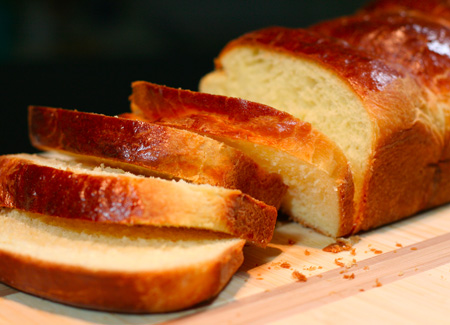 This bread, on the other hand, is a winner for sure. Time consuming, yes, but I'm starting to think that breadmaking is something than can't be condensed into a few hours.
I'm just warning you though – this bread is not health food. Case in point: 3 sticks of butter. Yes, 3 entire sticks. That's 1 1/2 sticks per loaf. When we sliced into this the other night to accompany our Valentine's dinner, I automatically reached for the butter, since we like our bread toasted and buttered. Then I remembered how much butter is already in this bread, and I realized more on top was entirely unnecessary – this bread is self-buttered!
But oh, how wonderful this bread is… it'd be fabulous made into some decadent French toast, or torn to pieces and baked to perfection in our chocolate chip bread pudding (hence it's placement in both the breakfast AND dessert categories). In fact, this is exactly the bread I was trying to make for that recipe… if only I had found it the first time around, a great recipe could have been even better.
The recipe claims to make 3 loaves. But who on earth has a loaf pan that size? Crazy. Mine made two perfect loaves in standard size loaf pans, just divide the dough into two pieces instead of three. It also didn't rise quite as much as I expected. I stuck the dough into the oven to rise, and that seemed to help. Simply turn your oven to warm for 30 seconds, then turn it off. That'll give you a nice warm spot to let your dough rise.
Oh, and I wouldn't recommend trying this recipe if you don't have a stand mixer. Your arm will get VERY tired trying to use a hand mixer. Unless you can recruit a big strong man to do it for you, that is. :)
Golden Brioche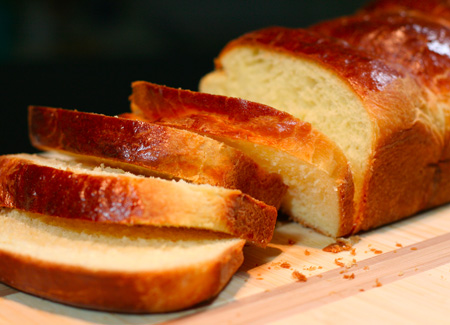 Ingredients:
1/3 cup warm water (105 to 115 degrees F)
1/3 cup warm milk (105 to 115 degrees F)
2 envelopes dry yeast
3 3/4 cups all purpose flour
2 teaspoons salt
3 large eggs
1/4 cup sugar
1 1/2 cups (3 sticks) unsalted butter, each stick cut into 4 pieces, room temperature
1 egg, beaten to blend with 1 tablespoon water (for glaze)
Directions:
Place 1/3 cup warm water, warm milk, and yeast in bowl of standing heavy-duty mixer; stir until yeast dissolves. Fit mixer with dough hook. Add flour and salt to bowl; mix on low speed just until flour is moistened, about 10 seconds. Scrape sides and bottom of bowl. Beat in 3 eggs on low speed, then add sugar. Increase speed to medium and beat until dough comes together, about 3 minutes. Reduce speed to low. Add butter, 1 piece at a time, beating until each piece is almost incorporated before adding next (dough will be soft and batter-like). Increase speed to medium-high and beat until dough pulls away from sides of bowl, about 7 minutes.
Cover bowl with plastic wrap. Let dough rise at room temperature until almost doubled in volume, about 1 hour. Lift up dough around edges and allow dough to fall and deflate in bowl. Cover bowl with plastic and chill until dough stops rising, lifting up dough around edges and allowing dough to fall and deflate in bowl every 30 minutes, about 2 hours total. Cover bowl with plastic; chill dough overnight.
Butter and flour three 7 1/2×3 1/2×2-inch loaf pans. Divide dough into 3 equal pieces. Cut each dough piece into 4 equal pieces. Roll each into 3 1/2-inch-long log, forming 12 logs total. Arrange 4 logs crosswise in bottom of each prepared loaf pan. Place loaf pans on baking sheet. Cover pans with waxed paper. Let loaves rise at room temperature until dough almost fills pans, about 2 hours.
Preheat oven to 400 degrees F. Gently brush top of loaves with egg glaze. Bake until loaves are golden brown and sound hollow when tapped, about 30 minutes. Cool in pans on racks 15 minutes. Turn loaves out onto racks; cool at least 1 hour. (Can be made ahead. Cool completely. Wrap loaves in foil; place in resealable plastic bags and store at room temperature 1 day or freeze up to 1 month. Rewarm room-temperature or thawed loaves wrapped in foil in 350 degree F oven about 15 minutes, if desired.)
Did you make this recipe?
Let us know what you think!
Leave a Comment below or share a photo and tag me on Instagram with the hashtag #loveandoliveoil.