Leftover Turkey Tacos with Cranberry Salsa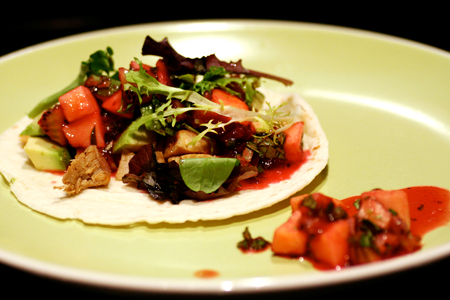 Ingredients:
Small flour tortillas
Cooked turkey meat, cut into bite-sized pieces
Mixed greens
Avocados, diced
Cranberry Salsa
1 1/2 cups of fresh or frozen cranberries, or pre-made cranberry sauce/glaze.
1 apple, peeled, cored, and diced
1 kiwi, peeled and diced
Zest of one orange (or, 1 tablespoon orange juice)
Chopped Serrano or jalapeno chili to taste (about a half a chili, but taste for desired heat)
2 Tbsp sugar
1/4 cup chopped fresh cilantro
1/2 lime, juiced
Dash of salt
Directions:
Prepare cranberry salsa. Combine cranberries and apple in a food processor and pulse until coarsely shredded, about 10 short pulses. Combine shredded cranberries, orange zest, chile, and sugar in a medium bowl. Let sit 15 minutes for the cranberries to macerate. Add cilantro, lime juice, and salt to taste. You can also use cranberry relish, just add chopped chiles and cilantro.
Heat a large frying pan (preferably cast iron) on medium high heat. Unless you are using freshly made homemade tortillas, you will need to soften them first. Working one or two at a time, spread a little butter on one side of the tortilla and fry it in the hot pan for a few seconds on both sides. Most commercially made tortillas will bubble up a little when cooked like this.
Sprinkle one side of the tortilla with grated cheese, and cover one half of the tortilla with turkey meat. Fold over one side of the tortilla onto the other (like an omelet. Cook until the cheese is melted. You may need to flip the tacos over to cook the other side, but if the cheese is completely melted this is unnecessary.
Serve with cranberry salsa, fresh shredded lettuce (sprinkled first with a little vinegar and salt), and avocados.
Did you make this recipe?
Let us know what you think!
Leave a Comment below or share a photo and tag me on Instagram with the hashtag #loveandoliveoil.