Classic crème brûlée gets a nutty new twist in this ultra-creamy pistachio crème brûlée recipe, made with luscious pistachio cream for a gorgeous flavor and color.
With a golden brown caramelized sugar topping a touch of gold leaf for added elegance, this dessert is as stunning as it is easy to prepare, making it perfect for both holiday and everyday entertaining.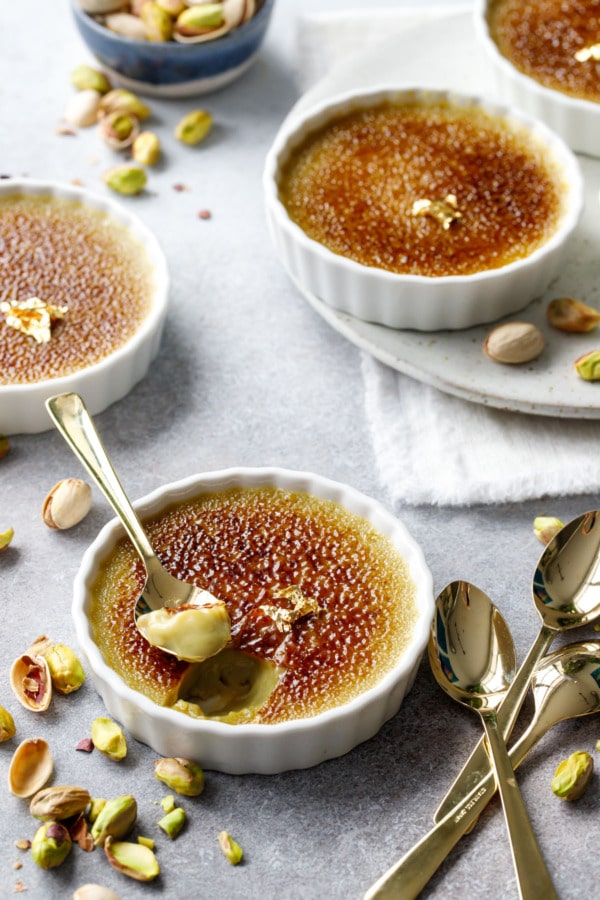 I originally set out to update my pumpkin crème brûlée recipe from years ago (which is delicious, but the photos could definitely be better).
But as I scrolled through the 70+ comments on that recipe (don't you miss the olden days of blogging when we actually got comments?! *sob*). Anyway, one of the comments mentioned having recently made a pistachio crème brûlée and, well, I changed gears real fast.
Luckily I had some pistachio creme left in the pantry from previous recipe experiments (I seriously love this stuff), and so I whipped up a test batch of this pistachio crème brûlée.
And let me tell you… it is perfection.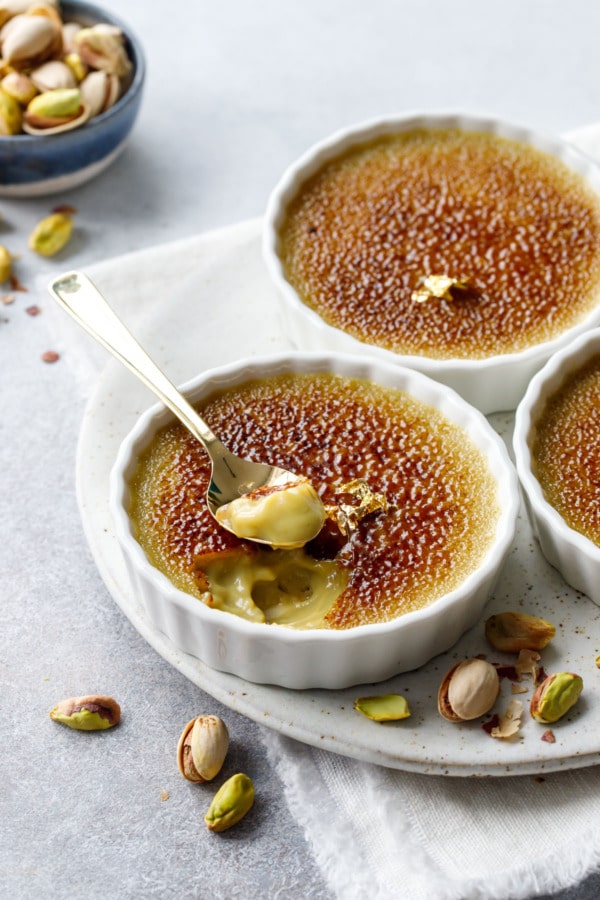 There's a reason crème brûlée is one of the most recognizable desserts… everyone loves it, and for good reason.
But that plain vanilla custard, as simple as it is in its perfection, is ripe for adaptation. I should know, I've got multiple variations on the timeless classic on this blog already (hello, pumpkin, passionfruit, and chocolate truffle!)
This time around, I went a little nutty, incorporating some pistachio cream leftover from my numerous other pistachio experiments.
Dare I say this one might just be my favorite?
The pistachio cream adds a delicious nutty flavor without marring the beautifully creamy texture that is associated with crème brûlée, something I can't say for all of my variations (chocolate, as much as I love it, just changes the texture too much).
The pistachio flavor is nutty, fragrant and almost floral, like a slightly earthier almond (and you know how much I love almond), with underlying notes of vanilla and resinous pine.
Paired with the rich cream and caramelized sugar, it's a delight of a dessert that you'll no doubt devour in no time… no matter how small your spoon may be.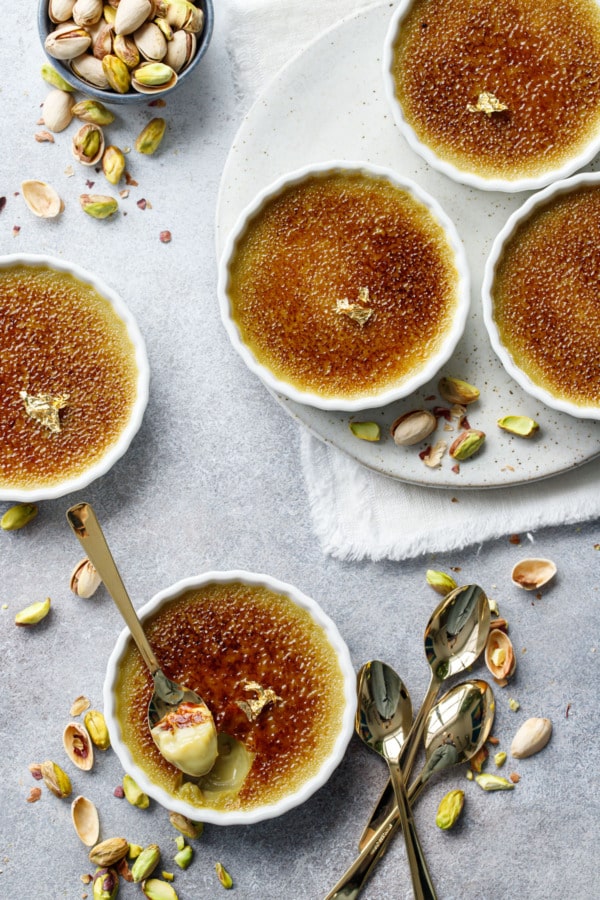 I definitely recommend finding the pistachio cream… it's got a lusciously smooth texture that won't mar the creaminess of the crème brûlée like pistachio butter (which is much more coarsely ground) would. Think Nutella, just pistachio flavored. *swoon*
I've used Fiasconaro and Pariani brands (neither seems to be available on Amazon anymore, though there are plenty of others). I've also seen a giant jar from Costco (though I've not managed to find it at our local store). Anything labeled pistachio cream/creme/spread will work here; the ingredients list will likely include pistachios as well as sugar, milk powder, and various oils/emulsifiers.
That said, if pistachio butter is your only option, just be sure you strain the custard really well before pouring it into the ramekins, which will at least remove the larger particles. You'll likely have a slightly coarser/grainier texture than mine, and may experience some oil separation, but the flavor will be spot on.
As a last resort, if you only have whole pistachios, you could 'infuse' the cream mixture with ground-up nuts, much like I did in my Pistachio Lover's Gelato recipe. Grind up the raw shelled pistachios (about 1/2 cup or so), and warm them with the cream/sugar. Remove from heat and let steep for 30 minutes, then strain through a fine mesh sieve (or even some cheesecloth), then return to heat and proceed as instructed.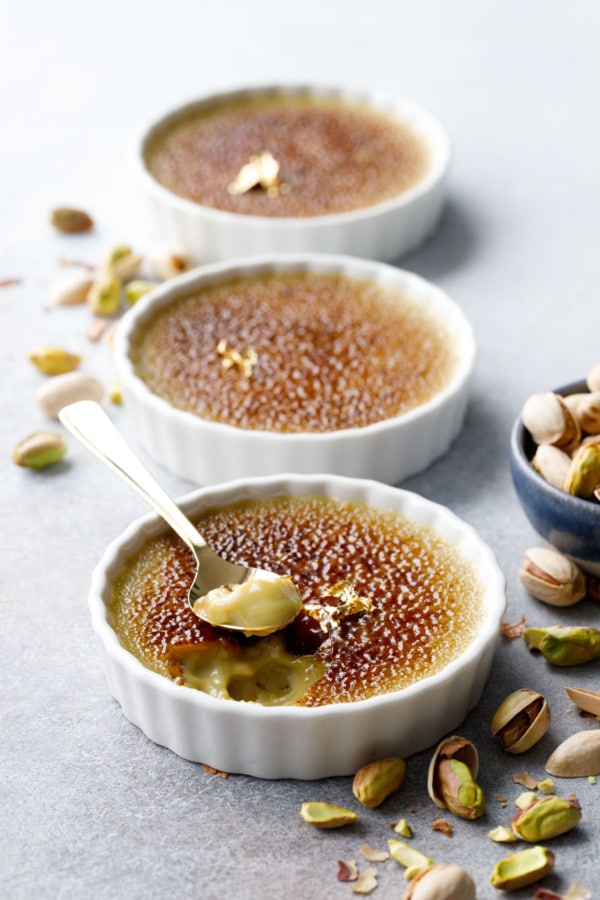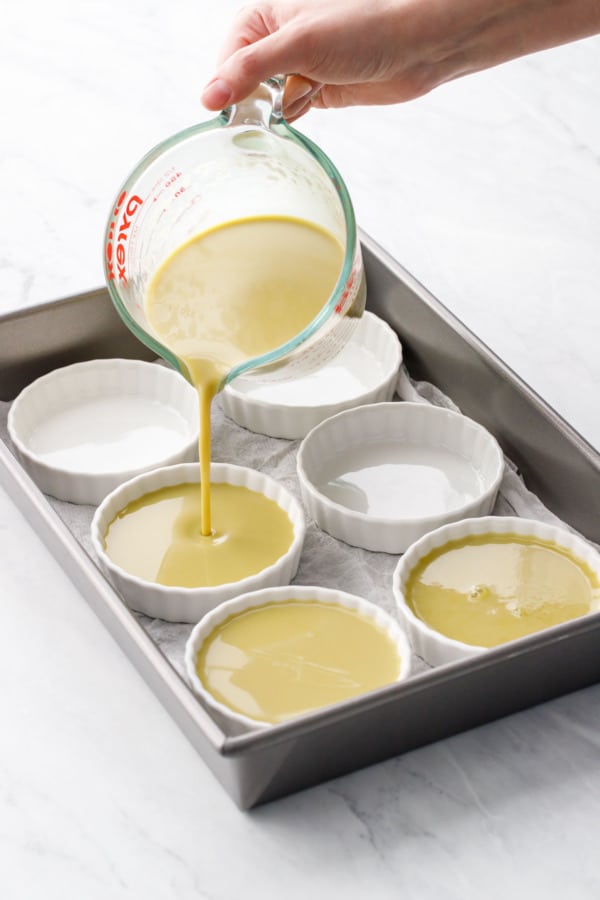 Baking Crème Brûlées in a Water Bath
The custards are baked in a water bath, which allows them to bake more gently and evenly throughout, resulting in an ultra creamy texture.
To build a water bath, you'll want a large baking pan or roasting pan with a flat bottom that can fit all of your ramekins without touching (you don't need a lot of space between them, just ensure they're not jostling up against each other).
Baking Tip: Line the baking pan with a damp paper towel. This will keep the ramekins in place and prevent them from sliding around, as well as soften the stream of water as you pour it in, reducing splashing.
Keep in mind this technique can damage or discolor metal bakeware, so despite my photos showing otherwise, a glass or ceramic dish would be ideal as long as the bottom is completely flat.
Please take care when working with hot liquids and a hot oven. I recommend sliding your oven rack out, placing the baking pan with the custards on the extended rack, then carefully pouring the hot water around the ramekins.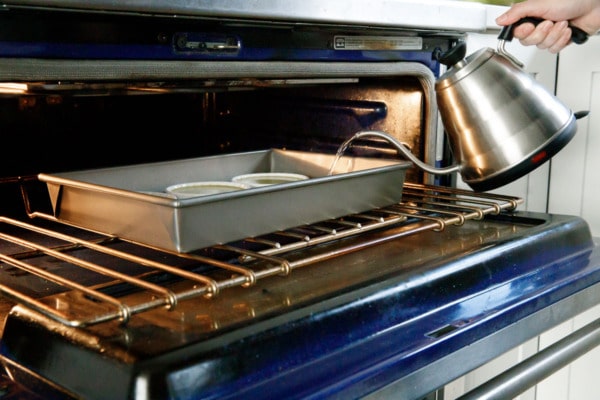 Take care not to splash water up into the ramekins. I've found a gooseneck kettle to be the ideal tool for the job, but a regular kettle or spouted measuring cup works too. Go slowly!
Once the water comes half way up the sides of the ramekins, then carefully slide the oven rack into the oven and close the door. I find this to be much easier and less precarious than trying to transport a baking pan holding liquid-filled ramekins surrounded by more hot water.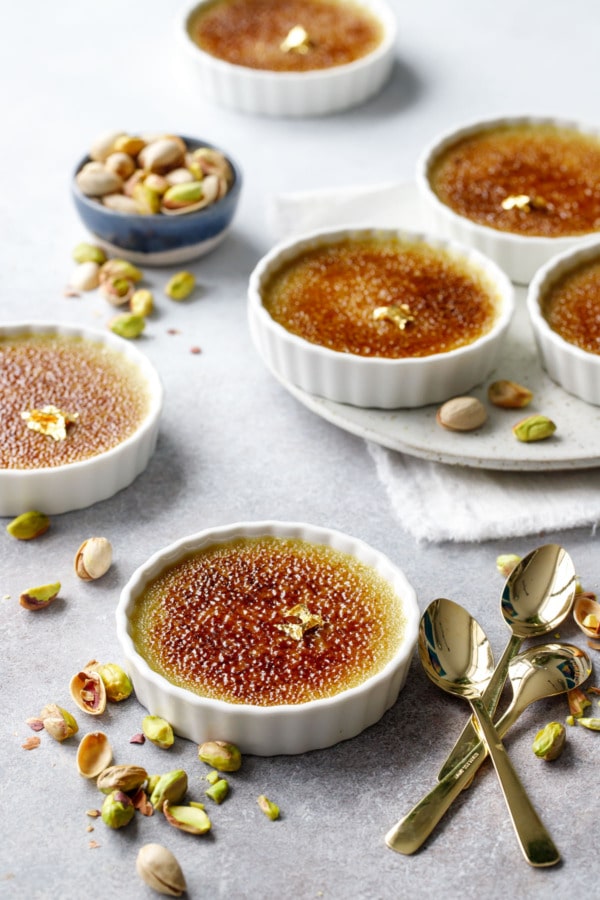 How to Check for Doneness
Baking crème brûlées is a bit trickier than, say, cake or brownies in some sense since there's no toothpick test you can do to see if they're done. Using a water bath, however, allows for a larger margin of error, which is another reason to not skip it despite how finicky it might seem.
To test for doneness, use a potholder to gently jiggle the pan (not too much, you don't want to splash the water into the custards).
You're looking for a slight jiggle in the middle. The center should no longer look liquidy, but rather wobble like a firm jello. If the middle doesn't move at all that means they're overbaked; they'll still taste fine, they'll just be a bit firmer and not quite as creamy.
Mine took about 25 minutes, but if your ramekins are larger or deeper yours may need more time.
After removing the custards from the oven, let the water-filled pan sit for 30 minutes or so until the ramekins are cool enough to handle, then carefully lift them out of the water and place on a wire rack. Let cool completely to room temperature (another hour or so), before lightly covering and refrigerating (I usually put them back in the same baking pan, sans water of course, and then lightly cover that with plastic wrap).
If you cover the custards before they're completely cooled you'll likely end up with some condensation.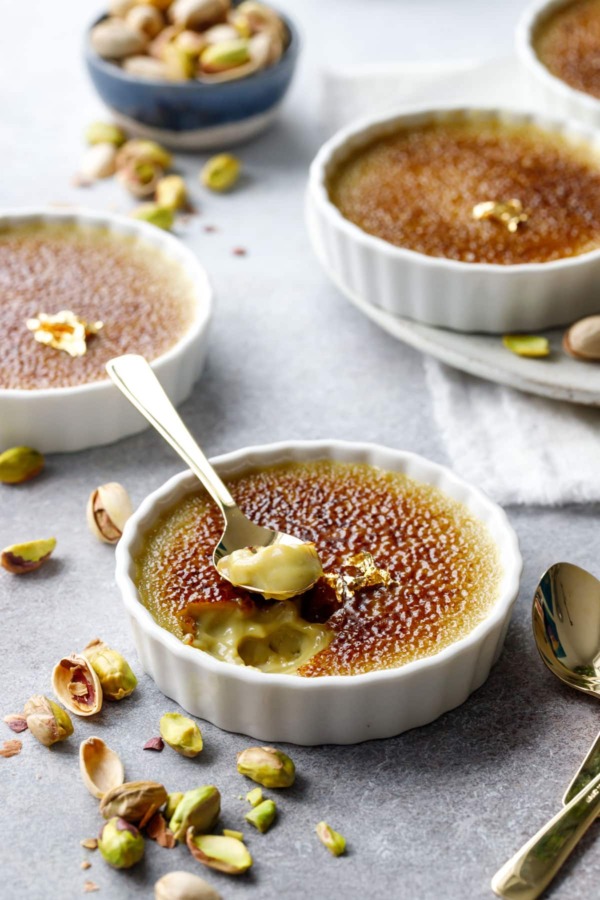 Ramekin Math
As for the specific size of your ramekins and the yield of this recipe… ramekins can vary greatly in size, and it's hard to know how much liquid they actually hold (ramekins advertised as having a 4oz-capacity actually only hold more like 3oz of custard if that).
The best trick to figuring out how many ramekins you'll need is to fill one up with water to see how many ounces it holds.
This recipe yields about 16 fluid ounces or 475mL of custard, so depending on the size of your ramekins, you can calculate how many you'll need accordingly.
I used these 4oz fluted ramekins, and got a perfect 6 servings out of this recipe. I find these smaller ramekins to be perfectly sized for a single serving; larger ones tend to produce waste, especially if they're served after a hearty dinner.
I prefer shallow ramekins like these, to maximize the ratio of brûlée to crème. In contrast to when I'm making pot de crème, where a slightly deeper, but smaller in diameter ramekin is more appropriate.
Keep in mind that larger and/or deeper ramekins may take longer to bake, so keep an eye on them. Again, you're looking for firm edges and a slight jiggle in the middle.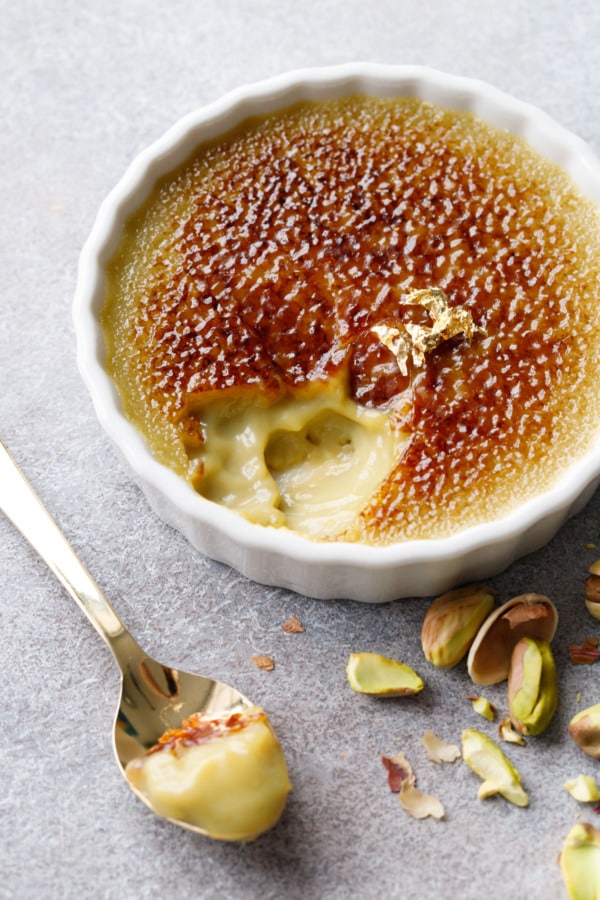 Brûlée Tips & Tricks
The brûlée on top should be an even layer of deeply golden caramelized sugar.
I used regular granulated sugar, but superfine sugar would be ideal. Some recipes call for turbinado sugar but I find it harder to get an even caramelization.
Spoon a bit of sugar onto the surface of the custard, then tilt and tap it around to get an even coating. I usually have a slightly thicker area of sugar in the center, but dump off any excess. You don't want too thick a layer of caramelized sugar or you may have trouble breaking through it to the custard beneath.
Use a small kitchen torch, hold it a reasonable distance away from the custards, and move it slowly and constantly over the sugar-covered surface. If it starts to melt immediately, you're too close: back it up a bit. After a little while the sugar will start to melt and bead, and then change color and bubble. If it starts to smoke at all, move away from that point immediately as you're *this close* to burning it (and while caramelized sugar is delightful, burnt sugar is not so much so).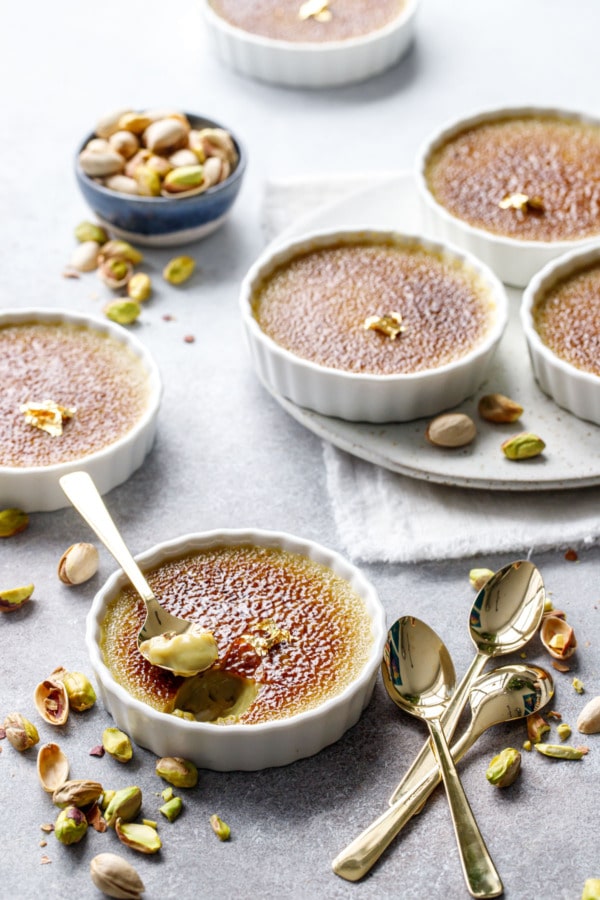 Serving & Storage
While the custards themselves can be made and baked up to 2 days ahead of time, you really need to wait to brûlée the sugar until right before serving (or within an hour or so). Keep the baked custards lightly covered in the refrigerator until it's time to brûlée. Garnish with a bit of edible gold leaf (if desired) and serve at room temperature.
If left to sit, the crisp caramelized sugar will soften into the custard below it, and you'll lose the thing that makes crème brûlée, well, crème brûlée (without the brûlée it's just… crème).
Not that there's anything wrong with that; in fact, if you opted to forgo the brûlée altogether what you basically have is a pot de crème, one of my favorite desserts (and honestly, pistachio pot de crème would be pretty darn good if we're being honest).
(Psst! Looking for something to do with those leftover egg whites? I've got you covered. They also freeze beautifully if you want to save them for later.)
Pistachio Crème Brûlée
Classic crème brûlée gets a nutty new twist in this ultra-creamy pistachio crème brûlée recipe, made with luscious pistachio cream for a gorgeous flavor and color.
Preheat oven to 300 degrees F. Bring a pot of water to a gentle boil (this will be used for the water bath later). Place a damp paper towel or tea towel in the bottom of a rectangular baking pan or roasting pan.

In a small bowl, whisk together egg yolks, sugar, pistachio cream, and salt until smooth.

Heat cream in a small saucepan until it starts to steam. Gradually pour warm cream into bowl with egg yolks, 1/4 cup at a time, whisking vigorously, until incorporated. Skim off foam. Pour into 6 (3 to 4-ounce) shallow ramekins. Arrange ramekins in prepared baking pan and carefully place pan on extended oven rack. Pour in just enough boiling water to reach halfway up the sides of the ramekins, then slide rack into oven.

Bake for 25 to 30 minutes or until centers are just set but still just barely jiggly. Remove from water bath and let sit until ramekins are cool enough to handle, then remove from water and let cool completely on a rack. Cover and refrigerate for at least 2 hours or overnight.

Just before serving, sprinkle a generous tablespoon of sugar evenly over the top of each ramekin, tipping the ramekin to ensure an even layer of sugar. Tap off excess. Use a kitchen torch to caramelize the sugar, moving torch evenly across the tops of the custards to keep the sugar from burning. Alternatively, you place the custards on the top rack of a broiler set to high, and broil until sugar is golden brown and caramelized, 2 to 3 minutes. Serve immediately.

Baked custards will keep, covered in the refrigerator for a few days. Top with sugar and brûlée just before serving.
All images and text ©
for Love & Olive Oil.