These glorious glazed pumpkin donut waffles are a must make for fall: with a fluffy, yeasty waffle base infused with pumpkin and brown butter, dipped in a sweet vanilla cardamom glaze.
The yeasted batter gives these waffles a donut-like flavor even before they're glazed, with whipped egg whites and a bit of baking soda for a light and airy texture with a crisp exterior. Make the batter the night before for a guaranteed good morning.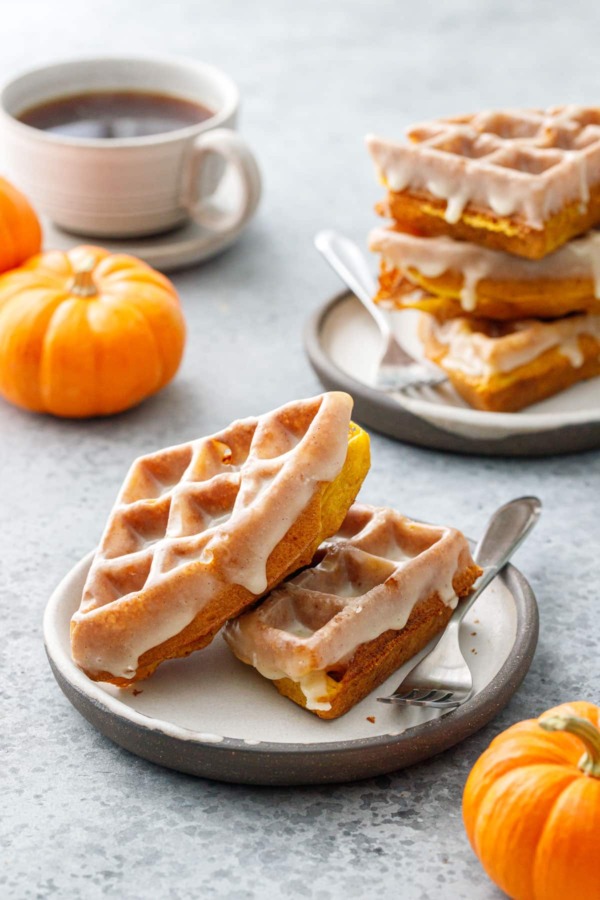 The full name of these waffles could be something like Overnight Yeasted Pumpkin (but NOT Pumpkin Spice) Brown Butter Donut Waffles with Vanilla Cardamom Glaze, but I thought that was rather a mouthful.
Though these waffles certainly are a mouthful (in the best way possible) so maybe it's fitting that the name be too.
The recipe is based on my original Donut Glazed Yeasted Waffle recipe from a few years back, which is still one of my favorites. The waffles are ultra crispy, with a light and fluffy interior and a yeasty flavor that makes them taste just like, you guessed it, a raised donut (NOT a cake donut, let's just clear that up right now).
The waffles are best when the batter sits overnight, which means you pretty much have to do most of the prep ahead of time, ideally the night before. In the morning, you'll just need to mix in the egg yolks and whip the egg whites, then make the waffles and glaze them.
If you'd rather do even more work ahead of time, make the batter two days in advance, make the waffles the day before, then the morning of simply reheat the waffles in the oven (which somehow makes them even crispier) and dip them in the glaze.
Before we get started, I want to again emphasize that these are NOT pumpkin spice waffles.
Here's the thing, pumpkin ≠ pumpkin spice. I think we've all grown accustomed to anything pumpkin flavored being heavily spiced, so much so that most of the pumpkin spice things out there really don't taste like pumpkin at all.
Which is a shame because pumpkin, on its own, has a lovely, delicately sweet and earthy flavor. A flavor that's quickly overpowered by even a pinch of cinnamon. I also wanted the cardamom in the glaze to come through, and even the smallest amount of pumpkin spice in the batter would've immediately overwhelmed it. For this reason you will not see any pumpkin spice in this recipe (so don't think it's a typo, it's completely intentional).
I actually tested two versions of this recipe, one with pumpkin spice and a maple glaze, and one without pumpkin spice and the vanilla cardamom glaze.
I'm actually not usually a fan of cardamom, so it's interesting that I ultimately chose to go that route (especially since maple donuts are my favorite). But the cardamom, paired with the pumpkin and vanilla, is a lovely, understated flavor combination that I really enjoyed. The natural flavor of the pumpkin paired with the subtle, aromatic cardamom and fragrant vanilla is an alluring combination.
While the spice/maple version was definitely punchier, I ultimately opted for the refined subtlety of the cardamom. I think it makes for much more unique flavor experience that isn't quite so… basic (isn't that what they call pumpkin spice loving folk this time of year? Which I think is silly, if you enjoy something and it makes you happy, by all means indulge as much as you can!)
Brown Butter Love
The extra step of browning the butter adds another level of flavor, a deep nuttiness that further enhances the sweetness of the pumpkin and vanilla undertones.
Since the original recipe called for melted butter anyway, it was an easy swap to make. Brown the butter first, then by the time you've got the rest of the batter mixed, the butter should be perfectly cooled to lukewarm.
That said, you can skip the extra step, just used plain melted butter instead (I made it this way as well and it was plenty delicious).
Serving Suggestions
While these waffles are lovely on their own, trust me when I say that adding a runny fried egg on top is a revelation. That succulent savory egg paired with the sweet spice of the waffle is ridiculously good.
On the other end of the spectrum, if you're not a waffle-in-the-morning kind of person (or just not a morning person in general), these sweet waffles are also perfect for dessert, topped with a scoop of vanilla ice cream and drizzled with boozy caramel sauce or the maple fudge sauce recipe from our book.


Glazed and Confused
You can certainly skip the glaze, although that's what makes these waffles even more donut-like in my opinion! That said, they come out of the waffle maker delightfully crispy, and are wonderful enjoyed fresh without a glaze.
If you do opt to skip the glaze, I would recommend adding a teaspoon of pumpkin pie spice to the batter, or even 1/4 teaspoon of cardamom and extra vanilla if you still want that flavor but not the extra step of a glaze.
Important: If you decide to add pumpkin spice or cinnamon to the batter, whisk it in with the egg yolks and baking soda in the morning, as cinnamon can inhibit the development of yeast.
Serve immediately while they're still crispy (or reheat briefly in the oven to re-crisp), drizzled with maple or cinnamon cream syrup.
Flavor Variations
Spiced Vanilla – If cardamom isn't your thing, the glaze is lovely with just vanilla on its own. I would recommend adding a bit of spice to the pumpkin waffle base in the morning along with the egg yolks: either a teaspoon of pumpkin pie spice (more or less to taste) or, at the very least 1/2 teaspoon or so of cinnamon.
Maple – Maple donuts have always been my favorite, so a maple glaze on these waffles really makes them taste even more donut-y. Add 1 teaspoon pumpkin spice to the waffle base in the morning, then replace the vanilla and cardamom in the glaze with 1/4 teaspoon maple extract.
Pumpkin Spice Latte – Your favorite seasonal latte but in waffle form! Just add 1 teaspoon pumpkin spice to the waffle base, and instead of the cardamom, add a teaspoon or two of instant espresso powder in the glaze (or use fresh brewed espresso in place of the milk).
Apple Cider – Replace the liquid in the glaze with unfiltered apple cider (NOT apple cider vinegar!) and a pinch of cinnamon or pumpkin pie spice. For an even more intense apple flavor reduce the cider first to concentrate the flavor.
Drunken Pumpkin – Replace the liquid in the glaze with bourbon, brandy or spiced rum. Add cinnamon or pumpkin spice to the waffle batter as desired.
Equipment
This recipe is written for thick Belgian waffles, but will work fine in standard waffle makers too.
We have a KitchenAid waffle baker that makes two thick Belgian-style waffles at once, but sadly it appears to have been discontinued. There are other similar 'rotating flip' models available from other brands, like this one or this one from Cuisinart.
I particularly like that these waffles are easily divided into quarters, which makes dipping them in the glaze much more manageable.
This recipe made exactly 6 Belgian waffles in our machine, which uses almost exactly 1 cup of batter per waffle. Follow the specific instructions for yours as far as how much batter to use (too much and it may overflow, too little and you'll end up with oddly shaped waffles).
You'll also want to tinker with the cook time depending on your specific waffle maker. I found these particular waffles were best when they were extra crispy, which was about 4 to 4½ minutes overall cook time. Yours may be more or less. You're looking for a deep golden brown color and crispy exterior.
Reheating and Storage
The glazed waffles easily keep at room temperature for a few hours, if you're having a late-brunch party and want to make them ahead of time you certainly can.
Glazed or unglazed waffles will keep in the fridge, covered in an airtight container or zip-top bag, for up to 5 days.
To reheat, arrange on a heat-proof wire rack set inside a cookie sheet and place in the oven while preheating to 350 degrees. Once warmed through (the oven may not even be fully preheated yet, so keep an eye on them), pop on the broiler for 30 to 60 seconds to really crisp them up. The reheated waffles are somehow even crispier than when they were fresh, though, if they've already been glazed, the glaze will soak in to the waffle a bit and won't be quite as visually distinct. If this bugs you, hold off glazing them until just before serving.
Waffles can also be frozen in a zip top bag for up to a month. I recommend freezing unglazed waffles, then glazing just before serving. Reheat frozen waffles as described above (though they'll need a bit more time to warm through), then dip in glaze and serve warm or at room temperature.
Pumpkin Donut Waffles with Vanilla Cardamom Glaze
These glorious glazed pumpkin donut waffles are a must make for fall: with a fluffy, yeasty waffle base infused with pumpkin and brown butter, dipped in a sweet vanilla cardamom glaze.
For Waffles:
½

cup

/

113

g

unsalted butter

1½

cup

/

360

g

whole milk

,

lukewarm (approximately 95-105ºF)

2 ¼

teaspoons

/

7

g

active dry or instant yeast

,

1 package

2½

cups

/

310

g

all purpose flour

,

preferably bleached

1

cup

/

260

g

canned pumpkin

2

teaspoons

maple syrup

1

teaspoon

vanilla extract

½

teaspoon

fine sea salt

3

large

eggs

,

separated

½

teaspoon

baking soda
For Glaze:
6

tablespoons

/

85

g

(¾ stick) unsalted butter

3

tablespoons

/

45

g

whole milk

1½

cups

/

180

g

powdered sugar

,

sifted

½

teaspoon

vanilla bean paste or extract

⅛

teaspoon

ground cardamom

pinch

fine sea salt
To make brown butter, place butter in a saucepan set over medium heat. Butter will melt, then will start to foam and sputter. Continue to heat, stirring occasionally, until foam subsides and butter is no longer sputtering, and the solids that settle on the bottom start to turn golden brown. Remove from heat and set aside to cool to lukewarm.

Place warm milk in a large bowl or the bowl of a stand mixer. Sprinkle yeast evenly over top; let sit for 5 minutes. (If using instant yeast, you can skip this step and just whisk the yeast in with the flour).

Whisk in flour with salt until evenly incorporated. Add pumpkin, maple syrup, vanilla, and lukewarm brown butter; mix to combine and no or very few lumps remain. Press a piece of plastic wrap onto the surface of the batter; loosely cover with another piece and refrigerate for at least 2 hours or overnight.

About an hour before cooking, remove the bowl from the fridge and let it come to room temperature. Prepare and preheat your Belgian waffle iron according to manufacturer's instructions.

Separate eggs; place yolks in a small bowl; whisk with baking soda. Add to dough mixture and stir until mostly incorporated.

Place egg whites in a large bowl or the bowl of a stand mixer. Beat on medium-high speed until it forms medium-soft peaks. Add half of beaten whites to dough; fold to lighten the mixture. Add remaining egg whites and fold until evenly incorporated and no lumps of egg white remain.

If necessary, lightly spray hot waffle iron with cooking spray. Add about 1 cup of batter to iron (or whatever amount your particular brand recommends to fill, but not overflow). Close iron and cook until golden brown (mine took about 4 to 4½ minutes). Carefully remove from iron and place on a wire rack to cool. Repeat with remaining batter (you should have enough for about 5 to 6 waffles).

While waffles are cooling, prepare glaze. Combine butter and milk in a small saucepan set over medium-low heat (use a pan that is just big enough to fit one of your waffle pieces, then you can dip them right in the same pan and not dirty anymore dishes). Gently cook, stirring occasionally, until butter is melted. Add sifted powdered sugar and stir until sugar is dissolved and no lumps remain. Remove from heat and whisk in vanilla, cardamom, and salt.

Break waffles into quarters (if your waffle iron allows it) as the smaller pieces are easier to dip. Dip one side of waffle into glaze, then lift straight up, allowing any excess glaze to drip back into the pan. Invert and place on cooling rack. Repeat with remaining pieces. Serve freshly dipped waffles at room temperature.

While the waffles are best when they are fresh, if you want to make them ahead of time, you can refrigerate or freeze them unglazed, then bring to room temperature (or toast lightly in the oven to re-crisp the outsides) and then glaze them just before serving.
*Note that there is no cinnamon or spice in the batter itself. If you decide to add some, be sure to add it in the morning with the egg yolks, as cinnamon (as well as other spices like cloves and allspice) can inhibit yeast development in high quantities.
All images and text ©
for Love & Olive Oil.