These savory cheddar cheese waffles are much more versatile than their sweet counterparts, no matter whether you enjoy them for breakfast, lunch, or dinner. We personally love them paired with fried chicken or dipped in ranch dressing (or both at once, if we're being honest), but truly, the possibilities are endless.
The perfect waffle is light and airy in texture with delightfully crisp edges, and these savory waffles are most certainly that. In fact, addition of cheese in this recipe takes that crispness to a whole other level. (You know that ruffly layer of crispy cheese you get when your grilled cheese overflows? That same magic is in effect here.)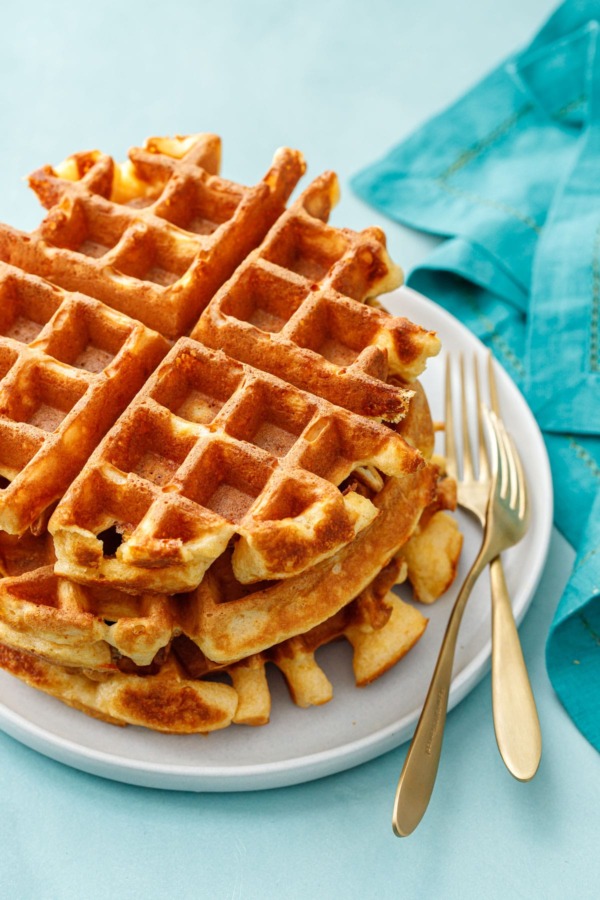 I recently had a hankering for waffles, but was (as usual) undecided as to just what kind I should make. My initial thoughts were to try a sourdough waffle using my somewhat neglected starter, but I couldn't decide between Belgian or Liege waffles (the kind that use pearl sugar inside for a really unique texture). I even toyed with trying out an olive oil waffle that uses oil in place of melted butter.
Flummoxed, I posed the question to my facebook group, whose opinions I value greatly (seriously, awesome folks over there, you should join us!) I ended up adding a few other waffle options off the top of my head, including both Belgian and Liege, olive oil, as well as a savory cheese waffle (because why not?)
Well, the cheese waffle blew the other options out of the water. Which really surprised me, but hey, I'm all for giving the people what they want.
So we ate waffles for dinner for three nights in a row, perfecting this recipe. And perfect it most definitely is.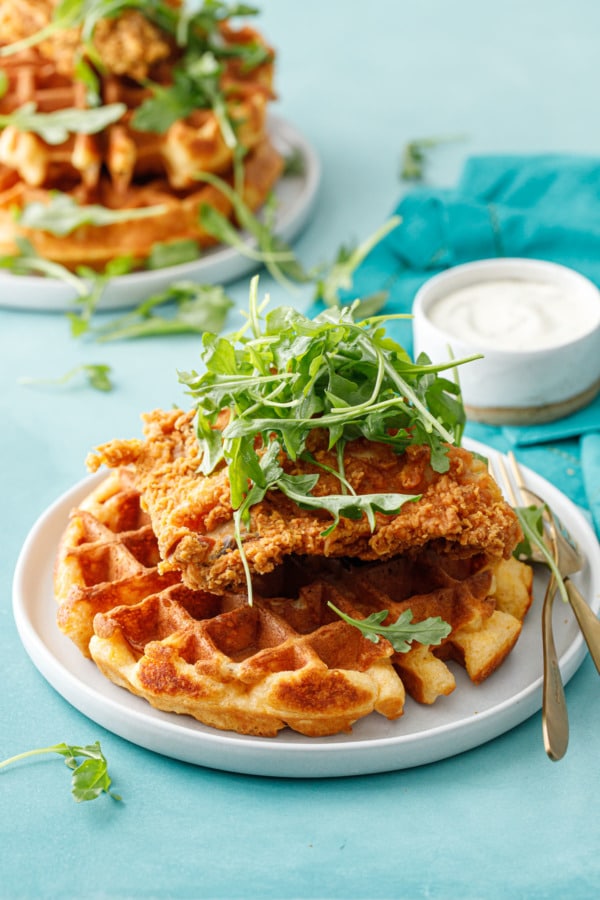 This waffle recipe utilizes both baking powder and whipped egg whites for lift, resulting in a light and airy texture with crisp, cheesy edges.
We tested it first without separating the eggs, and the results, while tasty and delightfully crispy on the edges, were still a bit gummy in the middles.
For the next batch I separated the eggs, whipping the whites to medium-stiff peaks and then folding them into the batter along with the cheese. This simple change transformed the waffles from meh to marvelous.
You'll also notice there is 1/3 cup of rice flour called for in this recipe. We found this helped the waffles get crispier and stay light in texture. I've also made savory cornbread waffles with cornmeal in the past, so if you'd rather use a fine cornmeal instead you can certainly do so.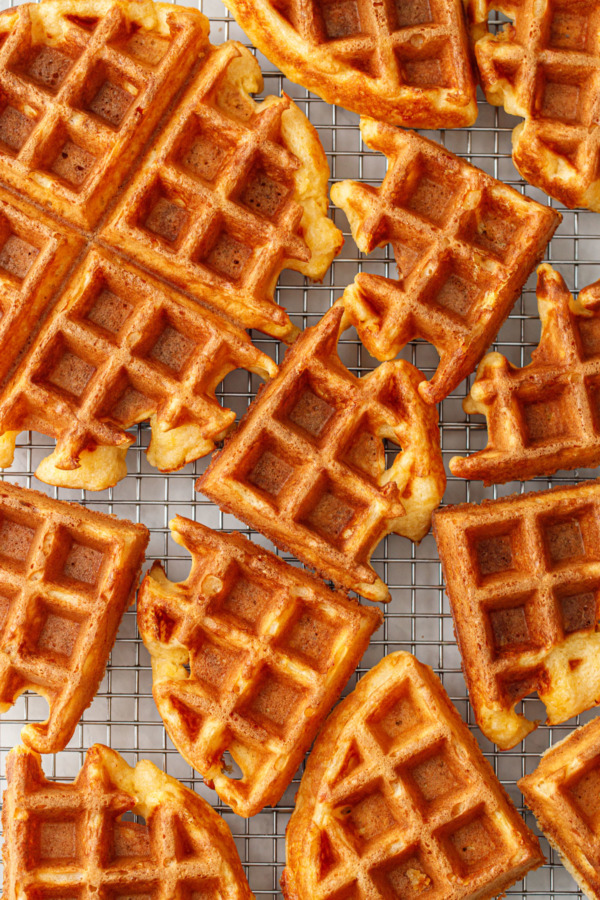 Cut to the Cheese
Technically this recipe will work with any variety of cheese, so long as it can be shredded (so not, like, brie or something). We liked the aggressive flavor of extra-sharp cheddar the best, but feel free to use whatever you prefer or happen to have on hand.
I will say that the extra 2 tablespoons of grated parmesan (yes, the powdery kind) really do make a difference, so definitely don't skip it if you want the maximum cheese flavor.


Our waffle maker is a rotating Belgian-style that makes two waffles at once. It's from KitchenAid and has been unfortunately discontinued, but Cuisinart has something similar. Most Belgian-style waffle makers have about a 1 cup capacity of batter per waffle (refer to your manual for what is recommended for your maker specifically). I tend to err on the side of under-filling if anything, because an overflow situation is not fun to clean up. Plus, I kind of like the rough, odd shaped edges.
I do also think this recipe would work in a regular, non-Belgian waffle maker; just follow your manufacturer's instructions as far as how much batter to use per waffle (you do not want to overfill a waffle maker, trust me, it's a mess to clean up).
Time-wise, definitely defer to the manual for your particular waffle maker, but we found that these waffles benefited greatly from a longer cook time than a sweet waffle. For us that was about 5 minutes (versus about 3.5 to 4 for my donut waffles). The crispier the better in this case!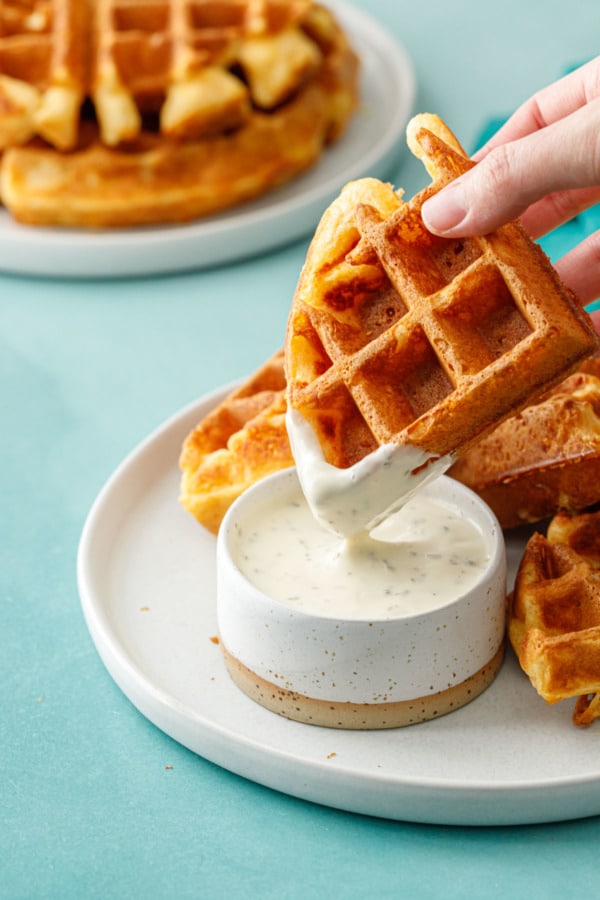 Serving Suggestions
While these cheese waffles are perfectly delicious on their own (and particularly enjoyable dipped in ranch dressing), they lend themselves quite well to myriad accompaniments and toppings.
Top with fried chicken and drizzle with spicy honey for a new twist on chicken and waffles (perfect for brunch OR dinner in my opinion).
Toss some baby arugula or herb salad mix with a squeeze of lemon and a glug of olive oil. The bright and spicy arugula is the perfect complement to the rich, cheese waffle (I also particularly enjoyed the arugula salad with the fried chicken)
Go all out for breakfast and top with a fried or poached egg and homemade hollandaise.
If you are a fan of super big, super hearty breakfasts, serve one of these waffles drenched with a thick and creamy sausage gravy.
For something even more savory and satisfying for lunch or dinner, top the waffles with a ladleful of hearty chili, plus more shredded cheese and a dollop of sour cream. Maybe some chives if you're hankering for something green (lol).
I also think you could easily adapt this recipe into something like a pizza waffle, with mozzarella in place of the cheddar and Italian seasonings instead of the garlic and paprika. Dunked in some marinara sauce? Oh yes, I think that'd be quite delightful.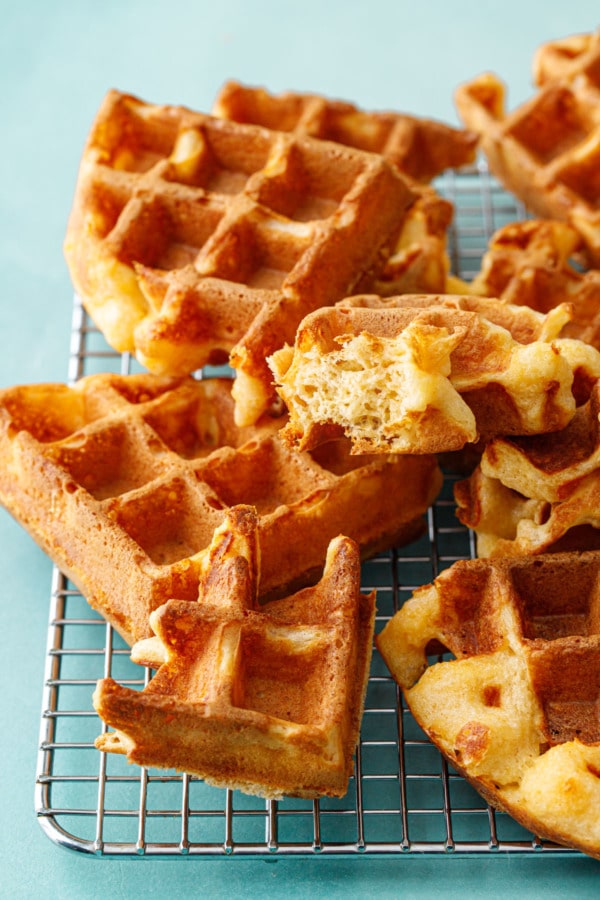 Storage and Freezing
This recipe lends itself particularly well to reheating and freezing. The waffles will keep in a bag in the fridge for easily 2-3 days. To reheat, pop them in a 300 degree oven for 5 to 10 minutes until heated through (and I think you'll find they're even crispier than they were originally).
Freeze waffles in an airtight bag; as long as they don't build up any significant amount of freezer burn they'll keep beautifully for 3-4 months.
To reheat frozen waffles, I like to put them in a cold oven and then set it to 350 so the waffles thaw as the oven preheats, flipping once part way through. Depending on how quickly your oven heats up, they should be ready after about 10 to 15 minutes.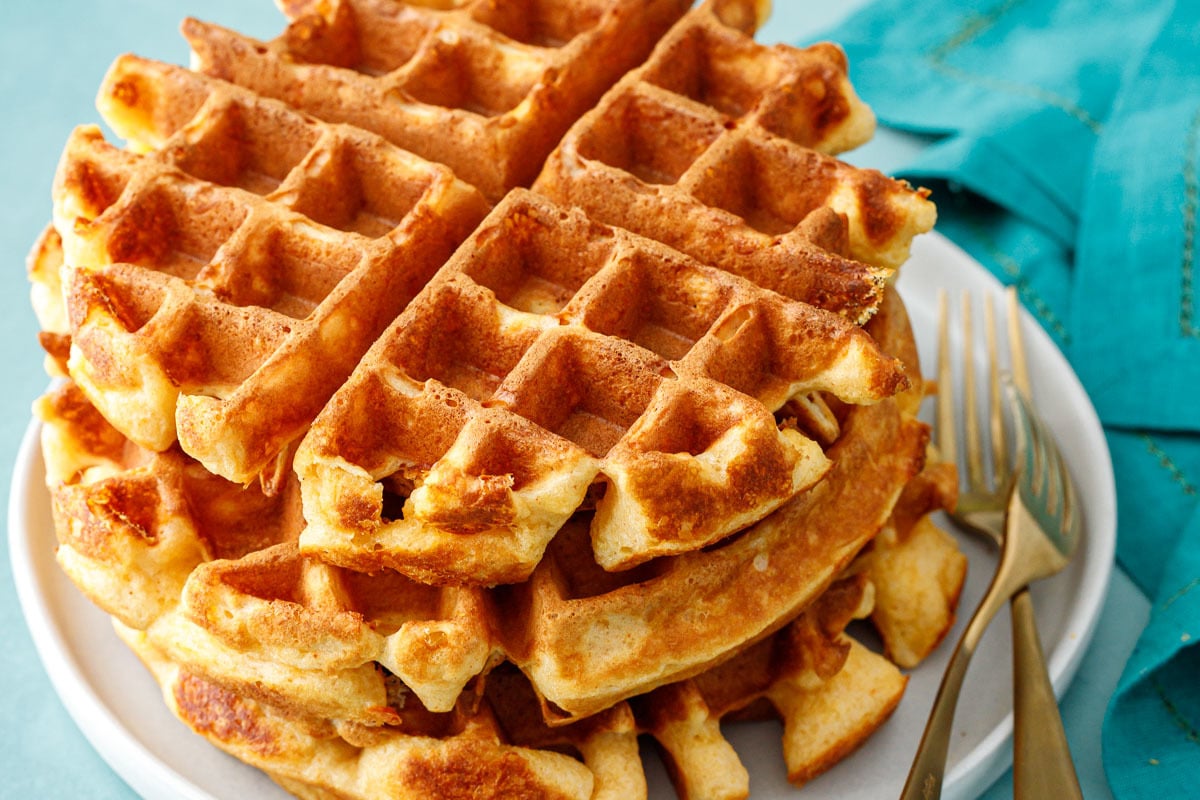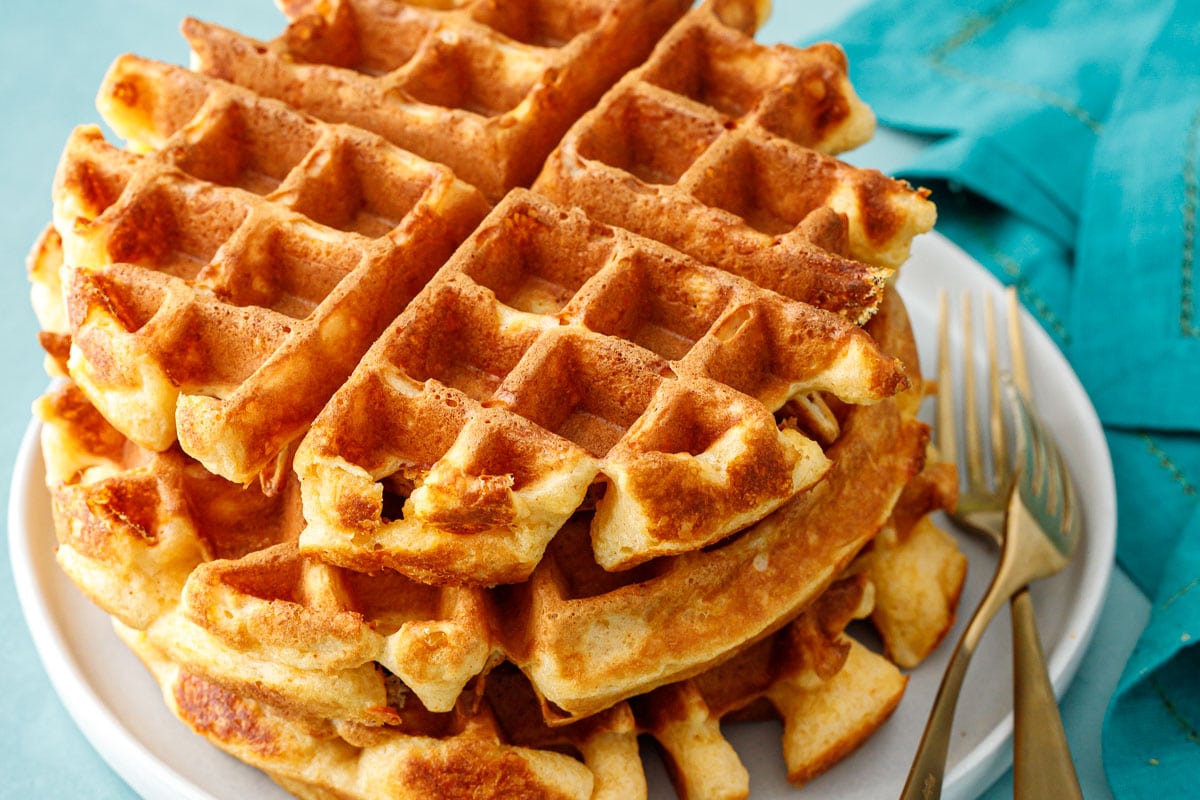 Savory Cheddar Cheese Waffles
This recipe will yield 4 large Belgian waffles. If serving with something else (like fried chicken) it can probably be stretched to 6-8 servings.
Ingredients
1½

cups

/

188

g

all-purpose flour

⅓

cup

/

55

g

rice flour

,

you can also use fine cornmeal

1

tablespoon

baking powder

1

teaspoon

garlic powder

½

teaspoon

smoked paprika

½

teaspoon

fine sea salt

3

large eggs

,

separated

1½

cups

/

375

g

buttermilk

6

tablespoons

/

85

g

(¾ stick) unsalted butter

,

melted and cooled slightly

1½

cups

/

85

g

(3oz) shredded extra sharp cheddar cheese

2

tablespoons

grated parmesan cheese

,

the powdery kind
Instructions
Preheat Belgian waffle maker.

In a medium bowl, whisk together flour, baking powder, salt and spices until evenly incorporated.

In a small bowl or 2-cup glass measuring cup, whisk together egg yolks and buttermilk. Add to dry ingredients and stir with a rubber spatula just until no streaks of dry ingredients remain (the mixture may still be a little lumpy, that's ok). Mix in melted butter.

Beat egg whites with an electric mixer or in the bowl of a stand mixer fitted with a whisk attachment. Beat on medium-high speed until the whites hold medium-soft peaks.

Fold in 1/3 of egg whites into batter to lighten; add remaining egg whites and fold until almost incorporated. Fold in the shredded cheese.

Scoop a scant cup of batter (I use a

large cookie scoop

, and 3 heaping scoops is just about perfect) into preheated waffle maker. You may need more or less batter depending on your specific machine, refer to manufacturer's instructions. Cook for about 5 minutes (longer than you would for a typical sweet waffle) or until waffles are deep golden brown and crisp. Remove from waffle maker and serve warm.

Leftover waffles can be cooled on a wire rack, then refrigerated in an airtight bag for up to 3 days or frozen for up to 3 months. Rewarm the waffles in a 300-degree oven for about 10 minutes or until heated through and crispy.
All images and text ©
for Love & Olive Oil.
Did you make this recipe?
Let us know what you think! Leave a Review below or share a photo and tag me on Instagram with the hashtag #loveandoliveoil.