Talk about decadence, these brownie sandwich cookies are simply swoon-worthy, with a duo of fillings sandwiched between two rich, brownie-like cookies. They're part cookie, part brownie, part chocolate truffle… and entirely delicious.
The cookies themselves are soft, chewy, and undeniably fudgy, with a silky smooth chocolate ganache filling and a hidden core of raspberry jam. The tartness of the raspberry counterbalances the richness of the chocolate ganache filling perfectly, resulting in an unforgettable sandwich cookie that you have to taste to believe.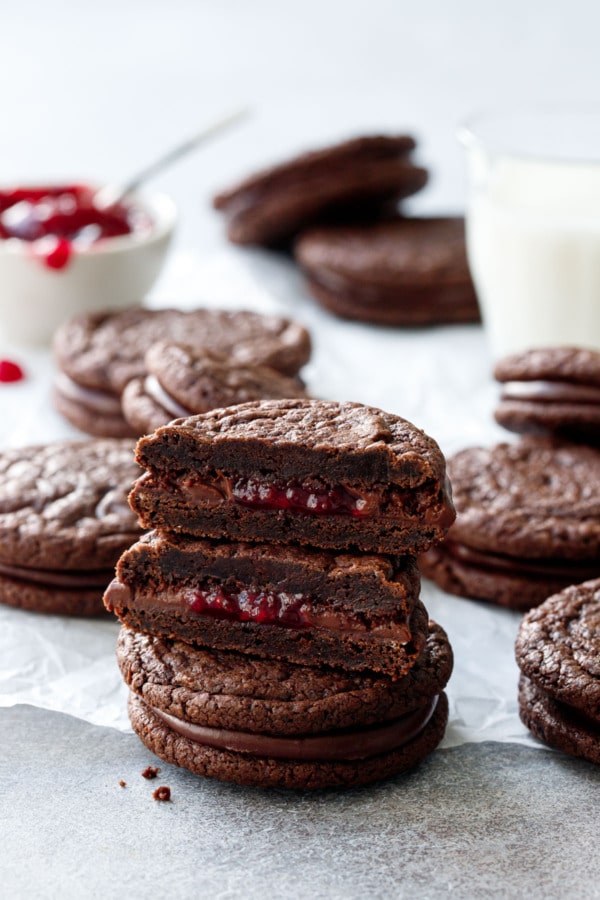 Start your ovens, cookie season is upon us!
When I was developing my my stuffed Cosmic brownie cookies, I remember thinking that the soft, flat chocolate cookies (sans filling) would be perfect for sandwich cookies, filing away the though for later.
The recipe itself is nearly identical, just smaller and with the filling sandwiched between cookies rather than baked inside. I also added a pinch of espresso to the cookie base to further intensify the chocolate flavor.
The smaller cookies don't spread quite as much as the stuffed versions (I'd have been ok if they had come out a wee bit thinner), but the cookie is so perfectly rich and fudgy that I really didn't want to mess with it.
The soft and chewy chocolate cookies are then sandwiched with a rich chocolate ganache in between (with a splash of Chambord black raspberry liqueur to class it up just a little bit, totally optional of course), and a core of tart raspberry jam that perfectly compliments the rich chocolate of the other components. You could use homemade or storebought jam here (might I recommend this Chocolate Raspberry Jam for a particularly decadent variation)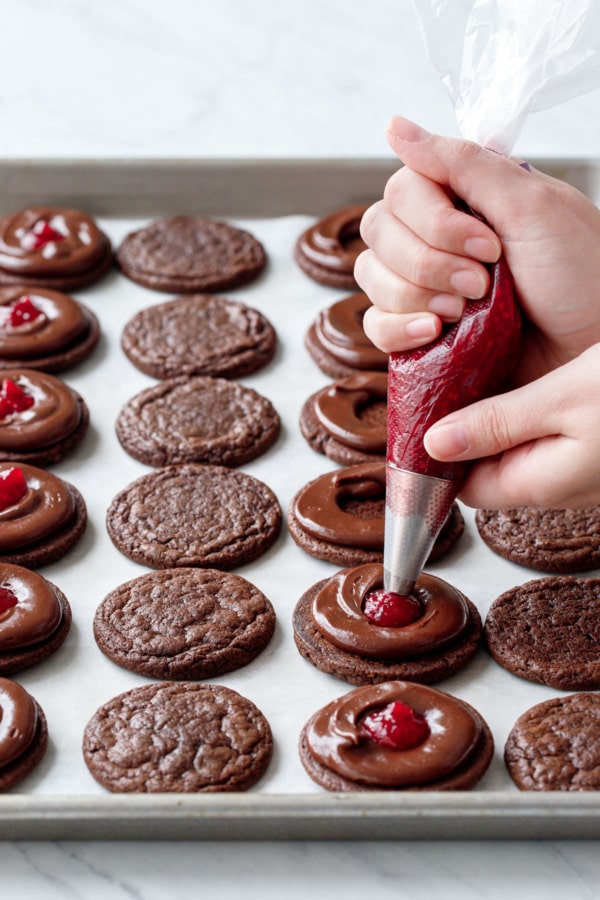 For perfect sandwich cookies, I highly recommend using a piping bag. While you can dollop the ganache filling in the middle of two baked cookies, it's very hard to get that perfect raspberry 'core' with a spoon.
I used a disposable piping bag fitted with a 1/2-inch round tip, piping a ring of ganache around each cookie (don't go quite to the very edges, as it'll squeeze out a bit when you put the top on).
The jam can easily be spooned in the middle, or piped as well (I used a 1/4-inch round tip here for more control).
If you wanted to skip the jam filling and just do ganache, I recommend making 1 1/2 times the ganache proportions listed to be sure you'll have enough filling for all 2 dozen sandwiches.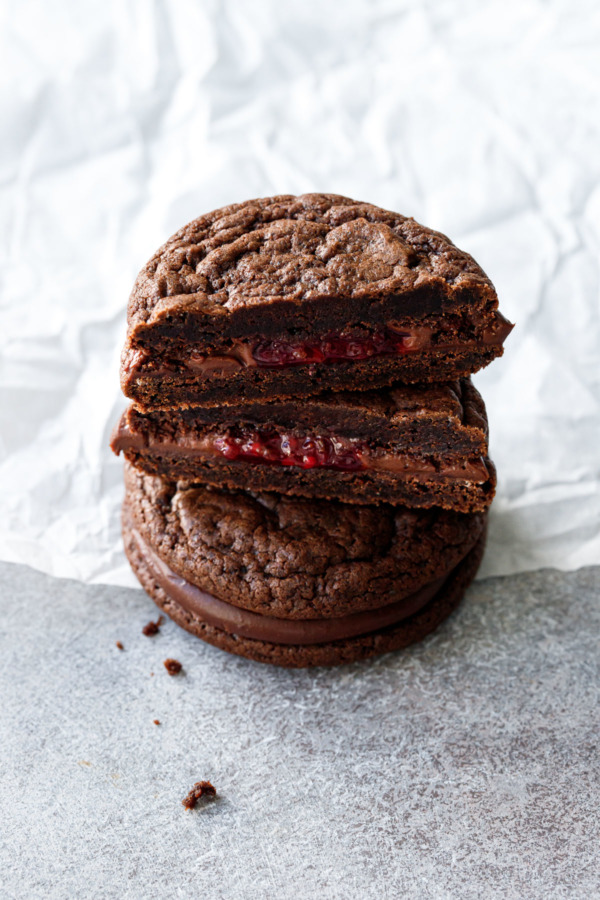 While I love the contrast between the rich dark chocolate and the tart raspberry, this recipe is ripe for adaptation. Swap out that core of raspberry jam for salted caramel or dulce de leche, Nutella, or even pistachio cream (basically, anything you'd use for a thumbprint cookie can be used here too). Or, keep the raspberry and swap out the ganache for peanut butter and you'll have yourself one heck of a brownie PB&J sandwich.
I also think that a caramel ganache filling would be amazing here: it's like a hybrid caramel-and-ganache-in-one that is out of this world (basically you replace the hot cream in a normal ganache with freshly made salted caramel. Yeah, it's as amazing as it sounds.) You can use the recipe from my caramel ganache truffles. You won't use the full batch for the sandwich cookies, although whatever is left you can just pipe into dollops, chill for a bit more, then toss in cocoa powder and voila… (nearly) instant truffles.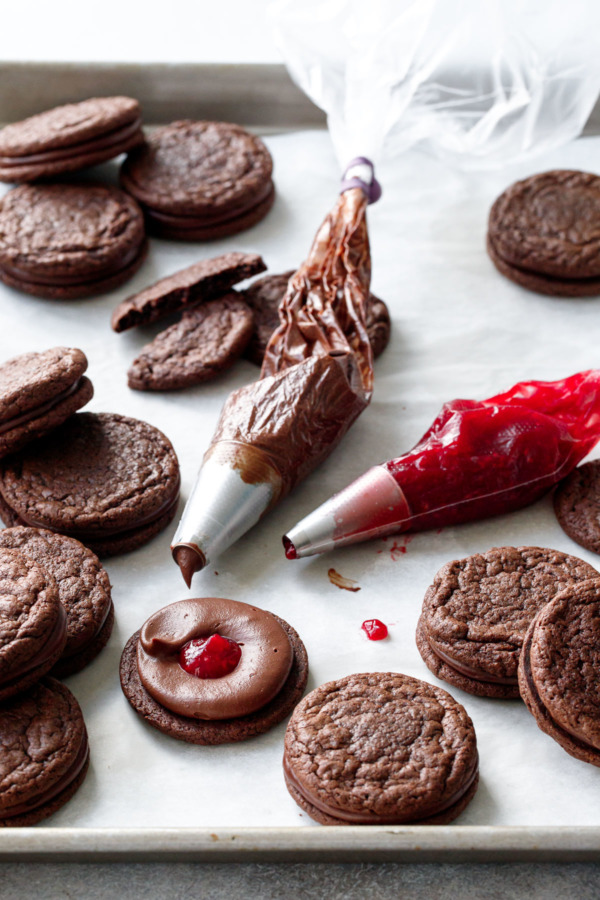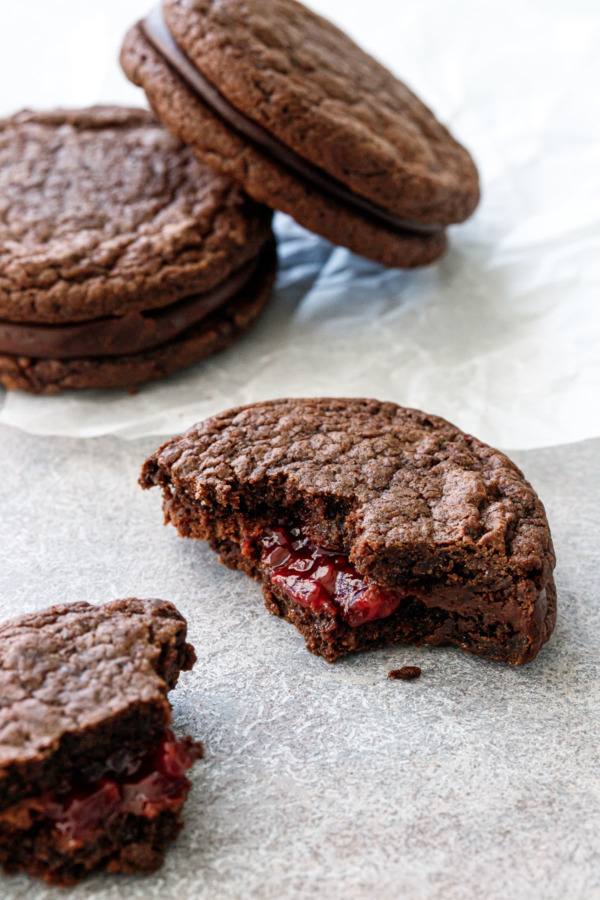 The ganache will need about 45 to 60 minutes at cool room temperature before it reaches a pipeable consistency, though you can refrigerate it to speed up the process a bit, just give it a gentle stir every 5 or 10 minutes to ensure it cools evenly. I'd recommend starting the ganache while your cookies are in the oven.
Once the ganache has cooled to the consistency of peanut butter, transfer it to your piping bag and do a test cookie. If it still seems a bit runny, twist the end of the piping bag to keep it from running out (or if you have one of those nifty silicone piping tip caps that works beautifully), and put the whole bag in the fridge for a few minutes more.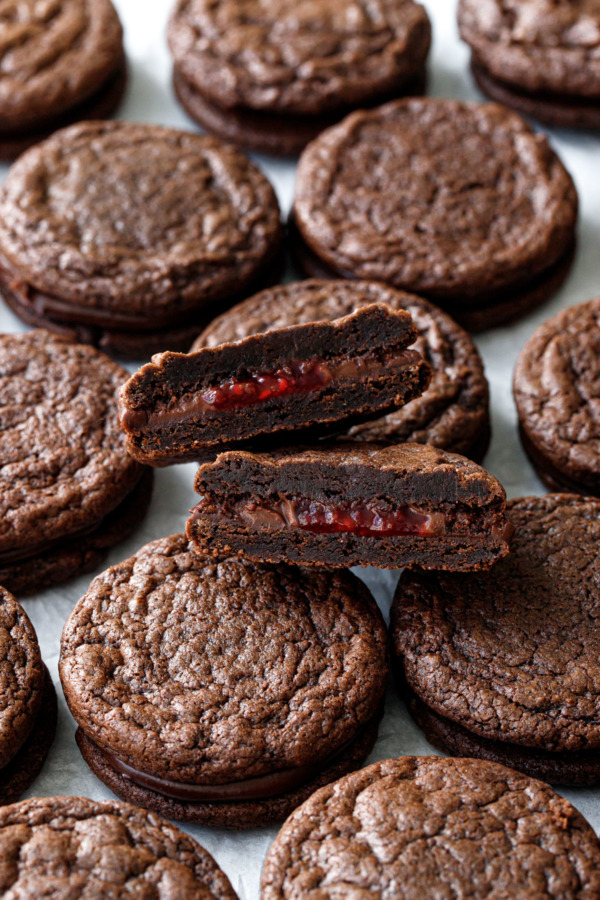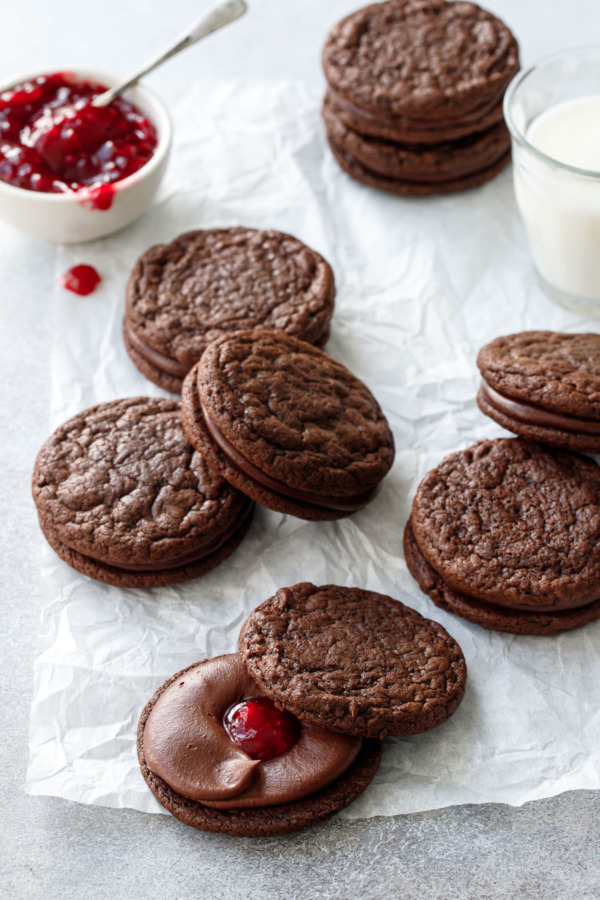 Once they've been sandwiched, the cookies will need to chill for a bit longer to fully set (otherwise the cookies might slip around).
At cool room temperature these cookies are fine left out for a few hours, though they should be refrigerated if storing overnight.
Brownie cookies in general are definitely best enjoyed within a few days of baking, however they will keep, refrigerated in an airtight container, for up to 5 days if necessary (though I highly doubt they'll last that long!)
If you're wanting to freeze these for later, I'd recommend freezing the unbaked dough balls you don't plan to use right away, then bake and fill the cookies before serving (I personally don't love frozen ganache, I prefer that part to be fresh).
Chocolate Raspberry Sandwich Cookies
Rich, chewy brownie cookies with a chocolate ganache filling and a core of tart raspberry jam. You can start making the ganache while the cookies bake, since it will take 30-45 minutes to cool to a pipe-able consistency.
For Cookies:
2

cups

/

250

g

all-purpose flour

6

tablespoons

/

40

g

Dutch-process cocoa powder

1

teaspoon

baking soda

½

teaspoon

kosher salt

¼

teaspoon

instant espresso powder

4

oz

/

110

g

good quality bittersweet chocolate (60-70%)

,

finely chopped

¾

cup

/

170

g

(1½ sticks) unsalted butter

,

at room temperature

1

cup

/

220

g

packed brown sugar

½

cup

/

100

g

granulated sugar

2

large eggs

,

at room temperature

2

teaspoons

vanilla extract
For Filling:
4

oz

/

113

g

good quality chocolate

,

finely chopped (I used a mix of 35% milk and 76% bittersweet chocolate)

½

cup

/

120

g

heavy cream

2

teaspoons

Chambord or other raspberry-flavored liqueur

,

optional

¼

cup

/

80

g

raspberry jam
To make cookie dough, whisk together flour, cocoa powder, baking soda, salt and espresso powder in a bowl and set aside.

Gently melt chocolate in a double boiler or microwave (use 50% power in 20 second increments) until just melted. Set aside to cool slightly.

Place butter and sugars in the bowl of a stand mixer fitted with the paddle attachment. Beat on medium-high speed until lightened and somewhat fluffy, about 2 to 3 minutes.

Reduce mixer speed to low and add eggs, one at a time, mixing until each egg is completely incorporated before adding the next. Scrape down the beater and the sides of the bowl, then increase speed to medium high for 30 seconds until slightly lightened in color.. Mix in vanilla.

Pour in lukewarm cooled chocolate and mix on low speed, scraping the sides and bottom of the bowl well, until batter is uniform in color. Add dry ingredients and mix on low speed until just incorporated.

Press a layer of plastic wrap on the surface of the dough. Refrigerate for 20 to 30 minutes or until it's just firm enough to work with.

Meanwhile, preheat oven to 350 degrees F. Line two baking sheets with parchment paper.

Scoop rounds of dough using a small cookie scoop (about 20g, or 1 tablespoon-ish of dough per cookie). Flatten dough balls slightly into a puck shape (this will help it spread more evenly). Leave 2-3 inches of space between cookies as they will spread quite a bit.

Bake for about 8 minutes or until tops are puffed and no longer shiny.

Remove from oven and immediately swirl a round cookie cutter (slightly larger than the diameter of the cookie) around each still-soft cookie to tuck in any rough edges and perfect the circular shape. Let cool on sheets for 10 minutes, then transfer to a wire rack to cool completely. Repeat with remaining dough (you should end up with about 44 individual cookies).

To make ganache, (and you can start this while the cookies are baking since it'll take a little while to cool), place chopped chocolate in a heat proof bowl. Warm cream in a small saucepan until it just begins to bubble around the edges (do not let it boil). Pour over chopped chocolate. Let sit for 30 seconds then slowly whisk, working from the center outward in concentric circles until an emulsion forms. Continue to gently whisk until cream is fully incorporated and chocolate is melted. Whisk in Chambord.

Let cool, gently whisking every 10 minutes or so, until ganache is thickened to the consistency of peanut butter. This will take about 45 minutes at cool room temperature, or you can refrigerate (gently whisking every 5 to 10 minutes to ensure it cools evenly) to speed it up a bit. Transfer to a piping bag fitted with a 1/2-inch round tip. Transfer raspberry jam to another piping bag with a 1/4-inch round tip (you can also spoon the jam into the centers).

Pair up the cookies in matching sizes and arrange on baking sheet with one cookie in each pair flipped upside down. Pipe a ring of ganache on the flat undersides of half of the cookies. Fill the center of ring with a teaspoon or so of raspberry jam. Lightly press a second cookie on top (don't press too hard or the filling will squeeze out). Refrigerate until fully set and ready to serve.

Cookies will keep, refrigerated in an airtight container, for up to one week.
All images and text ©
for Love & Olive Oil.