No one likes a watery pizza. That's why our favorite homemade pizza sauce is extra thick, like bordering on tomato paste-thick, not to mention packed with garlic, herbs, and an intense tomato flavor.
While you might be tempted to use a pizza sauce straight from the jar, we find most commercial sauces far too thin for our tastes, resulting in sad, soggy pizza centers. If chewy, crispy-bottomed pizza crust is your jam (it sure is ours), we find the extra time to make a batch of this extra-thick homemade sauce is well worth the effort.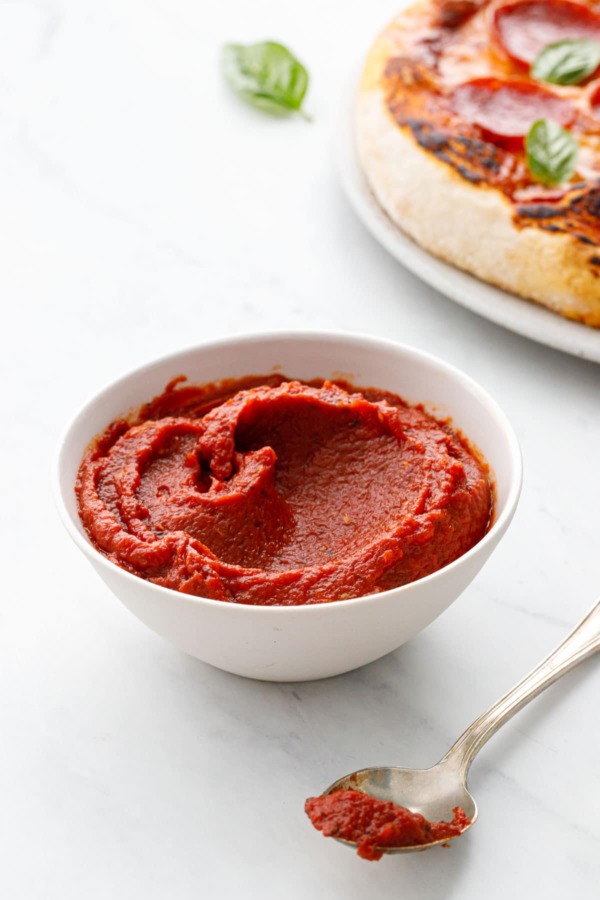 The texture of this extra-thick pizza sauce falls somewhere in between tomato sauce and tomato paste, probably leaning more towards the paste end of the spectrum when all is said and done.
The flavor is so intense you really only need a few spoonfuls on your pizza (2-3 tablespoons is just about right for a 9-inch two person pizza); that small quantity packs the same amount of flavor without the extra liquid.
Seasoning-wise it's deceivingly simple, just a bit of garlic sautéed in olive oil, salt, pepper, and dried Italian herb seasoning to help enhance the tomato flavor even further.
Paired with our favorite pizza crust recipe and assorted toppings of your choice, you're in for a truly epic pizza night.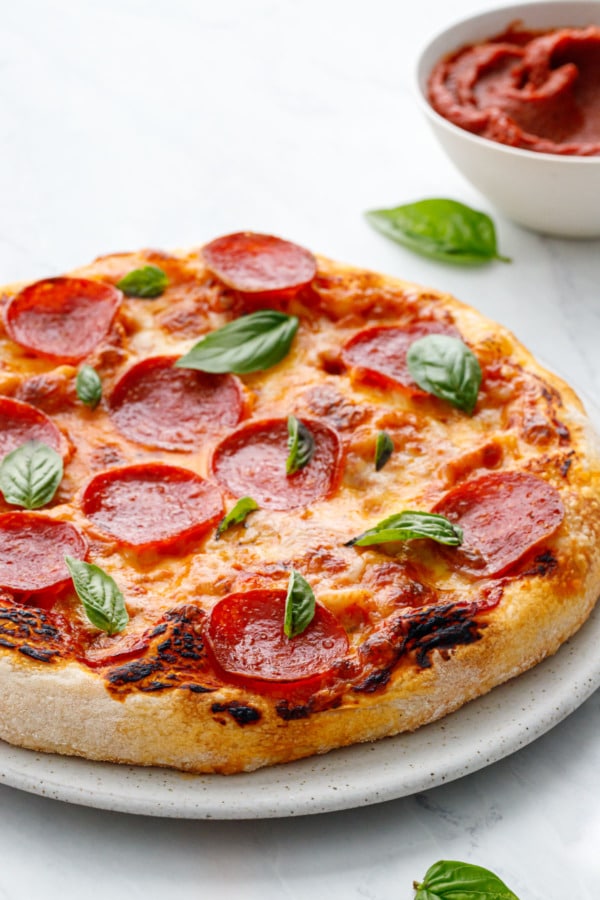 Our homemade pizza sauce starts with jarred strained tomatoes or tomato purée (sometimes labeled tomato passata). We tested it with crushed tomatoes that we pureed ourselves, and while it technically works, the texture isn't quite as thick and luxurious as the sauce made with tomato passata (which is already velvety smooth to begin with).
Three cups (one 24oz jar) of tomato passata will give you about 1 cup of ultra thick pizza sauce. We find about 2-3 tablespoons just right for a 9-inch pizza, in which case one batch will easily make enough for six pizzas.
This same recipe can also be used to make a fabulous pasta sauce, just simmer it for about half the time or until you reach your desired thickness, about 1½ to 2 cups of sauce.



You can see here just how much the sauce reduces after about 45 minutes of gentle simmering.
Pro tip? Use your biggest, tallest pot for this recipe, even though it seems like overkill for 3 cups of liquid. We used our 8 quart pasta pot here. The thick tomato mixture bubbles like molten hot magma, and will splatter all over your shirt and your hands and your countertops (and sometimes even your cabinets). To prevent excess mess, stick with a large, tall pot and use your longest spoon/spatula to stir it regularly as it thickens. Also, if you have a mesh splatter guard hiding in the back of your cabinet, this is the perfect time to use it.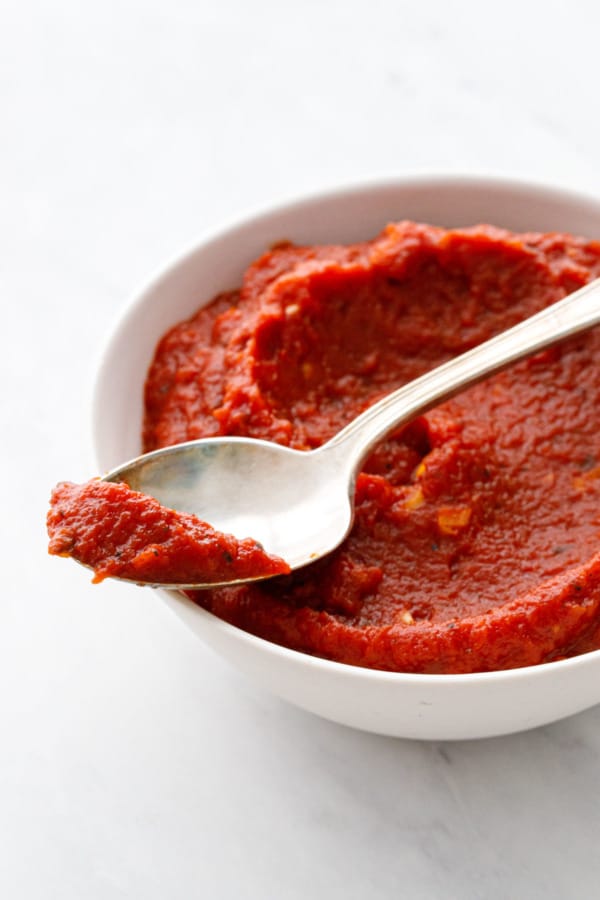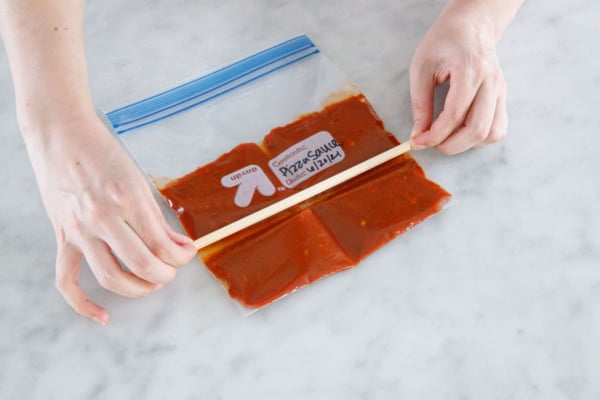 Any sauce you don't plan to use in the next week or so can be frozen. I like to put the sauce in a plastic bag, spreading it out flat over the whole surface, then press a chopstick down on the bag to essentially divide the bag into even portions. This makes it super easy to break off just one portion of sauce, which you can then thaw in the fridge overnight or in the microwave defrost setting (cover the dish with a paper towel to avoid any splattering).
Extra Thick Homemade Pizza Sauce
Our favorite homemade tomato sauce is extra thick and packed with flavor. Why extra thick? Because no one likes a watery pizza.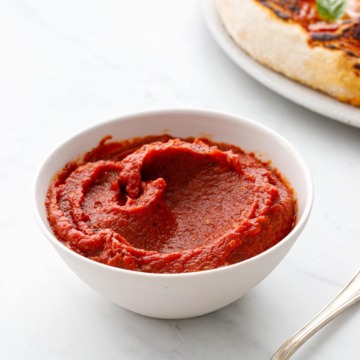 Ingredients:
1½ teaspoons extra virgin olive oil
3 cups (1 24oz jar) tomato passata (strained tomatoes or tomato puree)
2 large cloves garlic, minced (about 1 tablespoon minced
½ teaspoon dried Italian seasoning
½ teaspoon kosher salt, or to taste
½ teaspoon freshly ground black pepper, or to taste
Directions:
Preheat a large high-sided saucepan or stock pot over medium heat and add the olive oil.
Add garlic and Italian herbs to the pan and stir until garlic is fragrant and sizzling, about 1 minute.
Carefully pour in tomatoes. Add salt and pepper.
Reduce heat to a simmer and let sauce reduce until it is beginning to look more like tomato paste, about 45 minutes, stirring frequently to keep the sauce from splattering too much. When fully reduced you should have about 1 cup of very thick sauce. Taste and add additional salt and pepper as desired.
For a slightly thinner pasta sauce, don't reduce it quite as much, simmer for maybe 20-30 minutes or until you have about 1½to 2 cups of sauce.
Sauce will keep in the fridge for up to 1 week. Leftover sauce can be frozen in an airtight bag or container for up to 6 months.
Did you make this recipe?
Let us know what you think!
Leave a Comment below or share a photo and tag me on Instagram with the hashtag #loveandoliveoil.