There are few things as perfect as a simple chocolate dipped strawberry, and these impressive little entremet cakes transform that classic pairing into a chocolate covered dome of delight, with a luscious strawberry mousse and rich chocolate brownie core.
Featuring a cloud-like strawberry mousse and a square of fudgy chocolate brownie, all covered with a glossy chocolate ganache glaze, these little mousse cakes are as stunning as they are delicious. While entremet-style desserts do require a bit of effort and planning, the work is easily manageable when split over a few days.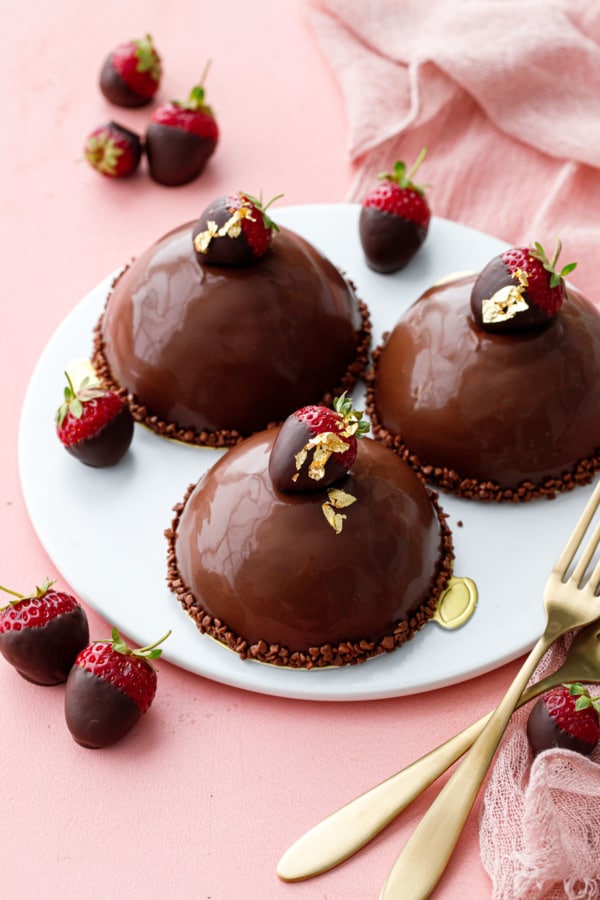 My blueberry mousse cake recipe is surprisingly popular given its complexity; and I'm giddy with delight every time I'm tagged in a photo by someone who's made them.
This recipe is a similar entremet-style dessert, but with different components: a rich chocolate brownie instead of the almond sponge, a light strawberry Bavarian mousse (distinctive in its use of egg yolks in the base), and then a chocolate ganache coating instead of the mirror glaze.
I'd say it's a bit easier than the blueberry version, and certainly easier than the chocolate-caramel concoction I made for the holidays, containing less components and with a ganache glaze that comes together quite a bit quicker and isn't as temperature-dependent as a mirror glaze (that said, ganache will never be quite as perfect and shiny as a mirror glaze).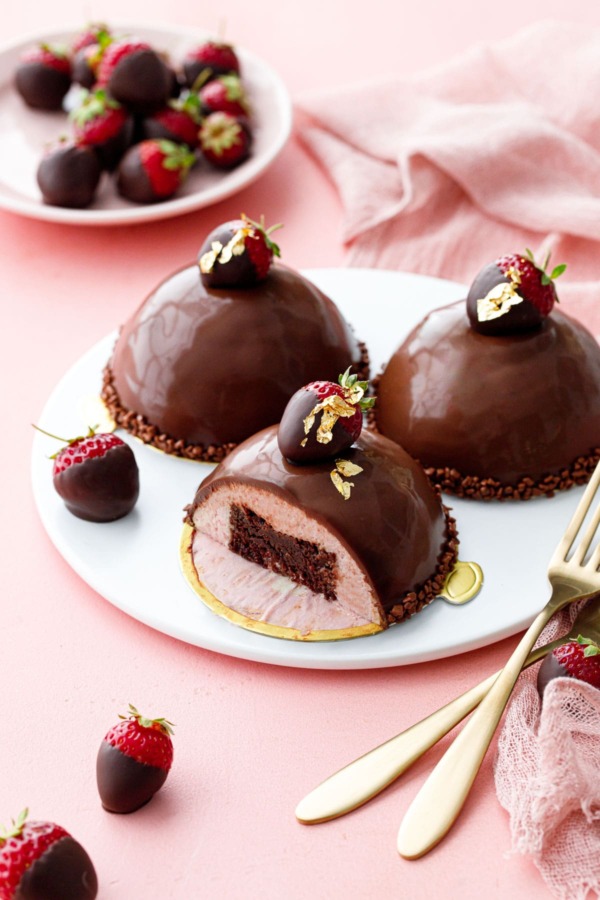 I used slightly larger 4oz silicone dome molds (they're just over 3 inches in diameter), filled with the strawberry mousse, and then a simple small-batch fudge brownie baked in a loaf pan and cut into squares as the base.
I finished the cakes with a border of chocolate flake sprinkles (since it's always hard to get the edges of these kinds of cakes crisp and clean, much easier to cover it up!)
Finally, the cherry strawberry on top: I dipped a few of the smallest strawberries I could find in tempered chocolate, then placed them on top of the glazed cakes with a few flakes of edible gold leaf for a truly elegant presentation.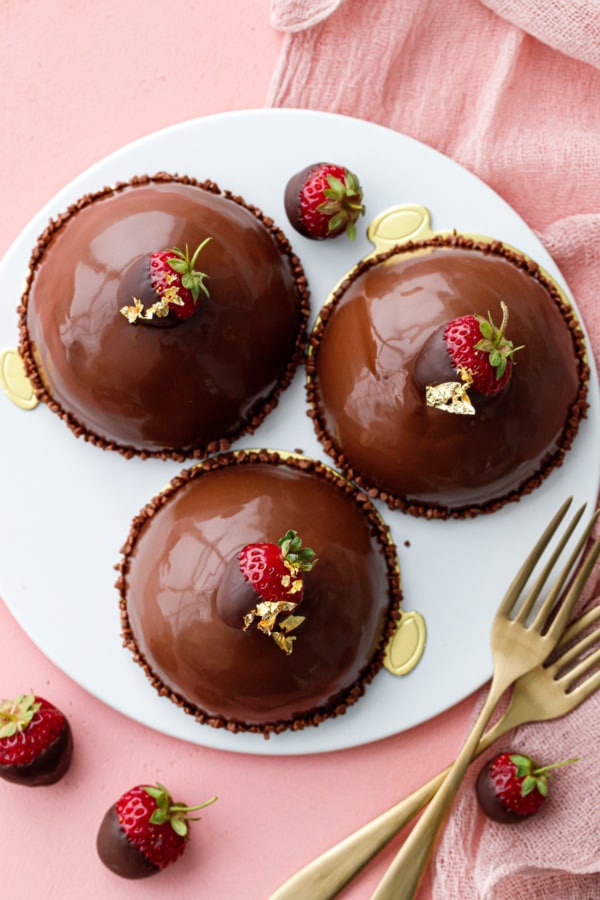 While this recipe may seem like a lot of work to make and assemble each of the different components, it's really quite manageable if you split your work over a few days.
Day 1, make the brownie. This can also be done the same day you make the mousse if you don't trust yourself not to nibble on it overnight.
Day 2, make the mousse and pour into molds with the brownie squares. Freeze overnight.
Day 3, remove cakes from molds and glaze with ganache. Serve and devour!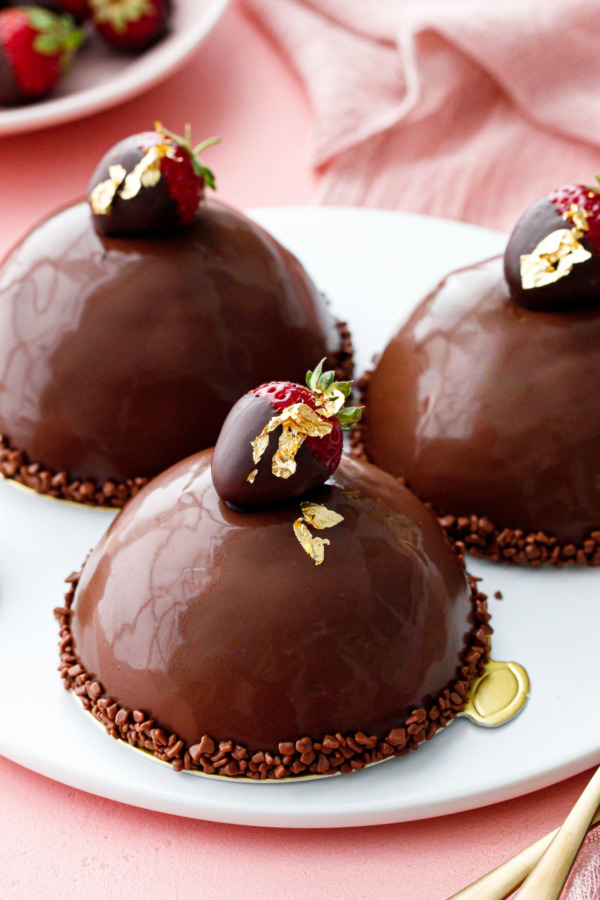 This recipe will make five 3-inch round dome cakes (using this silicone mold here). You could also use the smaller molds that I used in the blueberry recipe if you wanted a larger quantity of slightly smaller cakes (while I personally think a 3-inch cake is a suitable serving size, if you were serving this after a large, multi-course dinner you may want something a bit more petite).
You can also assemble the entire thing in a single 6-inch silicone or springform pan, or double the recipe for an 8 or 9-inch round silicone or springform pan as instructed here.
Finally, the recipe will also work as a rectangle terrine, assembled in the same loaf pan you baked the brownie in. I recommend removing the brownie from the pan/parchment after cooling, then lining the entire loaf pan with plastic wrap, smoothing out the wrinkles as much as possible. Then place the brownie back in the bottom, top it with the mousse, freeze, and finish with a layer of ganache (you'd probably be fine halving the ganache portion of the recipe). Chill the whole assemblage until completely set, then lift out of the pan, peel off the plastic, and cut into slices.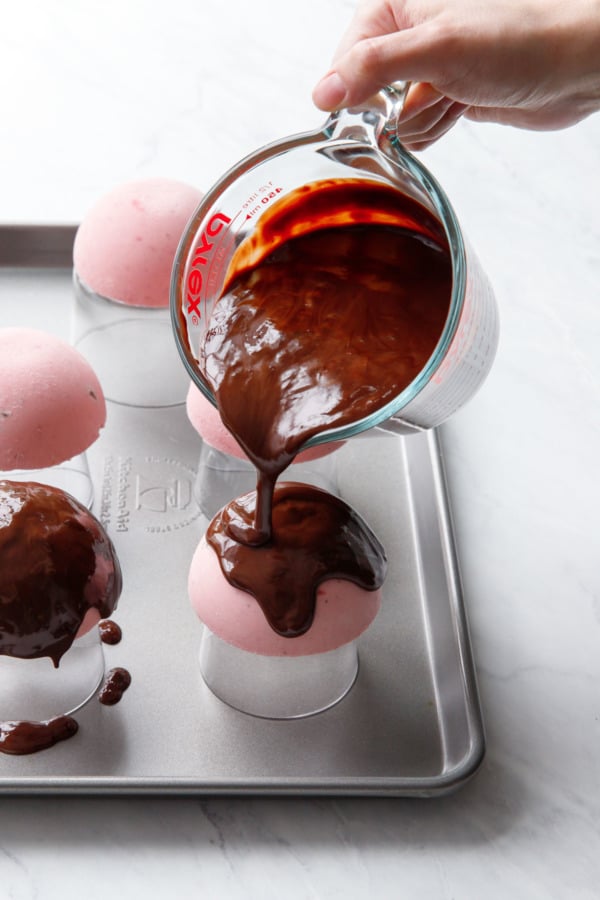 Unlike my previous mousse cakes, I glazed these in a thin ganache. But ganache glazes, while delicious, are much harder to get perfectly smooth. The batch pictured here was actually a bit too thick, so the recipe is written for a slightly thinner ganache that should pour on more smoothly and evenly.
You won't need all the ganache, but getting a smooth outer layer requires a bit of extra glaze. Any leftover ganche can be saved and used for another purpose (you can scrape it off of the cookie sheet, that's good stuff, don't waste it!) Gently warmed it'd make a fabulous ice cream sauce, for instance, or could even be piped into chocolate shells to make truffles (it's a bit too thin to make hand-rolled truffles, though).
Or, better yet, put those extra strawberries to good use and serve them with a bowl of warm ganache, along with some marshmallows, cookies and other fruit as part of a chocolate fondue platter!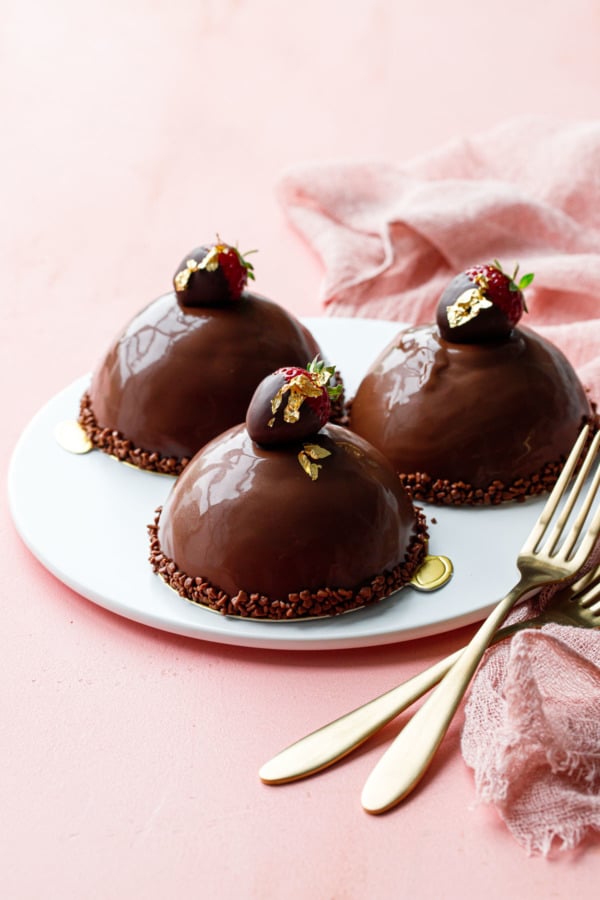 As tasty as the ganache is, if you want a perfectly smooth, shiny glaze, you'll want to use a mirror glaze instead of the ganache (the mirror glaze I use in my Nutella Brownie Mousse Cake would work great, and you can use dark chocolate in place of the milk).
Mirror glazes often have the added benefit of staying smooth and shiny, even in the freezer, assuming you can store them upright in a single layer without touching. Which is great when you want to prepare your dessert well ahead of time.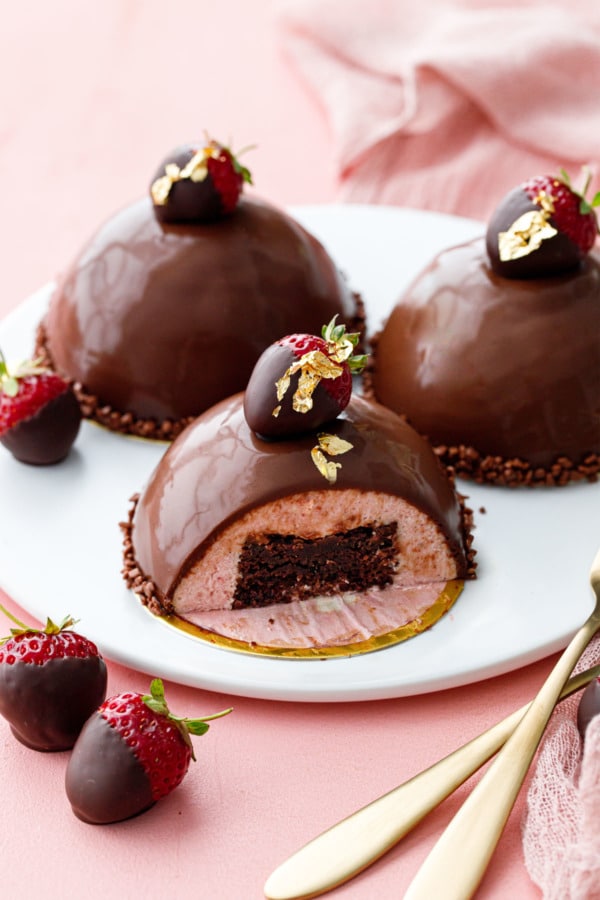 Made ahead of time, the frozen domes of brownie and mousse will keep in the freezer for a week or two (I recommend covering the molds with plastic wrap to keep them from drying out).
I don't recommend re-freezing cakes after glazing with ganache (unlike mirror glazes which can be frozen), though they can be refrigerated overnight if necessary (just know the ganache may have a bit of condensation on it when you pull it out again, especially if you live in a hot and humid climate). Let the cakes come to room temperature for 15 or 20 minutes prior to serving.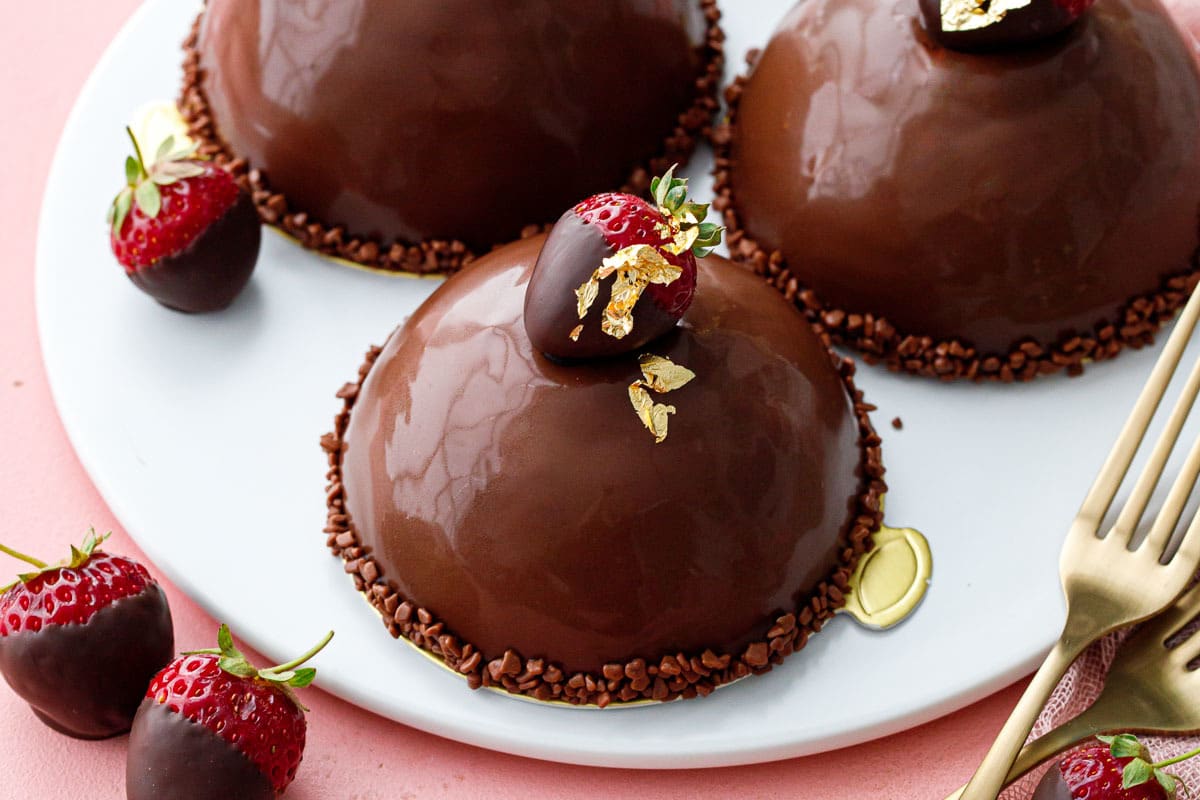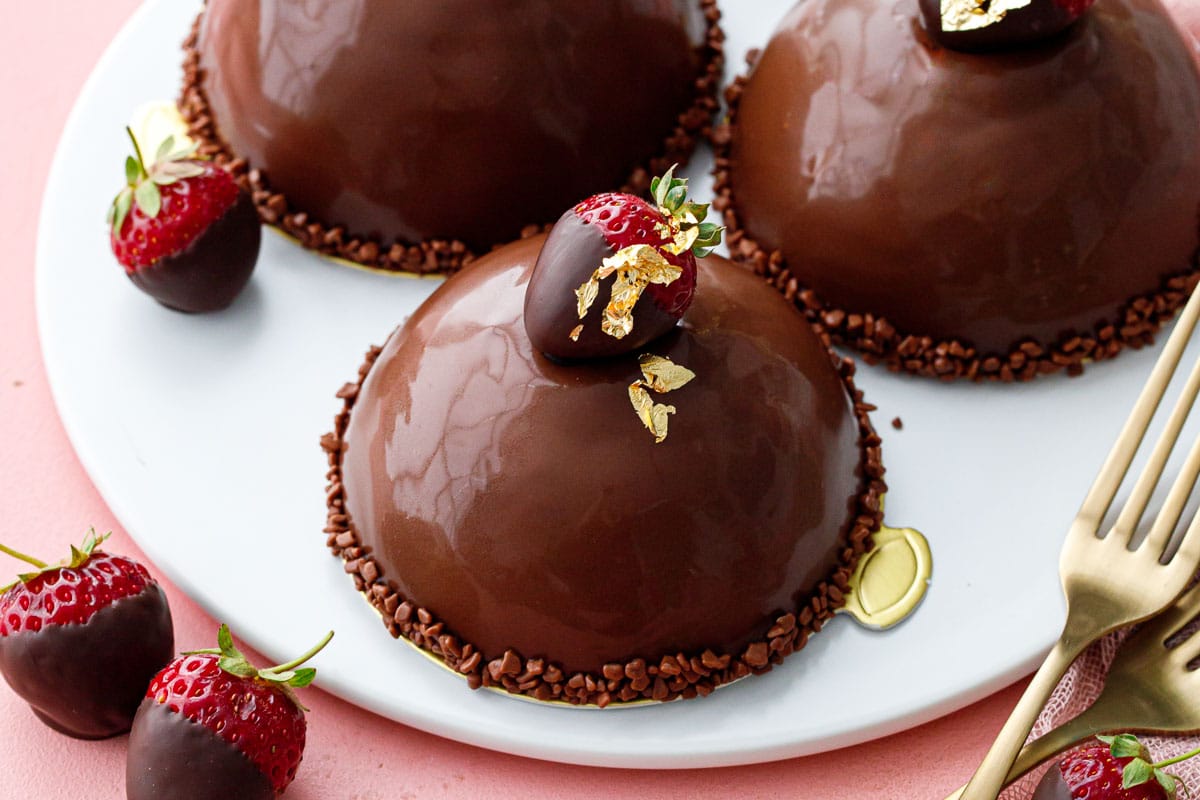 Chocolate Covered Strawberry Mousse Cakes
This recipe will make five 3-inch dome cakes. It can also be made and assembled in one 9-by-5-inch loaf pan, or doubled and assembled in an 8 or 9-inch round silicone pan or springform pan.
Ingredients
For Brownie:
3

tablespoons

/

42

g

unsalted butter

2

oz

/

57

g

50-60% semisweet chocolate

,

chopped

½

cup

/

50

g

granulated sugar

1

large egg

½

teaspoon

vanilla extract

¼

cup

/

35

g

all-purpose flour

2

tablespoons

/

15

g

dark or Dutch process cocoa powder

,

sifted

¼

teaspoon

baking powder

⅛

teaspoon

kosher salt
For Strawberry Mousse:
1¼

teaspoon

unflavored powdered gelatin

2

tablespoons

cold water

¼

cup

/

60

g

whole milk

1

large egg yolk

⅓

cup

/

66

g

granulated sugar

1

cup

/

130

g

fresh strawberries

,

washed and hulled

1

tablespoon

freshly squeezed lemon juice

⅔

cup

/

158

g

heavy cream

,

cold
For Ganache Glaze:
1

cup

/

240

g

heavy cream

1

tablespoon

/

22

g

corn syrup

8

oz

/

226

g

50-70% dark chocolate

,

very finely chopped
Instructions
For the brownie layer:
Preheat oven to 350 degrees F. Lightly butter a 9-by-5-inch loaf pan and line with a 9-inch strip of parchment paper (the two short ends will be uncovered); lightly butter parchment.

Melt butter in a medium saucepan. Remove from heat and add chopped chocolate, stirring until smooth (the residual heat from the pan should be plenty to melt the chocolate.)

Stir in sugar; mixture should be lukewarm, no longer hot to the touch. If it's still pretty warm, let it cool for a minute or two.

Whisk in eggs until batter is smooth and shiny.

Sift together flour, cocoa powder, baking powder and salt in a small bowl. Sprinkle over chocolate mixture and fold with a spatula until just incorporated.

Pour batter into prepared pan and spread into an even layer. Bake for about 20 minutes or until top is set and a toothpick inserted near the middle comes out with moist crumbs (not gooey batter). Set pan on a wire rack and let cool completely. The brownie layer can be made a day ahead of time; once cool, cover pan tightly and refrigerate overnight until ready to use.

Lift the cooled brownie out of the pan using the parchment overhang as handles. Cut off the edges, then cut into six 2-inch squares. The scraps and the sixth square make a lovely chef's snack. ;)
For the strawberry mousse:
Place water in a small dish; sprinkle gelatin over top and set aside to bloom for at least 5 minutes.

Heat milk in a small saucepan set over low heat until it just starts to steam (try not to let it boil).

Mix together egg yolk and sugar in a bowl until it forms a thick paste. Slowly spoon some of the hot milk into the yolk mixture, whisking constantly until the paste thins out a bit. Drizzle in the remaining milk and whisk until smooth.

Return mixture to the saucepan and return to low heat and cook, stirring and scraping the bottom of the pan consistently, until the mixture thickens slightly to coat the back of a spoon (it should measure about 175 degrees F on an instant read thermometer.

Remove from heat and whisk in gelatin until smooth. Transfer to a medium-large bowl and set aside.

Meanwhile, purée strawberries and lemon juice in a blender or food processor until smooth. Transfer to a liquid measuring cup (you should have about 1/2 cup purée, if you have more than that save the excess for another use). Whisk strawberry purée into lukewarm custard mixture, then place bowl in refrigerator while you whip the cream.

In a clean bowl or the bowl of a stand mixer, beat heavy cream until it holds soft peaks. Add 1/3 of cream to the cooled strawberry mixture and fold to lighten, then add remaining cream and fold until fully incorporated and no white streaks or lumps remain.

To assemble your cakes, spoon or pipe the mousse into silicone molds, about 2/3 of the way full. Gently press a brownie square into the top of each mousse-filled mold. Scrape with an offset spatula to make the top perfectly level with the top of the mold. Freeze at least 3 hours or overnight until completely firm.

Before you make the glaze, remove cakes from molds and place on a frozen cookie sheet lined with parchment paper. Return to freezer until just before glazing.
For Ganache Glaze:
Place chopped chocolate in a medium-sized, heat-proof bowl and set aside.

Heat cream and corn syrup in a small saucepan until it just starts to bubble (do not let it boil).

Pour over chopped chocolate and let sit for 30 seconds, then gently whisk, starting in the center and moving in gentle concentric circles until an emulsion forms, then working your way out to the edges until the entire mixture is smooth and emulsified.

Remove cakes from freezer and place on a cookie sheet, elevated off the sheet using small jars or cookie cutters (ideally something smaller in diameter than the cake itself so the glaze can drip off). You may also want to cut out small rounds of parchment to place under each cake to make them easier to transfer.

Pour glaze generously over cakes, taking care to ensure there are no bare spots left. Gently scrape the edges to remove any remaining drops, then carefully transfer cakes using a small offset spatula to cardboard cake rounds or small pieces of cardboard for easy movement. Any leftover glaze can be scraped up and refrigerated in an airtight container for another use.

Glazed cakes will keep in the refrigerator for up to 3 days. Let come to room temperature before serving.
All images and text ©
for Love & Olive Oil.
Did you make this recipe?
Let us know what you think! Leave a Review below or share a photo and tag me on Instagram with the hashtag #loveandoliveoil.