Golden brown roasted potatoes are tossed with a bright and peppery arugula chimichurri sauce for a fabulously flavorful side dish.
No more boring potatoes: these little gems are roasted until golden brown and bathed in a tangy, arugula based green sauce that's very similar to traditional Argentinian chimichurri sauce (just with arugula instead of the typical cilantro or parsley).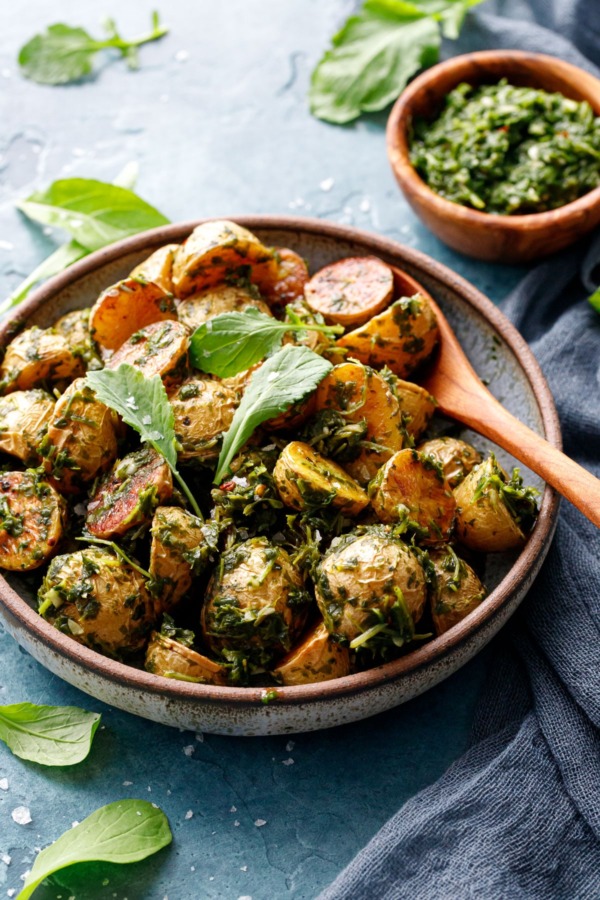 It seems like every culture around the world has their own green sauce. From Italy's pesto to North Africa's chermoula to Argentina's chimichurri, they all feature a base of primarily green herbs, mixed/chopped/blended into a loose sauce of sorts, usually with ample fresh garlic and a bit of acid, salt and sometimes heat. But the similarities end there: classic Genovese pesto includes pine nuts and cheese, chermoula brings in fragrant spices such as cumin, cayenne, and paprika in addition to tangy lemon juice. Chimichurri is typically cilantro or parsley-based, and notable in its use of red wine vinegar instead of citrus juice.
All these green sauces are ever so versatile, used on everything from meats and marinades to pastas and potatoes, the specific herbs used in each easily swappable for whatever seasonal greenery you have on hand.
In this case, we used a bag of gorgeous locally grown baby arugula from Caney Fork Farms (our CSA). Arugula, while not technically an herb, behaves like one in this recipe, lending a spicy, peppery green flavor to this distinctive green sauce that is most similar to Argentinian chimichurri.
While I've made arugula pesto plenty of times before before (I like using pistachios instead of pine nuts and a bit of parmesan and serving it on pasta or pizza), but pesto didn't seem like the right moniker for this particular concoction, what with its notable lack of cheese and nuts. I ultimately decided it was the most similar to chimichurri with the addition of garlic, pepper flakes and red wine vinegar.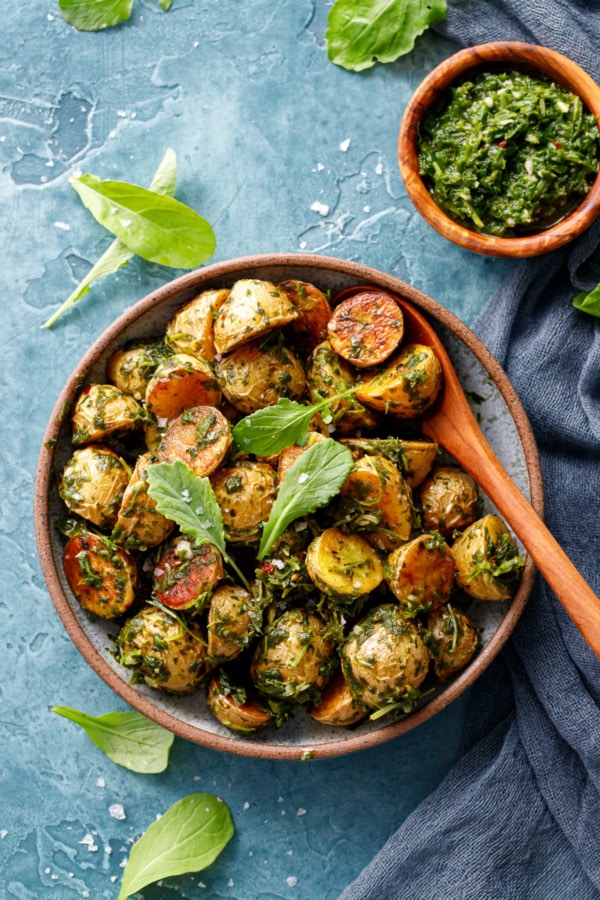 Could you use other herbs/greens here? Certainly, and as I mentioned above, that's one of my favorite things about the world of green sauces: pretty much anything green goes.
Cilantro or parsley (or a mix) would give you a more traditional chimichurri, or other leafy greens like kale, spinach or mizuna would result in a sauce with varying levels of bitter and pepperiness. I've also successfully made pesto with broccoli raab, beet greens and even carrot tops, and such vegetation would work equally well here.
If you find yourself in possession of extra bitter greens, blanch the greens for about 30 seconds in boiling water, then immediately transfer to an ice bath. Squeeze all the excess water out of the greens before adding them to the food processor and proceeding with the recipe as written. This extra step of blanching is a great way to pull out some of the extra bitterness, and will also produce a more vibrantly green sauce (I use this trick often when making pesto, it makes older, harsher basil taste like the fresh young stuff they use in Genoa).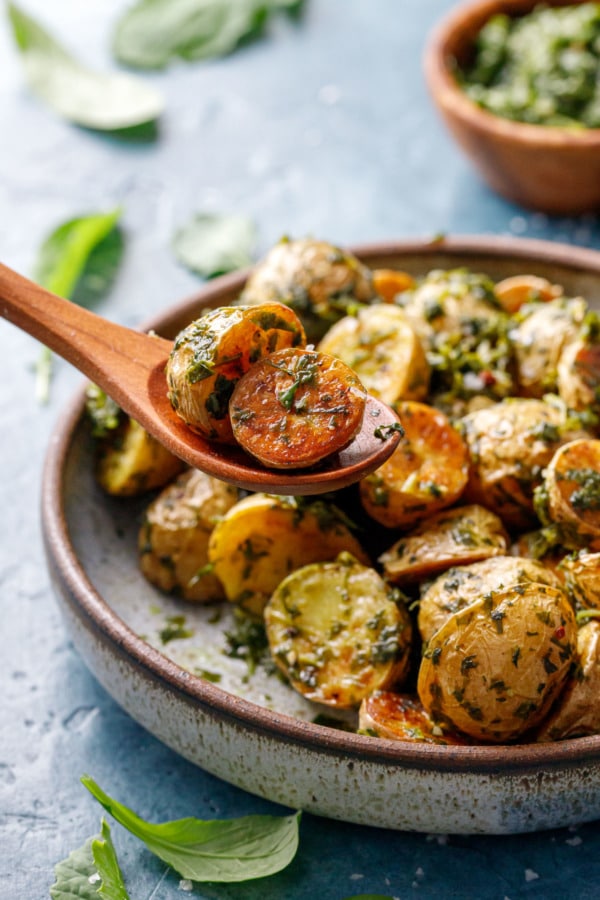 The recipe calls for baby yellow potatoes (whose skins are tender enough there's no need to peel them beforehand), though any size/variety of potatoes will work just fine here. You just want to be sure you chop larger potatoes into even, 1-inch pieces so that they cook and brown evenly.
Roasted potatoes are done when the cut sides are golden brown and a tender all the way through (you should be able to insert a fork or paring knife with little resistance, but honestly, the browning is a better indicator of doneness in this case).
If crispy is your thing (I feel like I'm in a constant quest for crispy and it's not easy without a vat of hot oil) the technique described here will give you just that: par-boil the potatoes first, then shake or stir to roughen up the starchy edges, which then crisp up nicely in a hot oven.
Roasted Potatoes with Arugula Chimichurri
Golden brown roasted potatoes are tossed with a bright and peppery arugula chimichurri sauce for a fabulously flavorful side dish.
Ingredients:
1 ½ pounds baby yukon gold potatoes
1 tablespoon extra virgin olive oil
For Arugula Chimichurri:
4oz (113g) baby arugula
3 cloves fresh garlic, peeled and coarsely chopped
2 tablespoons red wine vinegar
1/4 cup plus 2 tablespoons (80g) extra virgin olive oil
¼ teaspoon red pepper flakes
¼ teaspoon flake sea salt, or to taste
Directions:
Preheat oven to 400 degrees F. Line a baking sheet with parchment paper.
Cut potatoes in half, or, if using larger potatoes, cut into even 1-inch pieces. Toss with 1 tablespoon olive oil and a generous pinch of salt. Dump onto prepared baking sheet, arranging so cut sites are down.
Roast for 20 minutes until bottoms are nice and golden brown, then use a thin spatula to release the potatoes from the parchment and toss until cut sides are facing up. Roast for about 10 minutes more until potatoes are tender all the way through.
While potatoes are roasting, prepare the chimichurri: combine arugula, garlic, red wine vinegar, and pepper flakes in a food processor. Pulse until arugula is evenly chopped, then drizzle in olive oil, scraping down the sides as you go. Taste, and season with salt as needed.
Transfer roasted potatoes to a large bowl. Add arugula chimichurri and toss until evenly coated. Serve immediately (while you can reheat leftovers, the chimichurrri will turn slightly brown although it still tastes fine).
Did you make this recipe?
Let us know what you think!
Leave a Comment below or share a photo and tag me on Instagram with the hashtag #loveandoliveoil.