A classic yellow sheet cake, moist and tender with a hint of vanilla and lemon zest, topped with a fluffy strawberry rose buttercream and decorated with Valentine's-themed sprinkles.
Sheet cakes are satisfyingly simple, with no fussy layers or crumb coats, just the perfect ratio of buttery yellow cake to creamy strawberry rose frosting.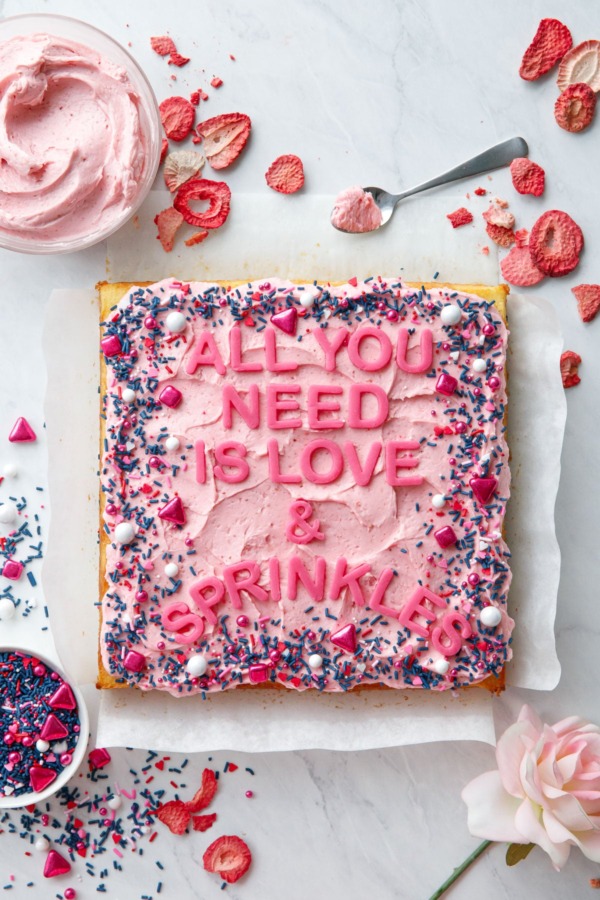 Let's start the New Year off right.
With cake.
(Duh.)
I mean, I'd really be fine if we skipped the entire month of January altogether (although we can keep the 22nd because that's Taylor's birthday and he wouldn't be pleased if we skipped that). How nice would it be to jump straight from the pleasant fog of the holidays to February, and, in particular, Valentine's day (because that's when we, as food bloggers, are officially 'allowed' to post sweet things again, which I think is complete nonsense.)
So, resolutions be damned, here's a delightful little sheet cake, full of love and sprinkles and, oh yes, butter.
But seriously, how adorable are these sprinkles? They're from Sweetapolita's Valentine's day collection, and served as the inspiration for this quippy cake. They're called Catch Feelings and, well, I've certainly caught some feelings for this gorgeous sprinkle medley!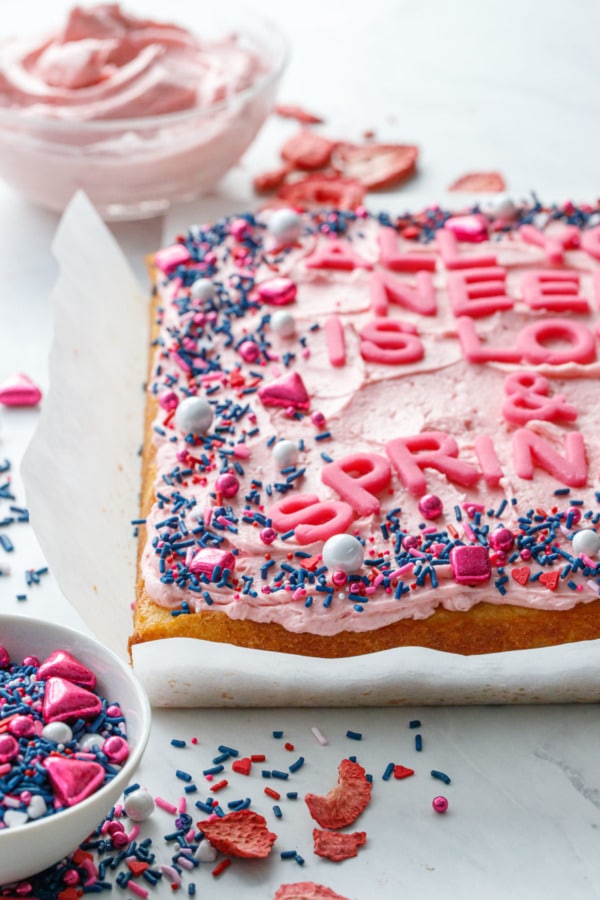 The cake itself is a classic yellow cake, rich with egg yolks (vs white cake which is made with just egg whites) and tangy buttermilk, plus vanilla and the barest hint of lemon zest (the cake does not noticeably taste like lemon, however adding just a little zest to the batter adds a depth and roundness of flavor that makes this cake taste like pure nostalgia).
While I certainly think it'd be fabulous with a chocolate fudge frosting, in following with the Valentine's day theme I opted for something a bit more… romantic. In this case, a strawberry rose buttercream.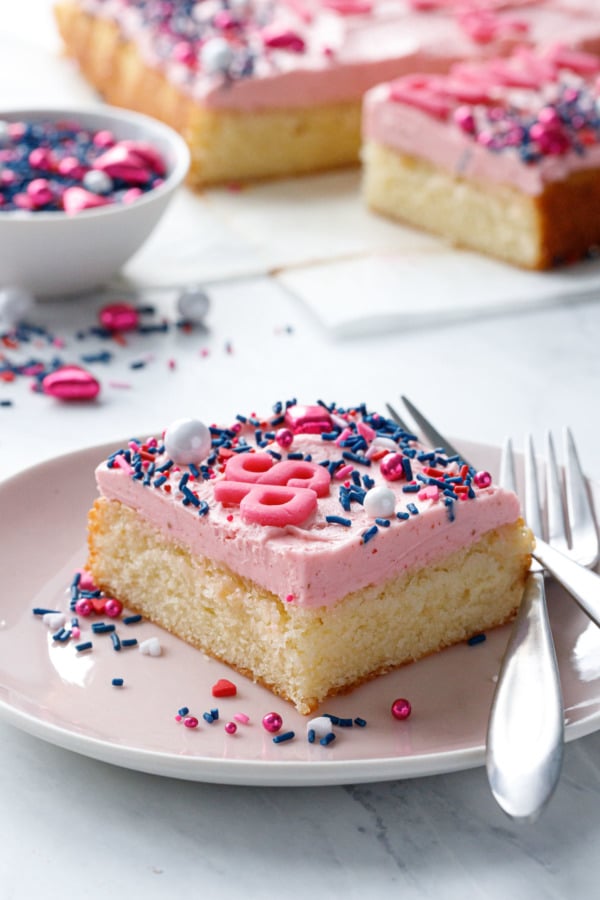 While my favorite chocolate cakes are easy oil-based recipes that don't require a stand mixer, yellow cake really needs the butter (trust me, I've really tried so hard to come up with an oil-based yellow cake recipe that I like, but I am never pleased with the final texture or flavor). This one actually has both, primarily butter for flavor but with a bit of oil for added moisture.
When making a butter-based cake such as this one, the single most important factor in getting a fluffy, smooth batter (and thus a perfectly even and tender crumb once baked) is temperature. Namely the temperature of your butter, eggs, and, in this case, buttermilk.
For these ingredients to properly cream they must be at what I consider cool room temperature, or about 65-67 degrees F. That the butter and the eggs are the same temperature is paramount; if one of the two is too cold they will not properly emulsify and you will end up with a curdled looking batter.
I try to get my ingredients out at least an hour or two before I start baking, sometimes more in the winter, to let them fully come to room temperature. If you must rush, you can pop the eggs in a bowl of warm water for 20-30 minutes. For butter, cut it into pieces and microwave on half-power in short intervals until it reaches the appropriate temperature.
How do you know you've reached the appropriate temperature? Stick a digital thermometer right into the stick of butter. Crack your eggs into a liquid measuring cup and take their temperature too. I'm not kidding here! I've learned after many sub-par, curdled cakes that patience always pays off. Make sure your ingredients are the right temperature, and make sure you fully cream everything together (you really can't overbeat cake batter, at least until you add the flour).
You can see in the photos below what the texture of the batter should be… I'd almost describe it as a thick, fluffy buttercream.


The secret to the best strawberry buttercream? Freeze-dried strawberries. Whereas strawberry jam or strawberry puree affects the consistency of the buttercream (you really can't add enough strawberry to make it flavorful without affecting the buttercream's stability). But freeze-dried strawberries, completely void of any moisture whatsoever, add a punch of strawberry flavor without the added moisture.
I grind my strawberries in a coffee/spice grinder (not the same grinder you use for coffee because that flavor will never come out) until you have a fine powder. We have this one from KitchenAid but there are less expensive grinders that work just as well. Sometimes I add a tablespoon or two of regular or powdered sugar to help the berries grind more evenly.
The strawberries give the frosting a naturally light-red color, however in this case I wanted a slightly brighter shade of pink to match the fuchsia sprinkles, so I added a drop or two of electric pink gel coloring to intensify the color.
I also added a splash of rose water (just enough to give it a hint of romance, but not so much that you feel like you're eating potpourri), but you can certainly leave that part out if you like.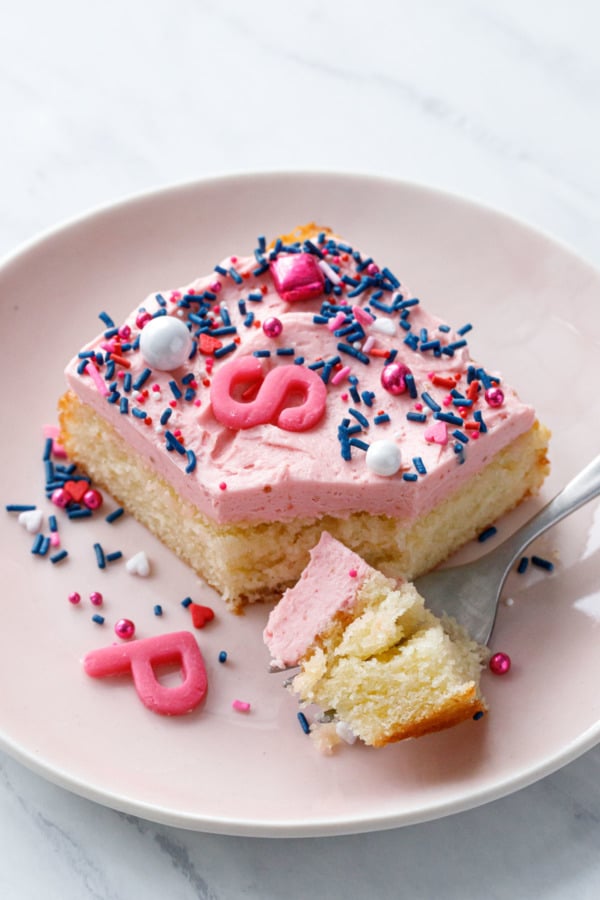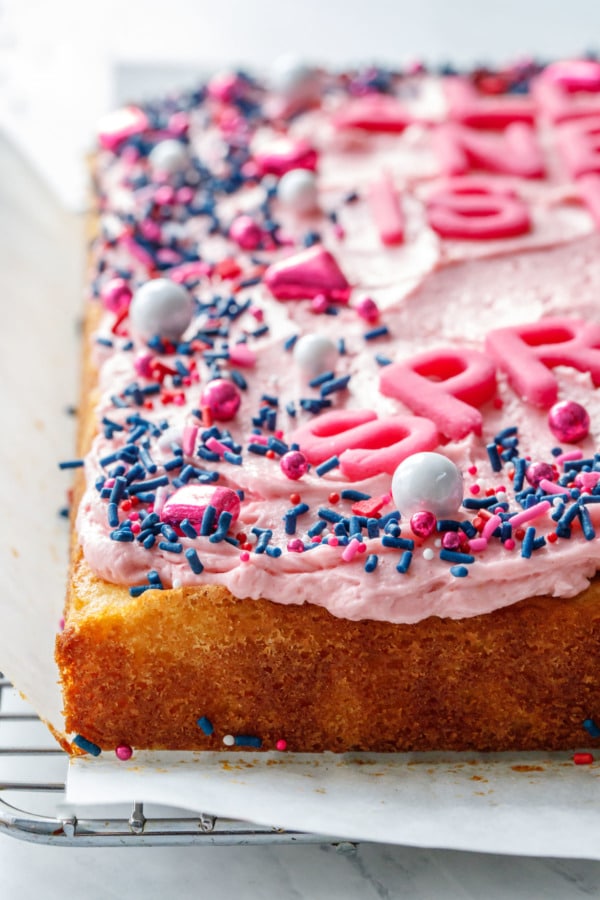 As with my cookie dough fudge recipe, I highly recommend seeking out organic powdered sugar for your frosting. As I learned from a helpful commenter on that post, organic powdered sugar is made with tapioca starch (vs cornstarch in conventional types), and the tapioca doesn't require heat to fully integrate and thicken. So for recipes like buttercream or fudge, where there is no heat involved, organic powdered sugar will give you a smoother texture and a better overall mouthfeel. It's also noticeably less cloying, which is one of my main criticisms with most American-style buttercreams.
And like the batter, for the fluffiest buttercream you must have your butter at room temperature. Too cold and the buttercream will seem greasy, too warm and the buttercream will be much too soft (meaning you'll end up adding way more powdered sugar). Again, shoot for 65-67 degrees F. I'd also recommend having your cream at room temperature as well, to avoid any temperature shocks.


And of course, the finishing touch is the fabulous Sweetapolita sprinkles. This medley is called "Catch Feelings" and features a modern navy-and-fuchsia color combination complete with hearts and sparkly metallic pieces. I love this modern Valentine's combination, so elegant and different from all the red-white-pink that seems to define this holiday.
Be sure to check out all of Sweetapolita's Valentine's day sprinkles! And don't forget to use code LOVEANDOLIVEOIL15 to save 15% on your order!
I baked this in a 9-inch square baking pan, which produced the optimal thickness for an ideal cake-to-frosting ratio. If you use an 8-inch square pan you'll end up with a slightly thicker cake (bake it for 5 minutes longer). You can also bake the recipe as written in a 13-by-9-inch pan for a thinner layer of cake and more surface area for sprinkles and other decor. If you opt to do this, the bake time will be noticeably less, more like 20 minutes or so, since the cake is so much thinner.
Part of the appeal of sheet cakes is the lack of fussy layers, however if you wanted to turn this into a layer cake, bake it in a 13-by-9 or quarter sheet pan as mentioned above, then cut the cake in half and stack the two layers on top of one another.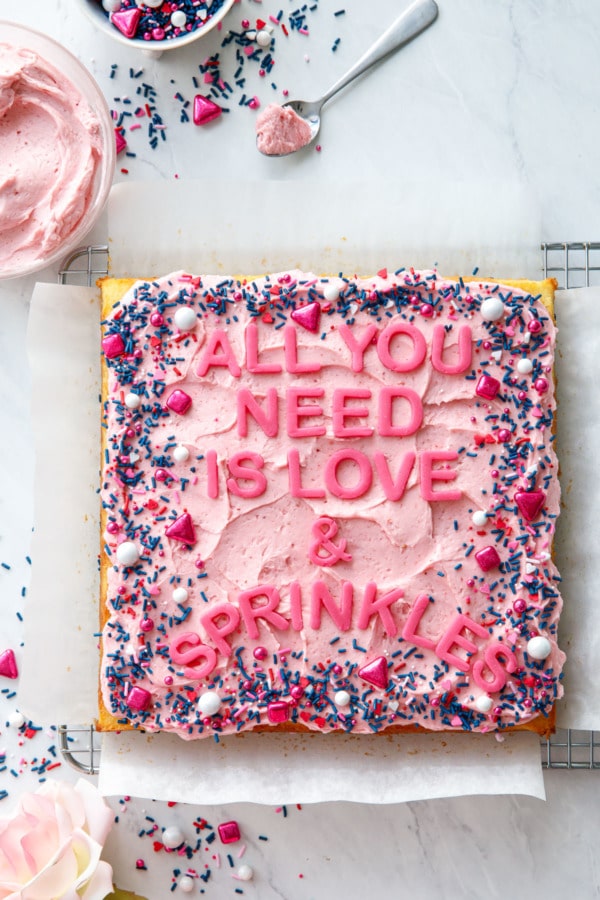 The letters are cut out of marzipan, and I, almond lover that I am, love the almond flavor in combination with the vanilla cake and strawberry buttercream. To make the letters, I kneaded about 2 ounces of almond paste with a few tablespoons of powdered sugar and a teaspoon of corn syrup, plus a drop or two of electric pink and a toothpick of fuchsia gel food coloring (careful, the fuchsia is an intense and rather dark color, if you accidentally add too much your pink will end up looking rather bruised). Then roll out thinly and cut out using alphabet cookie cutters. Let the marzipan dry out for a few hours before placing on the cake (they'll be much easier to handle when they're no longer flexible).
I also recommend pre-arranging your words how you want them before placing them on the final cake (I traced out a 9-inch square on some parchment paper to give me an idea of spacing). My words were on the long side so I ended up curving SPRINKLES so it'd fit better.
It's true though, isn't it?
All you really need is love and sprinkles. ❤️❤️❤️
Classic Yellow Sheet Cake with Strawberry Rose Frosting
A classic yellow sheet cake, moist and tender with a hint of vanilla and lemon zest, topped with a fluffy strawberry rose buttercream.
Ingredients:
For Cake:
1 cup + 2 tablespoons (141g) all-purpose flour
1½ teaspoons baking powder
⅛ teaspoon baking soda
½ teaspoon kosher salt
½ cup (1 stick, 113g) unsalted butter, at room temperature*
1 cup (200g) granulated sugar
2 large eggs, at room temperature
½ cup full fat buttermilk, at room temperature
2 tablespoons vegetable oil
2 teaspoons vanilla extract
½ teaspoon finely grated lemon zest
For Frosting:
¾ cup (1½ sticks, 170g) unsalted butter, at room temperature
1½ cup sifted confectioner's sugar, preferably organic, plus more as needed
¾ cup (16g) freeze dried strawberries, ground in to a fine powder in a spice or clean coffee grinder
1½ teaspoons rose water
pinch salt
2-4 tablespoons heavy cream, at room temperature, more or less as needed
pink food coloring (optional)
Sweetapolita sprinkles, for decoration
marzipan letters, for decoration (optional)
Directions:
For Cake:
Preheat oven to 350 degrees F. Butter a 9-by-9-inch baking pan and line bottom and sides with parchment paper. Lightly butter parchment.
In a bowl, whisk together flour, baking soda, baking powder and salt and set aside.
In another bowl or large 4-cup glass measuring cup, whisk together buttermilk, oil, vanilla and lemon zest.
In the bowl of a stand mixer fitted with the paddle attachment, cream together butter and sugar on medium-high speed until very light and fluffy, about 3 minutes (seriously, set a timer and beat it for a full 3 minutes).
Add eggs, one at a time, beating well after each addition to allow the egg to fully emulsify. Scrape down the sides of the bowl and mix in the second egg. Increase the mixer speed to medium-high for a 10 seconds or so at the end just to make sure the batter is nice and fluffy at this point.
Add half of dry ingredients and mix on low speed until mostly incorporated, then mix in about half of the buttermilk mixture. Scrape down the sides, then add remaining flour, followed by remaining buttermilk, and mix until fully incorporated.
Pour into prepared pan and spread into an even layer. Bake for 30 to 35 minutes or until center is set and a toothpick inserted near the center comes out clean.
Let cool completely before frosting.
For Frosting:
To prepare frosting, in a large mixing bowl or the bowl of a stand mixer, beat butter on medium-high speed until smooth and fluffy, 2 to 3 minutes.
Add powdered sugar, 1/2 cup at a time, mixing well after each addition. Mix in ground strawberry powder.
Add 2 tablespoons of cream and rose water and increase speed to medium high, beating until frosting is very light and fluffy. At this point you can add additional cream to lighten the frosting and cut the sweetness. However, in warmer months, you may find the frosting is too thin as is to support any cream at all, and may even find adding a bit more powdered sugar is necessary to achieve the desired consistency. Use your best judgement here.
The frosting will be a naturally light red color, if you want a brighter pink, add a few drops of food coloring and mix until evenly incorporated.
Spread onto cooled cake using a large offset spatula. Decorate with sprinkles as desired.
*It is extremely important that your butter, eggs, and buttermilk be at room temperature, ideally about 65-67 degrees (stick a thermometer right into the stick of butter if you're unsure). Having these ingredients at the same temperature will allow them to emulsify together into a smooth and fluffy batter. I like to pull out my ingredients at least an hour or two before I start baking and let them come to room temperature naturally.
Did you make this recipe?
Let us know what you think!
Leave a Comment below or share a photo and tag me on Instagram with the hashtag #loveandoliveoil.