Pepper jelly is a delicious enigma: the perfect balance of sweetness and spice. It is nothing short of perfection on a cracker with cream cheese.
This recipe is extremely versatile, use whatever color peppers you have on hand, and adjust the heat level to your liking, from just a hint of heat to inferno-in-your-mouth.
This sweet and spicy pepper jelly is one of my favorite recipes from my canning ebook series, That's My Jam. It's been a few years since I've made it, but recently a glut of peppers from our CSA left me no other choice than to make a batch or two. The result was so pretty I decided to share it here, complete with brand new labels (the ones in the ebook are specifically for red pepper jelly, so a new, more inclusive label seemed to be in order).
I'm actually not particularly fond of peppers, if you can believe it. Pepper jelly is the exception, however, and I will devour an entire jar myself with gusto.
My favorite way to use it is on crackers with cream cheese or goat cheese, but it's also great as a topping for baked brie, slathered on a juicy burger, layered with ham and goat cheese in a extra special monte cristo (recipe is in Breakfast for Dinner, if you're craving!), or even as a glaze for meat or vegetables.
I've actually posted a pepper jelly recipe before, a traditional recipe using liquid pectin, but I reworked the recipe using Pomona's pectin for the ebook a few years back. The updated recipe also incorporates the chopped peppers rather than straining them out, which results in a slightly chunkier but noticeably more flavorful jam (not to mention a higher yield).
Another benefit to using a low sugar pectin? It's much quicker. In fact, the third batch of this jelly I made (I had high hopes for the purple version using some pretty purple sweet peppers, alas, 'twas not meant to be…) only took 30 minutes start to finish, minus the water bath (which I opted to skip for the third batch since it was smaller and ugly and not worth preserving). Even including the 10 minute boiling water bath, you can easily be done in 45 minutes… an hour total if we're including dishes. Still, for jam, that's definitely on the quick side, and one of the reasons I love canning with Pomona's pectin.
(Be sure to click through and scroll to the bottom of this post for the printable labels… including a NEW editable template option for your canning convenience!)
Pepper jelly is really mostly sugar and vinegar, so this jam definitely has more sugar than say, peach jam does. However, using Pomona's pectin (which relies on calcium to set, rather than sugar content), allowed me to use a slightly more reasonable 2 1/2 cups of sugar instead of the 5 1/2 cups required with regular pectin.
While you can use more sugar if you want it even sweeter, I do not recommend reducing the sugar any further as the jam would taste too strongly of vinegar.
The orange-hued jelly is partially made up of habanada peppers, which look suspiciously similar to the ultra-spicy habañero peppers. I would have assumed they were mouth-burningly spicy, except for the fact that Caney Fork Farms, our wonderful CSA, labeled them quite clearly as not spicy, in a separate container from the solitary habañero that was conversely labeled HOT. And indeed, the flavor of the habanadas is bright and sweet and almost fruity. They really made for amazing pepper jelly.
The red jelly is made up of sweet red peppers and a red cayenne for a hint of heat. I think 3-4 cayennes would have made for a perfect sweet heat, but we just had one to work with so we made do.
We also got a whole bunch of pretty purple peppers (I wasn't kidding when I said we got a ton of peppers!) I had visions of a gorgeous rainbow of pepper jellies, red and orange and violet, but that purple concoction was not meant to be, turning a less than lovely shade of cider brown when cooked.
For this reason I suggest sticking to mainly red, orange, and yellow peppers. Ideally all your peppers will be from the same color family, so try to avoid, for example, mixing red bell peppers with green jalapeños if you can. I do think a batch of all-green peppers would probably work as well, though it may soften to a more olive green when cooked instead of a vibrant jade.


The spice level of this recipe is completely customizable, just modify the proportion of hot peppers to sweet ones. Mine came out on the mild side this time since I only got two spicy peppers with our CSA, but I've made it with up to 1/3 spicy peppers and love it either way.
I specifically designed these labels to accommodate a spicy spectrum—simply mark where on the scale of mild to hot each individual batch falls (be sure to scroll all the way down for the printable labels!)
To prep your peppers, de-stem, de-seed, and segment the peppers, slicing out any big chunks of pith. I throw the prepped chunks of peppers into the food processor and coarsely chop them, but you can also show off your knife skills and finely chop the peppers that way. Smaller chunks will make for a finer texture, but you don't want to completely puree them (a few good pulses should do it).
Pepper jelly pro tip: please wear gloves when prepping your peppers, even if you are using mostly sweet ones, the capsaicin in the skins and seeds will linger on your fingers and let's just say when you go to rub your eye later you will not be a happy camper.
From there you simmer the peppers and vinegar for about 10 minutes to soften them (might I suggest opening a window?), then add the pectin and sugar and bring the jam back to a boil.
One important note about the recipe, the pectin is mixed with 1/2 cup sugar and added to the pepper mixture where it is stirred in until fully dissolved, and only THEN is the remaining sugar added. One important think to remember about Pomona's pectin is that it will not dissolve fully in a high-sugar mixture, which is why the process is written this way.
If you opt to use another brand of pectin, you'll want to refer to your pectin package insert for specific processes (some pectin brands have you add the pectin before the sugar, some after, and that could affect the set if reversed).
This recipe will not work as written with standard pectin. If that's all you have, please refer to your package insert or the pectin brand website for the proper quantity of sugar necessary to ensure a proper set.
Pepper Jelly
Pepper jelly is a delicious enigma: the perfect balance of sweetness and spice. Adjust the mix of sweet and hot peppers to your liking.
Ingredients:
3-4 sweet bell peppers, seeded and finely chopped (1 cup chopped)
4-6 spicy peppers, seeded and finely chopped (1/2 cup chopped)
1 1/2 cups cider vinegar (5% acidity)
2 1/2 cups (500g) granulated sugar, divided
2 teaspoons Pomona's Universal Pectin
2 teaspoons calcium water*
Directions:
Fill a large stock pot or canning pot 2/3 full with water; place a rack of some sort in the bottom and place over medium-high heat. Wash/sterilize your jars and submerge in water bath as it heats. The pot should be just about boiling by the time the jam is ready to go. Keep jars in hot (not boiling) water until ready to use.
To prepare peppers, remove stems and seeds and chop finely. You can vary the proportion of sweet and spicy peppers, or even use entirely sweet peppers, as long as you have a total of 1 1/2 cups of finely chopped pepper.
In a bowl, whisk together 1/2 cup sugar and pectin until evenly incorporated.
Combine peppers and cider vinegar in a heavy saucepan set over medium heat. Cover and simmer, stirring occasionally, for 10 minutes to soften the peppers.
Add calcium water and increase heat to medium-high; bring to a full rolling boil, then whisk in sugar/pectin mixture, stirring vigorously until completely dissolved and mixture returns to a boil.
Stir in remaining 2 cups of sugar and return to a full boil.
Ladle jam into hot jars, leaving 1/4-inch of head space. Wipe jar rims and screw on lids. Process in boiling water for 10 minutes, then transfer to a wire rack to cool completely. Check seals. Any unsealed jars should be refrigerated and used within 3 weeks.
* Calcium powder to make calcium water is included with the Pomona's brand pectin.
Did you make this recipe?
Let us know what you think!
Leave a Comment below or share a photo and tag me on Instagram with the hashtag #loveandoliveoil.
Bonus Printable Labels
Something new this time! In addition to the free printable label (which is and always will be free for download as a PDF), I've also created this label design as a Canva template. Canva is a free web-based graphics editor that allows you to modify the text, colors, and other elements of the labels to make sure it fits your personal preserve.
It's my plan to eventually convert most of my past labels into Canva templates, and at some point I plan to offer a 'lifetime' template bundle that will include editable versions of all my labels, past and present. Some labels might vary slightly due to available fonts on Canva, but I'll do my best to match them as closely as possible!
But for now, you can get the editable version of this homemade pepper jelly for just $4. It's a steal!
If you don't need the editable version, you can still download a non-editable PDF file for FREE, just enter your email address below. Print the PDF file onto weatherproof matte label paper, cut out rectangles, and adhere to your jars.
Free PDF Download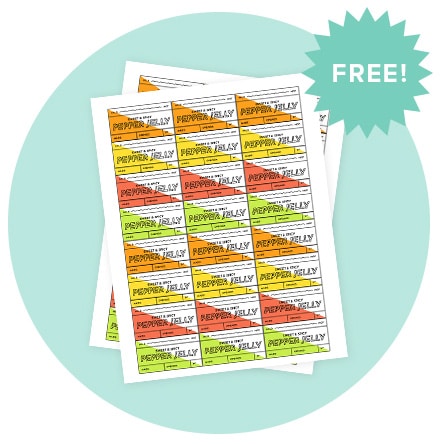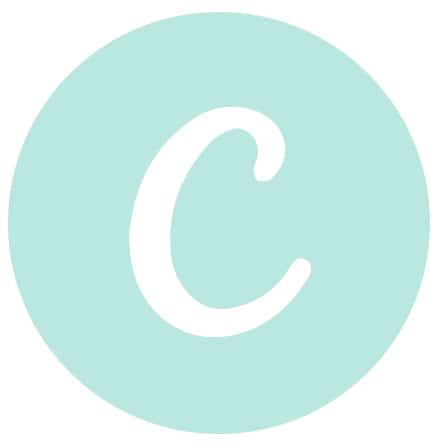 Editable Canva Template
Want to customize these labels to suit your exact needs? Buy the editable Canva template and you can do just that!