This protein-packed twist on a classic Niçoise salad features flakes of albacore tuna, hard-boiled egg, cherry tomatoes and crispy chickpeas, drizzled with a tangy caper vinaigrette.
Side dish no more… the best salads are the ones you can eat as a full meal, satisfying and filling all on their own. And this next-level Niçoise salad certainly fits the bill!
This recipe is a twist on a classic Niçoise salad (called as such because it hails from Nice, France). Niçoise salads traditionally have hardboiled eggs, tomatoes, olives and anchovies or tuna, often accompanied by cooked green beans or potatoes with a tangy vinaigrette dressing.
Here we've swapped the briny olives for capers which get whisked into a white wine vinaigrette with olive oil and parsley. We also added crispy fried chickpeas for a textural contrast (dare I say they're better than croutons?)
It's a protein packed salad that serves as a meal in and of itself, with tender butter lettuce and cherry tomatoes, and flaked Chicken of the Sea® Wild Catch™ Albacore Tuna, hardboiled eggs, and crispy chickpeas for a triple-protein punch.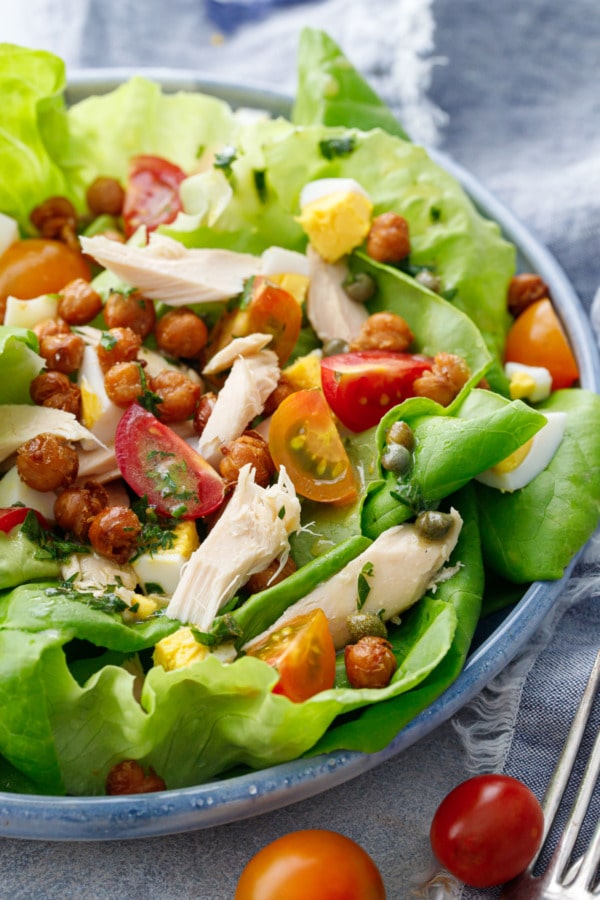 The dressing is a deceivingly simple vinaigrette with white wine vinegar, dijon mustard, and extra virgin olive oil, along with ample fresh chopped parsley and salty capers.
It's an extremely versatile salad dressing, one of our go-to recipes in fact, so any leftover dressing can easily be used on another salad another day, just store in the fridge in a lidded jar or airtight container.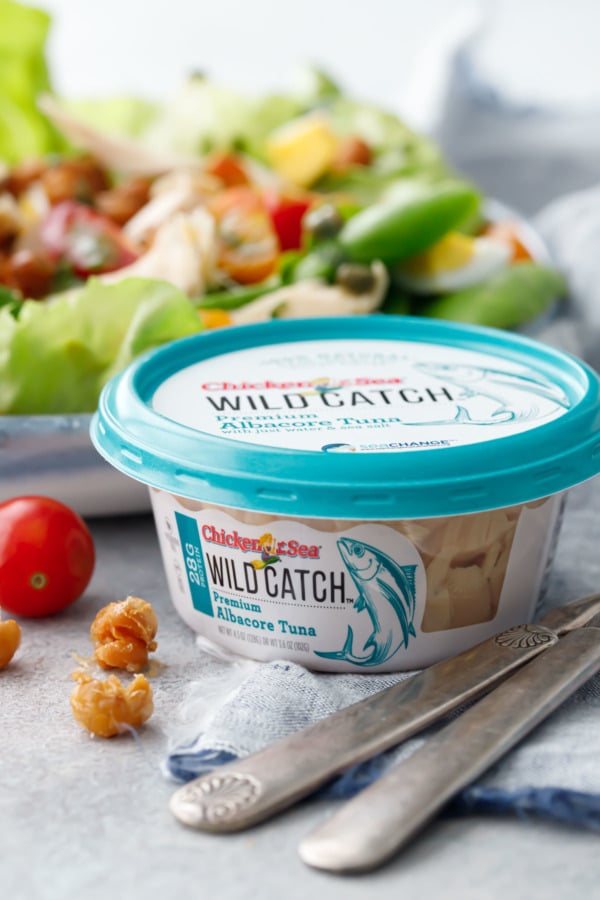 Protein-rich Albacore tuna makes this salad extra filling and oh-so-satisfying.
Big, beautiful flakes of fish make for a prettier presentation and a more practical one too (the bigger chunks are easier to spear with your fork), which is why the new Wild Catch™ Premium Albacore Tuna from Chicken of the Sea® is a great choice for this recipe. Packed in simply water and salt, it has a light and fresh flavor that complements the other flavors of this salad perfectly.
But let's talk about these crispy chickpeas, because they're really the icing on the cake (if cake were a salad, that is).
Yes, they're deep fried, and yes, it's worth it. The result is a light and delicately crispy crunch and a robust flavor not unlike a really good potato chip (and if you happen to have leftover chickpeas, you may find yourself snacking on them in much the same way).
We tested both baked and fried versions, and while the baked versions got surprisingly crispy in the oven, it was more of a hard crunch, like a corn nut rather than a potato chip. Still, if you'd prefer to bake the chickpeas, simply toss the drained and air-dried chickpeas with a bit of olive oil and salt, spread on a parchment lined baking sheet and bake at 300 degrees F for about an hour.
(And psst! Don't toss the liquid you drain off from the chickpeas! It actually serves as an amazing egg white substitute, and works perfectly in my popular soft amaretti cookie recipe.)
We opted to leave the tender leaves of butter lettuce whole, mainly because they're downright gorgeous that way. It also makes this salad suitable for eating with a knife and fork, slicing the lettuce as you go and then assembling the perfect bite by spearing a chunk of each ingredient onto your fork. Dare I say it makes eating a salad a bit more interesting, or as Taylor called it, an immersive experience.
Next Level Niçoise Salad with Crispy Chickpeas and Caper Vinaigrette
A protein-packed twist on a classic Niçoise salad features flakes of albacore tuna, hard-boiled egg, cherry tomatoes and crispy chickpeas, drizzled with a tangy caper vinaigrette.
Ingredients:
For Crispy Chickpeas:
1 (15oz) can chickpeas, drained and rinsed
vegetable or grapeseed oil, for frying
fine sea salt
For Caper Vinaigrette:
2 tablespoons white wine vinegar
1 teaspoon dijon mustard
1 teaspoon honey
1/4 cup extra virgin olive oil
2 tablespoons finely chopped fresh parsley
2 tablespoons drained capers
sea salt and freshly ground black pepper, to taste
For Assembly:
1 head butter lettuce, leaves separated
2 hard boiled eggs, peeled and coarsely chopped
4oz cherry tomatoes, halved or quartered if large
1 4.5oz container Chicken of the Sea® Wild Catch™ Albacore
Directions:
To make crispy chickpeas, drain and rinse chickpeas and spread out on a paper-towel lined tray to dry completely, at least 30 minutes.
Fill a medium saucepan with about 1 inch of oil. Heat over medium until oil reaches approximately 360 degrees F.
Once oil is hot, add about half of chickpeas (more or less depending on the size of the pan you are using—you don't want to to overcrowd the pan). Cook until golden brown and crispy, about 6 to 10 minutes. Remove with a slotted spoon or wire skimmer and place on a paper-towel lined tray to cool. While still warm, sprinkle with fine sea salt and toss to coat.
Repeat with remaining chickpeas, being sure to bring the oil back up to temperature before adding the next batch.
Crispy chickpeas can be made ahead of time; once cool, they can be stored in an airtight container for up to 5 days.
To make caper vinaigrette, whisk together vinegar, mustard, and honey in a small bowl or jar. Slowly drizzle in olive oil, whisking vigorously, until emulsified. Whisk in parsley and capers, and season to taste with salt and pepper. Dressing will keep, refrigerated in a lidded jar or airtight container, for up to 5 days.
To assemble, arrange whole leaves of butter lettuce in shallow serving dishes. Sprinkle with flakes of albacore tuna, chopped hard-boiled egg, tomatoes, and a generous handful of crispy chickpeas. Drizzle with vinaigrette and enjoy!
Did you make this recipe?
Let us know what you think!
Leave a Comment below or share a photo and tag me on Instagram with the hashtag #loveandoliveoil.