Moist and tender coffee cake muffins studded with fresh blueberries and a cinnamon sugar topping that bakes to a delightful crunch.
Turns out my grandma's old fashioned sour cream coffee cake recipe makes for some pretty spectacular muffins.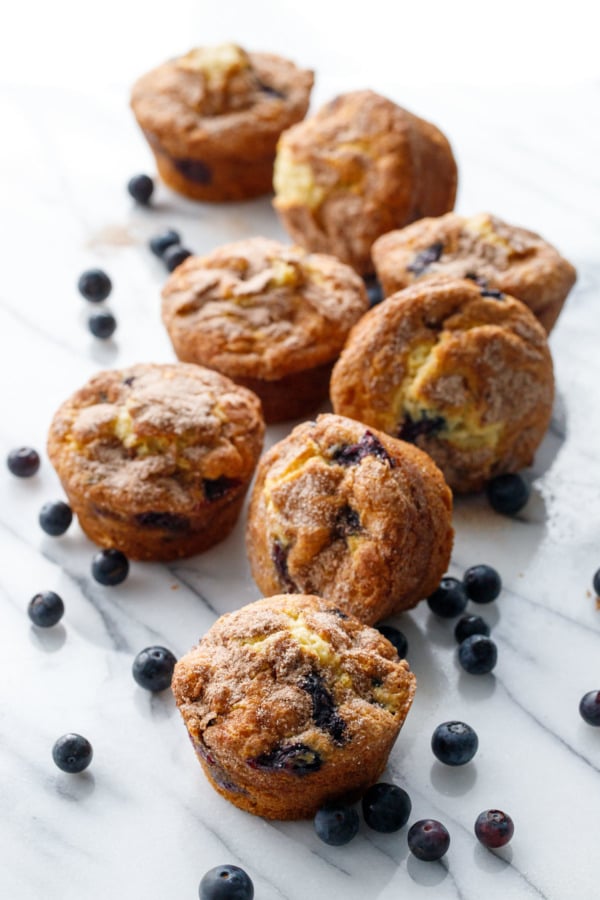 For a while now I've wondered if my grandma's old fashioned coffee cake recipe would translate into muffins.
The answer?
Resoundingly YES.
I may as well burn all my previous muffin recipes because this one beats them all. Sorry sourdough muffins, these coffee cake muffins have my whole heart (ok ok that's not fair to the sourdough muffins which really are quite good. Seeing as these are made with butter, sour cream and almost double the sugar, I mean, it's not entirely a fair comparison).
I think the keys that make this recipe so spectacular are twofold: sour cream for adds moistness, richness and a hint of tang, and the crispy sugar topping for a truly terrific textural experience.
I'm always a fan of muffins with toppings; the more streusel the better, I say. But sometimes it pays to be minimalist. In this case, a simple sprinkle of cinnamon and sugar bakes up into a light and crispy topping that puts any streusel to shame. Not to mention it's way, way easier.
Want to know the secret to not letting your blueberries sink to the bottom? Tossing them with flour makes absolutely no difference.
Instead, drop a small dollop of plain batter into the bottom of each muffin before you add the blueberries; spread it out a bit, and then scoop the rest of the blueberry-studded batter on top. That little bit of plain batter serves as a buffer, preventing the berries from sinking to the bottom.
I opted to bake these naked without papers, and if you do this just be sure you use a good nonstick muffin pan and/or give them a generous coating of cooking spray (butter just doesn't work as well in this case, unfortunately).
If baking without liners you'll probably get some liquified blueberry juice that sticks to the edges. If this is the case, just gently release the stuck on bit using a thin offset spatula. Once any sticky bits are taken care of, gently twist the muffin in its cup to release the edges, then lift out (wait until it's mostly cool to do this to avoid breaking off the top).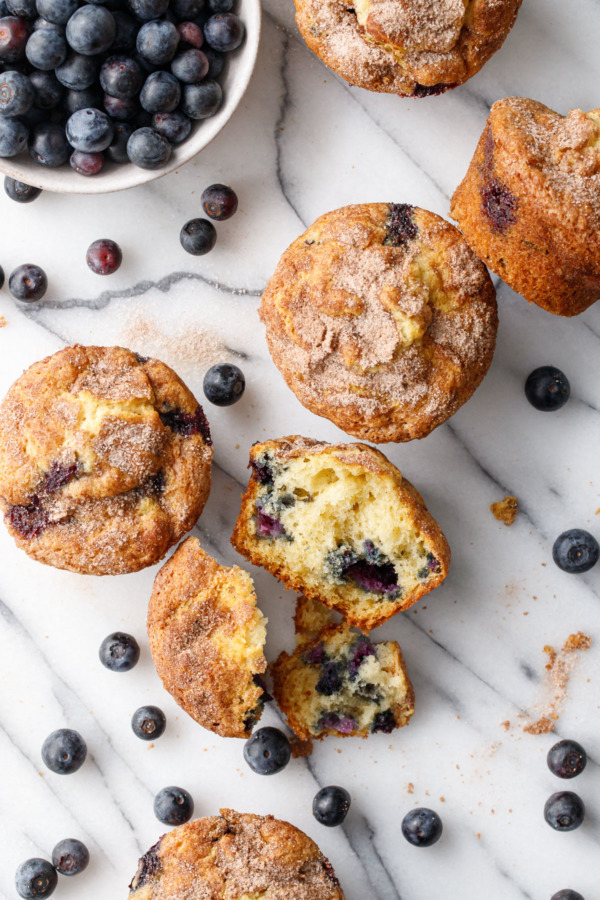 As I mentioned before, you can use full-fat Greek yogurt in place of the sour cream; the final muffin will be slightly lighter and less moist. However please do not substitute low or non-fat yogurt. Fat adds moisture and you really don't want to end up with dry, disappointing muffins, do you? Sugar contributes to moistness as well, so reducing the sugar in this recipe will give you a dryer result.
Just… give yourself a break and enjoy the dang muffin in its full sugary and fatty glory. It's not meant to be health food, don't try to make it so.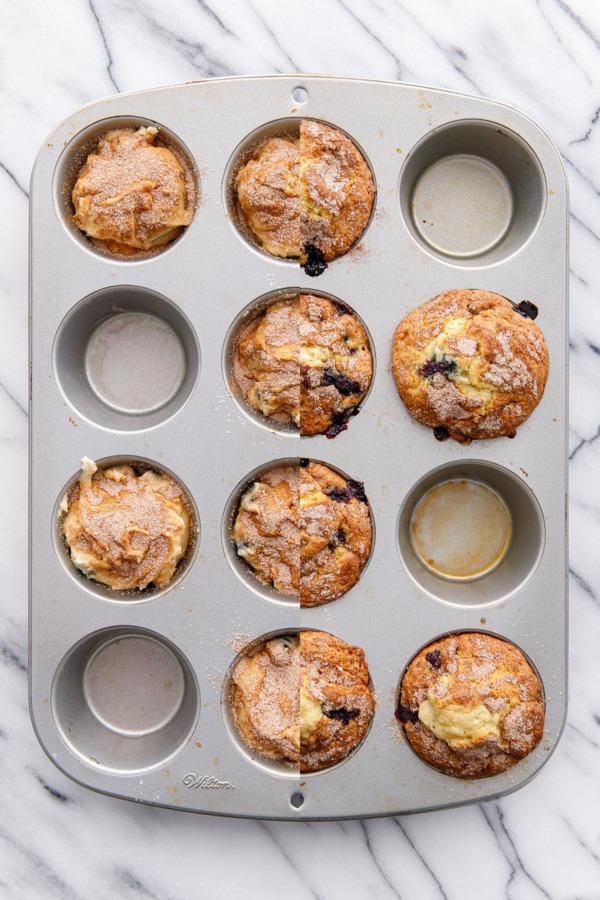 No fresh blueberries?
No problem.
This recipe works equally well with frozen blueberries (they might turn more of the batter blue due to the extra liquid released). I also imagine swapping the blueberries for, say, cranberries, or even chocolate chips would be absolutely divine.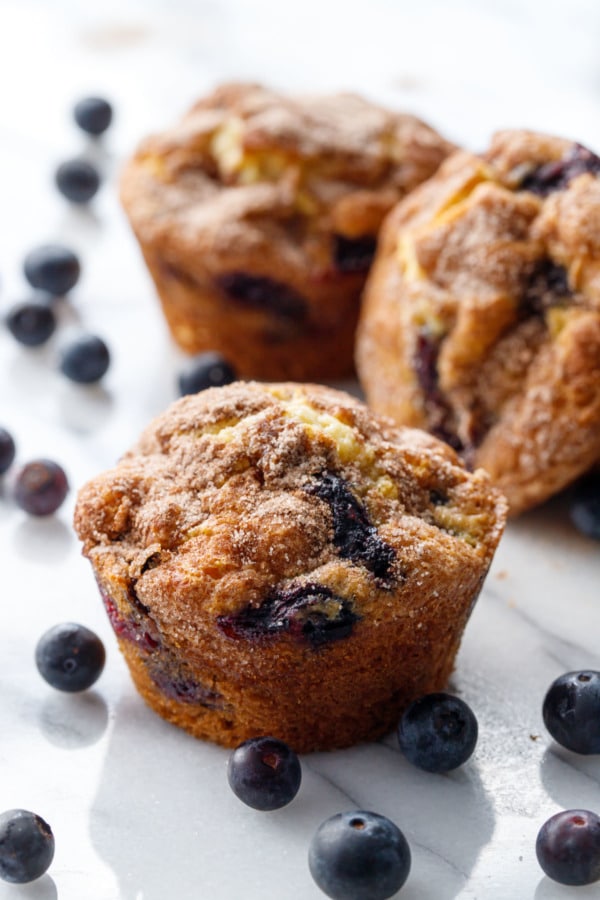 Thanks in part to the ample fat and sugar, these muffins stay moist for days. Storing them in an airtight container will preserve that moistness, however (especially in humid climes) the crispy topping will soften after a day or two. For that reason I definitely encourage you to enjoy them within a day or two of baking (also why I've kept the batch size small — this recipe makes a very reasonable 8 muffins).
Blueberry Coffee Cake Muffins
Moist and tender coffee cake muffins studded with fresh blueberries and a cinnamon sugar topping that bakes to a delightful crunch.
Ingredients:
1/4 cup (1/2 stick, 56g) unsalted butter, room temperature
1/2 cup (100g) granulated sugar
1 large egg, at room temperature
1 cup (125g) all-purpose flour
3/4 teaspoons baking powder
1/2 teaspoon baking soda
1/4 teaspoon fine sea salt
1/2 cup (135g) full-fat sour cream, at room temperature
1/2 teaspoon vanilla extract
1/4 teaspoon almond extract (optional)
1 cup (100g) fresh blueberries, washed and dried
For topping:
2 tablespoons granulated sugar
1/2 teaspoon ground cinnamon
Directions:
Preheat oven to 400 degrees F. Line 8 cups of a standard muffin tin with paper liners; if not using liners, spray cups with cooking spray.
In a mixing bowl or the bowl of a stand mixer fitted with the paddle attachment, cream butter and sugar together until fluffy, 2 to 3 minutes. Add egg and mix until incorporated.
In a bowl, whisk together flour, baking soda, baking powder and salt until incorporated.
Alternate adding half of sour cream to batter, followed by half of dry ingredients, mixing well after each addition. Scrape down the sides of the bowl, then repeat with remaining sour cream and flour until just incorporated. Mix in extracts.
In a small bowl, whisk together sugar and cinnamon.
Dollop a small spoonful of batter into the bottom of each muffin cup and spread out slightly. Fold blueberries into remaining batter, then divide between muffin cups (you'll end up with about 1/4 cup of batter total per cup).
Sprinkle tops generously with cinnamon sugar.
Bake for 7 minutes, then reduce oven temperature to 375 degrees F and bake for 7 to 9 minutes more or until top is cracked and golden brown and a toothpick inserted near the center comes out clean.
Place pan on a wire rack to cool. Run a knife around the edge to release any stuck on bits, then gently twist the muffin to release the sides and bottom before removing from pan. Muffins will keep at room temperature in an airtight container for up to 3 days.
Did you make this recipe?
Let us know what you think!
Leave a Comment below or share a photo and tag me on Instagram with the hashtag #loveandoliveoil.