This old-fashioned cinnamon swirl coffee cake is made with Greek yogurt instead of sour cream for a lightened-up twist, and topped with a crackly layer of cinnamon sugar and chopped pecans.
There are few things as satisfying as a perfect coffee cake, and this one is no exception: with Greek yogurt for moistness, and cinnamon, sugar and pecans swirled in and sprinkled on top.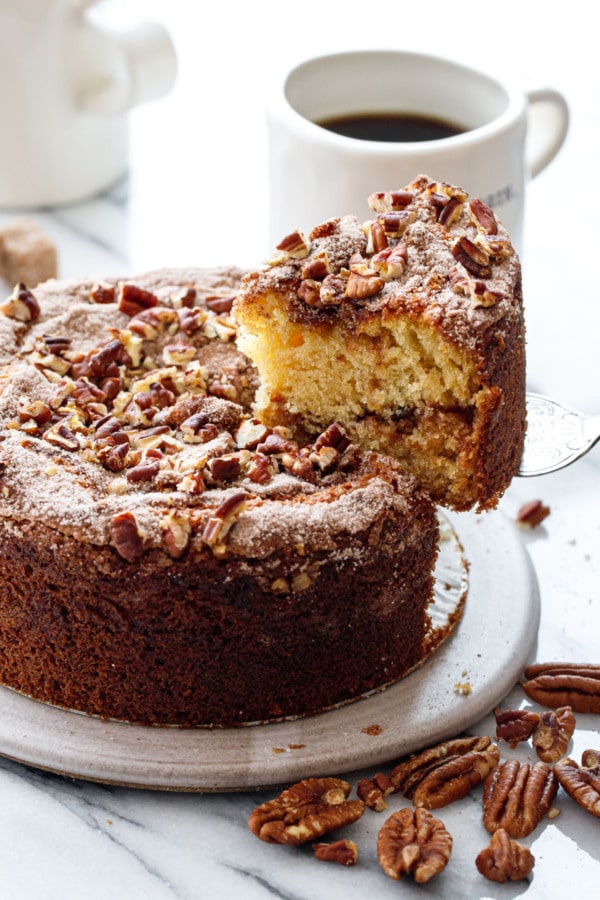 I just realized that 3 out of the the last 4 recipes I've posted have been for breakfast bready things. Sourdough muffins and boozy banana bread and now, this Greek yogurt coffee cake.
And actually, with strawberries and matcha and eggs you could probably justify eating this tart for breakfast too (I knew I liked you).
I have no idea why I've been craving breakfast bakes rather than my usual chocolate-heavy dessert recipes, but I'm just going to roll with it (though I do have a cookie recipe or two up my sleeve, so you have that to look forward to, too).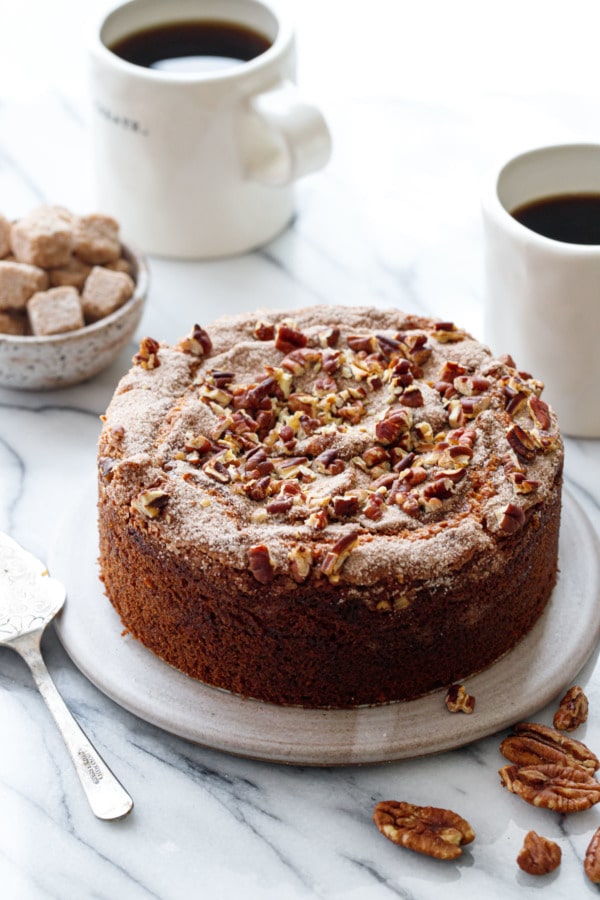 This recipe is based on my grandmother's sour cream coffee cake, of which I've made both apple and chocolate chip variations.
The recipe itself is virtually identical, just made with Greek yogurt instead of sour cream (I also scaled down the recipe, a half-sized version essentially, since I feel like a lot of us are making smaller batches of things these days since excess baked goods aren't quite as easy to share).
While sour cream and Greek yogurt are usually interchangeable in most situations, the lower fat content in the yogurt makes this version not quite as rich and ever so slightly drier (fat being one of the elements that keeps cakes moist), although I feel like you'd really only be able to tell this subtle difference if you tasted two versions side by side.
I do recommend using whole milk Greek yogurt, as the higher protein content in lower fat versions may make for a tougher, less tender texture (also be sure you buy plain yogurt, flavored ones would just be… weird).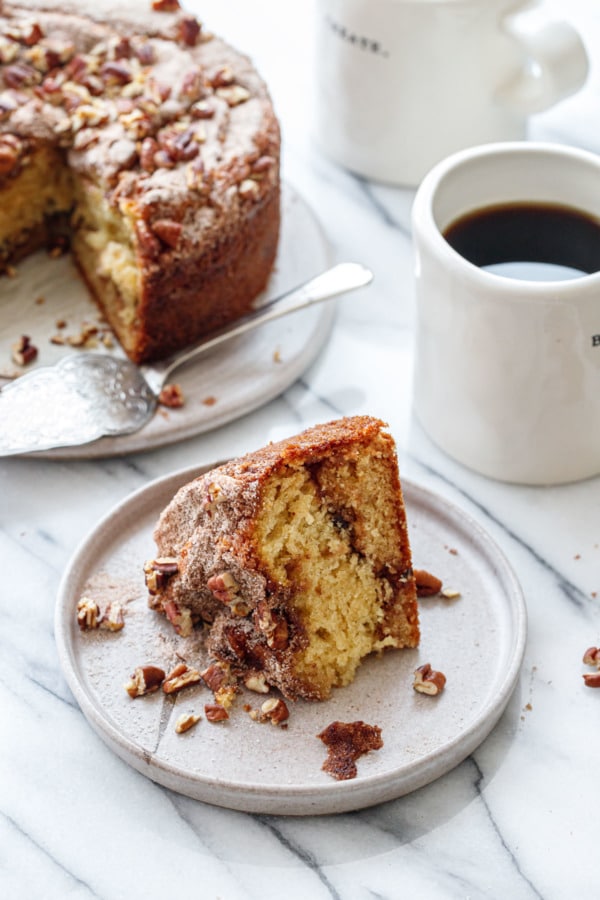 The sugar topping is perhaps my favorite part of this coffee cake recipe; instead of bulky crumbs it's a super thin, super crispy layer of baked sugar that shatters against your teeth when you bite into it.
Yes, you will probably make a mess, but yes, it's worth it.
I'm all about textural contrasts and this pairing of dense, buttery cake, crunchy pecans and paper thin sugar shards is downright wonderful.
Also: easier. There's no crumb mixture to make, just a simple blend of cinnamon and sugar plus some chopped nuts, half of which gets layered in the middle of the cake (feel free to 'swirl' this a bit, but I kind of like the defined ribbon look), and the other half gets sprinkled on top.
While I used pecans, you can certainly used chopped almonds or walnuts here too.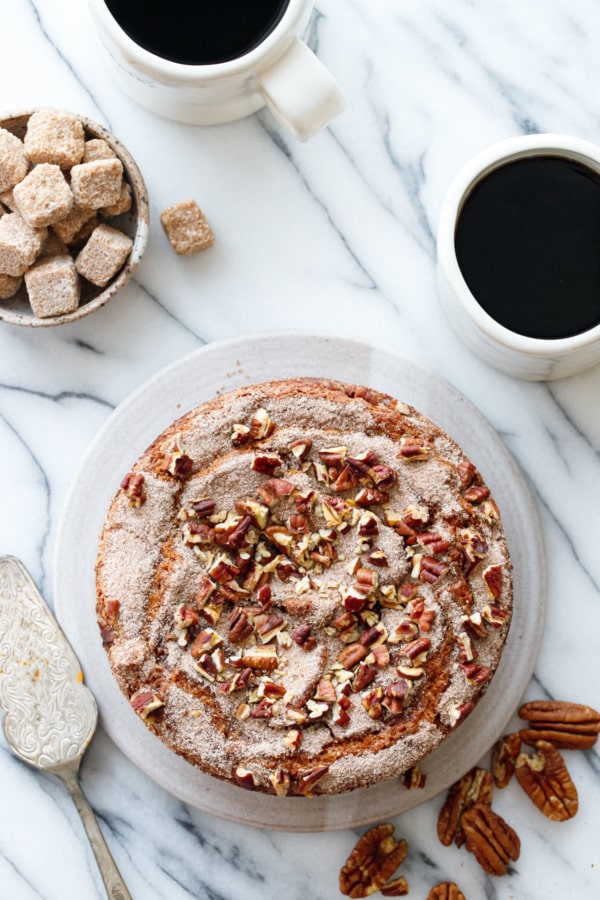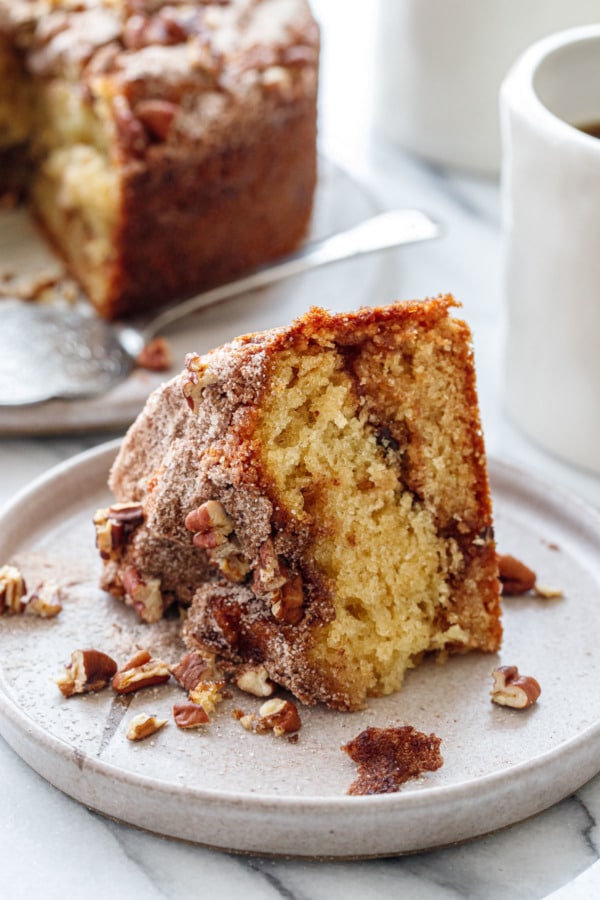 This is a smaller scale version of the original recipe, written for a deep 6-inch cake pan or springform pan (be sure the pan is at least 2 1/2-inches deep or the cake will probably overflow – this is the pan I used which has a removable bottom for easy removal without disturbing the topping). You can, however, also make it in a standard 8.5-by-4.5-inch loaf pan (the loaf will be slightly thinner, so just keep an eye on it as the baking time will likely be less).
If you want a larger cake in a 9-inch cake pan, simply double the recipe.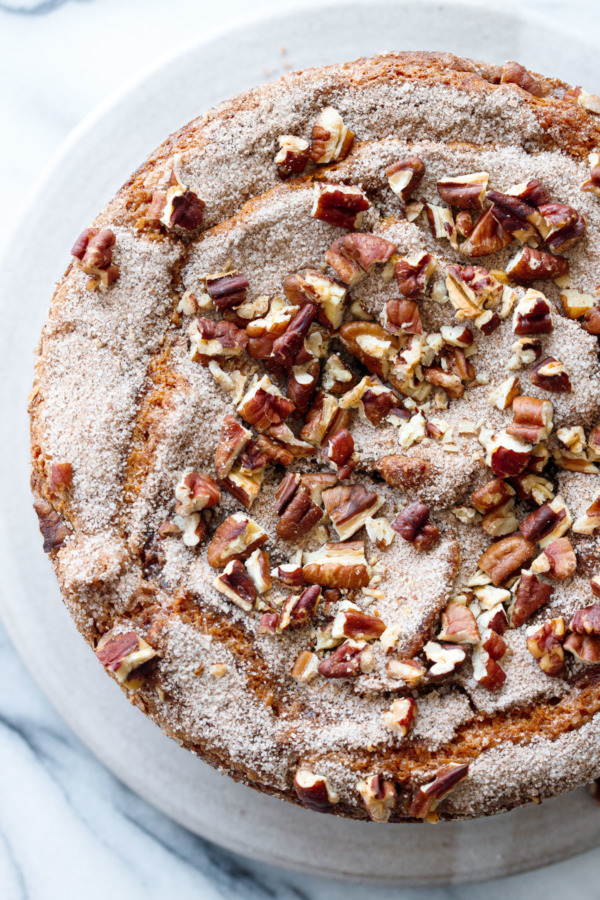 Interestingly, grandma's recipe calls for mixing the baking powder in with the flour as expected, but the baking soda gets mixed in with the yogurt before adding it to the other wet ingredients.
Do not do this ahead of time, you want to mix this right before you add it to the mixing bowl. You'll notice the yogurt immediately start to get airy and bubbly, almost mousse-like, which helps it more easily incorporate into the batter as well as contributes to the lovely dense-and-yet-surprisingly-light texture of this coffee cake.
I want to say this unique step makes the cake ultra tender, although I'll be honest I haven't actually compared it to a version of the cake where the baking soda and powder are simply mixed with the dry ingredients. I bet there would be a slight difference, however you could probably only really tell if you had two otherwise identical cakes and tasted them side by side.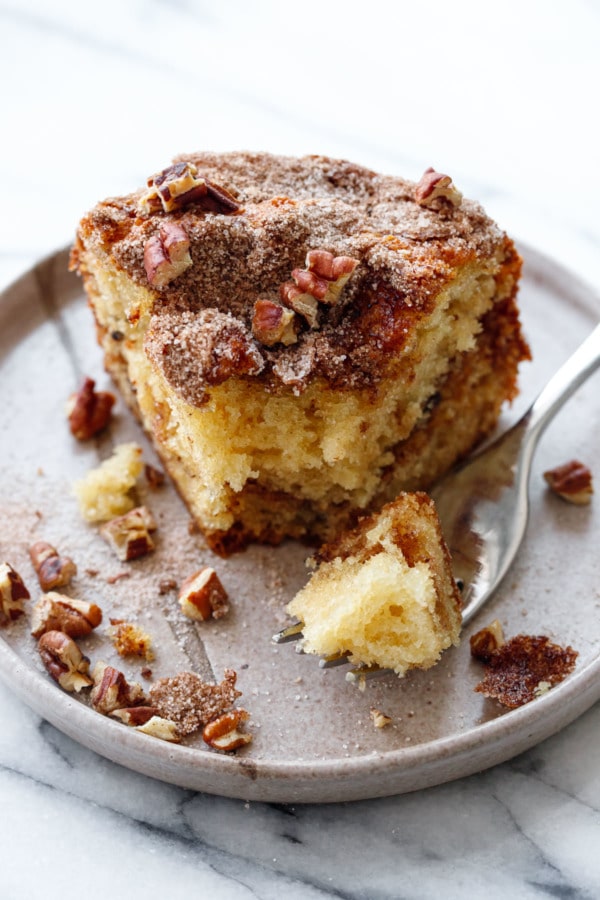 Because I've gotten a lot of comments asking why there isn't any coffee in this recipe (or implying I forgot to include it in the ingredient list), let me clarify: in the US, coffee cake is a muffin-like breakfast cake meant to be served with coffee. It doesn't actually include coffee in the cake itself.
I'm aware that in the UK and elsewhere in the world that coffee cake means a coffee-flavored cake, but that's not the case with this "American-style" coffee cake (I promise it's not a typo or a misprint). In that sense it's no different than tea cakes (to be served with tea, not made with tea in the cake itself). Capiche?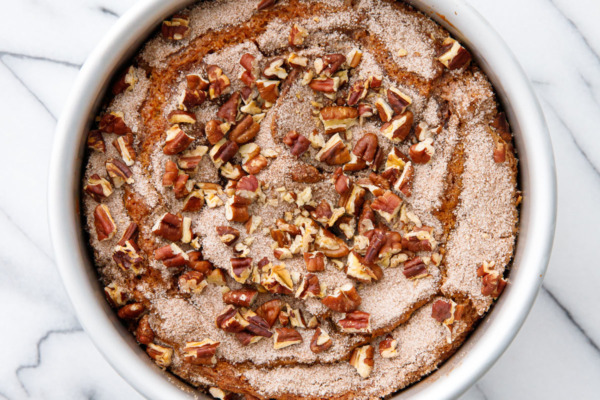 Greek Yogurt Coffee Cake
This recipe makes one 6-inch cake (be sure to use a 3-inch deep cake pan or springform pan). Double the recipe for a 9-inch cake!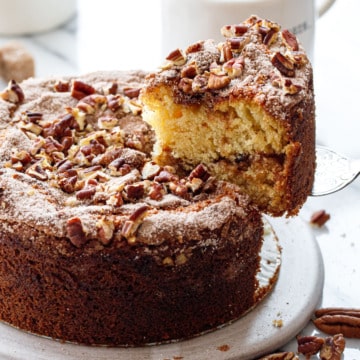 Ingredients:
1/4 cup (1/2 stick, 56g) unsalted butter, room temperature
1/2 cup (100g) granulated sugar
1 large egg, at room temperature
1/2 cup (135g) whole plain Greek yogurt, at room temperature
1/2 teaspoon baking soda
1 cup (125g) all-purpose flour
3/4 teaspoons baking powder
1/4 teaspoon fine sea salt
1/2 teaspoon vanilla extract
1/4 teaspoon almond extract (optional)
For topping:
1/4 cup granulated sugar
1 teaspoons ground cinnamon
1/4 cup chopped pecans, almonds, or walnuts
Directions:
Preheat oven to 350 degrees F. Butter a 6-inch-round by 3-inch-deep cake pan or springform pan (preferably with a removable bottom) or a 8.5-by-4.5-inch loaf pan; line bottom with parchment paper.
In a mixing bowl or the bowl of a stand mixer fitted with the paddle attachment, cream butter and sugar together until fluffy, 2 to 3 minutes. Add egg and mix until incorporated.
Mix baking soda in with yogurt; whisk baking powder and salt in with flour.
Alternate adding half of yogurt to batter, followed by half of dry ingredients, mixing well after each addition. Scrape down the sides of the bowl, then repeat with remaining yogurt and flour until just incorporated. Mix in extracts.
In a small bowl, whisk together sugar and cinnamon.
Spread half of the batter into prepared cake pan. Sprinkle with half of sugar mixture and half of chopped nuts. Top with remaining batter, then sprinkle with remaining sugar and nuts.
Bake for about 35 to 40 minutes or until top is golden brown and a toothpick inserted near the center comes out clean. If using a loaf pan or a larger pan, your cake will likely be done sooner, so start checking after 30 to 35 minutes.
Place pan on a wire rack to cool. Run a knife around the edge to release, then remove from pan and cool completely. Cake will keep, covered in an airtight container, for up to 3 days.
Did you make this recipe?
Let us know what you think!
Leave a Comment below or share a photo and tag me on Instagram with the hashtag #loveandoliveoil.