Banana bread meets classic Bananas Foster in this mouth-watering mashup. Made with caramelized sugar and bananas and a splash of dark rum, it's a tantalizing twist you'll simply adore.
While it might look like a normal loaf of banana bread, this loaf features something extra special: a rich caramelized banana base and a glug or two of dark rum.
I am, apparently, in a breakfast-baked-goods sort of mood. I'm not craving cookies or cakes or brownies; no, all I've wanted to bake these last few weeks are muffins, coffee cakes, and, obviously banana bread.
Clearly I'm not alone in this last craving… as evidenced by the fact that Instagram is basically 32% banana bread these days.
I can't quite explain it. Maybe it's the fact that none of us can get to the store as often to replenish our fresh bananas, so when we do get out, we buy two bunches instead of one, without quite realizing that, no matter how green they were when we bought them, we can't feasibly eat two bunches before they start to get spotty.
That's actually good news, though, because, when it comes to banana bread, the spottier the bananas, the better. In fact, I'd argue that yellow bananas with black spots aren't quite ripe enough—rather, the bananas should be the opposite: black with yellow spots—that's when you know they're perfect for banana bread.
Pro tip: if you find yourself with more than 2 or 3 spotty bananas at once, they freeze beautifully. Just peel, place in a labeled zip-top bag, and freeze for up to 6 months. And next time the banana bread (or banana muffins or banana cake) craving hits, all you need to do is let them defrost for about an hour or so, until they are soft (but not runny; drain of any excess liquid if there is any), and then mash them into your favorite banana bread recipe (which, if I have anything to do with it, will be this one).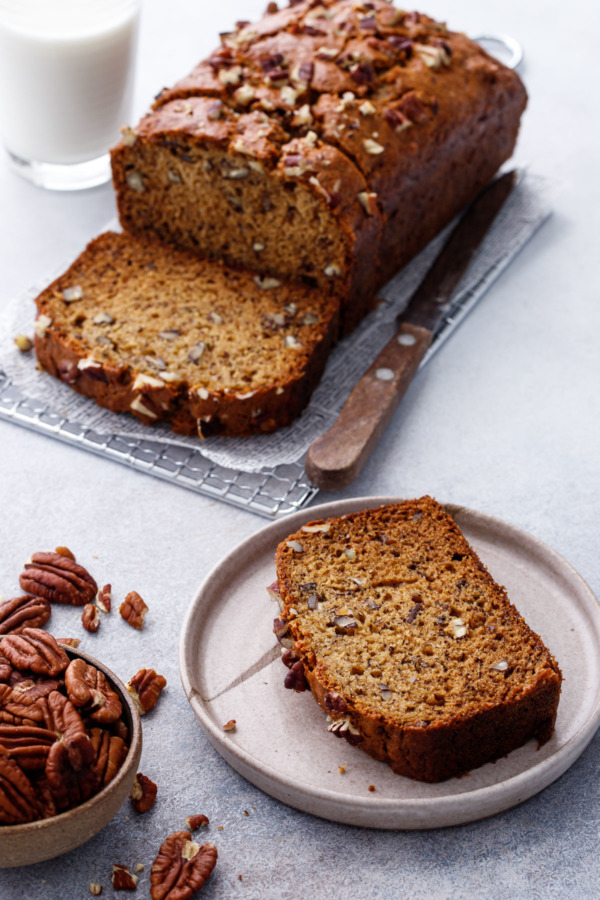 So what makes this banana bread different from every other recipe out there?
Caramelizing together the brown sugar, butter, and banana beforehand gives this banana bread and extra special depth of flavor, and superb moistness that lasts for days. While you might not notice a difference just tasting it, I'm sure if you compared it to a loaf made in the standard way, you'd definitely notice a difference.
The process does take a bit longer than your standard banana bread, since the caramel mixture needs time to cool otherwise it'd scramble the eggs on contact (I don't think I need to tell you that that would be no bueno). It's not any harder than basic banana bread as any extra time involved is entirely inactive (is it a coincidence that 45 minutes is the exact length of an episode of Outlander? I think not.)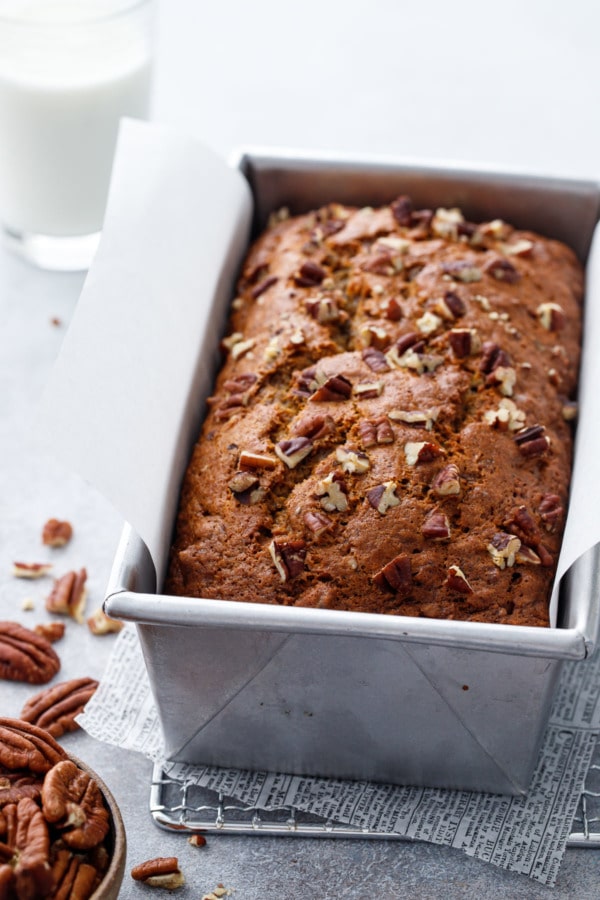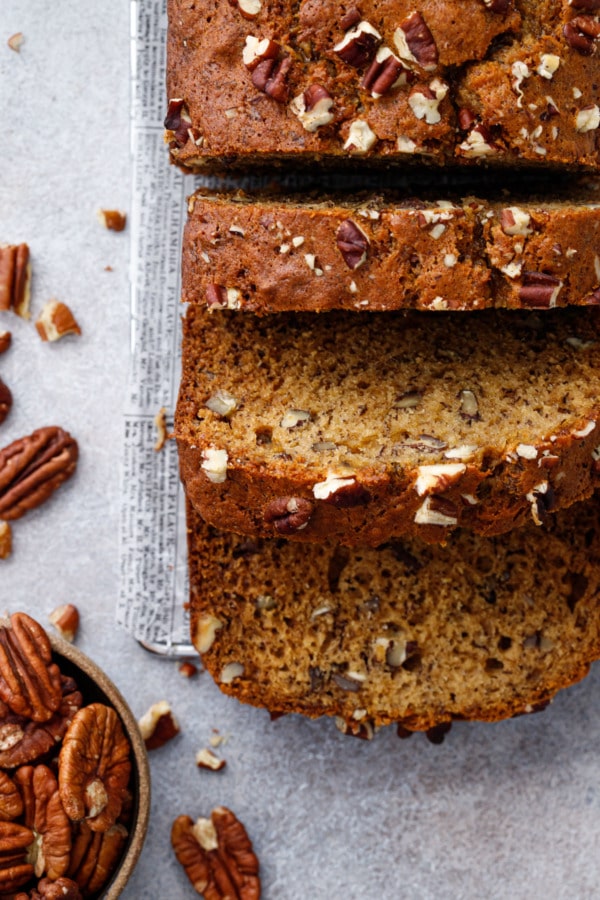 Despite the fact that there is a full 1/4 cup of rum in here, most of it bakes off in the oven, so the rum flavor in the final loaf won't bowl you over.
If you're wanting an in-your-face booziness, might I suggest using a toothpick to poke holes in the top of the loaf once it's cooled and then brushing a few tablespoons of rum on top? The rum will soak into the bread and the result will be delightfully boozy. And while I think this bread is perfectly sweet, a buttered rum glaze could be just the ticket, if you're into that sort of thing.
In lieu of rum you could also certainly use brandy or bourbon here too, though I stuck with rum since that's traditional to Bananas Foster.
If you want to leave out the rum entirely, I'd recommend adding a generous tablespoon or so of vanilla extract in its place.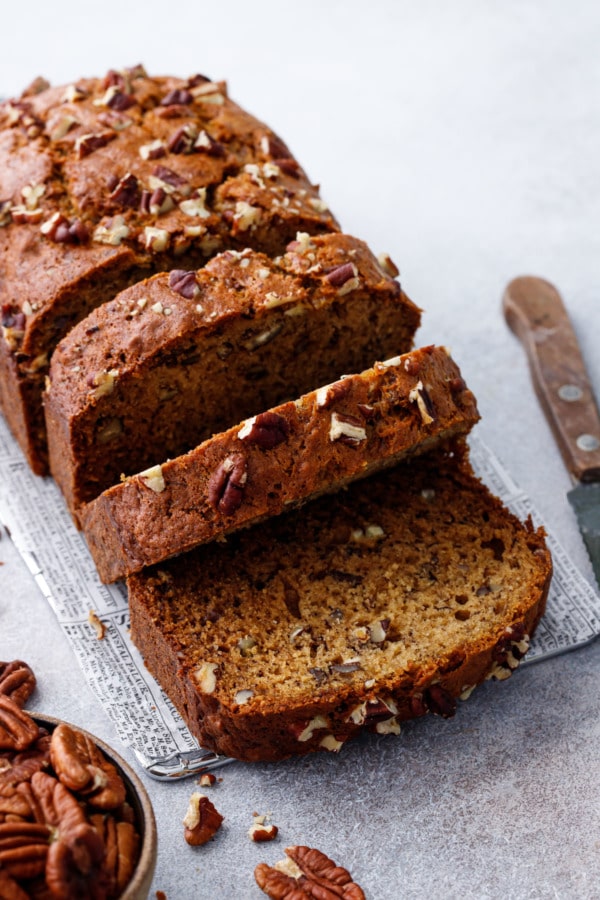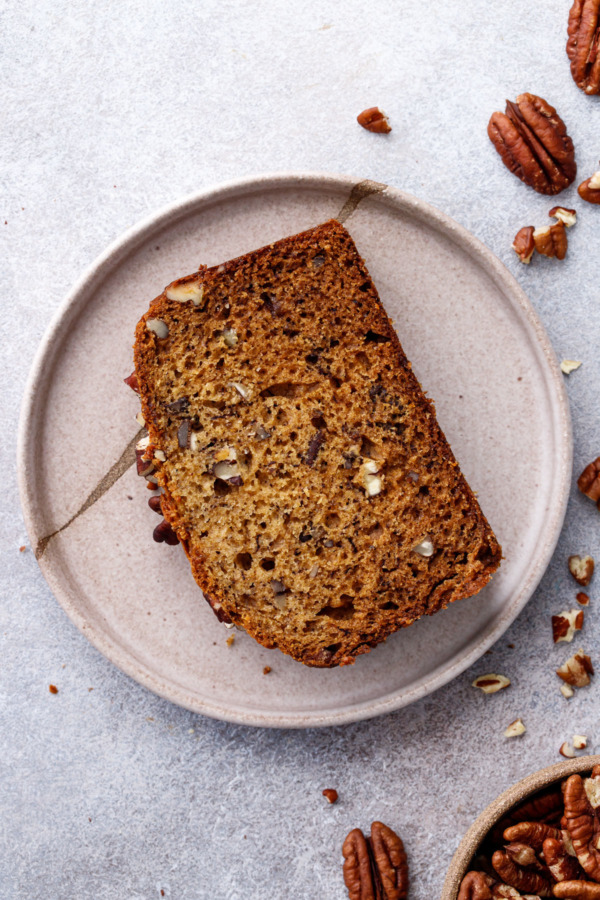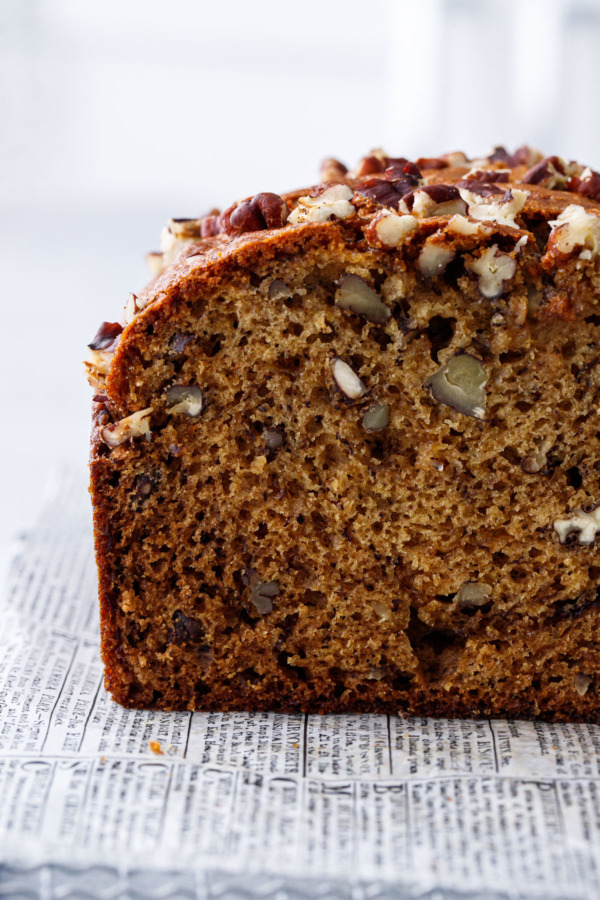 Normally I'm a chocolate-in-my-banana-bread kind of girl, but this particular recipe is a notable exception—I could devour half a loaf all by myself.
So if you, like me, are incapable of making just a plain-ass banana bread, and are always on the lookout for something just a little bit more interesting, this recipe is just the ticket.
All it's missing is a melting scoop of vanilla ice cream served on top.
Bananas Foster Banana Bread
Classic banana bread with a boozy twist, this banana bread is made with a base of caramelized bananas and spiked with dark rum.
Ingredients:
1/2 cup (1 stick, 113g) unsalted butter, cut into cubes
1 cup (220g) packed light or dark brown sugar
2 large or 3 small very ripe bananas, mashed (about 1 cup mashed)
1/4 cup dark rum (can also use brandy or bourbon)
1 1/2 cups (188g) all-purpose flour
1 teaspoon baking soda
1/2 teaspoon ground cinnamon
1/4 teaspoon kosher salt
2 large eggs, at room temperature
1 cup (100g) coarsely chopped pecans
Directions:
Place butter and brown sugar in a large saucepan or high-sided skillet over medium-high heat. Stir until butter is melted and mixture is bubbly. Add mashed banana and continue to boil for about 5 minutes to further develop the caramelized flavor. Remove from heat, then stir in rum (be careful as it will sputter).
Transfer to a heat proof bowl or the bowl of a stand mixer fitted with the paddle attachment and let cool to lukewarm (under 100 degrees when measured on an instant read thermometer; it should feel only warm to the touch, not hot). This could take upwards of 30 to 45 minutes.
Preheat oven to 350 degrees F. Lightly butter an 8.5-by-4.5-inch loaf pan*; line the bottom and two sides with a strip of parchment paper (this will ensure easy release of the loaf after baking).
Once the banana mixture is cool, beat in eggs, one at a time, until completely incorporated.
Whisk together flour, baking soda, cinnamon and salt, then add to banana mixture and stir until almost incorporated, then add pecans (reserve a small handful to sprinkle on top, if desired) and fold in until evenly distributed and no streaks of dry flour remain.
Pour batter into prepared loaf pan, and sprinkle with reserved pecans.
Bake for 55 to 65 minutes or until deep golden brown on top and a toothpick inserted in the center comes out with just a few moist crumbs attached (if it looks gooey, give it a few more minutes and check again).
Let cool on a wire rack for at least 30 minutes before lifting the loaf out of the pan (run an offset spatula or butter knife along the unlined-ends to release it). Slice using a serrated knife and serve, ideally while still slightly warm (or rewarm it in the microwave or oven for a few seconds just before digging in).
Any leftover bread should be stored in an airtight bag or container in the refrigerator for up to 5 days.
*If you are using a larger, 9-by-5-inch loaf pan, your bread will be a bit shorter and wider, and will require slightly less time to bake. Start checking after 45-50 minutes and go from there. I do not recommend a glass or ceramic pan for this recipe.
Did you make this recipe?
Let us know what you think!
Leave a Comment below or share a photo and tag me on Instagram with the hashtag #loveandoliveoil.