Don't let that sourdough discard go to waste: make a batch of these delicious almond sourdough muffins!
Made with leftover sourdough starter that would otherwise be discarded, these moist and tender muffins are flavored with almond and studded with dried blueberries and sliced almonds.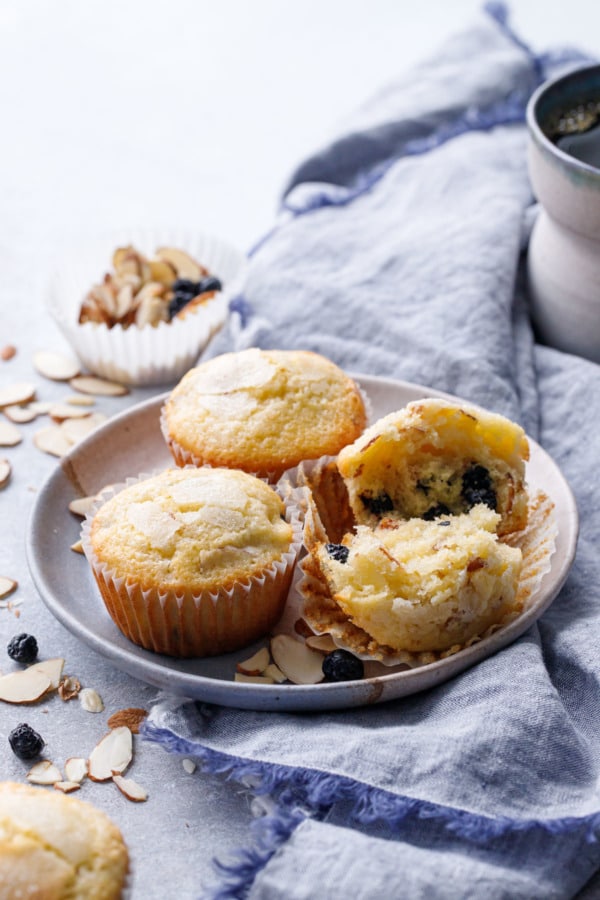 Hooray, more sourdough discard recipes! Y'all are loving my crackers and biscuits so much I figured I'd see what else I could make with sourdough discard. These muffins are the result (next up: waffles perhaps?)
It makes me so happy to see so many people dipping their toes into the world of homemade sourdough. It's something I've been doing for the past 3 years and it brings me endless satisfaction (sure, some frustration too, but that frustration is surely eased when you bite into a fresh slice of homemade sourdough slathered in good salted butter; I mean, it's one of my greatest joys in life).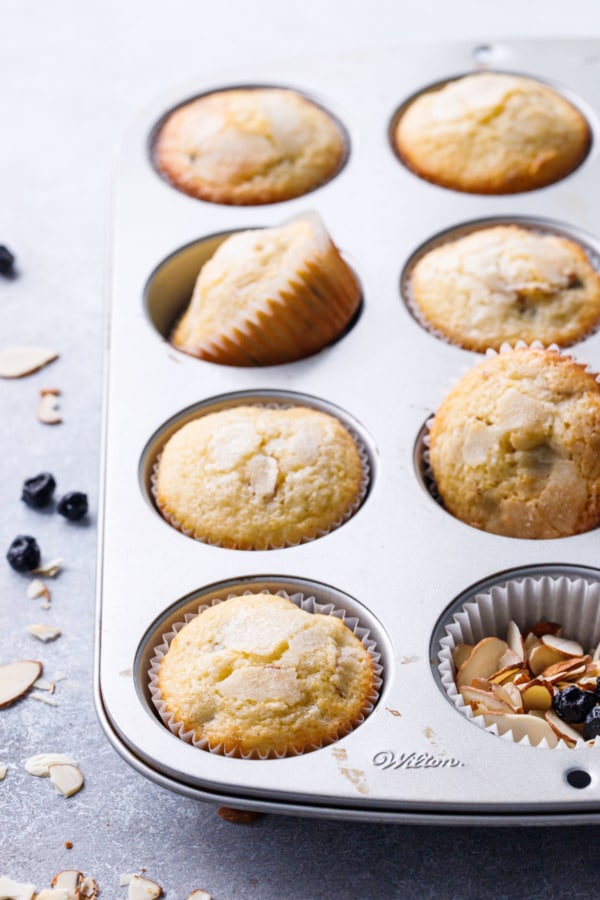 When maintaining a sourdough starter (and especially when you are first developing it), there is a good amount of that starter that is discarded during the process. If you didn't discard, your starter would just keep growing and growing like something out of a horror flick.
Once you have a thriving starter, you can technically maintain it with a very small amount of flour (as little as 25-50 grams), and unless you plan to bake every day or two, store it in the fridge between bakes rather than feeding it every day (feed it once or twice before you plan to start baking to wake it back up again, especially if it's been dormant for longer than 2 weeks).
But even reducing the quantity of flour and frequency of feedings, there will still be discard. It's unavoidable.
But that doesn't mean it has to go to waste.
That's where sourdough discard recipes come in – those spoonfuls of starter that would otherwise be thrown away can be incorporated into almost any recipe that already uses flour and liquid, from crackers and biscuits to pizza dough and pancakes. And, of course, muffins.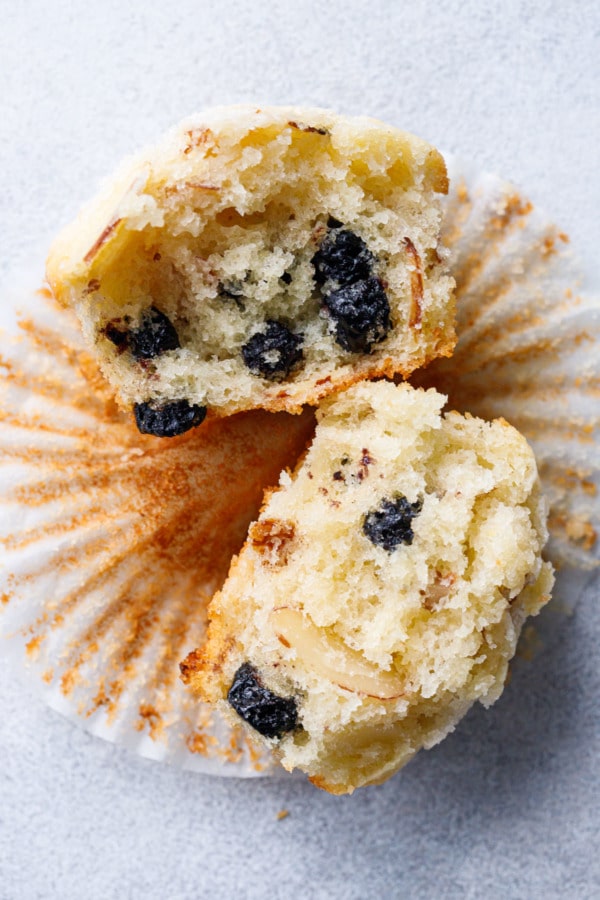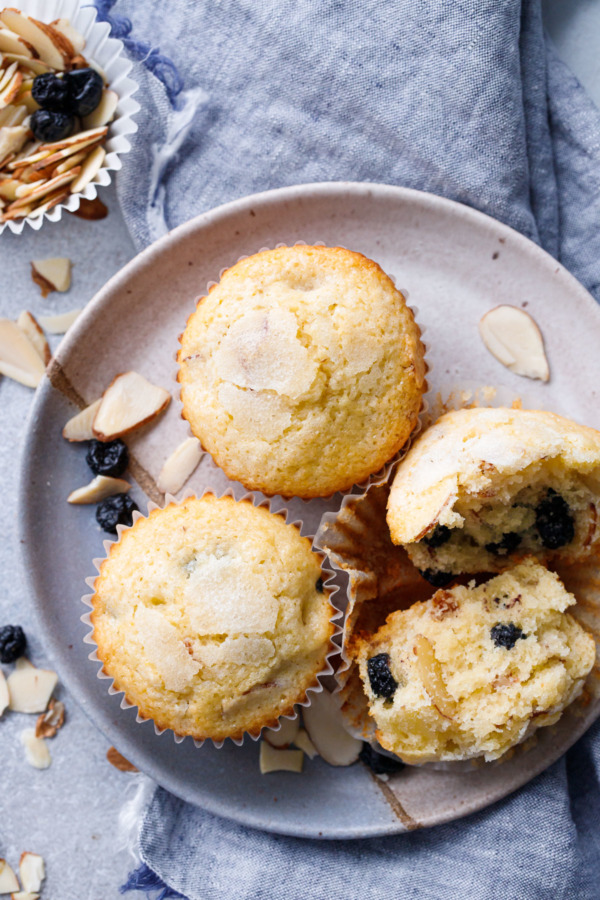 Since I maintain my starter with smallish quantities of flour, I rarely discard 100g at a time (which is how much starter you need for these muffins).
Rather, I collect my discard throughout the entire bread baking process and combine it all a plastic soup container which I store in the fridge. Every two or three loaves I'll have enough discard for a batch of crackers or biscuits or now, these muffins.
Another bonus to collecting your discard this way is that the longer the starter sits in your fridge, the more prominent the sour flavor will be (a freshly fed starter will be more mild).
So whether it is by necessity or by choice, 'age' your discard in an airtight container in the fridge for a week or two and you'll end up with a more prominent sourdough flavor in your final baked goods. Just be sure you take out your starter an hour or so before you bake so it has time to come up to room temperature.
It's a lovely note of acidity and tang that pairs perfectly with the sweet and buttery muffin base, not unlike a muffin made with buttermilk, actually.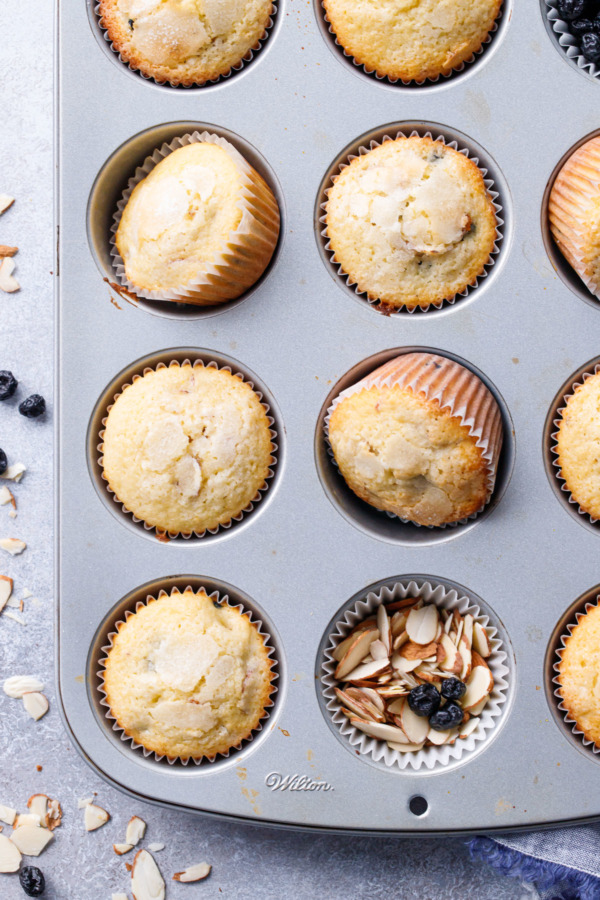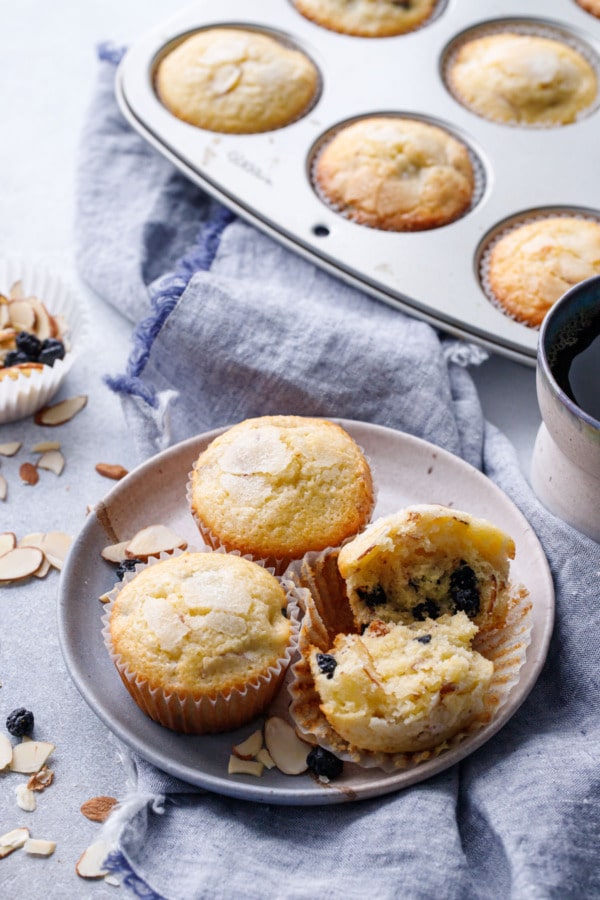 My sourdough starter, aka Jane Dough, is an all-white starter (made with 100% AP flour).
You can certainly use a whole wheat or rye stater here too, and some of that extra flavor and texture will carry over into the muffins (the texture will be slightly denser and the color slightly darker as well).
If you find yourself short of the 100 grams of starter needed for this recipe, simply add equal parts (by weight!) water and flour until you get there. So for example, if you have 80 grams of starter, add another 10 grams flour and 10 grams water or milk.
If you want to make these muffins but don't have a sourdough starter, simply add 50g more AP flour and 50g more milk. That's essentially what a sourdough starter is, 50% flour (by weight) and 50% water (remember that weight and volume measurements are not the same!) If you make this adaptation I'd recommend using buttermilk instead of milk here to give you a similar tang.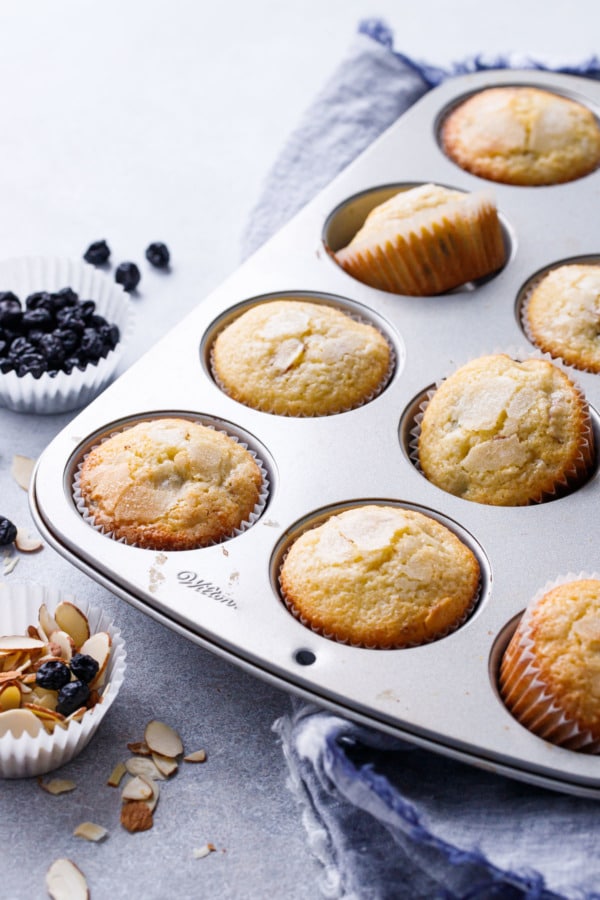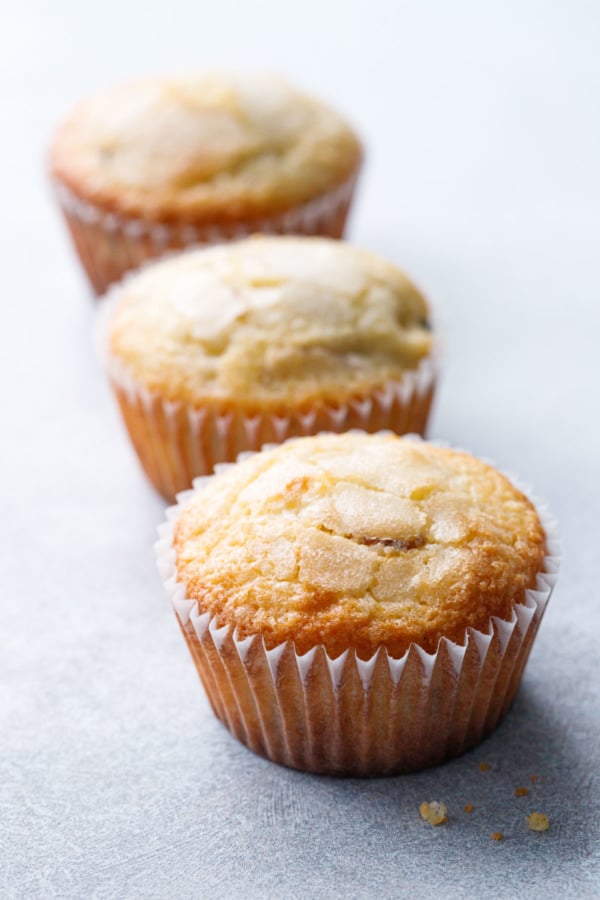 One trick I learned when testing my Portuguese rice muffins was to sprinkle a generous spoonful of sugar on top of the muffins before they go in the oven. As they bake, the sugar bakes into delightful crags of crispy sugar. Dare I say it's better than a streusel topping, not to mention far easier.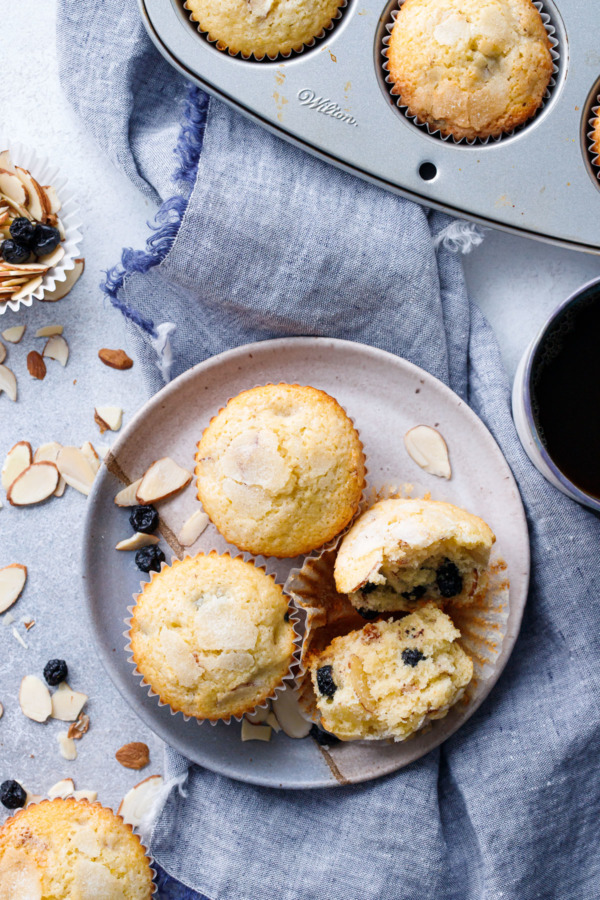 I know I called these muffins buttery when describing them above, but there's actually no butter in them! Instead, I opted to use a neutral oil (grapeseed oil, specifically) for these muffins to make them even more pantry friendly. I also find that oil gives muffins a more lasting moisture than butter does. That said, you can also use melted butter here if you prefer.
As for mix-ins, I used dried blueberries and sliced almonds, but really any dried fruit will do here (cherries, perhaps?) I have not tested this recipe with fresh or frozen blueberries – you may have issues with the berries sinking since the batter is on the thin side (maybe leave out the 2 tablespoons milk in this case).
Almond Sourdough Muffins
Moist and tender almond muffins made with leftover sourdough starter. I've folded in dried blueberries and sliced almonds, but really, any dried fruit/nut combo work do here.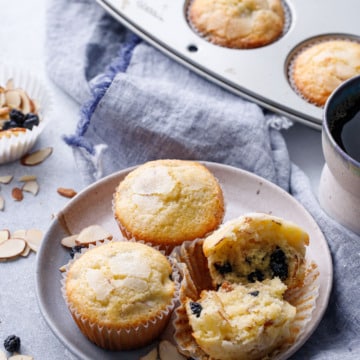 Ingredients:
1/2 cup (62g) all-purpose flour
1/3 cup (32g) almond flour
1 1/2 teaspoons baking powder
1/2 teaspoon kosher salt
1/3 cup (68g) light olive oil or vegetable oil
1/2 cup (100g) granulated sugar, plus more for topping
1 large egg, at room temperature
1 teaspoon vanilla extract
1/4 teaspoon almond extract
100g sourdough starter (100% hydration), at room temperature
1/2 cup (85g) dried blueberries or other dried fruit of your choice
1/2 cup (50g) sliced almonds
Directions:
Preheat oven to 400 degrees F. Line 10 muffin cups with paper liners or generously grease muffin tin.
In a large bowl, whisk together flour, almond flour, baking powder and salt. Set aside.
In a bowl or 2-cup glass measuring cup, whisk together oil, sugar, egg and extracts until incorporated. Pour into dry ingredients along with sourdough starter and mix with a rubber spatula until dry ingredients are almost completely incorporated.
Fold in blueberries and almonds until evenly distributed and no streaks of dry ingredients remain. Try not to overmix.
Scoop batter into prepared cups, a heaping 3 tablespoons or a large cookie scoop per muffin (about 2/3 of the way full). Sprinkle tops with a teaspoon or two of sugar each.
Bake for 14 to 16 minutes or until tops are cracked and edges are golden; a toothpick inserted into the center will come out with just a few moist crumbs attached. Remove from oven and let cool.
Muffins are best the day they are made, but can be stored in an airtight container for up to 3 days (the crispy tops will soften but the muffins themselves should stay nice and moist).
Did you make this recipe?
Let us know what you think!
Leave a Comment below or share a photo and tag me on Instagram with the hashtag #loveandoliveoil.