Meyer lemon bars are the perfect springtime treat: with a tart and sweet Meyer lemon custard baked on top of a layer of buttery shortbread.
These sunny Meyer lemon bars are as delicious as they are easy, with a layer of tender shortbread topped with an easy, shortcut lemon curd: no stovetop required! Dust with a generous flurry of powdered sugar for the perfect springtime treat!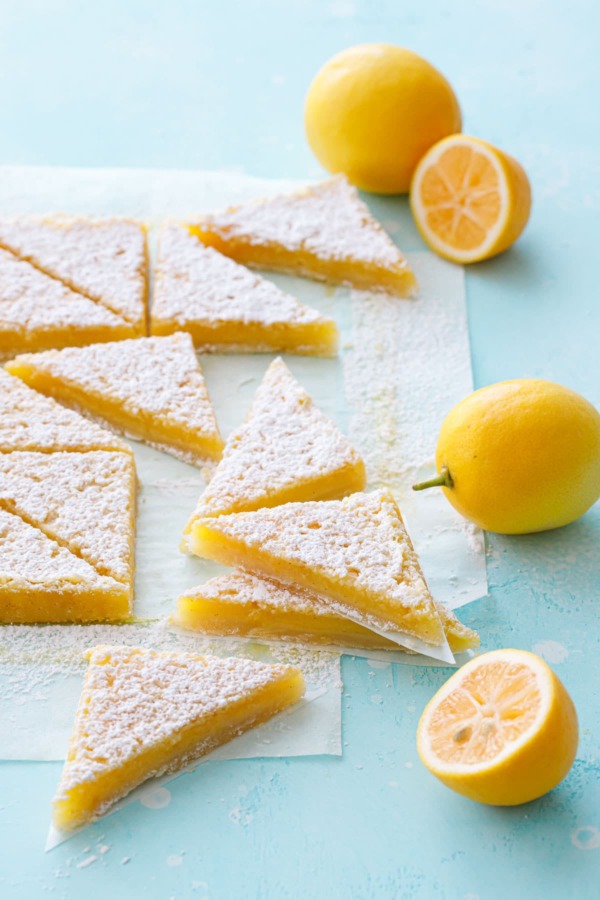 There seem to be two kinds of lemon bar recipes floating around the internets.
Both have shortbread bases, but one has a thicker layer of what is essentially egg yolk-heavy lemon curd, usually cooked on a stovetop and then poured on top of the fully baked shortbread.
The second features a thinner layer of lemon custard that's simply mixed together and poured on top of the semi-baked shortbread, then finished off in the oven together.
As pretty as that ultra thick layer of lemon curd is, that kind of recipe uses upwards of 8 or 9 eggs for a small 8-inch pan. And with the grocery situation as it stands now, I just couldn't bare to sacrifice so many eggs, even for a cause as delicious as lemon bars. Thus my decision to go with the later style.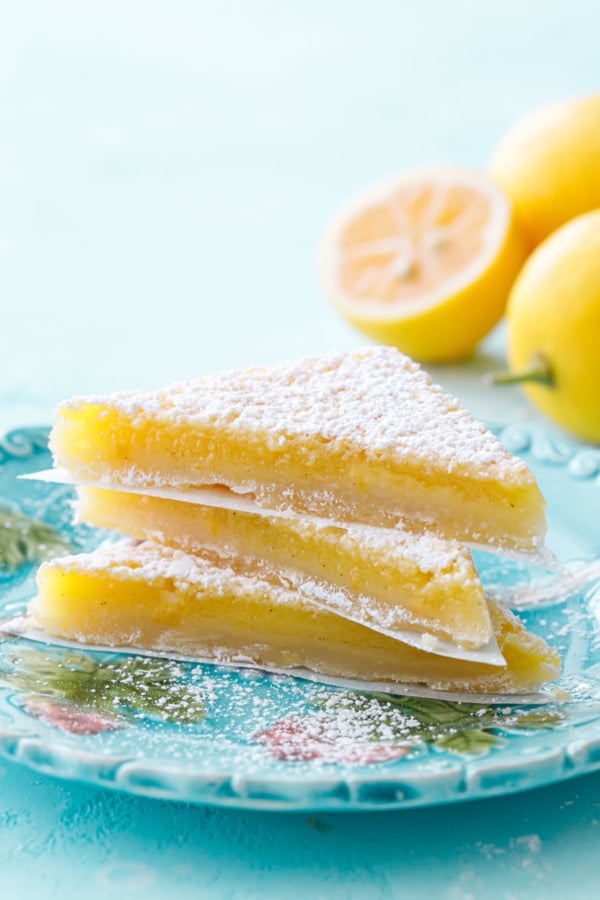 This recipe only uses 3 eggs (actually 2 eggs and 1 egg yolk – save that leftover egg white for a cocktail or something), and when you've only got 15 odd eggs left, 3 is a much more reasonable amount.
Granted, you don't end up with the perfectly defined, perfectly smooth-topped, rich yolky yellow layer of lemon curd. Instead, the curd and the shortbread sort of melt together in the oven, and the top takes on a bit of a crispy, bubbly appearance, which I actually find quite delightful (the crispiness will soften as the bars sit, so it's more aesthetic than anything). And besides, with a hearty sprinkle of powdered sugar you can't really see it anyway.
But honestly, I feel like the ratio of lemon to shortbread is better with this simpler method, with the buttery shortbread balancing out the tart sweetness of the lemon, so it's a win-win-win in my mind (those wins being fewer eggs, easier process, and better proportions in the final product).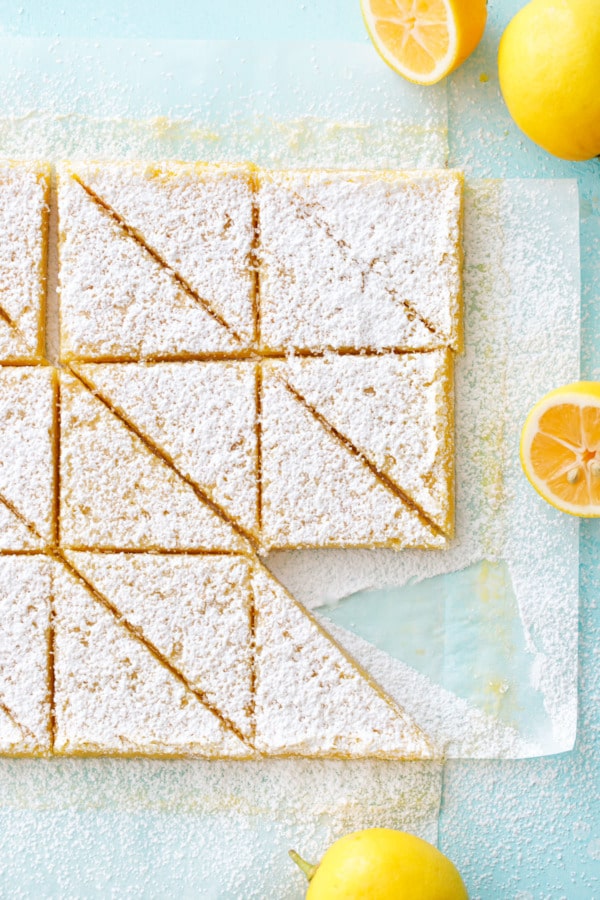 I were to make these again, I might beat the filling a bit less in an attempt to get a slightly smoother top (there was a lot of air beaten into my filling which I assume is what led to the crackly 'foam' on top). It all gets covered up by powdered sugar anyway so it's really not that big of a deal, but still, I'm a perfectionist and I can't leave well enough alone. Alas, between making marmalade and a batch of preserved lemons as well as these bars, I'm all out of Meyer lemons (sadface).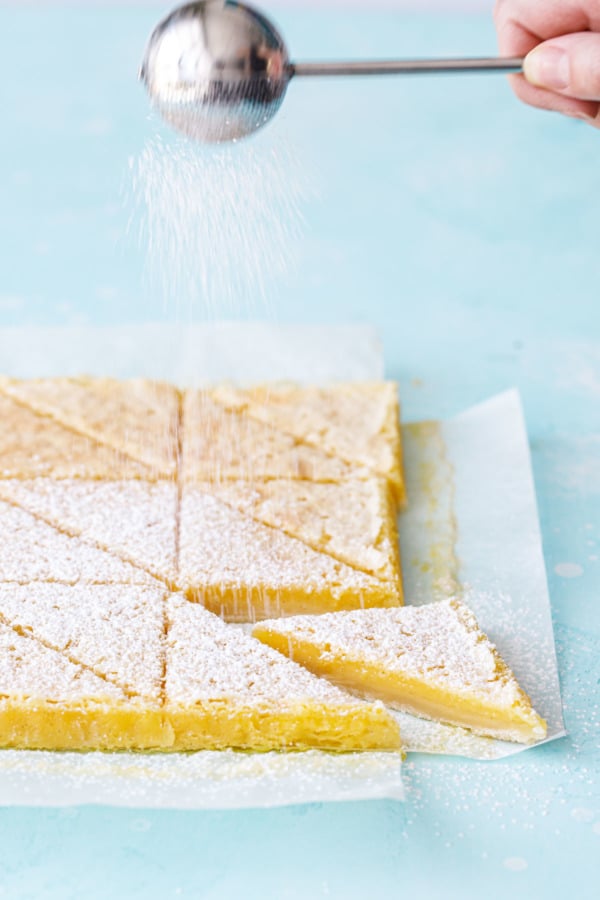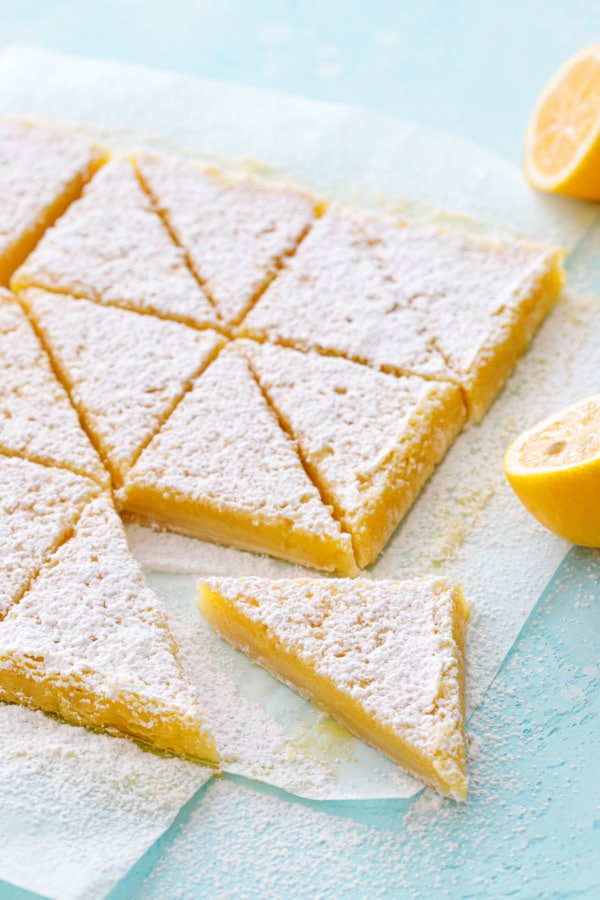 Could you use regular lemons for this recipe?
Definitely, the filling will just be a bit more tart. But there's still plenty of sugar here to offset regular lemons just fine.
Sometimes I have an issue with regular lemons turning metallic on me, despite taking extra precautions to not use any reactive materials (you cannot use aluminum or copper pans or bowls for this recipe). I chalk it up to my super-taster tastebuds (Taylor doesn't get the same metallic after taste that I do) and have learned to adapt.
For that reason, I always prefer Meyer lemons for recipes like this one.
You could also use mostly lemon juice but add a tablespoon or two of freshly squeezed orange, and the results would be very similar to Meyer lemons (which are a cross between lemons and mandarins, so it makes perfect sense).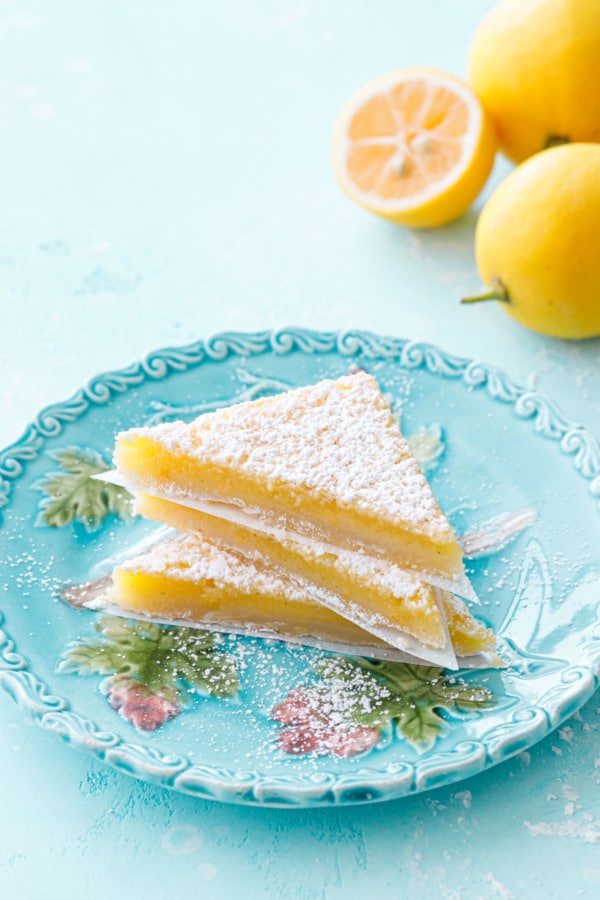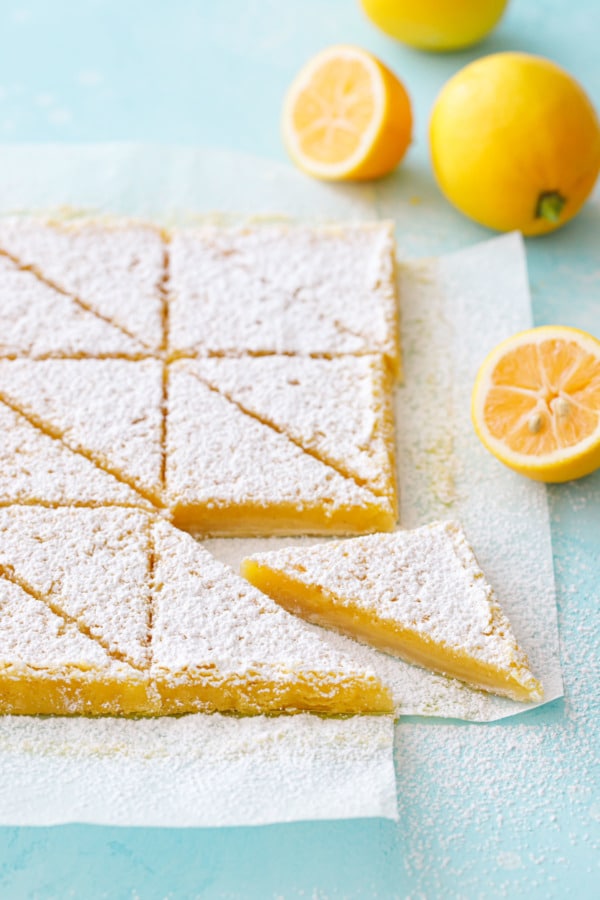 I very much enjoyed these lemon bars, despite the fact that I am most definitely not a lemon dessert kind of person. Give me a dessert menu and I will never (ok, maybe not never but very rarely) order the lemon dessert option, or any fruit for that matter. Give me chocolate or caramel or chocolate peanut butter or anything along those lines.
So the fact that I, while not exactly a lemon hater, am certainly not a lemon fanatic, got immense pleasure out of these lovely lemon bars, is saying something. It's saying quite a lot, actually.
Meyer Lemon Bars
A tart and sweet Meyer lemon custard baked on top of a layer of buttery shortbread for the perfect, easy springtime treat!
Ingredients:
For Shortbread Layer:
1/4 cup (30g) powdered sugar
1/2 cup (113g) unsalted butter, at room temperature
1 cup (125g) all-purpose flour
pinch kosher salt
For Lemon Layer:
2 large eggs plus 1 large egg yolk, at room temperature
1 cup granulated sugar
1/3 cup freshly squeezed Meyer lemon juice
2 teaspoons finely grated lemon zest
1/2 teaspoon vanilla bean paste or extract
1/4 teaspoon baking powder
2 tablespoons all-purpose flour
powdered sugar, for topping
Directions:
Preheat oven to 350 degrees F. Lightly butter an 8-by-8-inch baking pan, then line with parchment paper (the butter will help the parchment stick to the pan and not move around).
In a mixing bowl or the bowl of a stand mixer fitted with the paddle attachment, cream together butter and powdered sugar until fluffy. Add flour and salt and mix until incorporated. Break into pieces and press evenly into the bottom of the prepared baking pan.
Bake for 20 minutes or until top is matte and puffed and edges are just starting to brown. Remove from oven.
While shortbread is baking, wipe out mixing bowl. Combine eggs, egg yolk, and sugar and beat on medium speed until lightened in color, about 2 to 3 minutes. Mix in lemon juice, lemon zest, and vanilla, then sift flour and baking powder over top, mixing until just incorporated.
Pour lemon mixture over hot shortbread, then return to the oven and bake for an additional 18 to 20 minutes or until top is crackly and set. Remove from oven and set pan on a wire rack to cool completely. For easier slicing, refrigerate at least 2 hours or overnight. Dust liberally with powdered sugar just prior to serving.
Did you make this recipe?
Let us know what you think!
Leave a Comment below or share a photo and tag me on Instagram with the hashtag #loveandoliveoil.