This homemade fig syrup is made from dried mission figs and turbinado sugar, resulting in a uniquely sweet and fruity syrup that'll have your tastebuds clamoring for more!
Whether drizzled over buttermilk pancakes or served as part of the perfect party cheese platter, fig syrup is a unique and flavorful alternative to honey that has a multitude of delicious uses.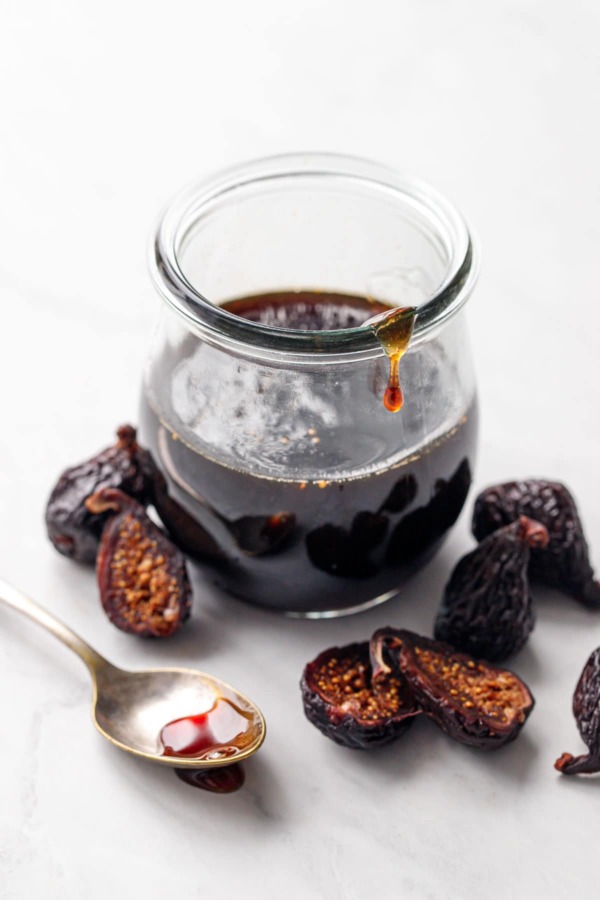 This recipe was created in partnership with Valley Fig Growers, a fig grower-owned cooperative from San Joaquin Valley, California.
Drizzle it, just a little bit (or a lotta bit – no judgement here!)
I love making homemade fruit syrups, from blueberry to elderberry to peach; they're a great way to add flavor and sweetness to drinks and cocktails, but they can really be used for so much more. This fig syrup is no exception, in fact I'd argue it's even more versatile than my previous syrup recipes: the possibilities for it are endless!
I've always used fresh fruit when making fruit-flavored sugar syrups. However, in this case I opted to use dried figs: I find the flavors are so much more robust since the sugars in the fruit have already been concentrated during the drying process. Not to mention fresh figs are fickle, only in season for a short time and, when you do manage to get ahold of them, they too easily bruise and ooze and spoil in what seems like mere minutes; dried figs are much more practical to have in your pantry.
Orchard Choice California Dried Mission Figlets give this syrup a complex molasses-like flavor and stunning garnet hue. Using raw turbinado sugar instead of plain white sugar enhances the caramel undertones, resulting in a flavorful, full-bodied syrup that's incredibly versatile.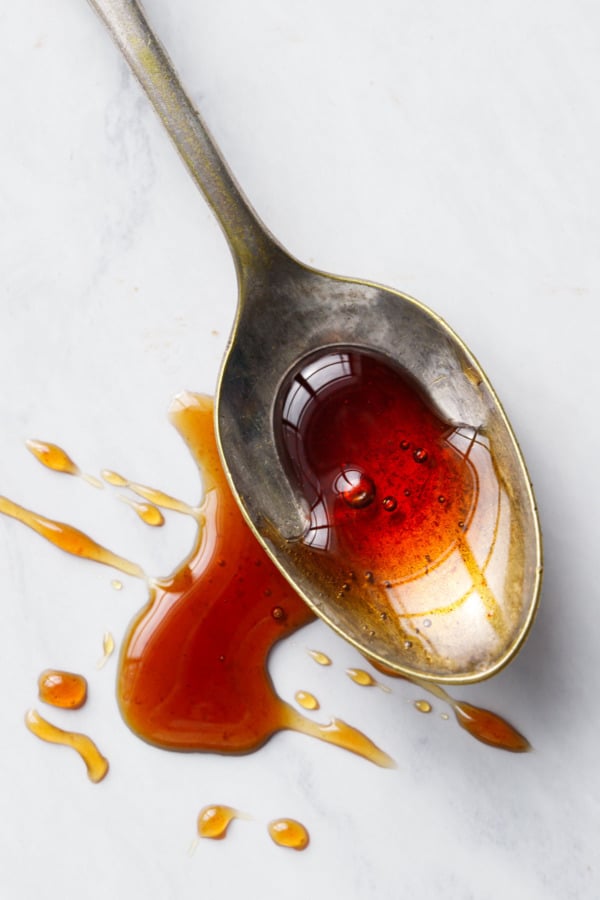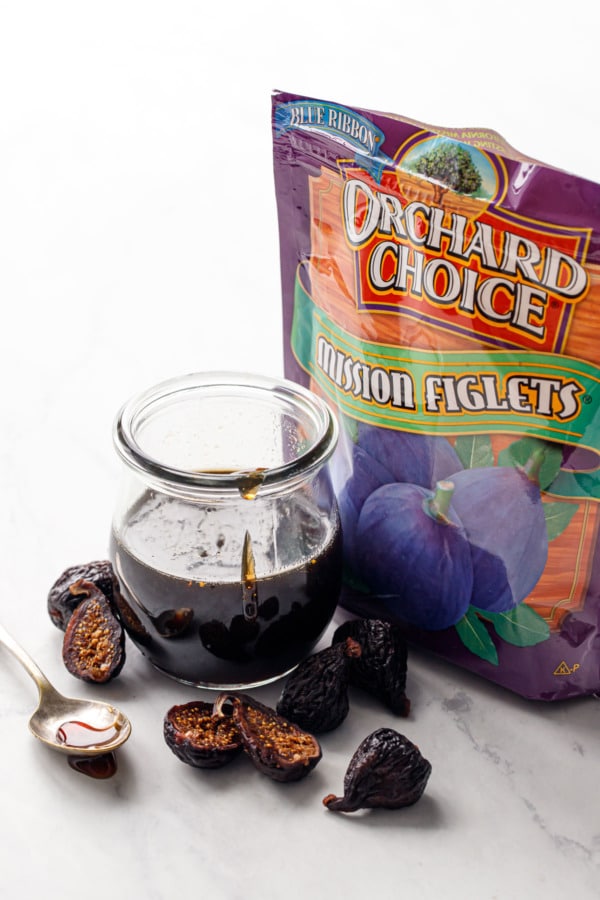 The beauty of dried figs is their flavor is already so intensely concentrated. By simmering chopped dried figs in a sugar syrup, they infuse the syrup with a much more intense, almost balsamic-like flavor than you'd get doing the same thing with fresh fruit.
I opted to use dried mission figs (or, more specifically, Figlets which are smaller than standard sized figs). Mission figs are a brown fig variety that has a smoother and mellower flavor than their green counterparts. You could certainly use Golden Figs here instead (like Sunmaid Dried California Golden Figs), just know your syrup will be lighter in color with a slightly brighter, fruitier flavor.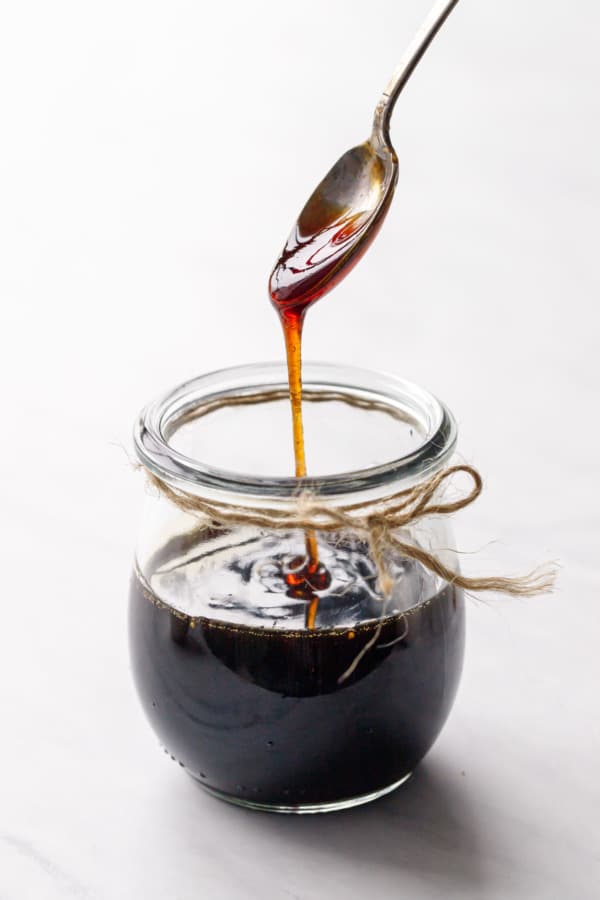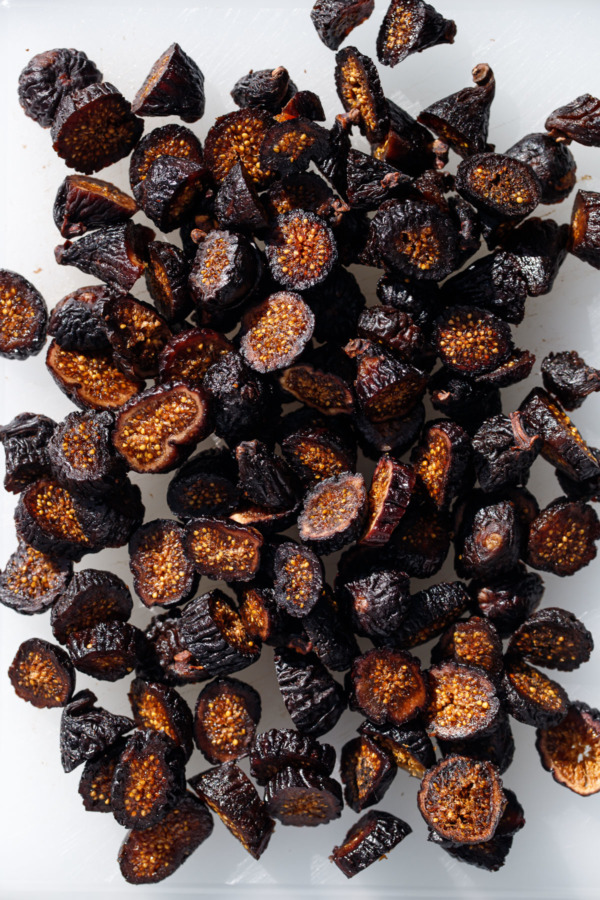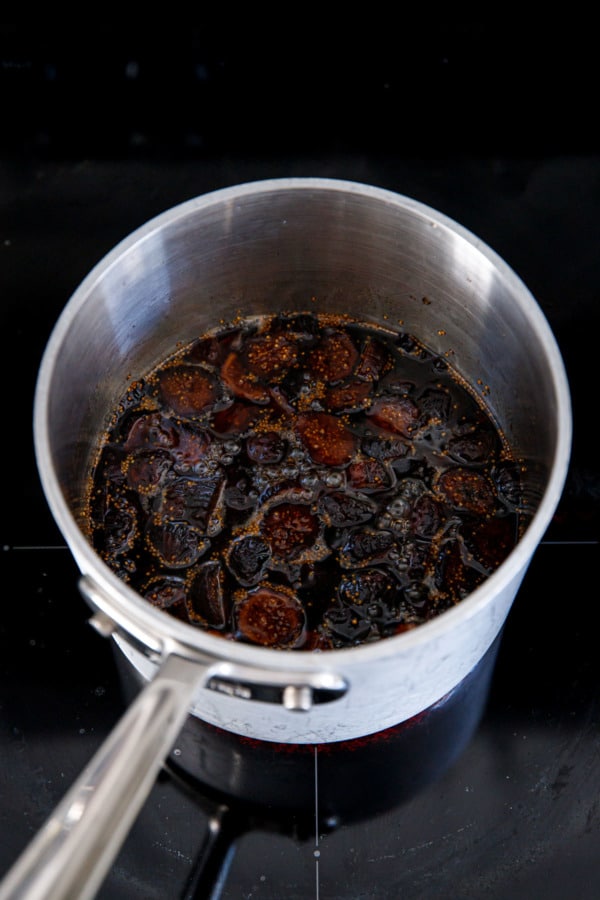 After simmering and steeping (allowing even more of the fig flavor to permeate the syrup), the syrup is still fairly thin at this point. I wanted a thick and sticky syrup, so I strained out the figs and reduced the syrup even further, more like the consistency of honey. This will take about 15 minutes (slightly less if you're using a bigger saucepan—more surface area=faster reduction). Keep in mind the syrup will appear thinner when it's hot; it will thicken more as it cools.
Also: don't you dare toss those steeped figs! They are perfectly soft and infused with sweetness, and would make great a great extra topping pretty much anywhere you might think to use the syrup itself.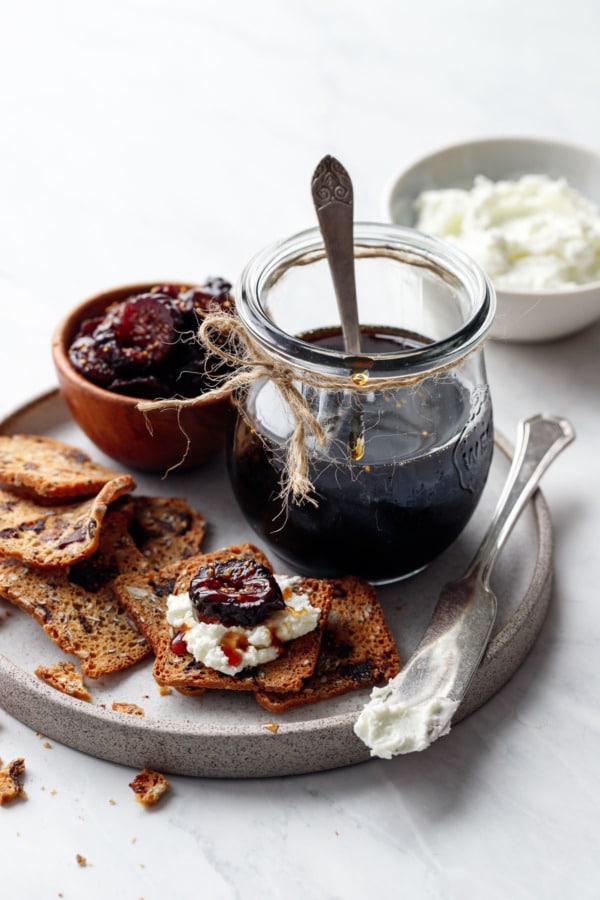 One of our favorite ways to use this fig syrup is with goat cheese and crackers, drizzled with a bit of fig syrup and then topped with one of the reserved steeped figs (see, I told you they'd be put to good use!)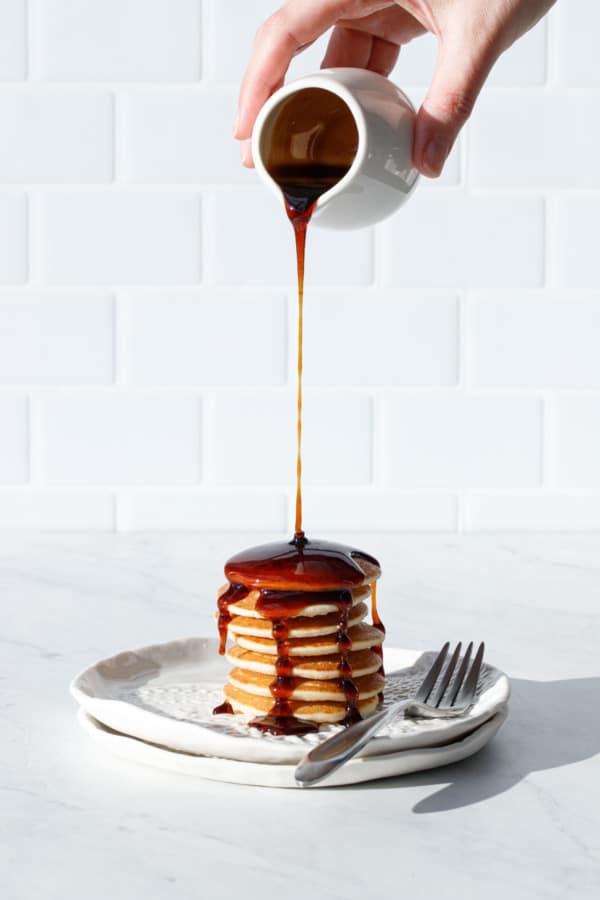 Fig syrup is brilliant for breakfast. Drizzle it over pancakes, waffles or French toast; swirl it into yogurt or oatmeal; mix it with some softened butter and slather it on your biscuits or scones (and speaking of scones, those leftover steeped figs would be amazing folded in to a fluffy, fruity scone).
Other Ways to Use Fig Syrup
I mean, you can pretty much use this fig syrup anywhere you'd use honey, molasses or even balsamic vinegar. I've shared a few of our favorite ways to use it, but really, the possibilities are endless!
Here are a few more ideas:
Top crackers with creamy goat cheese or sharp cheddar, then drizzle with syrup and top with a piece of syrupy fig
Brush onto chicken in the final minutes of roasting
Drizzle over pancakes, waffles or French toast
Swirl into your morning yogurt
Sweeten your morning tea
Use instead of sugar cubes in your favorite cocktail
Whisk with a splash of vinegar and a glug of olive oil for a quick salad dressing.
Heck, drizzle it over ice cream even!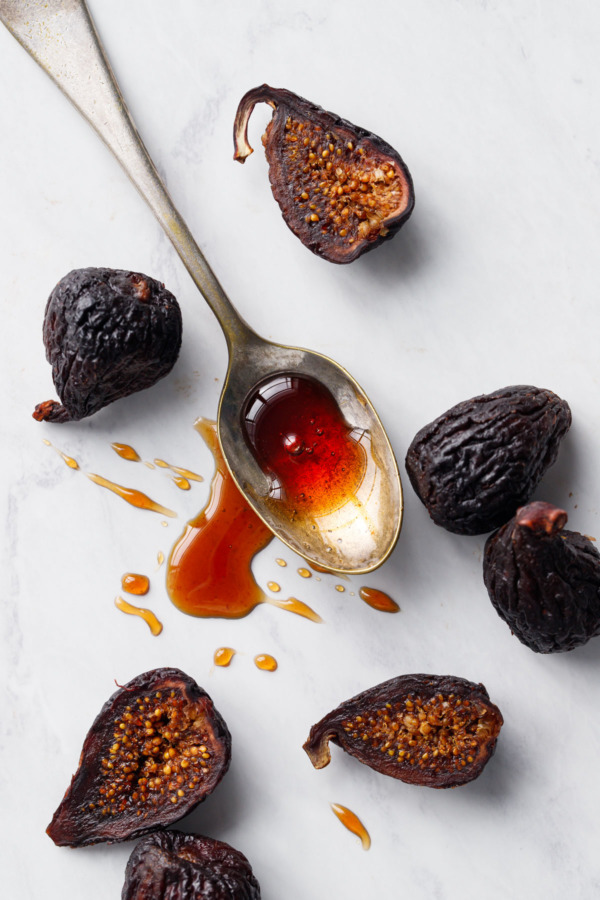 Mix it up: more flavor variations!
While I kept our syrup simple for maximum versatility, this recipe is ripe for adaptation. Figs themselves go with so many different flavors, both sweet and savory, that could easily be incorporated into this syrup.
steep the figs with a sprig or two of fresh rosemary or thyme
add a few large pieces of fresh orange peel
infuse the figs with warming spices like cinnamon, cloves or star anise
add a teaspoon or two of balsamic vinegar after straining the syrup
add a splash of whiskey or port wine after the syrup has reduced
Additionally, if you're looking to make a fig spread instead of a fig syrup, just transfer the entire pot of steeped figs and syrup to a blender (rather than straining it) and puree until smooth.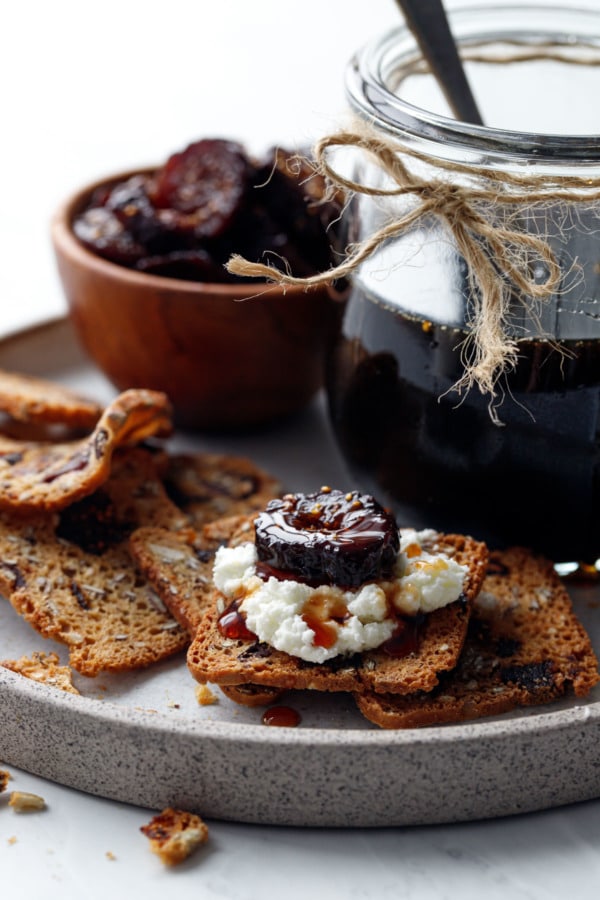 I mean, how you can you look at at that and not want to dive right in?
I will add that this recipe was designed to be refrigerated and used within a week or two; it has not been tested for canning safety. If you want to make a bigger batch and store it longer, I recommend freezing it instead (it'll keep reasonably well for at least a couple of months that way!)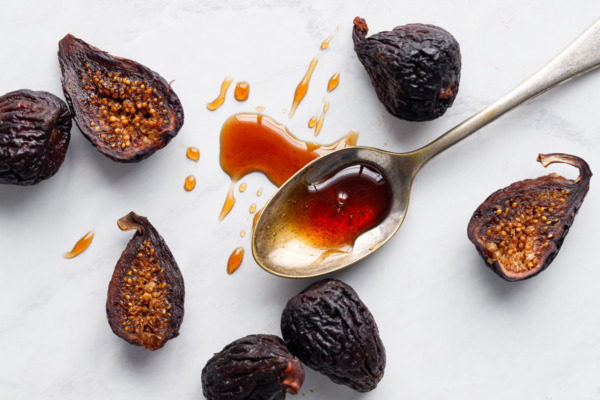 Homemade Fig Syrup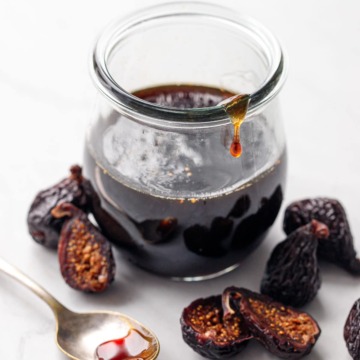 Ingredients:
Directions:
Combine figs, sugar, water and lemon juice in a saucepan. Bring to a simmer over medium heat, stirring until sugar is dissolved. Continue to simmer for 10 minutes or until figs are softened. Remove from heat, cover and let steep for 20 minutes.
Strain liquid through a fine mesh seize. Reserve softened figs for another use. You should have about 1 cup of liquid.
Return strained liquid to saucepan and bring to a simmer over medium heat. Continue to cook, stirring occasionally, until syrup is thickened and reduced by about a third (it will continue to thicken as it cools). This should take about 15 minutes, slightly less if you are using a wider saucepan (more surface area=more evaporation=quicker reduction time). After reducing you should have about 2/3 cup.
Transfer to a jar or other container and let cool slightly, then cover tightly and refrigerate until ready to use. Syrup will keep in the refrigerator for up to 2 weeks.
Did you make this recipe?
Let us know what you think!
Leave a Comment below or share a photo and tag me on Instagram with the hashtag #loveandoliveoil.
Disclosure: This post was created in partnership with Valley Fig Growers. As always, all opinions written are purely our own. We're incredibly grateful for opportunities like these that allow us to continue sharing delicious recipes with you, so thank you for supporting us and the brands we love.