A perfect vegetarian (vegan even!) main dish, these tofu lettuce wraps are so satisfying, you won't even miss the meat!
Crunchy butter lettuce with rice noodles and flavorful baked tofu, drizzled with a spicy peanut sauce so good you'll want to slather on everything.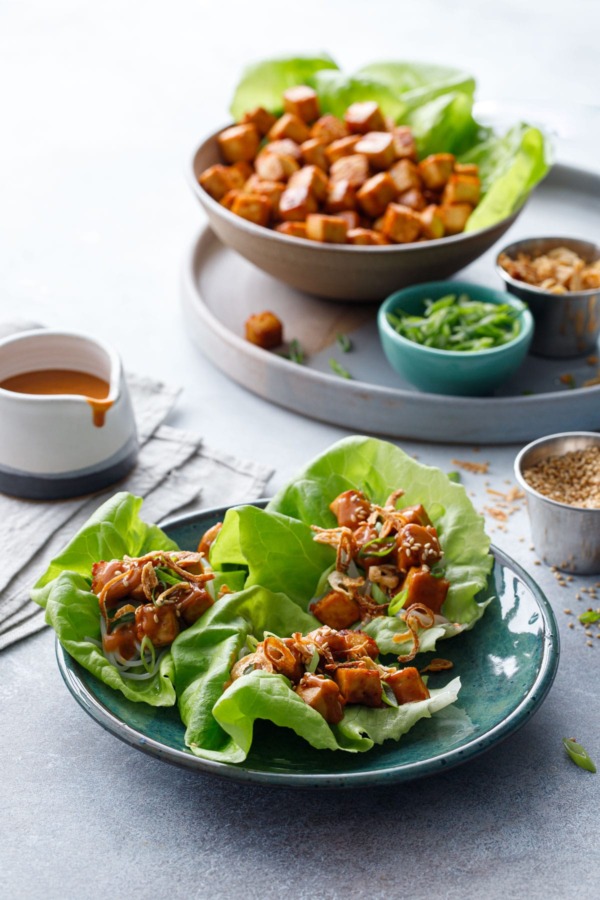 Lettuce wraps are always satisfying, and this recipe proves that to be true even without the meat.
They check all the boxes in a perfect weeknight dinner recipe: easy, flavorful, and healthy (now that's a trifecta that's not easy to achieve!)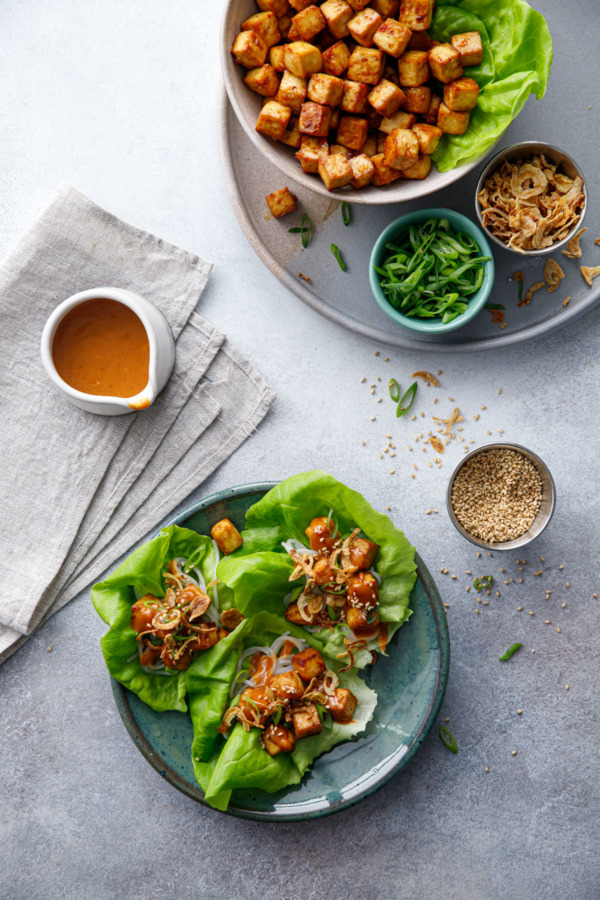 Taylor has a reputation for his peanut sauces (I believe one of our earliest published versions he humbly titled "Taylor's Kick Butt Peanut Sauce" if that tells you what he thinks of his saucy-skills).
One issue I've discovered with peanut sauces is their sensitivity to heat. If you've ever tried to saute tofu or vegetables in a peanut sauce you probably know what I mean: once it hits the hot pan the sauce separates into a curdled, greasy mess. Why recipes still call for you to do this is beyond me.
Instead, we opted not to cook the tofu or noodles in the peanut sauce, rather save it for a generous drizzle on top of the finished wrap. This way you preserve the luxuriously smooth texture of the peanut sauce, while still coating your mouth with sweet, spicy, nutty flavor.
Now, the ultimate peanut sauce would be made with homemade peanut butter, but I know that's not usually feasible (and kind of crosses out the 'easy' aspect of this recipe). Instead, just seek out a nice natural, smooth, unsweetened peanut butter. We will be adding some sugar to the sauce, but sweetened peanut butters have a tendency to make your sauce taste like a Reese's no matter what (and that's not exactly the flavor profile we're going for here).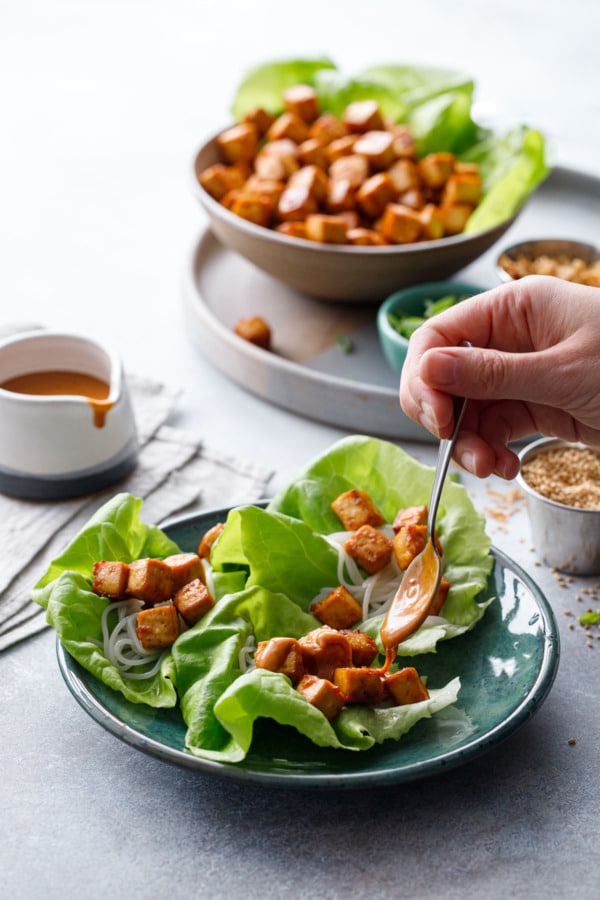 The sky is the limit when it comes to topping your lettuce wraps! We opted for sliced green onions, toasted sesame seeds and fried shallots (I buy these by the tub at our local Asian market, but you can make your own fried shallots too).
I thought after the fact these would have looked even better with some paper thin slices of red chilies on top, give them a little color other than brown. But, alas, hindsight…
You could also top them with shredded carrot, crispy noodles, fresh cilantro, bean sprouts, microgreens or even fresh or pickled red onions.
While I can think of myriad things you could top them with, I will say this is one situation where less is more. Pile on too much stuff on a delicate piece of lettuce and you're just asking for a mess.
Butter or bibb lettuce is the best lettuce for lettuce wraps due to their flexibility (the leaves themselves can be folded around the filling much like a tortilla can). Stiffer lettuces like romaine or iceberg won't really work here, unfortunately. You could also opt to use small stuff leaves of endive or radicchio here, for more of a one bite lettuce cup instead of a more flexible lettuce wrap.
Look for a head of lettuce with large, flexible leaves. I prefer the kind sold with the roots still attached; the greens will stay crisper and fresher longer.
Baking tofu is arguably easier than pan frying, and results in a firmer, chewier texture with crispy edges. If you usually don't like tofu because of the squishy texture, give baked tofu a try: you might just be pleasantly surprised!
Tofu itself is the ultimate blank canvas: on its own it barely tastes like anything, but it absorbs any flavors it comes in contact with like a sponge.
We tossed our tofu with a bit of sesame oil, soy sauce and sriracha, so the result is incredibly flavorful and not in the least bit bland. A little bit of cornstarch coats the tofu and helps it get nice and crisp in the oven.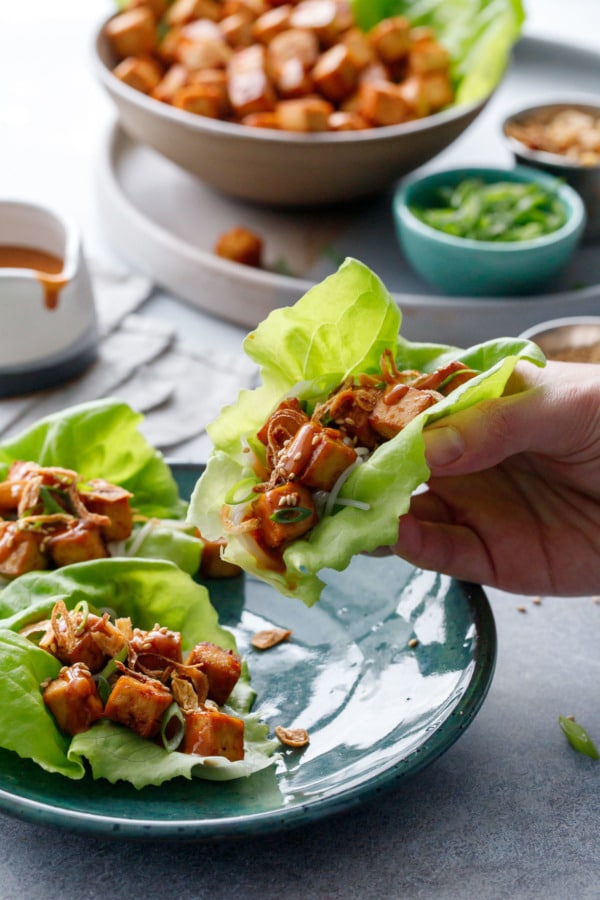 This recipe is vegetarian, vegan, dairy free and even (if you seek out gluten free soy sauce) gluten free.
One thing it is not free of? Flavor.
Buckle up, butter (lettuce) cup… you're in for one flavorful ride!
Baked Tofu Lettuce Wraps with Spicy Peanut Sauce
Crunchy butter lettuce filled with rice noodles and flavorful baked tofu and drizzled with a spicy peanut sauce so good you'll want to slather on everything.
Ingredients:
For Baked Tofu:
16 ounces firm tofu, drained
1 tablespoon sesame oil
1 tablespoon soy sauce
1 teaspoon chili garlic sauce
2 teaspoons cornstarch
For Peanut Sauce:
1/3 cup creamy peanut butter
2 tablespoons soy sauce
2 tablespoons sesame oil
1 tablespoon packed brown sugar
1 tablespoon rice vinegar
1 tablespoon chili garlic sauce, or to taste
1 garlic clove, finely minced
1/2 teaspoon finely minced or grated ginger
2-3 tablespoons water, as needed
For Lettuce Wraps:
4 ounces (1 bundle) rice vermicelli noodles, cooked according to package instructions.
1 head butter or bibb lettuce, leaves separated, washed and dried
fried shallots
thinly sliced green onions
toasted sesame seeds
Directions:
Slice tofu into 1/2-inch thick slabs. Line a baking sheet with two layers of paper towels; arrange slabs of tofu in a single layer and cover with two more layers of paper towels. Place another baking sheet on top, then set a reasonably heavy weight on the pan (I used a dutch oven, you can use books or cans of vegetables evenly distributed on top of the baking pan). Let tofu drain for 20 to 30 minutes, then remove weights and paper towels.
While tofu is pressing, preheat oven to 400 degrees F. Line a baking sheet with parchment paper to keep the tofu from sticking (unfortunately foil just doesn't work as well here).
Cut tofu slabs into strips then again into 1/2-inch cubes. Place cubes in a mixing bowl. Add soy sauce, sesame oil, and chili garlic sauce and gently toss until evenly coated. Sprinkle with cornstarch and toss until tofu is coated and no dry traces of cornstarch are visible.
Transfer to prepared baking sheet, arranging tofu in a single layer so that no pieces are touching.
Bake for 10 minutes; flip tofu pieces using tongs or a spatula. Bake for another 10 to 15 minutes or until golden brown.
To make peanut sauce, in a bowl whisk together peanut butter, soy sauce, sesame oil, sugar, rice vinegar, garlic and ginger until smooth. Drizzle in water, 1 tablespoon at a time, until the sauce has a nice thick yet drizzle-able consistency (you may not need all the water depending on how thick you like it).
Cook rice noodles according to package instructions. Drain and rinse with cold water.
Arrange pieces of lettuce on plates. Top with a small pile of rice noodles and pieces of baked tofu. Drizzle generously with peanut sauce, then sprinkle with green onion, fried shallots and sesame seeds as desired.
Did you make this recipe?
Let us know what you think!
Leave a Comment below or share a photo and tag me on Instagram with the hashtag #loveandoliveoil.