A perfect holiday appetizer, these cheesy artichoke crostini feature a creamy artichoke dip-inspired topping atop ultra crispy crostini toasts with a sweet and tangy pepper drop on top.
Looking for an easy party dish, perfect for a crowd? Look no further! These artichoke crostini toasts are creamy, crunchy, cheesy and oh so satisfying!
The holidays are all about entertaining, and whether you are hosting your own festive get-together or need a quick and portable dish to bring to the office pot luck, this savory appetizer recipe is just the ticket.
Featuring crisp and buttery crostino toasts topped with a mixture of marinated artichoke hearts and flavorful cheeses baked to golden, bubbly perfection, it's a recipe that will satisfy all year long.
The creamy artichoke topping falls somewhere in between a gooey artichoke dip and a traditional artichoke bruschetta, with three kinds of cheeses and a bit of mayo (but not too much!) for an ultra-creamy consistency.
A touch of minced shallot as well as a squeeze of fresh lemon juice, ample black pepper, and the sweet and tangy pepper drop gives it the perfect amount of acid and spice to balance out the rich cheese.
This recipe features DeLallo Crostino Antipasto Toasts, along with their Marinated Artichoke Hearts and Sweet & Tangy Pepper Drops.
The antipasti toasts make assembly a breeze (they are already cut and toasted to a perfect golden brown). That said, you could certainly use fresh baguette, cut into 1/2-inch slices, for a more traditional artichoke bruschetta. If you do use baguette, I recommend toasting it for a few minutes before you add the topping to ensure it's nice and crispy through and through.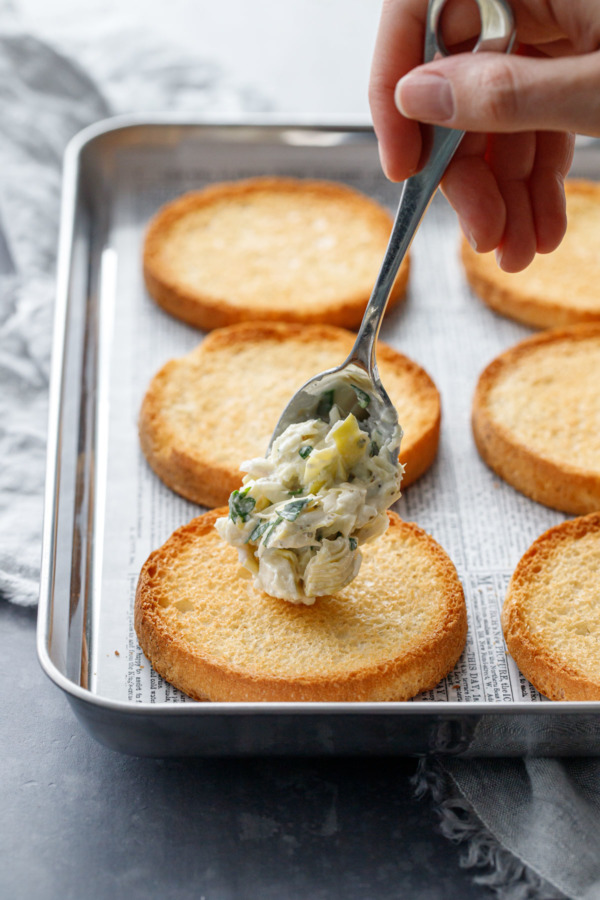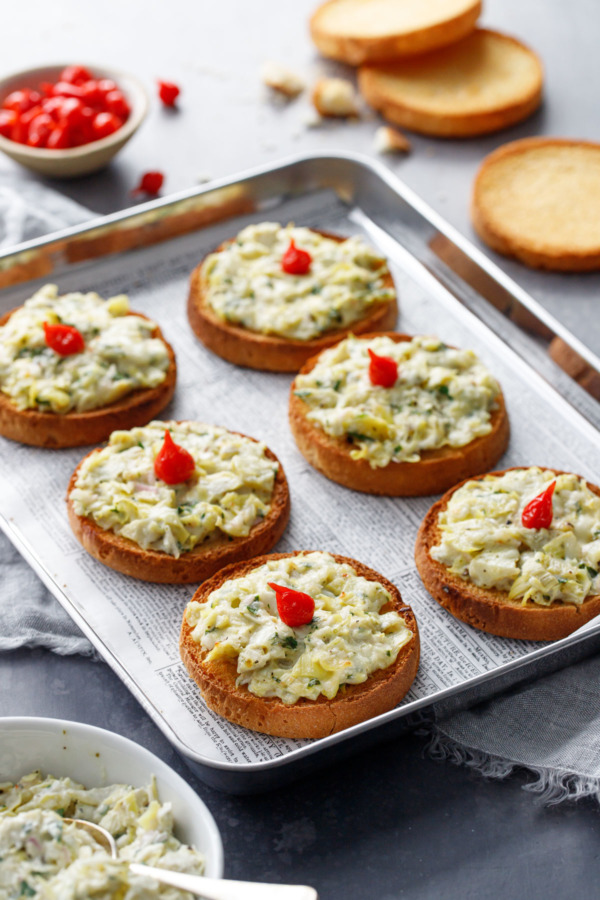 I love these adorable little pepper drops—they manage to be sweet and tangy at the same time, with just a hint of pleasant heat. I think they look like Christmas ornaments sitting on top of the pale-green artichoke mixture (one reason why this is the perfect holiday appetizer!)
Needless to say, I was so excited to see these Pepper Drops in DeLallo's lineup since they reminded me of one of the amazing cicchetti, or bruschetta-like small bites similar to Spanish tapas, that we enjoyed in Venice, and that's partly where the inspiration for this recipe came from (although I believe the one with the pepper in Venice was some sort of fish-based topping, which I probably wouldn't recommend for something like a holiday party, lol).
You can assemble the toasts up to 4 hours ahead of time and just bake them just before serving. You can also make the topping itself a full day ahead, then assemble and bake just before your guests arrive.
Cheesy Artichoke Crostini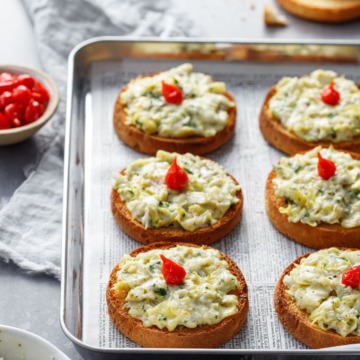 Ingredients:
1 12oz jar DeLallo Marinated Artichoke Hearts, well drained and chopped
1/4 cup mayonnaise
1/4 cup finely grated Parmesan cheese
1/4 cup finely grated Pecorino cheese
1/3 cup grated mozzarella cheese
3 tablespoons minced shallots (about 1 large)
1 tablespoon chopped fresh parsley
2 teaspoons fresh squeezed lemon juice
1/8 teaspoon kosher salt
freshly ground black pepper, to taste
DeLallo Sweet & Tangy Pepper Drops, for topping
Directions:
Preheat oven to 375 degrees F. Arrange toasts in a single layer on a baking sheet.
In a bowl, combine chopped artichoke hearts with mayonnaise, cheeses, shallots, parsley and lemon juice. Season to taste with salt and pepper.
Dollop a heaping tablespoon onto the top of each toast, spreading into an even layer. Top with a Pepperdrop as desired.
Bake for 5 to 7 minutes or until filling is warmed through and starting to bubble. If desired, you can broil them for a minute or so at the very end until the topping is super bubbly. Just keep an eye on the toasts as the edges will go from golden brown to burnt in the blink of an eye.
Remove from oven and let cool slightly before serving warm.
Toasts can be assembled up to 4 hours ahead of time and refrigerated; bake just prior to serving.
Did you make this recipe?
Let us know what you think!
Leave a Comment below or share a photo and tag me on Instagram with the hashtag #loveandoliveoil.