Cucamelons are adorable little fruits that taste like a cucumber and look like a tiny watermelon. This quick refrigerator pickle recipe treats them more like the later: with a hint of ginger, allspice and star anise that makes for a truly unique pickle.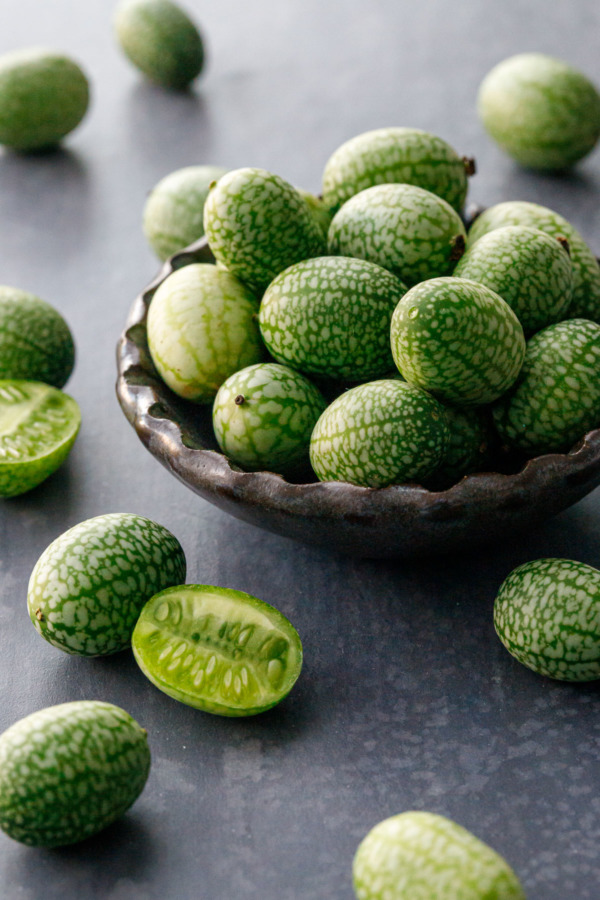 I stumbled upon these cucamelons a few weeks ago at the farmers market, and they were simply too cute to pass up.
Cucamelons, also called mouse melons (OMG) or Mexican sour gherkins, are tiny, cucumber-like fruits native to Mexico and central America. With a thick outer skin with a watermelon-like appearance, it's obvious where they get their name (I also think they look a bit like dinosaur eggs).
The flavor is tart, like a sour, lemony cucumber. The skins are thicker than your typical cucumbers, more snappy not unlike a watermelon.
I bought a quart of them, without the faintest idea of what I was going to do with them, but pickles seemed like an obvious choice.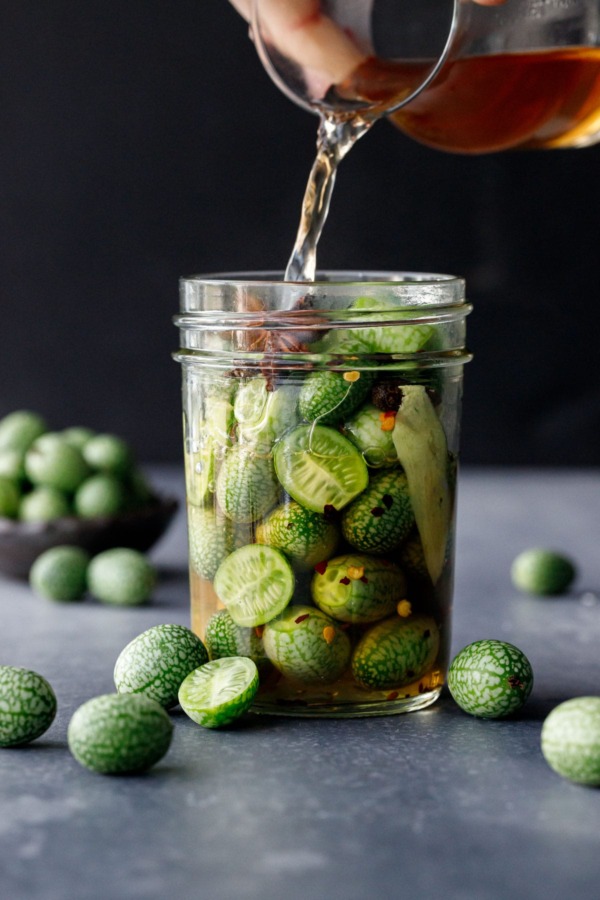 Considering they have characteristics of both cucumbers and melons, I figured I could go one of two ways:
Treat the cucamelons like cucumbers and pickle them with garlic and dill.
OR
Treat them like melons and pickle them in a more aromatic blend of spices like you'd use for pickled watermelon rind.
In this case, I chose the later (but if you prefer the cucumber direction, my spicy garlic dill pickle brine will work equally well for cucamelons).
The aromatic mix of spices, with a hint of heat and gingery spice makes for a unique flavor experience. Chances are, you've never tasted a pickle quite like this one. And their tiny shape means you'll find yourself popping more than a few in your mouth, one after the other.


Like any refrigerator pickle recipe, give these guys at least 24 hours to fully infuse with the vinegar brine. As they pickle, the skins will soften and the spices will infuse the flesh of the cucamelons with a delightful tangy spice.
They will keep about 2 weeks in the refrigerator (note that I have not tested this recipe for waterbath canning; if you want to make pickles for long-term storage, I recommend seeking out a pickle recipe from a trusted source like National Center for Home Food Preservation or Ball Canning — any solid cucumber pickle recipe should work just fine with cucamelons too!
Cucamelon Pickles
This recipe makes one 8oz/half-pint jar full of pickles; feel free to scale up the brine depending on how many jar-fulls of cucuamelons you have.
Rinse cucamelons and cut off the blossom ends. You can half them if desired, but it's not necessary. Pack into a washed and sterilized half-pint canning jar along with pepper flakes, allspice berries, peppercorns, anise and ginger.

In a small saucepan, combine vinegar, water, sugar and salt and bring to a simmer, stirring until sugar is completely dissolved.

Pour over cucamelons in jars, filling the jar to within 1/4-inch of the top (if necessary you can top it off with a bit more water). Secure lids and place in the refrigerator for at least 24 hours.

Pickles will keep in the refrigerator for up to 2 weeks.
All images and text ©
for Love & Olive Oil.