Croatia. Land of turquoise waters and rocky beaches, medieval walls and Roman ruins, towering mountains and majestic waterfalls. It truly is one of the most beautiful places I've ever been.
We spent about 2 weeks in the region this past May, traveling with our good friends Phillip & Billy for part of the time, then continuing on our own for the rest.
The majority of our major international trips so far have been focused on just one or two big cities: Paris & Barcelona, Lisbon & Porto, Tokyo & Kyoto. But the nature of Croatia lends itself to a slightly different style of trip, mainly because the charm of the place is less in the cities and more in the small towns and the stunning landscapes between them. Even the bigger cities of Zagreb and Split aren't the kind of cities you'd spend 5 or 7 days in, at least not without a car and a good number of day trips planned.
With that in mind, we divided our 11 nights in Croatia into 5 main destinations. (Technically we were gone for 14 nights, but the first two and the last nights were in Vienna, more of a long layover than anything, so I'll exclude those nights from our general itinerary). This took a surprising amount of thought and planning on our part, and a lot more work finding accommodations in 5 different locations, but ultimately allowed for us to see a good bit of the country and make the most of our time there.
With so many different locations, each worthy of its own post, I figured I'd break up my documentation for this trip into multiple short posts rather than overload you with one giant photo dump (3500+ photos, oh boy!)
I thought I'd start with a general overview into our 12 day/11 night Croatia itinerary, why we chose to stay where and break it up the way we did. I'll follow this post in the coming months with individual posts for each of the places we stayed, including restaurant and activity recommendations at that time. I'm hoping this format will prove the most helpful when it comes time to plan your own Croatia trip (which is hopefully very soon!)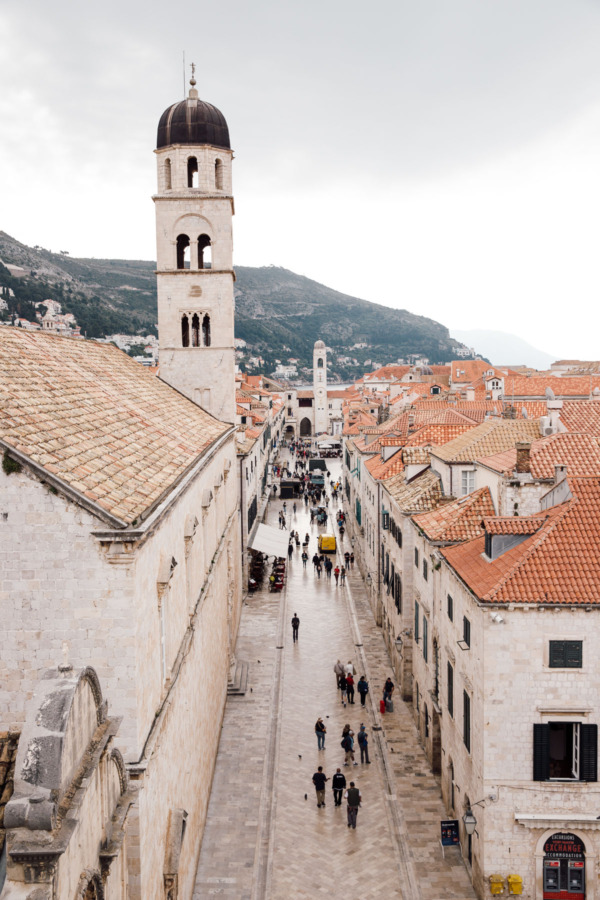 Dubrovnik, Croatia
2 nights.
Dubrovnik, at the very Southern tip of Croatia's coastline, is one of the most incredible places I've ever seen. Much like Venice, the historic center is completely car-free, which makes it that much more charming and photogenic. The city's popularity has skyrocketed over the past few years, mainly because it serves as the real-life locations for many of the TV show Game of Throne's most iconic settings.
Dubrovnik's beauty is no secret: the city tends to fill up with eager tourists, the main boulevard and the medieval walls overflowing with visitors during the daytime hours. The nearby cruise port contributes to this daytime influx, so I do recommend trying to visit during the shoulder season or a day when there are maybe fewer ships than usual.
The real charm of the city comes in the evening, when the day trippers are gone and the lanterns reflect off the polished cobble streets. We stayed at an AirBnB inside the city walls, which gave us amazing access to the city and all its charms.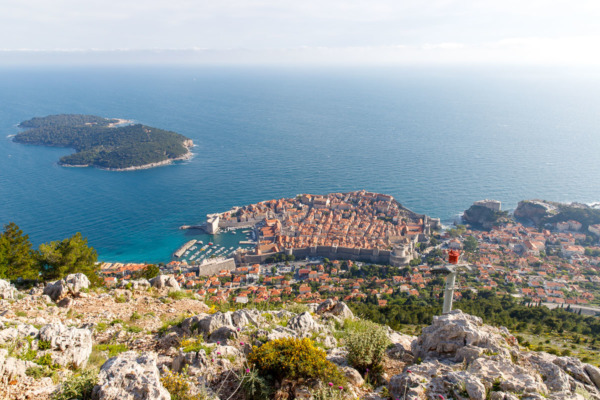 We stayed in Dubrovnik for two nights, which I felt was was the perfect amount of time. If you have 3 or 4 nights here, you might want to look into some day trips outside the city to fill the rest of your time.
From Dubrovnik, we took an evening ferry to Split. It's about a 4 hour ferry ride, but the boats are very comfortable and the seas relatively calm. In the shoulder season there is only one ferry a day, so I definitely recommend figuring out the ferry schedule ahead of time and also booking your tickets in advance. In high season there are more options, but they are going to be more crowded overall, so booking in advance is definitely a smart idea.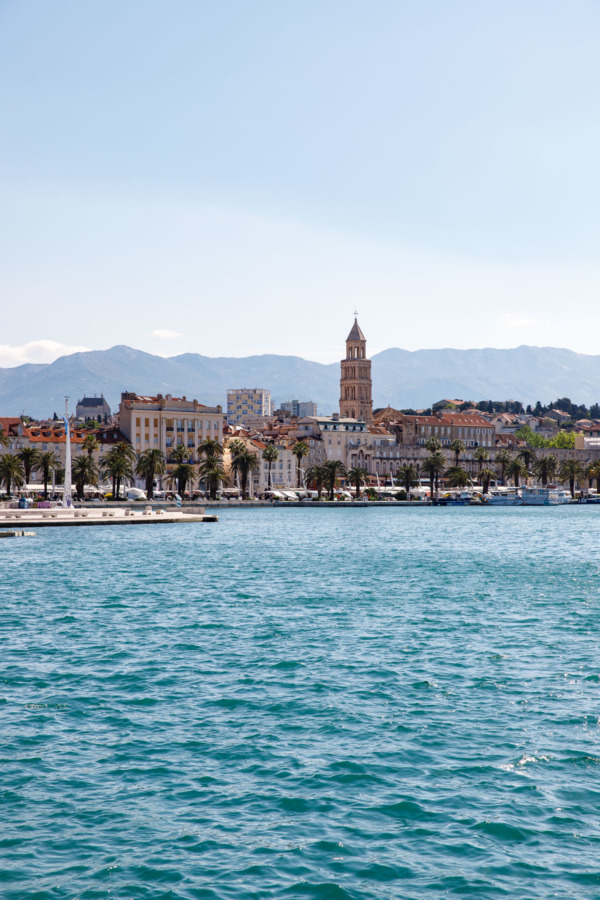 Split and the Dalmatian Coast
3 nights.
Split was quite a contrast to Dubrovnik. The main historic center of the city definitely has its historic charms, but overall it's more of a bustling, cosmopolitan beach town, while also feeling like a real, actual city where people live compared to fairy tale-like Dubrovnik.
We had a lot of rain in Split, which perhaps affected our impression of the place. You can really see the bulk of the historic parts of the city in a day, and if you have longer than that, it's a great jumping-off point for island-hopping, if you're into that sort of thing.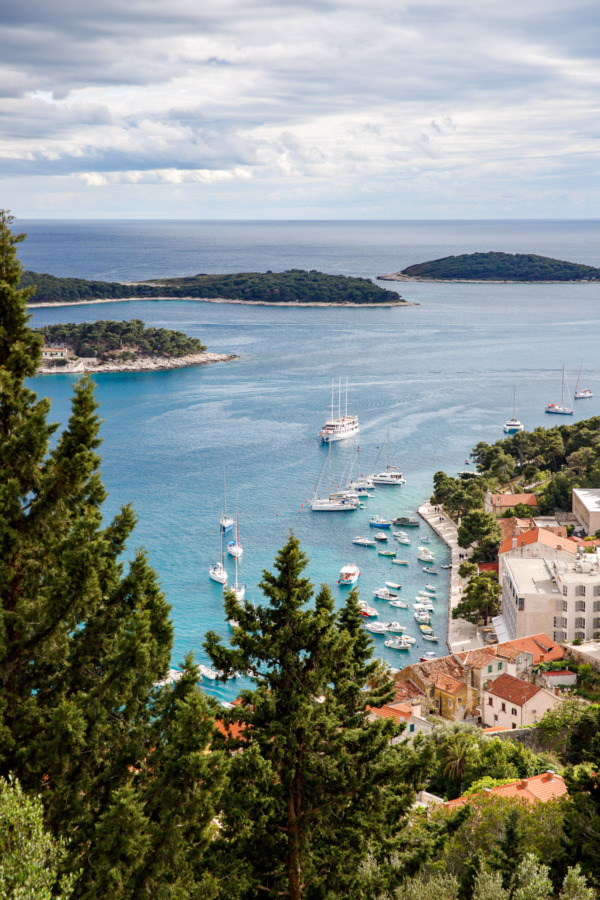 We figured we should at least see one Croatian island, as it's such a big part of Croatia's popularly, so we hopped a ferry and spent half a day exploring Hvar. Unless the focus of your trip is beaches, boats and parties, I probably wouldn't stay there, but it's a beautiful island to see and an easy ferry ride from Split.
There are a few ferries to Hvar each morning and late-afternoon, but there's only one mid-day option. So unless you want to spend a full 8 hours on the island, definitely check the ferry timetables (cross-check these with the actual ferry companies, I found they varied a bit from what's listed) and make your plans around that. Count on about an hour long ride each way.
On our last day in Split we made our way down to the waterfront where we picked up our rental car. Our friends were leaving from Split that afternoon, but we had time for a leisurely lunch in the quaint seaside town of Trogir before dropping them off at the airport. Then Taylor and I made our way up the coast to Zadar, home of the famous Sea Organ, stopping for a few hours there before driving inland to Plitvice Lakes National Park (it's about 2 1/2 hours total from Split, which isn't bad, but it was nice to break it up regardless).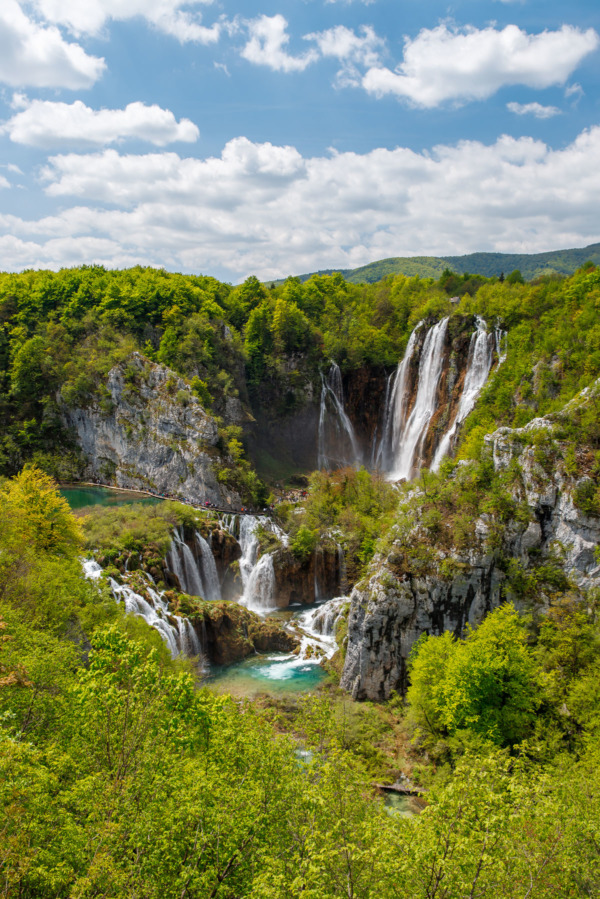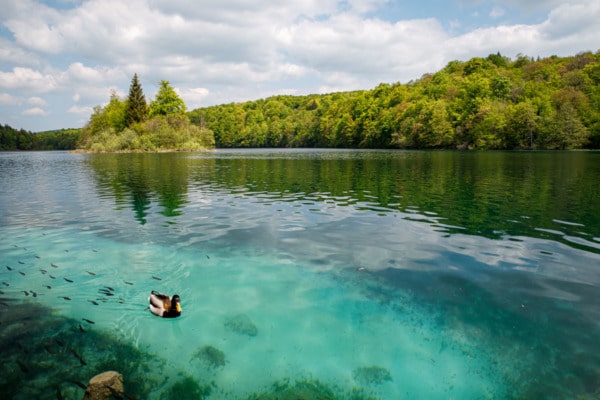 Plitvice Lakes National Park
1 night.
Many people visit Plitvice as a day trip, but we opted to stay nearby the night before, mainly so we could wake up first thing in the morning and be at the park right when it opened at 8am (7am in the peak summer season).
We were prepared for cold weather, having seen snow in the forecast just a few days prior. We really lucked out, however, as while the day started out quite chilly, it became an absolutely perfect day with sunshine and blue skies dotted with fluffy white clouds. Even if every other day of our trip was rainy, this one perfect day more than made up for it.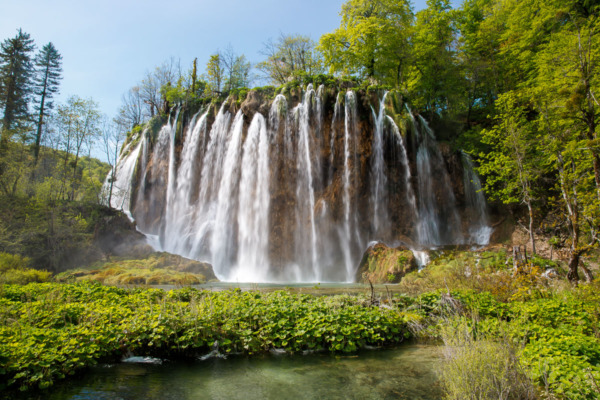 Overall we spent about 4 hours in the park, making our way around the lower and upper lakes (following Rick Steve's recommended route) and ending at the picturesque viewpoints overlooking the waterfalls down below. I'll definitely be dedicating an entire post to this amazing place, so stay tuned!
From Plitvice we drove about 3 hours North to Ljubljana, Slovenia.


Ljubljana, Slovenia
3 nights.
We went back and forth over whether to spend these 3 nights in Slovenia or somewhere on Croatia's Istrian peninsula. In the end, we figured that by this point in the trip, we would have seen enough quaint beach towns, and a change of scenery might be appreciated. I'm so glad we did, as Ljubljana was absolutely delightful. Once we figured out how to pronounce it, that is (hint: it's pronounced something like lube-lee-ah-na).
The historic downtown is quite small, easily walkable, and completely adorable, with pastel painted buildings in a style somewhat reminiscent of a little Amsterdam with an art deco twist. It wasn't overrun with tourists the way the other cities we visited were, which was a nice relaxing change of pace. It's very much a college town and certainly felt that way.
We had originally planned to take a full day trip up to Lake Bled, but the rainy weather quashed those plans. We then considered doing a half day there on our way to Zagreb (even though it's not really on the way), but in the end decided to make a detour to the Postojna caves instead, about 45 minutes from the city. The caves are one of the largest limestone cave systems in the world, complete with an electric tram that travels over 3km into the mountainside. Such a cool experience, and a great stop for a few hours before we headed to our final destination… Zagreb.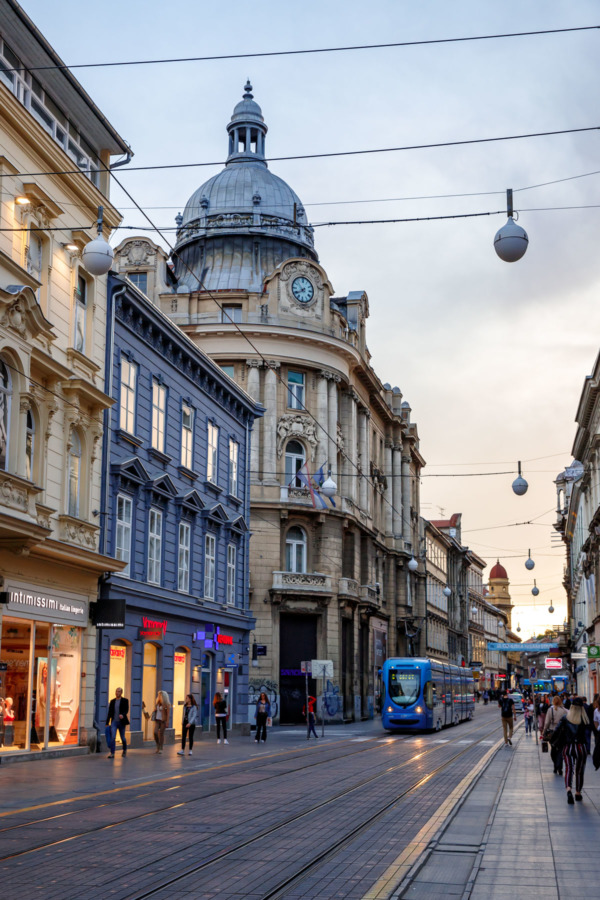 Zagreb, Croatia
2 nights.
Croatia's capital doesn't get the attention it deserves. It's much more urban and gritty than the quaint beach towns, but has a charm all its own.
We found an amazing AirBnB in the heart of the city, but with a private parking spot out back (one important consideration when you have a rental car is lodging that includes parking). From there we could easily walk to the main city square, and from there grab a bright blue tram to just about anywhere else in the city.
From Zagreb we hopped a quick 50 minute flight back to Vienna for one final night, and then headed back home to Nashville.
Getting to Croatia
Flying in and out of Croatia can be expensive, especially from the US. When we started planning this trip, we used Google Flights to search around for the major European cities that offered the cheapest direct flights to cities of Dubrovnik, Split and Zagreb. Turns out there were plenty: London, Rome, Munich, Brussels and Vienna all have inexpensive direct flights to Croatia on a daily basis.
Travel Tip: If you know approximately when and where you want to go, set a bunch of Google flight trackers for a range of dates and nearby airports. Google will email you when/if the fare drops (or goes up) for that particular route.
You can also sign up for a service like Scott's Cheap Flights that scours the internet for airfare sales and emails you the best ones to your selected airports. It works best if you're a bit flexible in your destination and your dates, but we've gotten some great deals via this service, including $450 to Amsterdam last fall (we hopped over to Portugal from there) as well as $700 to Australia this coming September (so excited!!)
It was a Scott's email that alerted us to the $500 Nashville to Vienna fare; and since we knew we could get to Croatia from Vienna for around $200/person, we jumped at the chance to save hundreds over booking flights straight into Croatia. Doing it this way also allowed us to book 'open jaw' flights, from Vienna to Dubrovnik and from Zagreb back to Vienna, which saved us from having to find our way all the way back down to Dubrovnik at the end of our trip (if you want to make the most of your time in Croatia, I highly recommend trying to book flights this way: into one city and out of another).
We also got to spend a few days exploring Vienna, which is definitely a bonus!
Getting Around Croatia
We managed the first half of our trip very easily without a car, taking the bus from the airport to Dubrovnik, the ferry from Dubrovnik to Split and Split to Hvar, and otherwise relying mainly on our feet (and one Uber ride to the top of Mount Srd only because the cable car to the top was closed).
But, for the second half of our trip, having a car really came in handy. Much of the beauty of Croatia is outside of the cities, along the roads that wind their way up the coast and through the mountains.
Having a car is especially advisable for Plitvice, which is really in the middle of nowhere. While you can book bus tours to Plitvice, having a car meant we were on our own schedule and could get to the park first thing in the morning when it opened (it starts to get really crowded around 10am or so when all the busses arrive).
While we could have found a way from Split to Ljubljana and from Ljubljana to Zagreb without a car (there's a pretty convenient train that connects the later two, and bus services like Flixbus that'll go almost anywhere else). Still, the car allowed us to travel on our own schedule and stop along the way (such as the Posojna caves). Once in the cities though, we just parked the car and left it for the duration, as you really don't need a car in the cities themselves.
Tips & Tricks for Traveling in Croatia & Slovenia
We had no issues with language in Croatia or Slovenia; almost everyone we encountered spoke enough English to get by (with the exception of the little old lady selling cherries at the farmers market; we probably paid way too much for them but oh well).
Croatia is part of the EU, but not on the Euro, so you'll have to wrap your head around another currency while you're there. The prices might seem high, until you start to realize that your bill for 80 kuna is actually only about $12. We couldn't believe how inexpensive things were: we'd go into a cafe, we'd each get drinks (tea or soda or fancy coffee or even cocktails) and we'd share a beautiful pastry (or two)… and the bill would be like $7 with tip. Even our most expensive dinner at the fancy restaurant at the top of Mount Srd was less than $200 for 4 people, including drinks, dessert and tip.
Tipping is more common here than the rest of Europe, and a 10% tip restaurants was usually expected (assuming there was no service charge on the bill already) or up to 15% for exemplary service.
One thing we didn't quite figure out before we left was how to request tap water in a restaurant; if you ask for water they'll automatically bring you bottled, which was usually more expensive than the beer or wine. But the tap water in Croatia is some of the best in the world, so if you can, take advantage of that!
If you are renting a car and plan to go to Slovenia, you'll need a vignette, which you can purchase at the first gas station across the border (we mistakenly thought it had to be purchased before you got to the border, so we ended up stopping twice). They do check these stickers, so don't skip it.
To stay connected, we ordered a wifi hotspot before we left that worked in all the locations we were visiting. We find this preferable to paying for expensive international data plans with our cell phone carrier (some US carriers, like T-Mobile, have much better packages). Just be sure you turn off cell data on your phone before you land in Europe. Not having phone service is typically not an issue (although we did encounter some difficulty checking in to our Ljubljana AirBnB for this reason, but that's pretty much the only time it's been an issue). If you go this route, sign up for a Google Voice number before you leave; you'll be able to make US calls for free over wifi even while overseas!
****
As mentioned, I'll be posting more in-depth about each location in the coming months, including specifics as far as what we ate and exactly what we did, from food tours to ferry rides (and, of course, a whole bunch more photos!)
Stay tuned!