This gorgeous, jewel-toned salad features sweet roasted beets tossed with a toasted cumin-infused olive oil, red onion, preserved lemon, fresh dill, and dollops of creamy tahini yogurt to top it all off.
The striking contrast of the ruby red beets and the snow white yogurt, dotted with fronds of green dill and delicate purple radish flowers make for a dish that's as pretty as it is delicious: that's my kind of salad!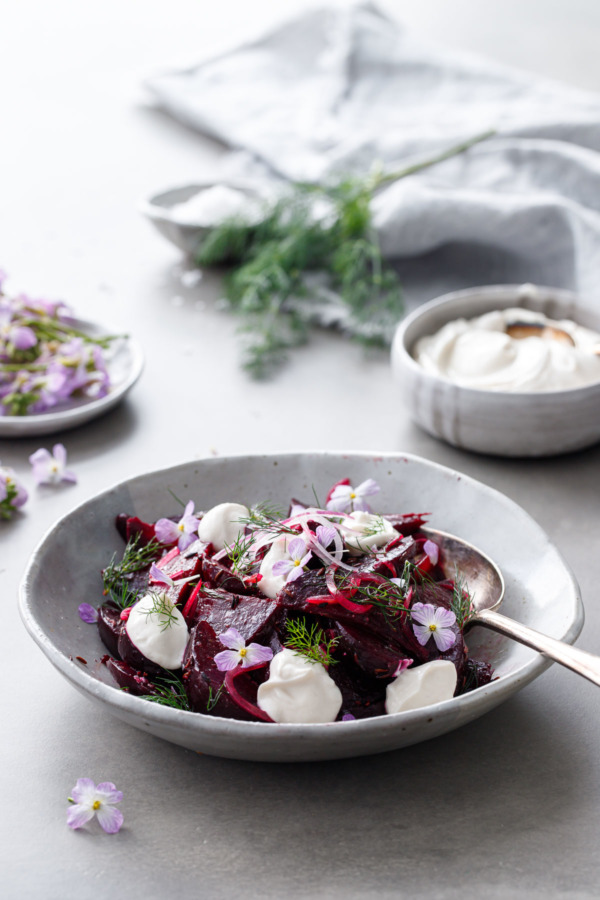 The flavors here are not shy. Cumin and dill are two very pungeant flavors, and yet they somehow work together perfectly.
Perhaps it's the sweetness of the beats, the creaminess of the yogurt, or the tangy preserved lemons that pull it all together, but there's no denying this is one of the more unique flavor combinations I've experienced. And yet… it just works.
And speaking of the yogurt… the simple mixture of tahini and Greek yogurt is my new favorite condiment. It's perfect for dolloping and dipping, with just enough tahini flavor to make it interesting while still retaining the cool creaminess of the yogurt.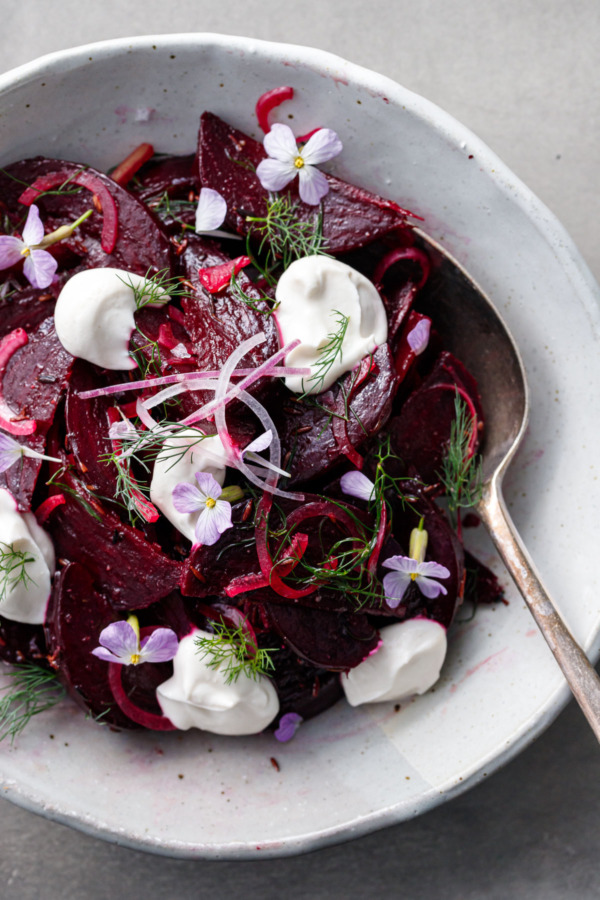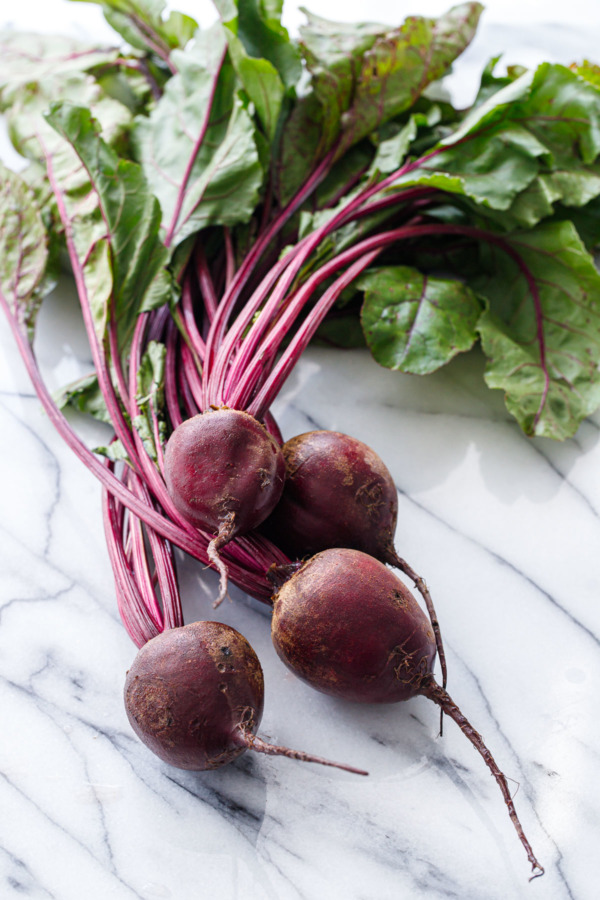 I found a container of delicate radish flowers at the farmers market a few weeks back, and they were so pretty I couldn't help but buy them, even though I had no particular use in mind.
There's something about edible flowers, like microgreens, that makes even the simplest dishes seem that much more special.
If I had the space, or more sun, or a green thumb (not to be confused with green thumbprints of which I have many), I would totally grow a huge planter full of nothing but edible flowers.
As it turns out, this salad must have been calling me since we also came home from the market with a bunch of fresh spring beets (smaller beets are my favorite as their flavor is more delicate), AND my dill plant, that I thought was a goner, was thriving and in need of a haircut. It seems this recipe was just crying out to be photographed and shared, who was I to deny it?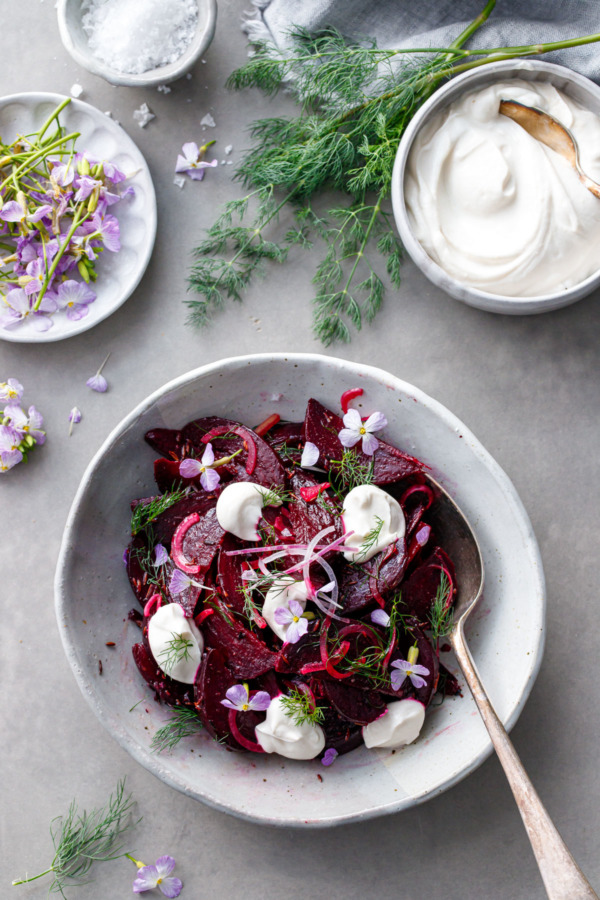 The recipe comes from Ottolenghi SIMPLE, one of our favorite cookbooks of the moment. It's one we've made before and adored. My only change here was to add the radish flowers, and to ease up on the cumin and dill just a squidge (both are flavors I enjoy, however either one can ruin a dish with a heavy hand).
This simple wrap-and-roast method is my favorite way to cook beets: roasting them individually wrapped individually in foil really brings out their sweetness. And no need to peel them first, after roasting, the skins will practically slide right off (rub it with a paper towel if it helps).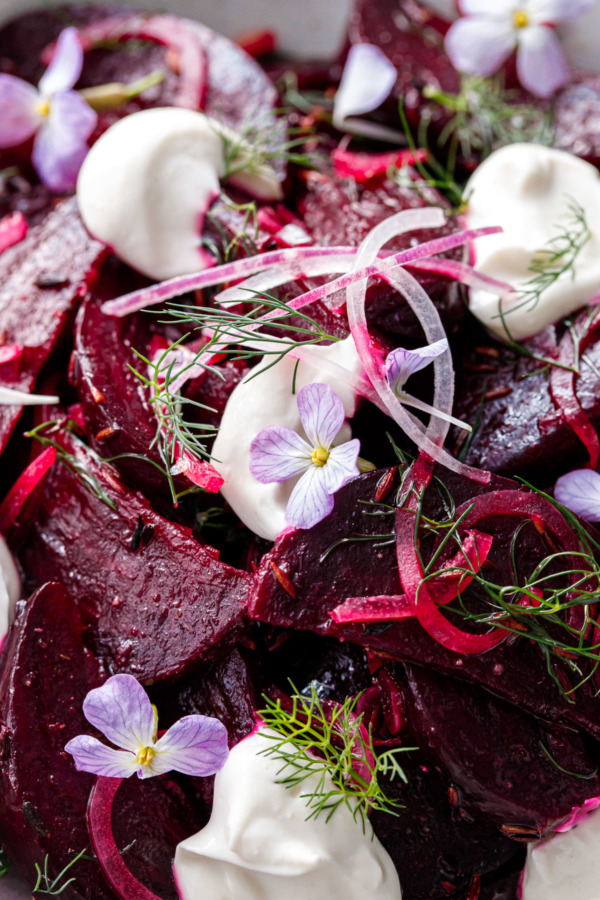 If you're beet averse, try this recipe with golden or striped chioggia beets first. I find them to be a bit less earthy than the red ones, and just as gorgeous.
Try it. You might just find you're a beet-lover after all. 😉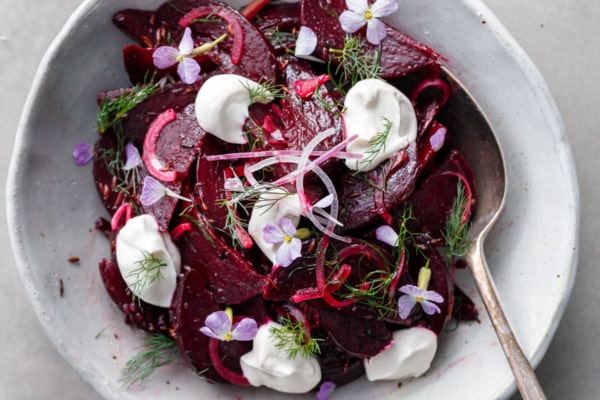 Cumin-Spiced Beet Salad with Yogurt and Preserved Lemon
Sweet roasted red beets are topped with a fragrant cumin oil, preserved lemons, red onion, fresh dill, and dollops of creamy Greek yogurt.
Ingredients:
2lbs/1kg whole beets (about 6-8 medium beets), washed well, stems removed
2 tablespoons olive oil
1 teaspoon whole cumin seeds
1 small red onion, very thinly sliced
1 small preserved lemon, very thinly sliced (seeds discarded)
2 tablespoons lemon juice
1 handful (about 10g) fresh dill, roughly torn
2/3 cup (150g) plain Greek yogurt
1 tablespoon tahini
salt and black pepper, to taste
radish flowers, for garnish (optional)
Directions:
Preheat oven to 425 degrees F.
Wrap each beet individually in aluminum foil. Place on a baking sheet and roast for 30 to 60 minutes (time will vary depending on the size of your beets) until a knife inserted into the beet goes through smoothly.
Let cool slightly, then, when cool enough to handle, rub the beets with paper towels to remove the skins (they should slide right off).
Cut into slices or wedges, then place in a large mixing bowl to cool.
Meanwhile, heat the olive oil in a small frying pan set over medium heat. Add cumin seeds and cook for about 3 minutes or until fragrant and starting to pop.
Pour warm oil over the beets. Add onion, preserved lemon, lemon juice, and half of the dill and toss to combine. Season to taste with salt and pepper.  Transfer to a serving bowl or divide among plates.
Mix together the yogurt and tahini. Dollop on top of beets in a few places and sprinkle with remaining dill and radish flowers (if using). Serve at room temperature.
The beet mixture will keep, refrigerated in an airtight container, up to a day ahead of time. Top with yogurt and fresh dill just before serving.
Did you make this recipe?
Let us know what you think!
Leave a Comment below or share a photo and tag me on Instagram with the hashtag #loveandoliveoil.