Lisbon is for lovers… lovers of food and flavor, of mosaic sidewalks and hand-painted tiles, of vibrant color and culture and all the pasteis de nata your stomach can handle.
It's true love, I tell you.
And I can't wait to go back.
While Porto was downright lovely, it was Lisbon that truly stole our hearts and filled our stomachs (or should I say, filled our hearts and stole our stomachs? Either way.)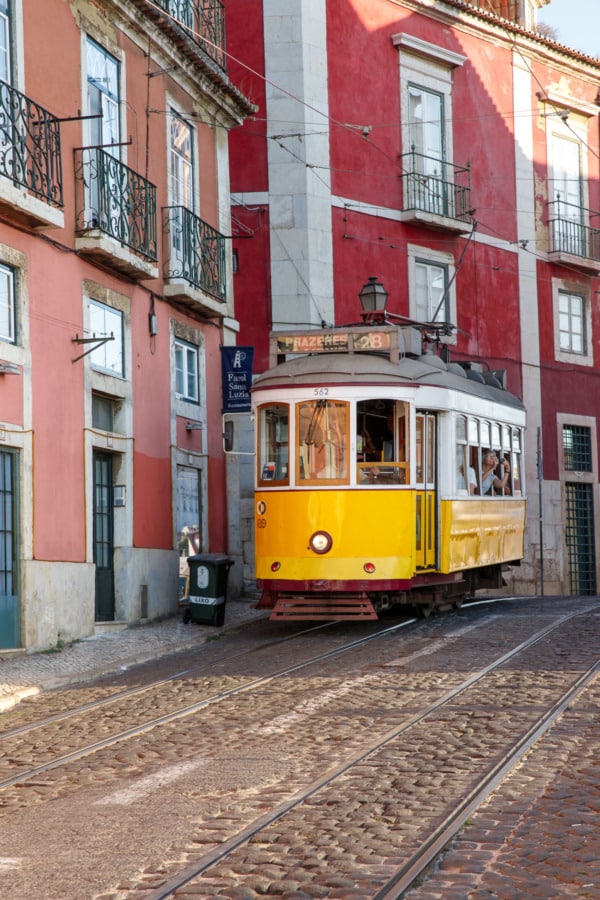 We spent 4 nights in this sunny capital city, friendly and colorful and utterly charming (although the city's iconic 'seven hills' aren't quite so charming when you're verging on hangry and the restaurant you want to go to is at the top of one of aforementioned hills.)
It's actually a lot like San Francisco, considering both cities have crazy steep hills in addition to bustling waterfronts, iconic orange bridges, and colorful historic trams… although that is where the similarities end. For starters, the weather is a whole lot nicer in Lisbon (we visited in mid-September, and while it did get a bit warm towards the end of our trip, overall it was just about perfect).
We took the convenient high speed train from Porto to Lisbon, which deposited us at the Rossio station, a mere 5 minute walk from our hotel (whenever we travel we try to research transportation before we book our hotels and try to find something as convenient as possible, without having to transfer to multiple subway lines, busses or taxis).
Since we were spending a bit longer in Lisbon, we opted to get a customized itinerary from Journy. I've waxed poetic on this amazing service before, but let me say it again: Journy is a traveler's best friend. It will save you the hassle of scouring the internet for the best restaurants, sights and activities. Or, if you're the type that just goes somewhere without spending hours upon hours researching your destination (who are you?!), it'll save you from getting caught in the tourist traps and sub-par restaurants.
And while we strayed from the itinerary quite a bit (we opted to skip the half-day excursion to Belém because, hello lines) it still gave us a solid starting point, and more importantly, plenty of trustworthy food recommendations around which to plan our days.
(Psst! If you want to try Journy for yourself, sign up using my affiliate link and get a free day!)


One of the most stunning sights in the city is the Carmo convent. Part ruin, part archeological museum, part art gallery, it's proof that sometimes a disaster leaves behind something beautiful.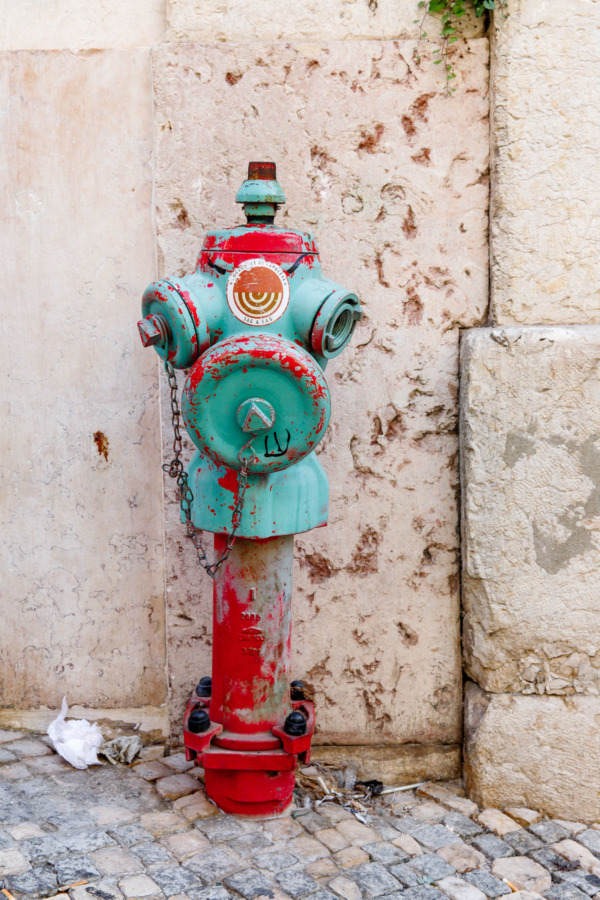 You cannot visit Lisbon and not indulge in at least one pastel de nata, or egg tart. I'll admit that the lure of this iconic pastry was one of the factors that put Portugal at the top of my travel wishlist (I follow my stomach, what can I say?)
As legend has it, the thrifty monks of the Jeronimos Monastery invented the pastry as way to use up all their leftover egg yolks, the whites having been used to starch clothing. To make ends meet during hard times, the monks started selling these tiny custard tarts, and, well, the rest is (delicious) history.
We tried various natas throughout the city, sampling the wares of a handful of different pastelarias. We weren't able to try iconic Pastéis de Belém, where the confection was invented (we'll make it there on the next trip for sure!) but we loved the tarts from Fábrica da Nata (which was ever so conveniently located just a few minutes from our hotel) and Manteigaria, one of the most well known pastelarias in Lisbon (with lines to boot).
After seeing the tarts being made in the glass-walled kitchen at Manteigaria, I'm not sure I'll attempt making these confections at home any time soon. The crust looks like a spiral croissant (and we know how time intensive those are), and the signature speckled tops require a seriously hot oven that, a lot like wood-fired pizza, just isn't feasible in a home oven.
Guess I'll just have to go back to Portugal to get my fix!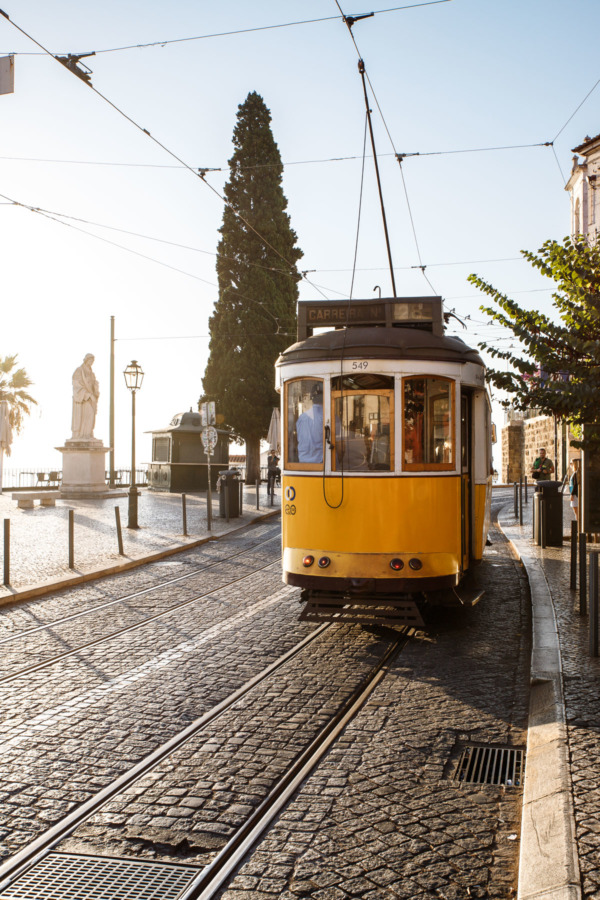 Yes, it's touristy, the historic 28E tram is worth a ride at least once during your trip. It conveniently runs in a circuit around some of Lisbon's most iconic neighborhoods. Fun to ride (hold on tight if you're standing, it takes the steep hills, narrow streets and curves at a surprising pace) but it's almost more fun to catch a peek of it winding its way around the city (we've easily got a dozen shots of it in various locations throughout the city).
Our hotel just so happened to be a short 5 minute walk from the start of the tram line at the Martim Moniz stop, so we were able to hop on early one morning and avoid the long lines and packed cars (it can get quite crowded).
You don't have to ride the whole circuit, either; we just rode it partway and got off at Alfama to check out the Feira da Ladra flea market (which takes over the streets in front of the Panteão Nacional every Tuesday and Saturday). We found a cool bronze cat that we just had to have, and I have to say that Taylor was quite the sport lugging that thing around the rest of the day.
One of our favorite neighborhoods in Lisbon was the Alfama. The oldest district in Lisbon, many of its buildings survived the 1755 quake that devastated the rest of the city thanks to the bedrock on which it sits. We took our favorite 28 tram there early one morning and enjoyed having the narrow cobbled alleys and pretty pastel houses almost all to ourselves.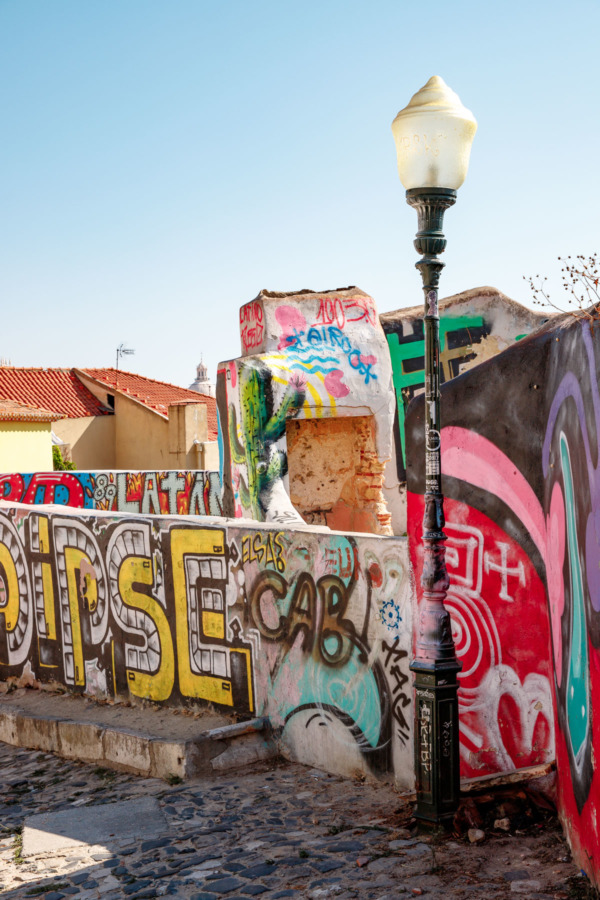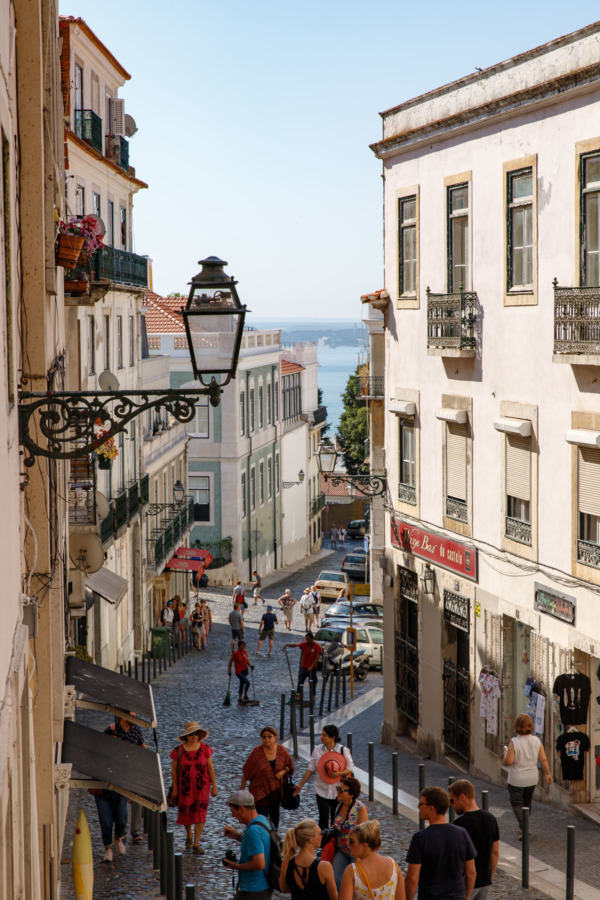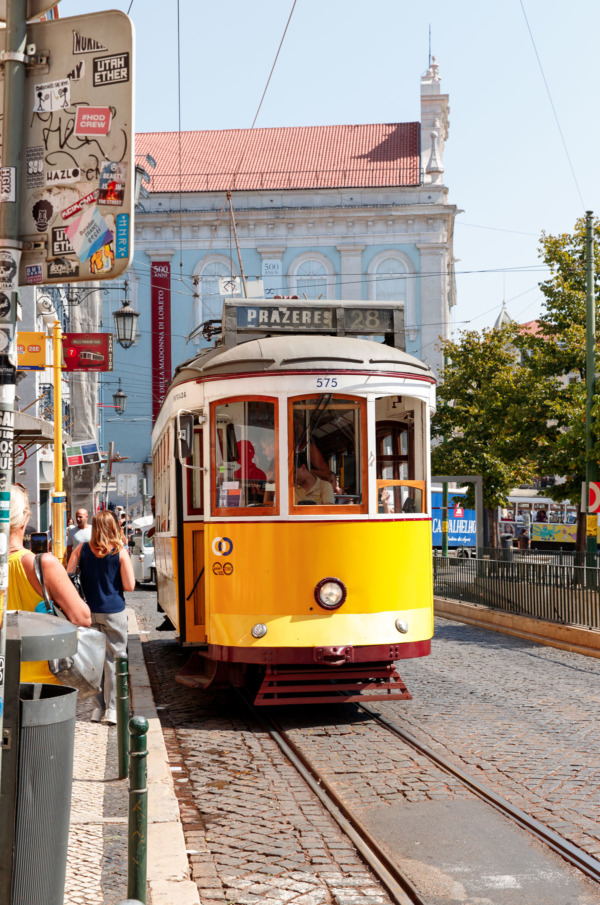 One evening, while walking back to our hotel, we could see bright lights and hear a huge crowd of people cheering up ahead. Curious as to what all the fuss was about, we got closer to investigate.
Turns out it was a bike race. On one of the steepest hills in the city.
The Subida à Glória is an annual event in which participants (and anyone can participate on any bike that they choose) ride up the Calçada da Glória, a 265 meter-long hill with an average slope of more than 17%.
I was winded just watching them.
(Apparently the record is 36.8 seconds, which, if you've seen this hill, you'll know is absolutely ridiculous).


(You see that delightfully domed little muffin right there? Well… if it looks tasty, you might want to come back here on, oh, say this Thursday as I may or may not have cracked the secret to this traditional Portuguese breakfast treat!)


Adjacent to the convent is the Santa Justa Lift, connecting the lower city with the elegant Chiado neighborhood (located on one of the steeper hills in Lisbon). You can opt to take the lift itself, but the lines to do so are often quite long. Instead, you can get to the viewing platform from the upper entrance just to the right of the Carmo convent. We went at sunrise (before the lift was even open, actually) and had the entire platform to ourselves (and for free, no less). From the top you get an amazing 360º view of the city. It's magical.












As fate would have it, we happened to meet up with fellow bloggers Brandy and Gina who coincidentally happened to be in Portugal at the same time (why does this keep happening to us? I have no idea, but I love it!) We spent a bit of time together on our second to last night in Lisbon.
Brandy found a sunset sail on AirBnB experiences, and we enthusiastically agreed to join her. We're not boat people by any means, but this was truly lovely. Despite a little mishap with the meeting point that resulted in a 20 minute spring so as not to hold up the whole group (cue me panting in the late afternoon heat), we boarded our boat and began an hour long sail along the river, under the 25 de Abril suspension bridge, and back again as the sun set behind the hills.
Planning your own trip to Lisbon? I've compiled a few of our favorite spots here for easy reference.
Where to Eat in Lisbon
Bairro do Avillez – One of the culinary high points of our trip, Bairro do Avillez is a unique complex comprised of 4 different culinary concepts. We dined at the Taberna, the front restaurant. I highly recommend the cod alfacinhas, or lettuce wraps (it's the dish you see above covered in shoestring potatoes), although the spicy octopus and steak sandwich were stellar as well. If you want to go during peak lunch or dinner hours I'd recommend making a reservation in advance if you can, but we were able to show up right at noon when they opened and get a table for two. In the same restaurant/building is also a gourmet market and deli, a seafood-focused restaurant, and even a cabaret dinner show.
Ginjinha Sem Rival – A family-run operation since 1909, this tiny shop is one of many in Lisbon that sells house-made ginja, or sour-cherry liquor. We'd seen it featured on Somebody Feed Phil before our trip, and were pleasantly surprised to find it just around the block from our hotel. Pop in for a single shot (only €1.40), or get a bottle to bring home.
Time Out Market – The ultimate food hall, I could have spent days eating my way through all the stalls. It'd be a great place for a group, as everyone can go off on their own and order whatever they're craving at the moment.
A Cevicheria – Ok, we attempted to come here twice, hiking up the massive hill only to be met by crazy long waits both times. The second time we realized you could order a few menu items and cocktails from the window, which we did. They don't take reservations, so try to go at an off-peak time or (and? we tried to go at 5pm and there was still a wait) bring a snack and patiently wait for a table. Next trip, maybe we can time it better and actually get a table, as I hear their tasting menu is simply incredible.
Taberna da Rua das Flores – A tiny little narrow restaurant serving authentic Portuguese tapas. We got here right when it opened for lunch and were seated right away, but there could be quite a wait at other times (they do not take reservations). The menu changes every day and is posted on a chalkboard outside the restaurant, in Portuguese only, so we had no idea what we were ordering besides the main protein. But we were not disappointed with our selections!
O Marques – A locals joint with a trolley theme, this place is a great value for some solid Portuguese food. Nothing mind blowing, but the proximity to our hotel and the sheer friendliness of the place made it worth recommending in our minds.
Fábrica da Nata – Our favorite pasteis de nata in Lisbon! They also have some great lunch specials including tasty sandwiches (that all come with a fresh egg tart, obviously).
Manteigaria – Our second favorite egg tarts, they do one thing and they do it well (the only other thing on their menu are a few coffees and drinks). They also have a convenient location in the Time Out market, however if you pop in to the main shop you can see the tarts being made fresh in the glass-walled kitchen, which is pretty awesome.
Alcôa – Incredible modern pastries. Their signature Torrão Real pastry is a masterpiece of almond-scented custard and burnt sugar, and their Cornucopia has won awards (it wasn't our favorite though, but still worth trying!)
Confeitaria Nacional – Serving up delicious coffees and pastries since 1829, this place is still around for a reason. While it wasn't our favorite pastel de nata, we thoroughly enjoyed the historic ambiance and the bolo de arroz (rice muffin) blew our minds.
Copenhagen Coffee Lab – Gotta love a coffee shop with locations in Denmark, Germany and Portugal. Even though it's a chain, it's a lovely spot to grab a bite when you're exploring the Alfama district (which is mostly residential and doesn't have a ton of food spots).
What to Do and Where to Stay
Hotel Gat Rossio – A hotel with cat-themed branding? You need not say more. We also loved the modern amenities and impressive breakfast spread, but most of all the prime location. Close to the main Rossio train station and the 28E tram stop for easy access to the Alfama district, and an easy walk to the historic Barrio and Chiado neighborhoods nearby.
Embaixada – A former Arabian palace-turned-shopping gallery, featuring national brands and artists focused on Portuguese design, craftsmanship, fashion, gastronomy and culture. Worth checking out for the building alone, the shops and restaurants inside were just the icing on the beautiful cake. :)
Carmo Convent – A must see, the ruins of this once-gothic cathedral and convent is a reminder of the devastating 1755 earthquake that leveled about 85% of the city.
Santa Justa Lift – Next door to the convent is the Santa Justa Lift, which offers a stunning 360º view of the city. You can either take the lift up from the bottom, or skip the line and enter from the top through the walkway just to the right of the convent. We went at 7am for sunrise and had the entire viewing platform to ourselves!
Golden Hour Sail – This 'experience' through AirBnB is basically just a guy who loves to sail, and invites toursits to join him on a pleasant hour-long sail from the harbor to the 25 de Abril bridge and back. You leave right as the sun is setting behind the Torre de Belém. It's the perfect way to see Lisbon from another perspective. (Tip: just be sure you pay close attention to the meeting point, which is NOT the GPS location in the email, rather in front of the Padrão dos Descobrimentos monument by the boat harbor – it's about a 15 minute cab ride from the city center).
Feira da Ladra flea market – held every Tuesday and Saturday in front of the Panteão Nacional.
*****
Is it any surprise that I really, really want to go back? There's so much more to see, do, and of course, EAT in this lovely, lively city.
(I still have one more Portugal post to share about our day trip to Sintra, a place picture-worthy enough for its own post, but probably won't get it up before we head out of the country again, this time to Croatia! We leave in 2 weeks from today, and I'm super excited, to say the least!)