As far as perfect side dishes go, this one checks all the boxes: easy, delicious, crispy and salty—not to mention ready to eat in 15 minutes!
Perhaps one of our all-time favorite vegetable side dishes, this tender broccolini comes out of the oven delightfully crispy. Made with little more than a splash of olive oil, soy sauce, and a sprinkle of flake salt to finish it off, this oven-roasted broccolini makes a great side dish for steak, chicken, or whatever else is on your plate!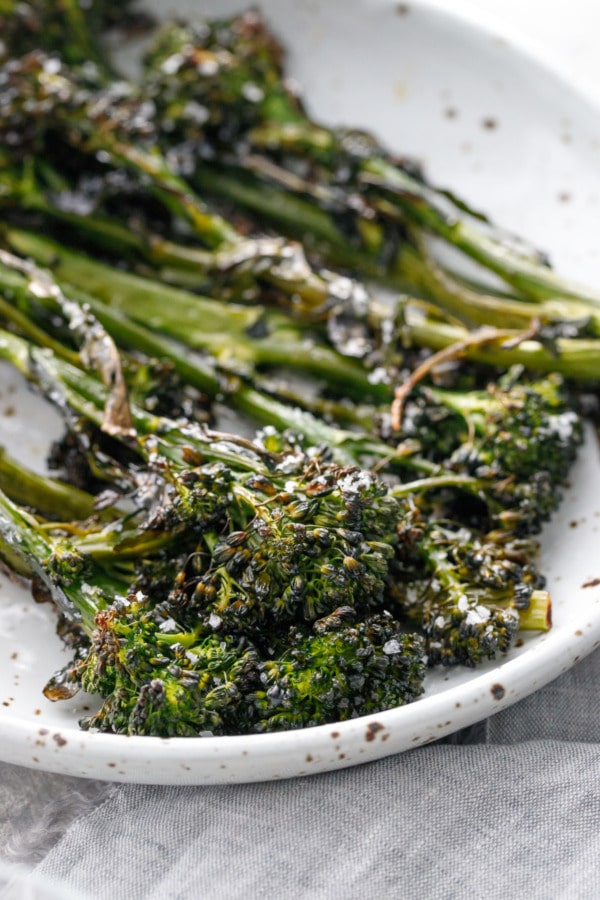 One of our favorite side dishes is simple vegetables roasted with a splash of olive oil and a sprinkle of sea salt. And one of our favorite vegetables to roast in this manner is broccolini.
I mean, it's almost a non-recipe it's so easy. That said, some of my previous non-recipes have turned out to be my most popular, so I figure if it's worth eating, it's worth sharing here. Maybe you never thought to roast broccolini, or maybe you've never even heard of broccolini before. In that respect, this post is a success if only for expanding your culinary horizons.
We often just toss our broccolini with a bit of olive oil, but here I've added a splash of soy sauce too for a bit of salt and umami.
Speaking of salt… if you want crispier bits, don't salt your broccolini before cooking it. The salt will draw water out of the stalk, and any residual water will prevent the broccolini from achieving divine crispiness.
I like to salt my broccolini with coarse flake salt as soon as it comes out of the oven. The slight crunch of the salt a perfect compliment to the crunchy brown bits.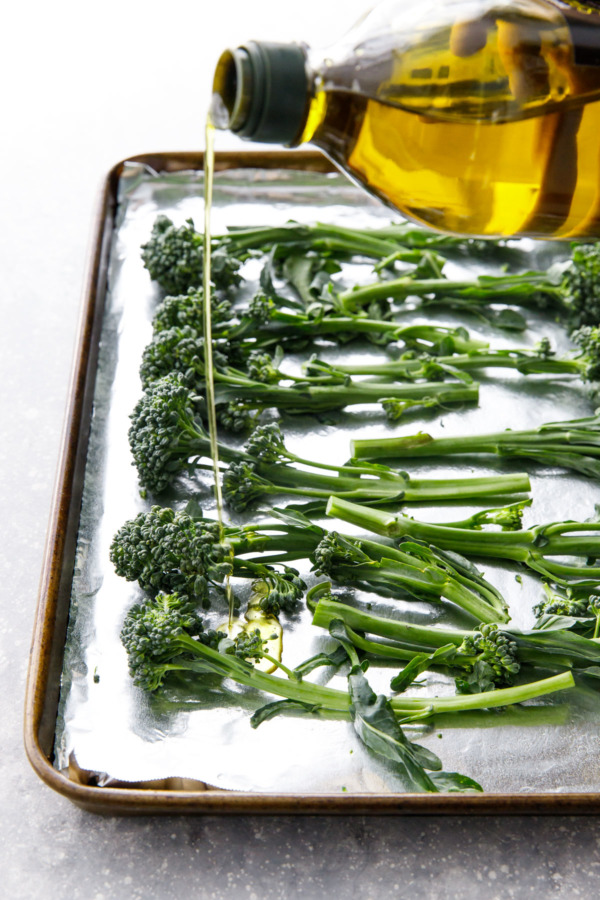 This recipe is proof of two cooking truths:
1. Broccolini is far superior to broccoli. Sorry, broccoli, but the delicate, lanky little florets of broccolini just mean more surface area for browning and more tender goodness for eating. Stems and all! I treat it much like asparagus, cutting off just the roughest of end pieces. Don't worry about any leftover leaves either, they'll crisp up nicely, like broccoli-flavored kale chips.
Broccolini is often referred to as baby broccoli, but it's actually a natural hybrid between broccoli and Chinese broccoli. It's much less bitter than broccoli, slightly sweet and earthy with notes of asparagus; to those broccoli-phobic among you, I'd encourage you to try it out, it just might surprise you!
That said. This same cooking technique will also work with regular broccoli; just cut it into bite-sized florets and proceed as instructed. Broccoli needs a bit more cooking time to get the same crispy bits due to its thicker nature; plan on about 30 minutes in all.
2. A little burnt isn't necessarily a bad thing. In fact, slightly burnt is the best way: the delicate tips and thin leaves cook to a delightful crunch. The entire stalk won't be crunchy, just the tips of the florets and the leaves, which makes for a lovely textural contrast.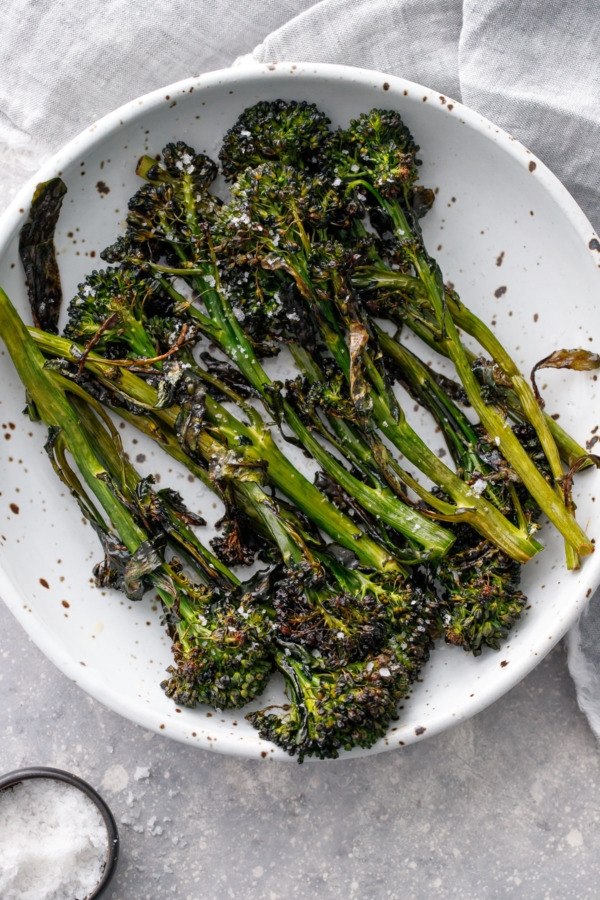 This quick & easy side dish recipe would be great alongside a reverse-sear steak, simple roasted chicken breasts, or honey sriracha chicken thighs.
Depending on the flavors of your main dish, you could easily adjust the flavors here to match. Maybe a teaspoon of seasame oil and a sprinkle of toasted sesame seeds for a more Asian-forward flavor profile, toss in some fresh chopped herbs to give it a fragrant twist, even a little bit of lemon zest (which would pair perfectly Chicken Picatta!), even adding in some red pepper flakes for a pleasant heat.
Once you've mastered the basic roast, you can really take this in any direction your heart desires!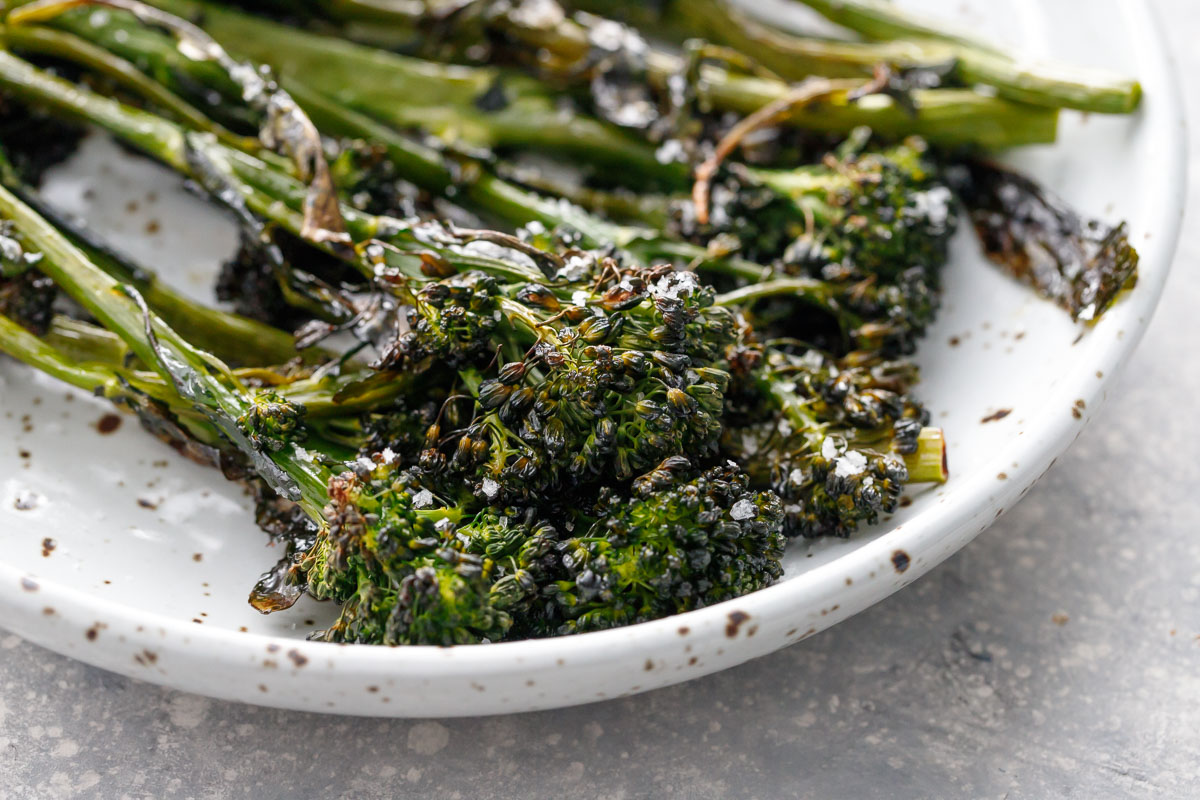 Crispy Oven-Roasted Broccolini
Our favorite vegetable side dish, this tender broccolini is delightfully crispy and perfectly salty—not to mention ready to eat in 15 minutes!
Ingredients
1

bunch

/

170

g

broccolini

,

rough ends trimmed off

2

tablespoons

olive oil

1

tablespoon

soy sauce

coarse flake sea salt or fleur de sel

,

for finishing
Instructions
Preheat oven to 425 degrees F. Line a sheet pan with aluminum foil, brush with oil or spray with cooking spray.

Trim off any rough ends of broccolini. Leave any leaves still attached.

On the baking sheet or in a large bowl, toss broccolini with olive oil and soy sauce. Spread onto baking sheet in a single layer (overcrowded or overlapping vegetables won't get as crispy).

Bake for about 15 minutes or until broccolini is tender and tips are golden brown and crisp.

Remove from oven; serve while still warm and crispy, sprinkled with flake sea salt to taste.
All images and text ©
for Love & Olive Oil.
Did you make this recipe?
Let us know what you think! Leave a Review below or share a photo and tag me on Instagram with the hashtag #loveandoliveoil.