Tender, buttery shortbread infused with Earl Grey tea and drizzled with a pretty-in-pink blood orange glaze. It's an easy and oh so elegant cookie recipe that's delicious on its own or served with tea.
The tea flavor is surprising, unexpected and utterly enchanting, subtle and perfectly balanced alongside the buttery cookie. The citrus glaze proves to be the perfect finish: highlighting the fragrant flavor of bergamot in addition to adding a pop of color to an otherwise bland-looking cookie bar (not that I always judge a cookie by its appearance, but, let's face it, if I can make it prettier I will).
This recipe uses the same shortbread cookie base as my Chocolate Chip Shortbread and Cranberry Almond Shortbread Bars, which shows you just how versatile this shortbread recipe is. It's quickly turning into one of my favorite cookie recipes, both for its flavor and flexibility but also for the fact that it's just so darn easy.
To infuse the cookie with tea flavor, simply cut open a tea bag and add the contents to the shortbread dough (seriously, it's that easy). You can also use loose leaf tea, though since it tends to be coarser I recommend grinding it with a mortar and pestle until it's the consistency of ground black pepper.
Substitutions: black tea works here too, as does regular orange juice if blood oranges aren't available to you (add a drop or two of pink food coloring and no one will know the difference). You can also make the glaze with milk or any other liquid instead of citrus juice, if you wanted to focus the flavors on just the tea, but I have to say the hint of citrus here is quite lovely.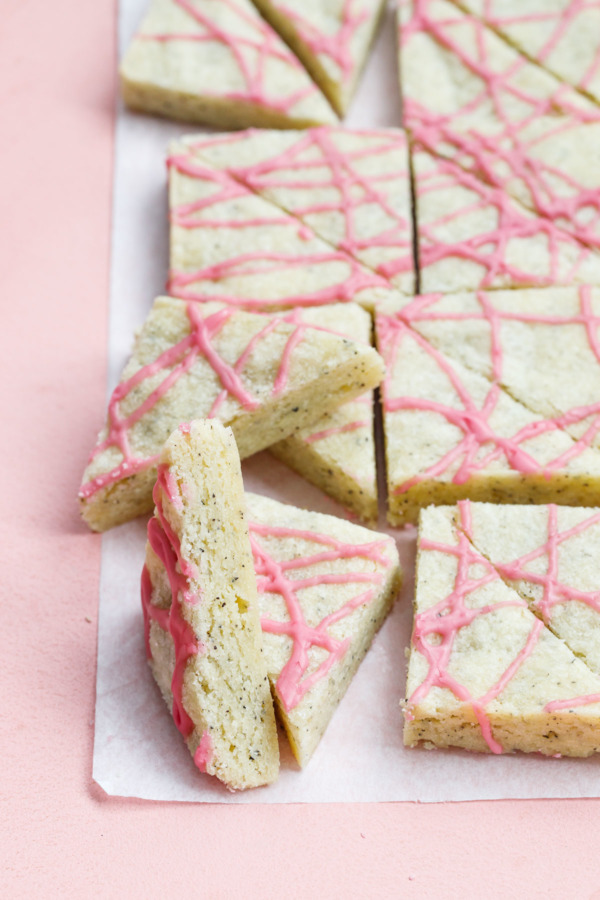 While this isn't technically a true shortbread (which doesn't use eggs), rather it falls somewhere in between a shortbread and a sugar cookie, resulting in a soft and buttery texture that is downright addicting.
The dough is on the sticky side, so if you're having trouble pressing it into the pan I recommend dusting your hands lightly with flour or even using a piece of plastic wrap to help spread the dough into an even layer. It'll puff a bit when baking, but settle down again as it cools.


Can we talk again about just how versatile this shortbread is? This is the third variation I've posted here (I have to watch myself or this blog will become nothing but different flavors of shortbread), but truthfully, the possibilities are endless.
Make it your own
Mix up the flavors! This basic shortbread recipe serves as an excellent foundation for any number of additions, including extracts, spices or mix-ins (like chocolate chips or nuts).
Use whatever pan you've got! The recipe calls for an 8-inch square pan. You could also use a 9-inch round cake or tart pan, then cut into thin pizza-like wedges.
Cut loose. I cut my chocolate chip shortbread into sticks, perfect for dunking. These I opted for the elegant triangle (cut into 4×4 squares, then cut each square in half diagonally). You could also go for straight up squares as well, or even break out the cookie cutters if you really wanted to get fancy.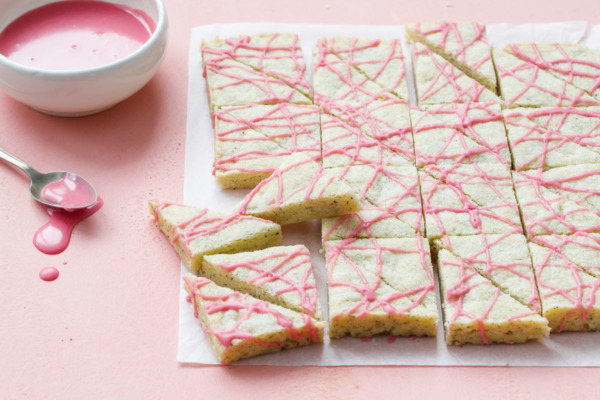 Earl Grey Shortbread with Blood Orange Glaze
Tender, buttery shortbread infused with Earl Grey tea and drizzled with a pretty-in-pink blood orange glaze. It's an easy and oh so elegant cookie recipe that's delicious on its own or served with tea.
Ingredients:
1/2 cup (1 stick) unsalted butter, room temperature
3/4 cup granulated sugar
1 large egg
1/2 teaspoon pure vanilla extract or vanilla bean paste
1/2 teaspoon kosher salt
1 1/2 cups (6.75 oz) all-purpose flour
1 teaspoon finely ground Earl Grey tea (from 1 tea bag)
For Glaze:
1/4 cup powdered sugar, sifted
1 tablespoon freshly squeezed blood orange juice
Directions:
Preheat oven to 350 degrees F. Line an 8-by-8-inch baking pan with parchment paper (see: lining a square pan with parchment), leaving an overhang/handle on at least two edges.
In a large mixing bowl or the bowl of stand mixer, beat butter and sugar together until light and fluffy. Beat in egg, followed by vanilla extracts and salt, scraping down the sides of the bowl as needed. Add flour and tea and mix on low speed until just incorporated.
Press dough into prepared baking pan in an even layer. The dough is quite sticky, so it might help to lightly flour your fingertips so they don't stick to the dough; you can also use a piece of plastic wrap to help you press the dough into an even layer in the bottom of the pan.
Bake for 28 to 30 minutes or until top is puffed and matte in finish and the edges are just starting to turn a very light golden brown. Remove from oven and place on a wire rack to cool completely.
For glaze, whisk together sifted powdered sugar and juice until smooth. The glaze should be the consistency of honey; lift your whisk and the resulting drizzle of glaze should keep its shape for a few seconds before settling and disappearing. If it immediately settles back into the bowl of glaze, add a bit more sifted powdered sugar as necessary to thicken it. Likewise if the glaze is too thin, add a bit more juice, 1/2 teaspoon at a time, until the glaze reaches the desired consistency.
Lift out entire block of shortbread using the parchment paper as handles. Drizzle with glaze (you can do this using a whisk or fork, or pour the glaze into a plastic squeeze bottle for more precise drizzles).
Cut into squares, then cut each square in half diagonally to make perfect cookie triangles. Cookies will keep in an airtight container at room temperature for up to a week, or freeze for longer storage.
Did you make this recipe?
Let us know what you think!
Leave a Comment below or share a photo and tag me on Instagram with the hashtag #loveandoliveoil.