Rich cocoa brownies topped with a creamy chocolate ganache and crunchy rainbow candy bits. Look familiar? It should: this recipe is a homemade version of Little Debbie's Cosmic Brownies that's both true to and an improvement on the original at the same time.
These brownies are seriously out of this world, and I'm not just spewing hyperbole here. I'm always hesitant to say something is the best, but these really might be the best brownies I've ever made (and I've made a lot of damn good brownies, if I do say so myself).
Our goal here was to replicate the appeal of the Cosmic brownies, mainly in terms of the chewy, fudgy texture that makes them so addicting. But the mass-produced version has a distinctly fake flavor that I had no desire to replicate. The same for the slightly plasticky consistency of the glaze: a result of copious amounts of corn syrup, I'm sure.
Instead, this homemade Cosmic brownie copycat gives you the fudgyness you crave, but with a lovely, well-rounded chocolate flavor and a silky smooth chocolate ganache on top.
The brownie base is seriously rich and fudgy, perfectly chewy but not too dense. It'd be a fabulous brownie sans-ganache too: when all you're wanting is a damn good, plain-ass brownie, this one might just be your new go-to.
The chocolate ganache is made from a mix of milk and semisweet chocolates, producing a lusciously silky texture and a flavor that's just the right amount of sweet with barely any bitter. And coming from a fan of super dark chocolate, well, this is a lovely respite from the intensity I usually gravitate towards.
While the brownie base doesn't product the perfect crackly crust (I didn't obsess over such a thing since it'd just be covered up anyway), the brownie itself is really quite spectacular, especially considering it's just cocoa, with no melted chocolate at all (pretty much every other brownie I've ever made features varying amounts of melted chocolate in addition to the cocoa.) I thought I'd miss it, but I really don't. Of course, using really good cocoa is paramount.
It's not quite a one-bowl brownie recipe (I melted the chocolate and sugar on the stove in a pot, which, although not a bowl, is still another vessel to wash so I don't count it as a true one-bowl recipe).
You do want to be sure the melted butter and sugar have plenty of time to cool before adding your eggs, otherwise you might end up with scrambled egg brownies which is less than appealing. I put it in the mixer on medium-low speed for about 5 minutes and it cooled down pretty fast. It should feel warm, but not hot to the touch.
After adding the eggs, turn up the speed and give it a good beating, for upwards of 3 solid minutes. This helps develop the fudgy texture of the brownies. While you can do this by hand too, you want to use a big whisk and vigorously beat the eggs into the batter. You should feel it in your arms (gotta work off the calories somehow, might as well make brownies, I say!)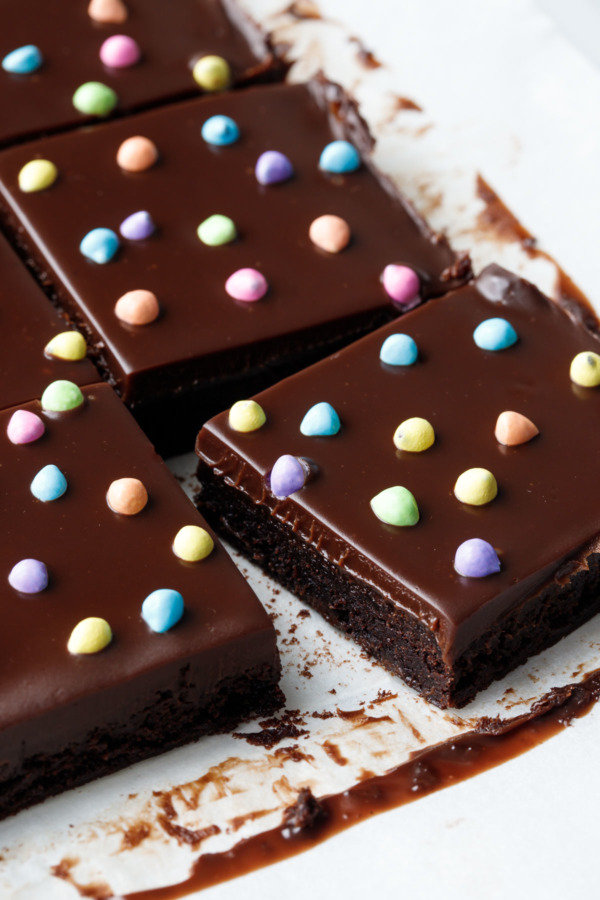 The ganache can be poured onto the brownies while they are still warm out of the oven. I started chopping my chocolate and warming my cream when the brownies had about 5 minutes left to bake.
When the brownies come out of the oven, if the edges have lifted a bit (even without leavening they'll probably still rise a bit), you can gently press them down using an offset spatula. Don't smash them, just press the tall edges down level with the rest of the brownies. That way, when you pour on the ganache, it spreads out in a perfectly even layer over the entire brownie.
Of course, the sprinkles are really what make Cosmic brownies different from other brownies, so I went to the extra effort of seeking out the right kind. They're basically mini chocolate chips coated with a colorful candy coating, something in between a chocolate chip and a Sixlet, you could say. They have a lovely crunch that you don't get with regular chips or rainbow sprinkles.
I used the pastel bit chips from Sweetapolita (they have classic rainbow as well); Wilton also makes a rainbow crunch sprinkle that's virtually identical to the original Cosmic brownies.
I really love the added crunch that these sprinkles give the brownies, not to mention the pretty pop of color.
I mean, they're pretty much perfect, don't you think?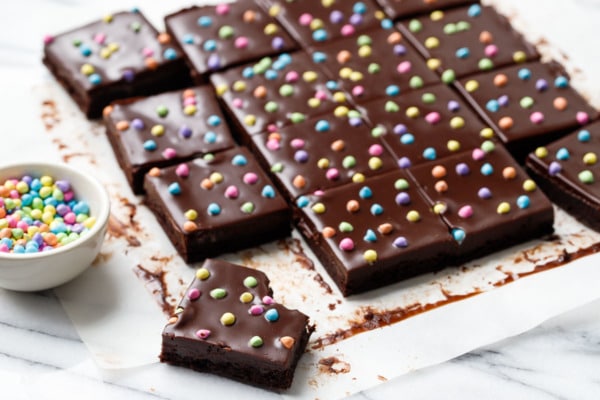 Out-of-this-World Cocoa Brownies
These copycat Cosmic brownies feature a rich cocoa brownie topped with a luscious layer of chocolate ganache and rainbow chocolate chip sprinkles.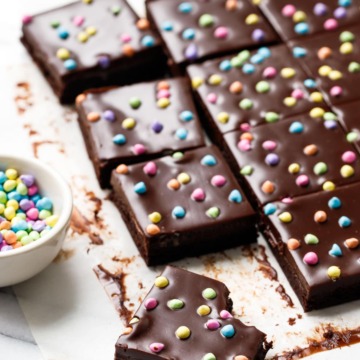 Ingredients:
For Brownies:
6 tablespoons unsalted butter
1 cup granulated sugar
1 large egg + 1 large egg yolk
1 teaspoon vanilla extract
1/2 cup (2 1/4 ounce) all-purpose flour
1/2 cup (2 1/8 ounces) Dutch process cocoa powder, sifted
1/4 teaspoon kosher or fine sea salt
2 tablespoons whole milk
For Ganache:
4 ounces semisweet (50-60%) chocolate, finely chopped
4 ounces milk chocolate, finely chopped
1/2 cup heavy cream
1 tablespoon unsalted butter, room temperature, cut into small cubes
rainbow bit chip sprinkles, for topping
Directions:
Preheat oven to 350 degrees F. Lightly butter and line an 8-by-8-inch square baking pan with parchment (the butter will keep the parchment from moving when you spread in the batter). Lightly butter parchment.
In a small saucepan set over medium heat, melt butter. When it is completely melted and starts to sputter, add sugar and stir until smooth and paste-like, about 1 to 2 minutes. Transfer to a mixing bowl or the bowl of a stand mixer fitted with the paddle attachment. Mix on medium speed until mixture has cooled and no longer feels hot to the touch (it should read about 90 to 100 degrees on an instant-read thermometer).
Add egg, egg yolk and vanilla; mix on medium-high speed for 2 to 3 minutes until pale yellow and falling off the beater in thick ribbons.
Add flour, cocoa powder and salt and mix on low speed until dry ingredients just incorporated, scraping down the sides of the bowl and the beater to ensure everything is evenly mixed. Add milk and stir just until smooth.
Pour into prepared baking pan. Rather than dumping it all in the middle, it'll be easier to spread the thick batter if you drop dollops of batter around the pan. Using a thin offset spatula, spread batter into an even layer.
Bake for about 25 minutes or until a toothpick inserted in the center comes out with moist crumbs, but no raw batter. Depending on what kind of pan you use this time might be more or less (darker metal pans tend to cook more quickly, whereas glass pans can take much longer).
Remove from oven and let cool slightly. If you notice the edges of your brownies are sticking up quite a bit, you can gently press with an offset spatula to flatten them out while the brownies are still hot (this will make the ganache go on in a smoother layer).
To prepare ganache, place finely chopped chocolate in a heat-proof bowl. Warm cream in a small saucepan until it starts to steam and bubble (but be careful not to let it scald).
Pour hot cream over chopped chocolate. Let sit for 30 seconds, then start whisking, gently in concentric circles starting in the middle. When you see a pocket of shiny chocolate in the center, that means you have created a good emulsion, start slowly whisking in wider and wider circles until all the cream is incorporated and the chocolate is fully melted. Add cubes of butter and slowly stir until smooth.
Pour ganache over top of warm brownies, spreading into an even layer with an offset spatula if necessary. Scatter sprinkles over top.
Let brownies sit at cool room temperature for 2 to 3 hours until completely set. You can refrigerate them if you're in a hurry, however the ganache will lose its shiny finish. A wine fridge is also a great way to set the ganache without losing the shine.
Lift brownies out of pan using parchment as handles. Cut into 16 squares (or bigger/smaller as desired). Brownies will keep at cool room temperature in an airtight container for 2 days, or in the refrigerator for up to 7.
Did you make this recipe?
Let us know what you think!
Leave a Comment below or share a photo and tag me on Instagram with the hashtag #loveandoliveoil.