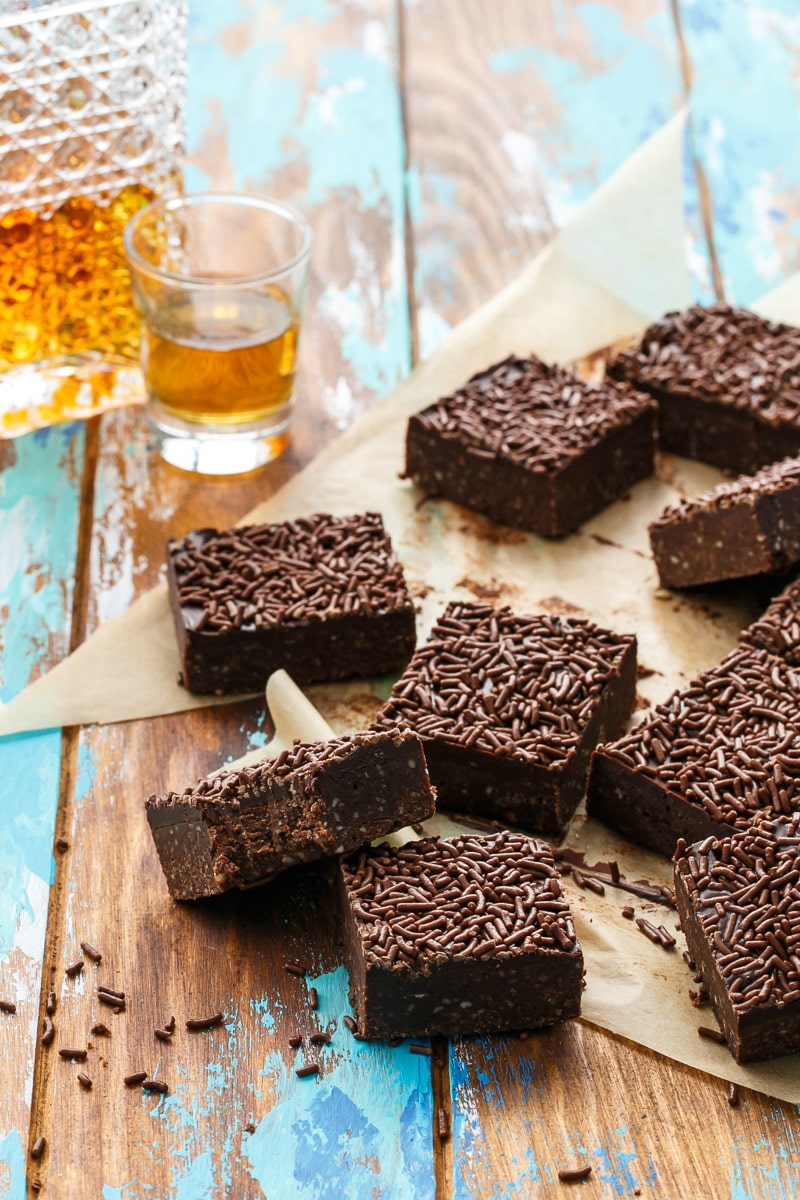 A bourbon ball is a classic no-bake holiday recipe, and, chances are, your grandmother probably had a recipe for them. The homemade versions are most often a mix of chocolate, cookie crumbs and bourbon, sometimes with nuts and sugar or other ingredients mixed in. I've also seen commercial bourbon balls that have a creamy bourbon-infused fondant as the center, but obviously that kind of thing is much harder to recreate at home.
This recipe is a variation on my grandmother's bourbon ball recipe (what she called Bourbon Delight), made with wafer cookies, melted chocolate, and mixed nuts (I used almonds and pecans here), pressed into a baking pan, topped with a chocolate glaze and sprinkles, and cut into bars.
An easy recipe made even easier, because you don't have to bother rolling dozens of little balls. In other words, you can have your bourbon and eat it too.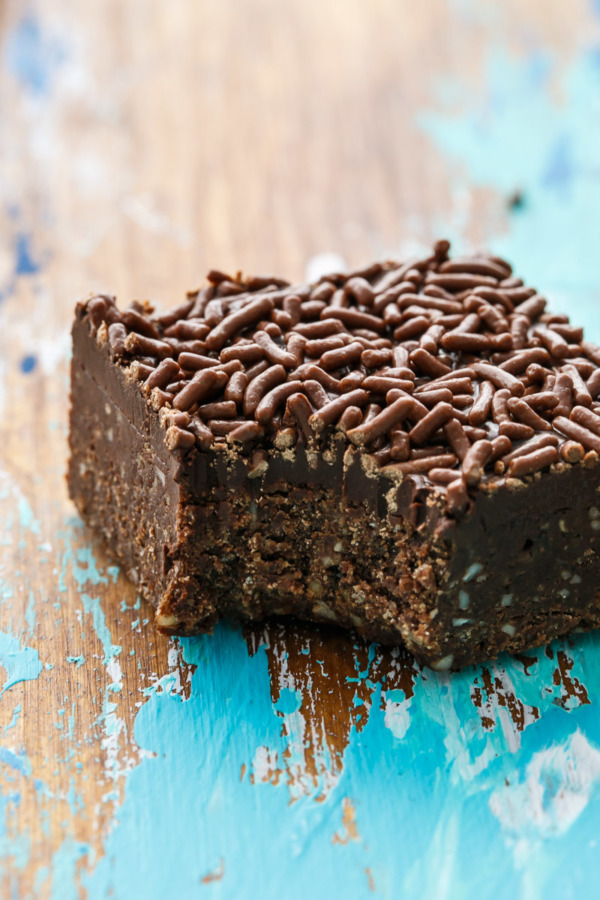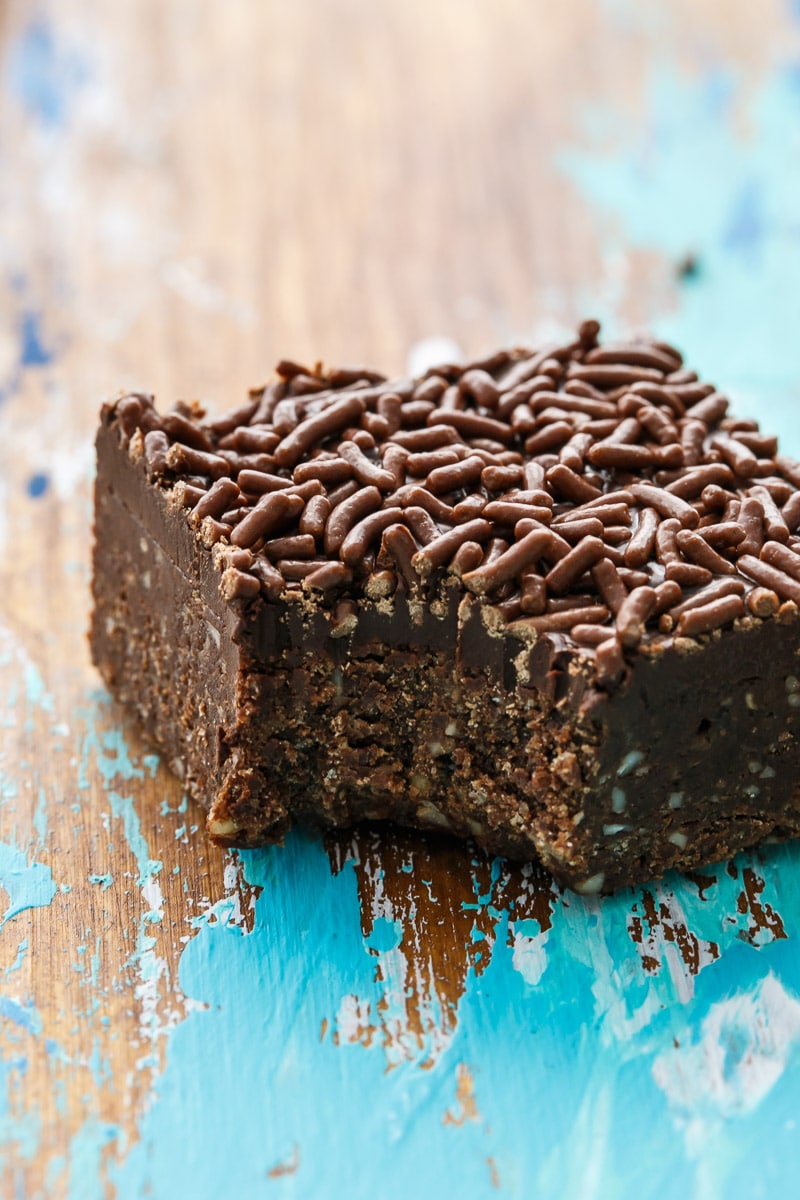 There's no ignoring the bourbon here… it adds a surprising heat to the bars (in the best way possible). You could reduce the bourbon slightly, to maybe 1/4 cup, if you want them a bit milder. You should also plan to make them ahead of time, as giving them at least 24 hours to rest will help the bourbon to mellow.
A recipe that pretty much requires you to make it ahead of time is kind of awesome, actually.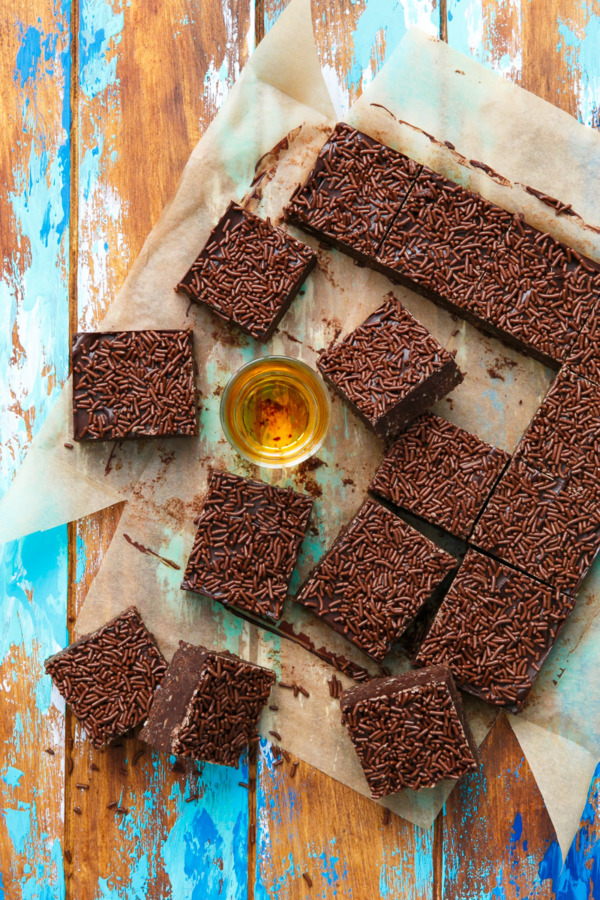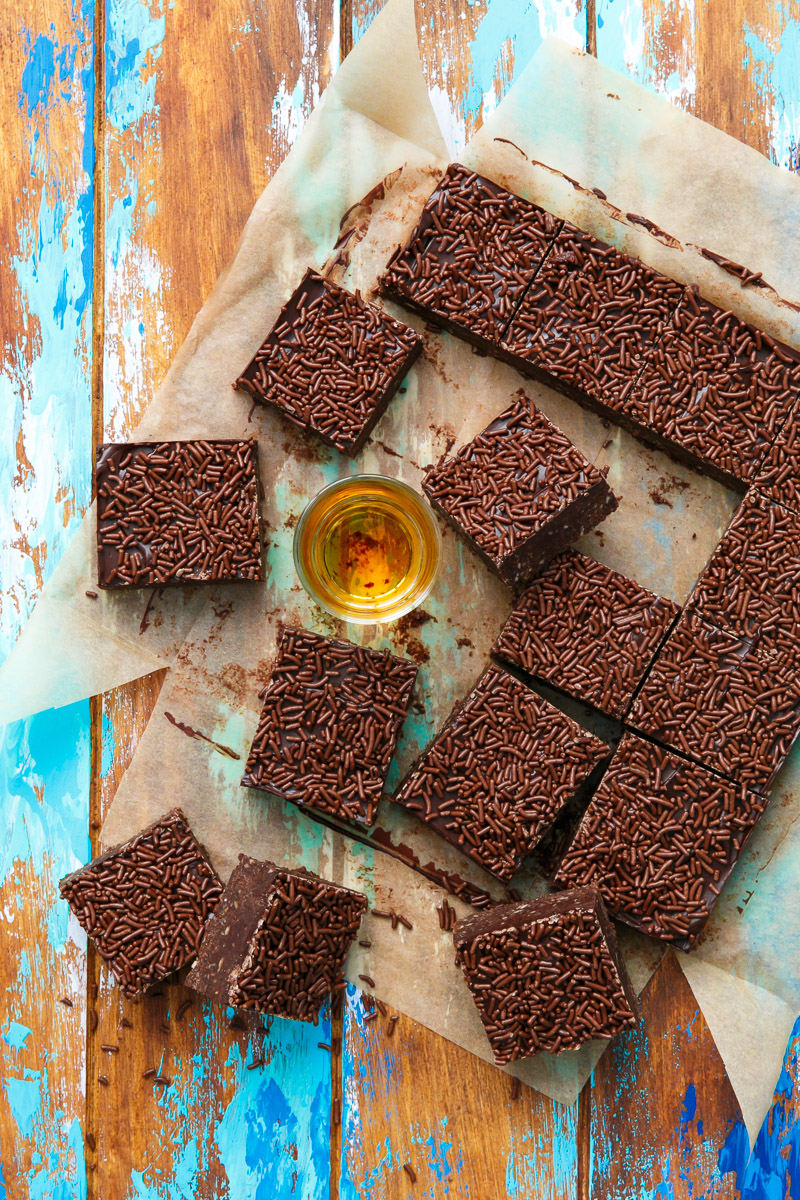 As for what kind of bourbon to use… since you do taste it quite prominently, I'd recommend a middle-shelf bourbon (which will be much smoother than the cheap stuff) but definitely don't waste your really good bourbon for something like this. Look for a bourbon that is very vanilla forward, on the sweet side and not too spicy. I personally like Buffalo Trace, which is a great mixing (and baking) bourbon, relatively smooth with plenty of vanilla and reasonably priced at around $30 a bottle.
You could totally make this with rum too, if you grew up with rum balls instead of bourbon balls (which I am coming to realize is really a regional thing).
Or what about amaretto, brandy, or even Irish creme? We might be on to something here…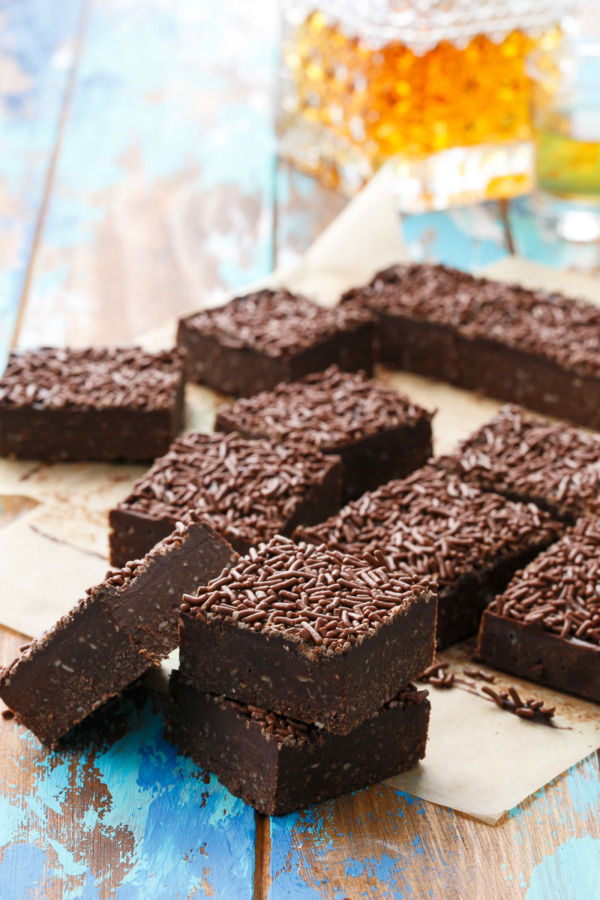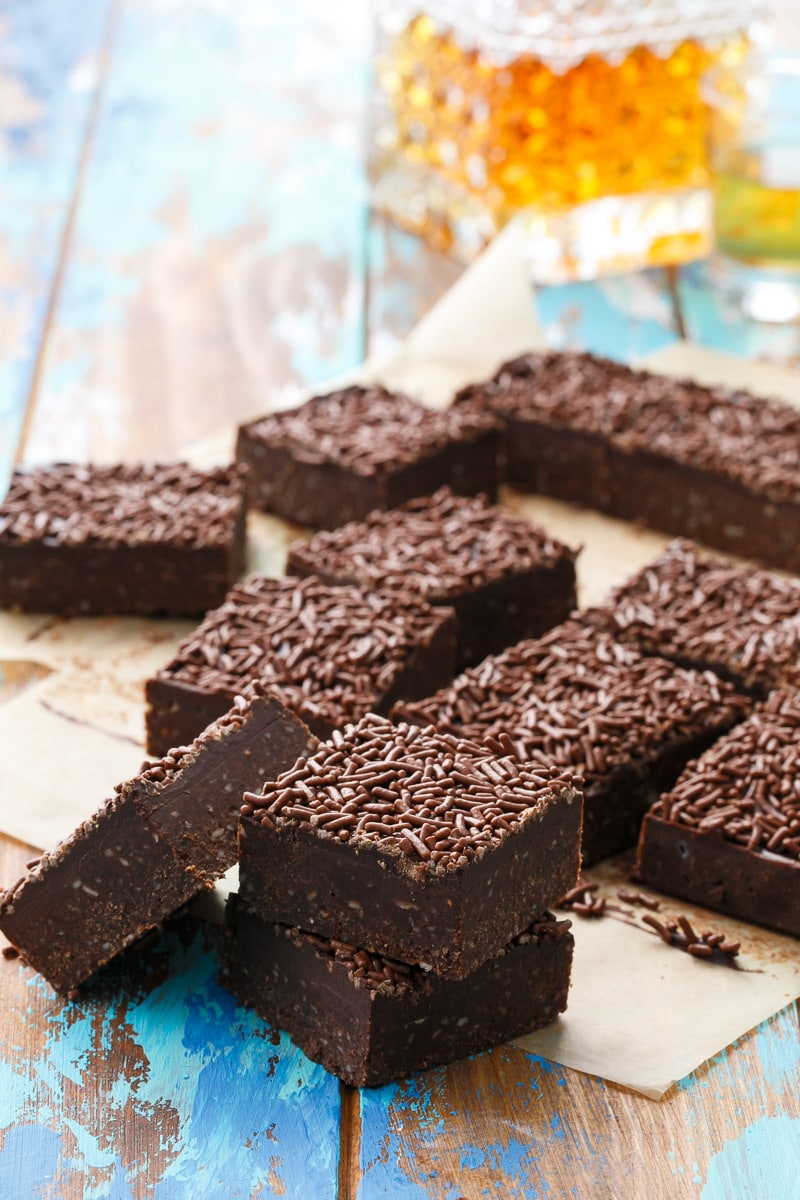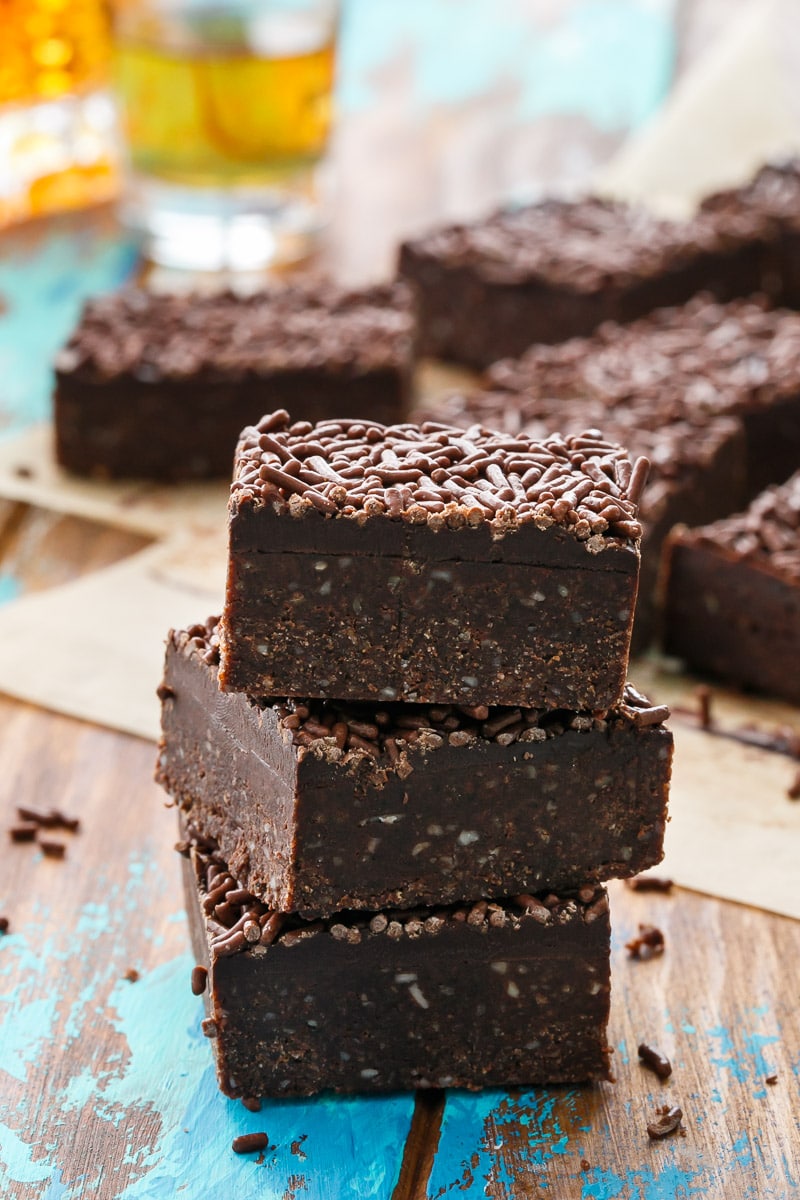 Bookmark this one for the next adults-only holiday party you have to attend (sorry, kids). They're so good they just might make you forget the godawful sweater you dug out of the closet for the occasion.
Because, let's face it, booze makes the holidays a little more fun.
Bourbon Delight Bars
Your favorite bourbon ball recipe in bar form. These ultra-boozy bars are an easy, no-bake recipe perfect for holiday entertaining!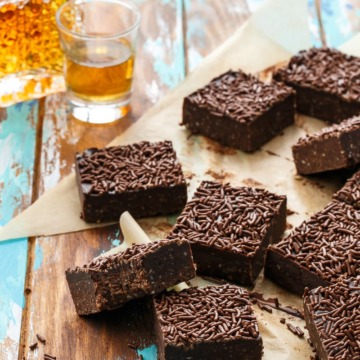 Ingredients:
6 ounces dark or semisweet chocolate chips or chopped chocolate
1/2 cup granulated sugar
3 tablespoons light corn syrup
1/3 cup bourbon
2 1/2 cups (10 ounces) vanilla wafer crumbs
3/4 cup finely chopped almonds, pecans or walnuts
For Topping:
6 ounces dark or semisweet chocolate chips or chopped chocolate
1 tablespoon butter
2 teaspoons corn syrup
chocolate sprinkles (for topping)
Directions:
Gently melt chocolate in a double boiler set over low heat, or in the microwave, heating in 30 second intervals on 50% power (stirring after each interval).
Stir in sugar and corn syrup until paste-like. Add bourbon and gently stir until well blended. Fold in wafer crumbs and ground nuts until evenly incorporated.
Line an 8-by-8-inch baking pan with parchment paper or foil. Press dough into an even layer (use a tart tamper or a flat-bottom glass to press it firmly and evenly into pan). Cover and refrigerate until set, at least 2 hours or overnight (giving the bars at least 24 hours to 'rest' will allow the flavors to mellow).
Meanwhile, melt chocolate with butter and corn syrup over low heat or in a double boiler. Pour over chilled bars and spread into an even layer. Sprinkle with chocolate sprinkles (you could also use chopped nuts or shredded coconut as well) and press to adhere. Chill briefly until chocolate is set, then cut into bars before serving at cool room temperature.
Store in an airtight container in the refrigerator for up to 5 days. You can also freeze to serve later.
Did you make this recipe?
Let us know what you think!
Leave a Comment below or share a photo and tag me on Instagram with the hashtag #loveandoliveoil.