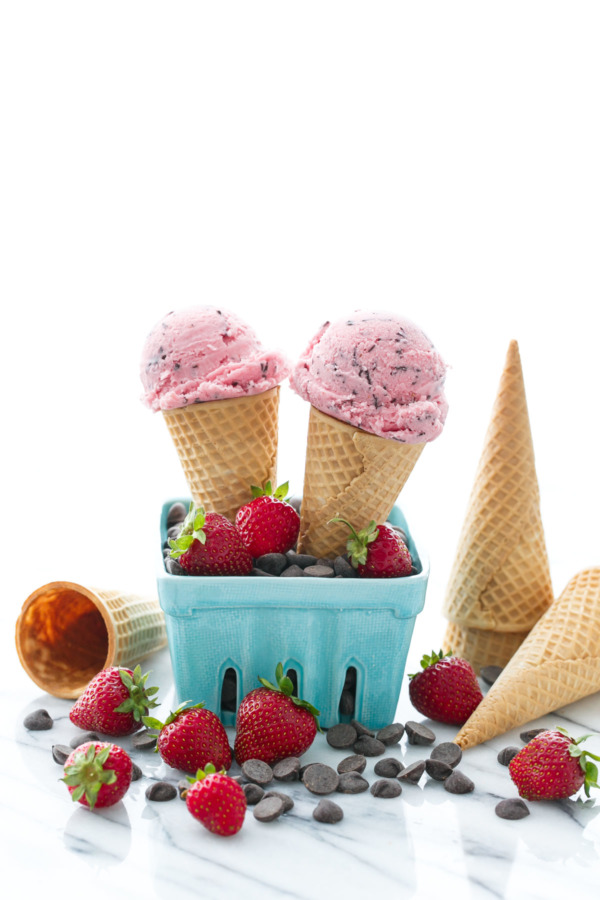 A play on the Italian stracciatella, meaning striated, referring to the little shards or stripes of chocolate scattered throughout a scoop of vanilla gelato (there's also stracciatella cheese and a kind of egg-drop soup, but for the purposes of this post we're talking about the frozen dairy kind). Yes, you could technically call stracciatella gelato "chocolate chip" but I'd argue it is so much better: the fine bits of chocolate make for an ideal textural experience, far superior to that of regular old chocolate chip.
I've made homemade stracciatella gelato before. I've also used the same technique with fresh fig ice cream.
But now, in what might be the best variation on classic stracciatella yet… here we have fresh strawberry ice cream, creamy and fruity and flecked with dark, bittersweet chocolate.
This isn't stracciatella: this is strawcciatella. (Get it? Strawberry stracciatella? STRAW-cciatella. Lol. I crack myself up sometimes).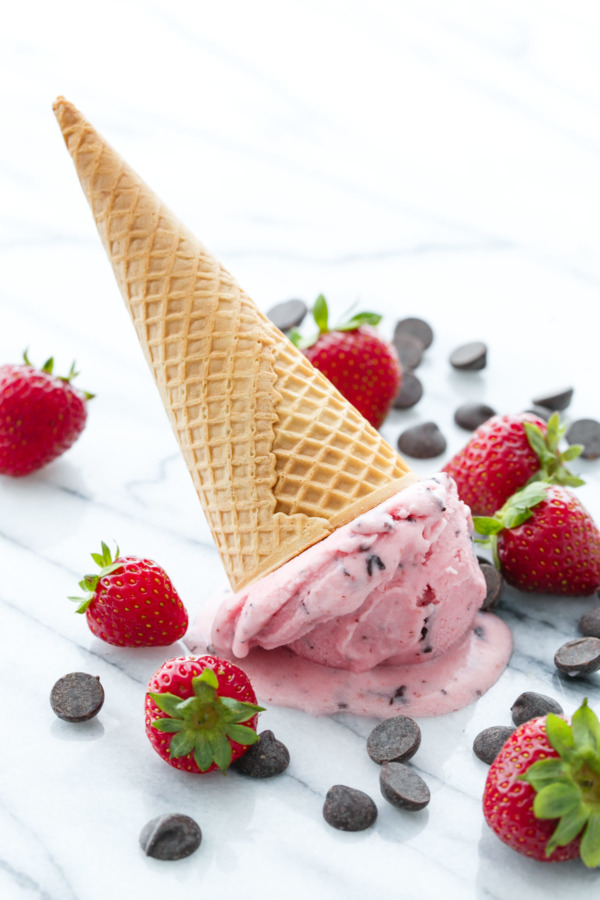 While the inspiration for this ice cream may have come from a play on words, the flavor is easily one of my favorites. The fresh strawberry sings, there's no denying who is the star of the show here. The chocolate, well, let's just call it the lead backup singer. Necessary for the perfect harmony of flavors that is this ice cream.
The problem with most strawberry ice cream recipes is the lack of strawberry flavor. Cooked berries become flat and one-dimensional, and egg yolks will overpower the fresh fruit with an undesirably richness that coats the tongue. Egg yolks are lovely for texture, and that's why egg-based ice creams are usually my go-to for homemade ice cream; but when it comes to fruit, that egginess is the #1 killer of the lovely fresh fruit flavor.
So for this recipe, I went egg-free (and subsequently, heat-free). That's right, because there are no eggs in this recipe, no heat is required to cook and temper them. The ice cream base can be made in a blender in under 10 minutes. And yet, the final result is surprisingly creamy, with no heavy egg flavor to overpower the fresh strawberry.
The secret? Corn syrup (and please, don't leave this out: it's what keeps this ice cream creamy in lieu of eggs.)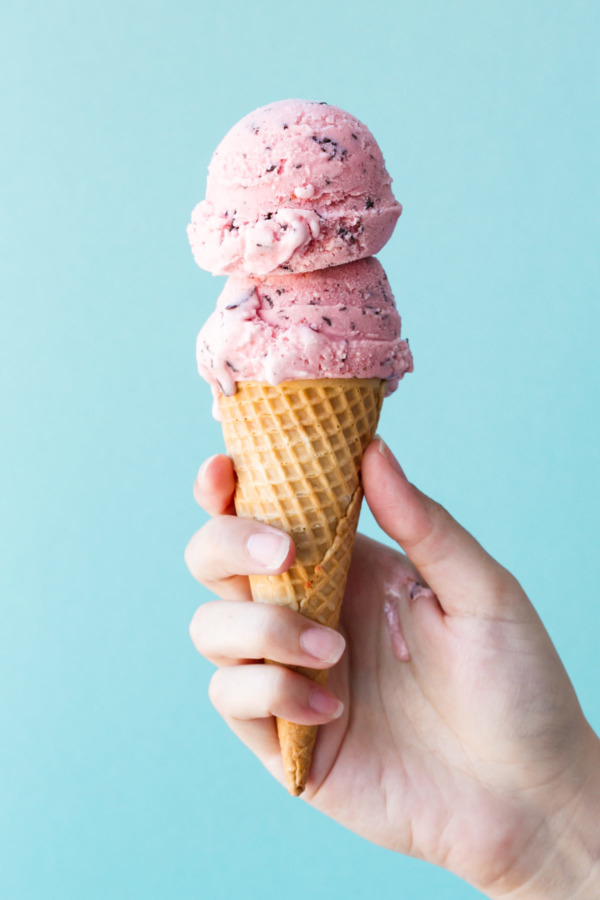 I used fresh, local berries from the farmers' market, and I recommend hunting down the best berries possible for this recipe. Basically, your ice cream will taste like your berries. So if you buy out-of-season, crispy white flavorless berries, your ice cream will reflect that lack of flavor. You want berries that are juicy, ripe and bright red throughout. If it is not strawberry season, you are best off using frozen strawberries, or making an different ice cream flavor entirely.
But since it is strawberry season… hurry and make a batch of this now while the berries are perfect. And then freeze some more berries to keep making it all summer (and winter) long.
The chocolate shards are made by drizzling a fine stream of melted chocolate directly into the nearly-finished ice cream. As it churns, the chocolate freezes on contact and breaks up into fine bits of crunchy chocolate. These fine bits are what make this stracciatella as opposed to chocolate chip. The difference is in the texture: rather than hard bits of chocolate that interrupt the smooth creaminess of the chocolate, the shards are so fine they practically melt in your mouth.
I found the easiest way to do this is to put your melted chocolate (cooled to lukewarm) in a zip-top bag. Cut off the tiniest piece of the corner and squeeze it straight into your ice cream maker. If your ice cream maker doesn't allow for this action, you can also drizzle the chocolate over top and stir it in to break it up and incorporate it evenly throughout.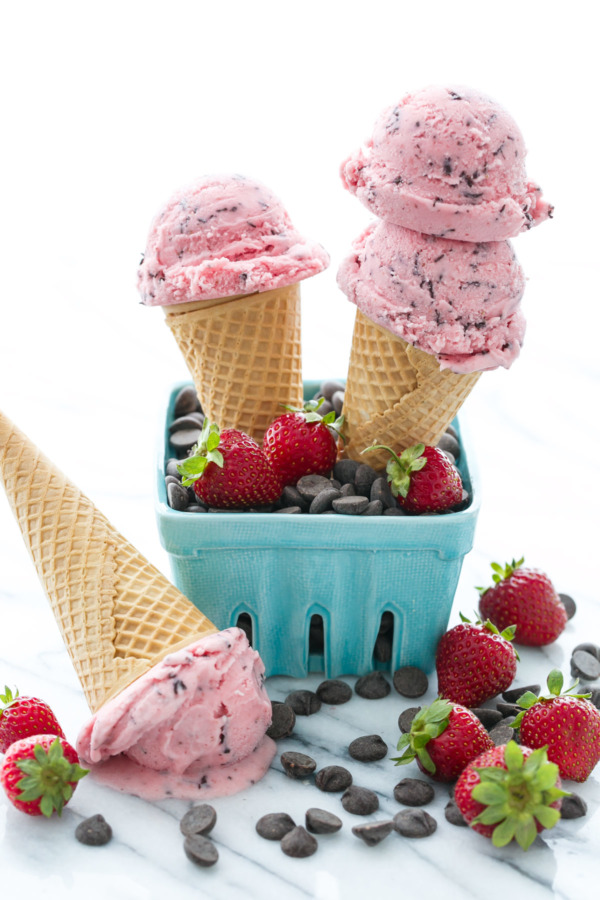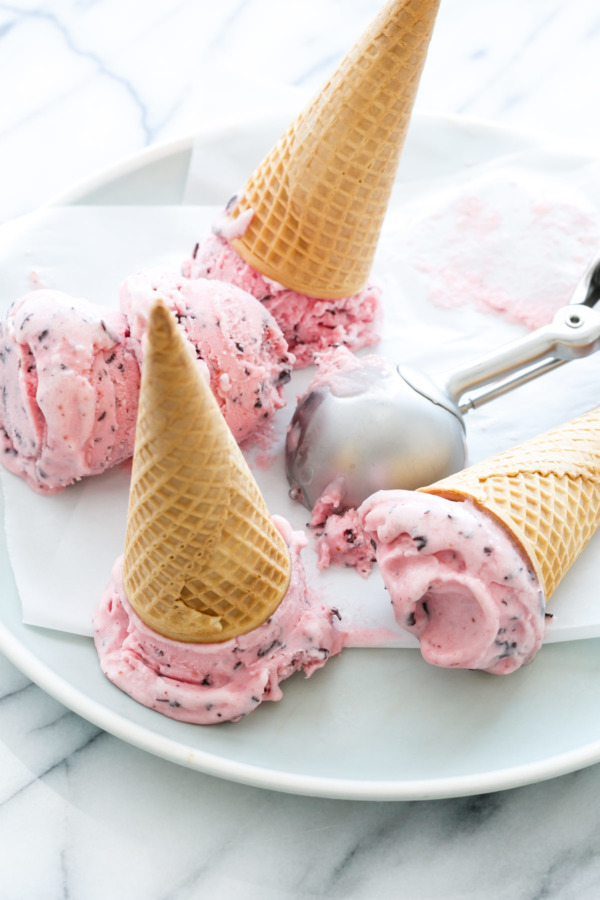 Of course, you can also make this ice cream sans-chocolate (though why you would ever do such a thing is beyond me). Chocolate and strawberry were made for each other, with that combination you really can't go wrong.
Strawcciatella Ice Cream
Strawcciatella, aka strawberry stracciatella, is made with fresh strawberries and fine shards of bittersweet chocolate for a creamy homemade ice cream that's utterly divine.
Ingredients:
16 ounces fresh or frozen strawberries
1 1/4 cups whole milk
1 cup heavy cream
1/2 cup light corn syrup
1/2 cup granulated sugar
1/2 teaspoon salt
1 tablespoon limoncello liqueur or 1 teaspoon lemon juice
4 ounces dark or bittersweet chocolate (60-70%), finely chopped
Directions:
Wash and hull fresh strawberries. For frozen berries, you want them to be mostly thawed, reserving the juices.
Puree berries until smooth. Measure out 1 1/2 cups of strawberry puree. Any excess can be reserved for another use.
Return measured puree to blender along with milk, cream, corn syrup, sugar, and salt. Blend on low speed until smooth. Add limoncello or lemon juice if desired, to taste.
Pour ice cream base into a bowl; cover and refrigerate overnight until completely chilled.
The next day, pour ice cream base into ice cream maker and churn according to manufacturer's instructions.
While ice cream is churning, melt chocolate until smooth; let cool to lukewarm. Transfer to a zip-top sandwich bag.
When ice cream is the consistency of soft serve, snip off the tiniest end of the zip-top bag. Drizzle melted chocolate into ice cream as it churns; it will freeze instantly and then break apart into chunks. You can also drizzle in chocolate and then stir by hand as well, until most of the chocolate is gone.
Transfer ice cream to a freezer safe container, drizzling more chocolate if desired between layers and on top. Freeze overnight until firm.
Did you make this recipe?
Let us know what you think!
Leave a Comment below or share a photo and tag me on Instagram with the hashtag #loveandoliveoil.