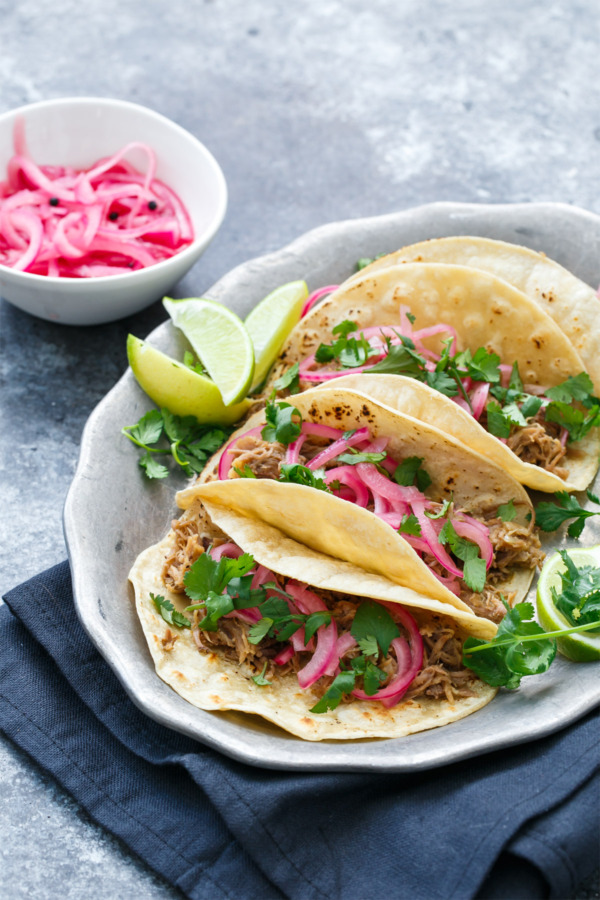 First of all, let me apologize for the lighter-than-usual posting schedule this next week and a half. We're in Japan at the moment (probably not eating tacos would be a safe assumption). I had grand plans of having a full docket of content ready to go and scheduled before we left. I actually have all the recipes tested and shot and transcribed, but as for writing the actual content of the posts… well.. it just didn't happen. Take comfort knowing that I plan to hit the ground running as soon as we're back, sharing with you all these new recipes (plus delicious tales from our travels abroad) with you.
In the meantime… let's talk about these tacos.
There's nothing fancy to see here. In fact, when it comes to tacos, I'd argue that simple is best. I'm not muddying up the flavor profiles here with a twice-grilled dragonfruit salsa with ginger-mango-hibsicus-yuzu (or whatever bizarre combination you'd like to imagine in this hypothetical situation).
No siree.
These tacos are all about the meat: meat so flavorful on its own you need little more than some pickled onions and fresh cilantro to finish it all off. And actually, the pickled onions are entirely optional (I like them because, well, look at that color!) But feel free to simply toss some finely chopped white/red onion on there with the fresh cilantro if you prefer.
The meat is similar to what would be called pork carnitas: basically the Mexican version of American pulled pork.
We made our carnitas in a slow cooker, simmered low and slow for 10 hours in a marinade of pineapple juice, lime juice, and spices. The result is practically candy, if pork candy were such a thing. The mix of fruit juices makes for a super sweet, and ultra tender result.


We're slowly getting more accustomed to our slow cooker, and this is one recipe where it is perfectly suited for the job. Previously when we've made pulled pork, we've used a dutch oven, started it on the stove top and then moved it to the oven where it cooks at a fairly low temperature for most of the day. But that involves checking on it pretty regularly, making sure the liquid hasn't all evaporated, not to mention cleaning the crud off the pot once it's all done. The slow cooker isn't any quicker (but nor is it slower, for that matter), it just requires less thought. Dump all your ingredients in the pot, turn it on, and come back 10 hours later to meat so tender it practically disintegrates with the merest touch of a fork.
Because of the long cooking time, I highly recommend cooking this one the day before (unless you like getting up at like 4AM to start dinner). It's actually better that way, as you can let the leftover juices chill and then more easily skim off the fat. The remaining liquid then gets reduced slightly and added to the pulled meat just prior to serving, re-warming it and making it extra juicy and flavorful. The onions can be made ahead of time too, so all you really need to do before serving it is reduce the sauce, warm the tortillas (or, you know, make homemade ones if you're feeling ambitious), and chop up the cilantro.
Slow-Cooker Pulled Pork Tacos with Quick Pickled Onions
Tender, tangy pulled pork cooked low and slow in a slow cooker. This recipe is best if you make the meat a day ahead of time; let the drippings chill overnight then skim off the fat, and reduce the remaining liquid into the sauce.
Ingredients:
For Pulled Pork:
3 pounds boneless pork shoulder
1 cup pineapple juice
1/4 cup lime juice
1 teaspoon lime zest
5 garlic cloves, chopped
1 medium onion, sliced
2 tablespoons light brown sugar
1 teaspoon kosher salt
1 teaspoon ground oregano
1/2 teaspoon ground cumin
1/2 teaspoon freshly ground black pepper
18 6-inch corn tortillas, warmed
fresh cilantro, for topping
For Pickled Onions:
1 red onion, very thinly sliced
boiling water, for blanching
1 cup apple cider vinegar (or use a mix of cider and white vinegar)
2 tablespoons granulated sugar
1 teaspoon kosher salt
1 teaspoon whole black peppercorns
Directions:
Remove string from pork shoulder. Place in slow cooker along with pineapple juice, lime juice, lime zest, garlic, onion, brown sugar, salt, pepper, oregano, and cumin. Cover and cook on low heat for 10 hours, or until pork is tender and practically falling apart.
Remove pork shoulder from slow cooker and transfer to a cutting surface. Pull into shreds using two forks. If making this ahead of time, the shredded meat should be stored in an airtight container overnight.
Reserve remaining liquid. If making this a day ahead of time, place in a bowl or container and refrigerate overnight. The fat should separate out in a layer on the top, which you can easily remove. Otherwise, if using the same day, skim off as much fat as you can and proceed as instructed.
Place reserved liquid in a large saucepan and bring to a simmer. Let it reduce until thickened, about 10 minutes. Add shredded meat and cook over medium-low heat until heated through.
Spoon meat into warm tortillas. Top with pickled onions and fresh cilantro, as desired.
For Pickled Onions:
Place thinly sliced onions in a bowl. Sprinkle generously with salt and let sit for 5 minutes, then pour boiling water over top. This will help get rid of some of the raw bite of the onion. Drain well.
Heat vinegar, sugar, salt, and peppercorns in a saucepan or in the microwave until sugar is completely dissolved. Pour over onions. Cover and refrigerate for at least 30 minutes, or overnight.
Did you make this recipe?
Let us know what you think!
Leave a Comment below or share a photo and tag me on Instagram with the hashtag #loveandoliveoil.