Let me start by saying:
I have never liked stuffing. (Excuse me, technically it is DRESSING since it is baked outside the bird but I'll never get used to calling it that.)
Amidst the gluttony of Thanksgiving, stuffing is the one dish I will gladly give up to make room on the table (and in my stomach) for other things, biscuits or mashed potatoes or a second or third slice of pie. The only stuffing I've ever had and really liked is my Aunt Sally's "million dollar" dressing, which features an entire bottle of Grand Marnier (so it's no wonder I like it so much). But otherwise, stuffing to me is nothing more than a waste of valuable stomach space.
Until now.
This stuffing just might be a game changer, folks.
What makes this stuffing so special? It features Italian sausage, caramelized fennel, and marble rye bread. The fennel in the sausage enhances the flavor of the caramelized fennel, and plays beautifully with the caraway in the rye bread. Unusual? Yes. Delicious? Definitely.
But the real star of the show in my mind is the caramelized fennel. Two whole bulbs of it, to be precise. Trust me, it seems like a lot more fennel when you start; once it cooks down and gets all browned and happy, it's a much more reasonable amount. We roast the fennel in the oven, since, with this much fennel, it would be very hard to get good caramelization on such a large quantity of fennel (unless you have a really big pan, of course). Plus, in the oven it just needs a stir ever 10 to 15 minutes, the rest of the time you can be working on preparing the other parts of the recipe.
The fennel then gets tossed with cubes of marble rye bread, sautéed carrot and shallot and fresh parsley and thyme, and, for moisture, a mix of egg, chicken broth, and molasses for a touch of sweetness. Depending on how moist or dry your bread is, you might want to add additional chicken broth as necessary.
This recipe is one of two we've prepared for the Kitchenthusiast blog this Thanksgiving highlighting our new KitchenAid® electric range with a double oven (this is the first year I've ever had a double oven on Thanksgiving, and I'm am beyond excited to say the least). The other recipe we developed are these soft Oat & Honey Multigrain Dinner Rolls, which are simply divine spread with soft salted butter or dredged in gravy and mashed potato.
I guess you could say we've got the carbs more than covered this Thanksgiving. As it should be.
Italian Sausage & Caramelized Fennel Stuffing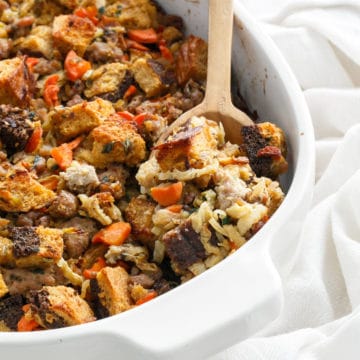 Ingredients:
1 lb loaf marble rye, rye, or pumpernickel bread, cut into 1/2 to 3/4-inch cubes (about 10 cups cubed)
2 fennel bulbs, cored, halved, and very thinly sliced (about 5 cups sliced)
2 tablespoons unsalted butter, melted
2 tablespoons olive oil
1/2 teaspoon kosher salt, plus more to taste
1/2 teaspoon freshly ground black pepper, plus more to taste
2 tablespoons unsalted butter
3 large carrots, chopped (about 2 cups chopped)
3 large shallots, chopped (about 1/2 cups chopped)
2 tablespoons chopped fresh parsley
2 teaspoons chopped fresh thyme
1/2 teaspoon whole fennel seed
1 pound mild Italian sausage (casings removed if purchased in links)
1 1/2 cups chicken stock
3 large eggs
2 tablespoons molasses
Directions:
Preheat oven to 400 degrees F. Line a sheet pan with aluminum foil; spray with cooking spray. Also prepare a 3 quart casserole dish by brushing with melted butter or spraying with cooking spray.
Cut bread into cubes. If your bread is a few days old it might be fine as is, but if it seems particularly fresh and moist, you can spread it on a sheet pan and toast it for 5 to 10 minutes to dry it out. This will allow the bread to absorb more of the chicken broth when baking.
In a bowl, toss sliced fennel with melted butter and olive oil. Season with 1/2 teaspoon each salt and pepper. Spread into a single layer on prepared sheet pan. Bake for 30 to 35 minutes, stirring every 10 minutes or so, until fennel is soft and caramelized. Transfer to a large bowl and set aside.
Melt 2 tablespoons butter in a large saucepan set over medium-high heat. Add carrot and shallot and cook until softened, about 10 to 15 minutes. Add fennel seed, parsley, and thyme and cook for 1 minute more. Season with a generous pinch of salt and pepper, to taste. Transfer to bowl with fennel.
Return pan to medium heat. Add sausage to pan and cook, breaking up large pieces as you go, until browned, 5 to 10 minutes. Let cool slightly, then transfer to bowl with vegetables.
Whisk together chicken stock, eggs, and molasses in a bowl or glass measuring cup.
Add bread cubes to bowl with vegetables and toss to evenly distribute. Add liquid and stir until evenly absorbed. If you prefer extra moist stuffing, and depending on how dry your bread is, you can add up to another 1/2 cup of chicken broth as needed until bread is moistened throughout, but not yet soggy.
Pour bread mixture into prepared casserole dish, spreading into an even layer in the pan. Bake for 30 to 35 minutes or until top is golden brown and crispy and stuffing is hot all the way through. Let cool for 15 minutes before serving.
Did you make this recipe?
Let us know what you think!
Leave a Comment below or share a photo and tag me on Instagram with the hashtag #loveandoliveoil.
This recipe was created in partnership with KitchenAid®. All opinions are my own. Be sure to share your take on these recipes on Instagram using #MadeWithKitchenAid for a chance to be featured on the @KitchenAidUSA account!