It came to me like a dream, visions of ice cream sandwiches dancing in my head. My sweet fortune, my delicious destiny, like some dessert seer gazing into my crystal ball (made of blown sugar, obviously).
The image in my head, with all its glorious layers, proved to be trickier than anticipated to actually execute in this realm. Figuring out the logistics of the assembly gave me a serious brain freeze, and at times I felt like this recipe was more nightmare than dream. First the cookie was too thick, then it was too crumbly, or the jam was too thin and runny, or the proportions of the whole thing were off, making it weirdly huge and hard to eat. I even briefly considered turning this into a terrine instead to resolve my issues (an idea which I promptly scrapped when I realized that sugar cookies are far superior to sponge cake).
As it turns out, the 4th try is a charm.
The result of this kitchen sorcery is a gorgeously layered and robustly flavored frozen treat, each layer yielding to the next in a cacophony of summery flavors and buttery cookie.
The flavor journey starts with a tart and sweet blackberry buttermilk ice cream. While the ice cream isn't no-churn, I'll call it quick churn, since it involves little more than a few pulses in the food processor before getting poured into your ice cream maker.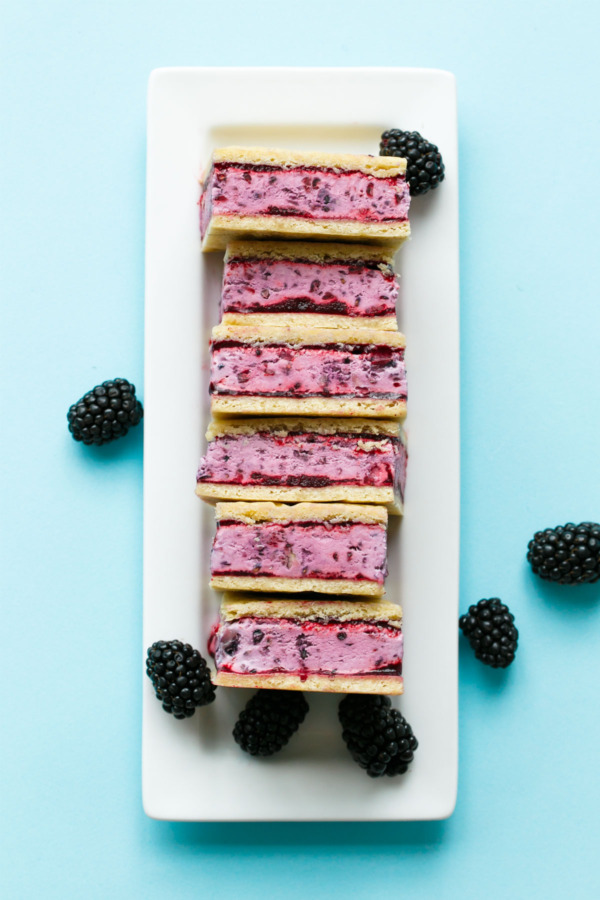 If some blackberry is good, then more is better, as evidenced by the layers of deep purple blackberry jam that sit back-to-back with the creamy ice cream. While you could certainly use store-bought blackberry jam here, my version is spiked with vanilla and almond and really can't be beat (in fact, you may even want to make double [er, triple?] and preserve some for later use).
All this, sandwiched between two almond-scented sugar cookies that (and this is key to a successful ice cream sandwich) stay perfectly soft, even right out of the freezer.
That's what I call a dessert trifecta.
In my numerous attempts to get this recipe just right, I discovered a few things about making ice cream sandwiches; tricks of the trade, if you will, to achieving perfectly square sandwiches with distinct layers.
The assembly process works best if you have two 8-by-8-inch square pans (straight sided if possible), though it will work with just one (simply bake them one at a time). The two cookies are baked in the pans, ensuring they are the perfect size for the final assembly. I found the easiest way to do this and ensure the cookie didn't get too thick was to roll out the dough between plastic wrap, trace around the edge of the pan with a knife, then flip the dough onto the parchment lining, and gently lower that into the pan. The dough on its own is too fragile, even after chilling, to ease into the pan without some support (it's very unlike a pie crust in that respect). That said, if your dough splits or breaks at any point, just patch it up and press it back together and no one will ever know. :)
Freeze the cookies and the pan before assembling (and, actually, everything that will touch the ice cream should be frozen), which will ensure that your ice cream stays frozen and doesn't melt as soon as it hits the room-temperature cookie.
Spread a thin layer of jam onto each cookie. About 1/4 cup per side. You will have leftover jam, but I'm sure you won't have any trouble figuring out what to do with it. Gently lower one of the cookies with its parchment lining back into the baking pan. You will use this pan to assemble your sandwiches.
Spread your freshly churned ice cream into the baking pan, then invert the second cookie on top.
Freeze the whole thing overnight or until frozen solid.
Lift the entire frozen block out of the baking pan (this is the true beauty of the parchment paper lining). Place on a cutting board and peel down the edges, then cut into squares for serving.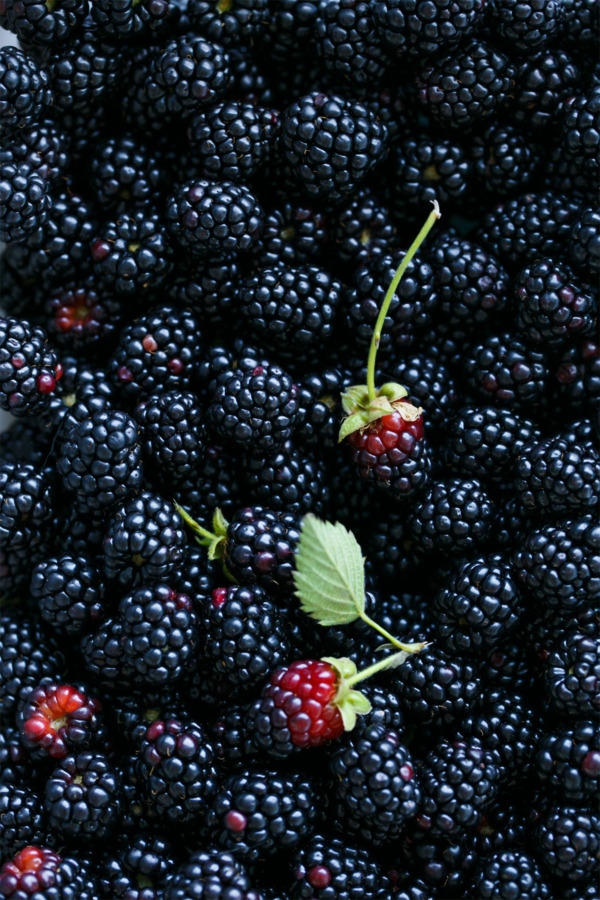 I'd also recommend having a landing pad (like a platter or baking sheet) in the freezer ready to go, so as soon as the sandwiches are cut they can be returned to the freezer before they start melting. You can also wrap each sandwich individually with waxed paper or plastic wrap if you plan to store them longer, it'll keep them fresher tasting that way.
The combination of wheat and almond flours which gives the sugar cookie a subtle almond flavor further enhanced with almond extract, and yet, unlike if this cookie was made using all almond flour, it still has the perfectly tender (not crumbly) texture that you expect in a good sugar cookie.
(recipe updated July 2018 to include a mix of AP/almond flours instead of the almond flour blend which is no longer available.)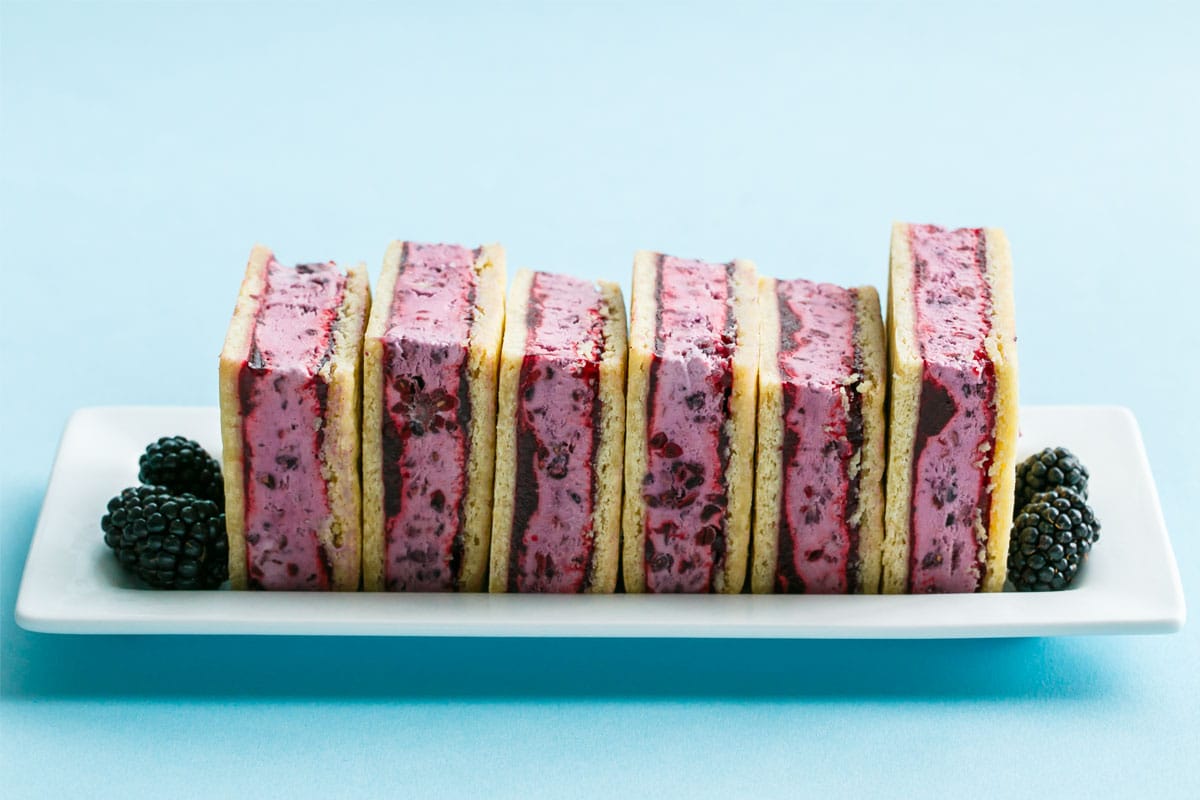 Buttermilk Blackberry Jam Ice Cream Sandwiches
Layers of blackberry buttermilk ice cream, sweet blackberry jam, and almond-scented sugar cookie come together to make one over-the-top ice cream sandwich.
Ingredients:
For Jam:
2 pints (12 ounces) fresh or frozen blackberries
1 tablespoon lemon juice
1/2 teaspoon calcium water* (included with the pectin)
1/2 cup granulated sugar
1/2 teaspoon Pomona's Universal Pectin
1/2 teaspoon vanilla bean paste or vanilla extract
1/4 teaspoon almond extract
For Sugar Cookie:
1/4 cup unsalted butter, room temperature
2 tablespoons unflavored shortening, room temperature
2/3 cup granulated sugar
1 large egg
1/2 teaspoon vanilla extract
1/2 teaspoon almond extract
1 cup (4.25 ounces) all-purpose flour**
1/2 (2.25 ounces) cup almond flour
1 1/2 teaspoons cornstarch
1/4 teaspoon baking soda
1/4 teaspoon kosher salt
For Ice Cream:
6 ounces fresh or frozen blackberries (thawed if frozen)
1 cup heavy cream, chilled
1/4 cup buttermilk
1/2 cup granulated sugar
2 teaspoons lemon juice
1/2 teaspoon vanilla bean paste or extract
pinch salt
Directions:
For Jam:
(You can also use store-bought jam here if you'd like)
Place blackberries in a saucepan over medium heat; cook, stirring and mashing as you go, for 5 to 10 minutes or until berries are softened and have released much of their juices.
Press softened berries through a fine mesh sieve to remove seeds (alternatively, use a food mill fitted with a fine screen). You should have about 1 cup of blackberry puree. If you want a bit more texture, add back a spoonful or two of seeds if desired.
In a bowl, whisk together sugar and pectin until evenly distributed.
Return strained blackberry to saucepan; add lemon juice and calcium water. Cook over medium-high heat until mixture comes to a full rolling boil. Add sugar and pectin, stirring vigorously until completely dissolved. Continue to stir until jam returns to a full boil, which shouldn't take more than 1 to 2 minutes. Remove from heat and let cool completely, then refrigerate until ready to use (can be made a few days ahead of time). This recipe makes about 1 cup of jam, which is more than you'll need for the recipe, but I'm confident you'll find a way to use up the rest. :)
For Sugar Cookie:
In a large mixing bowl or the bowl of a stand mixer, beat butter and shortening together on high speed until incorporated. Add sugar and beat until light and fluffy, approximately 2 to 3 minutes. Add egg and extracts and mix until incorporated. Scrape down the sides of the bowl.
In a bowl, whisk together flours, cornstarch, baking soda, and salt until evenly incorporated. Add to mixing bowl and mix on low speed until no dry ingredients remain.
Turn dough out onto a piece of plastic wrap; wrap tightly, shaping dough into a flat disk. Refrigerate for at least 30 minutes.
Preheat oven to 350 degrees F. Line two 8-by-8-inch square baking pans with parchment paper.
Remove dough from refrigerator and cut in half; return second half to the fridge until you are ready to work with it.
Place dough between two layers of generously floured plastic wrap or parchment paper. Roll to a 1/4-inch thick square as big as your square baking pan. Remove top layer of plastic wrap. Place baking pan on top and trace around the edge with a knife.
Place parchment paper lining from pan on top of square of dough, and carefully invert, lining up edges. Remove plastic wrap and gently ease parchment and dough back into baking pan. Refrigerate while you repeat the process with the second half of your dough (or, if you only have one pan, bake one cookie first, let it cool, then take it out of the pan and repeat this process for the second cookie).
Bake for 8 to 10 minutes or until cookie is puffed and top is matte in appearance. Do not overbake (the cookie will not show signs of browning when you take it out of the oven).
Let cookies cool in pans for 15 minutes, then gently lift out parchment lining and cookie together (keeping the cookie with its lining will make the assembly process easier). Place on a cooking rack and let cool completely. Freeze cookies (and at least one of the 8-by-8 baking pans) for at least 30 minutes or until ready to use. Making sure the cookies (and the baking pan for assembly purposes) are good and frozen will ensure the ice cream stays solid.
For Ice Cream:
Combine blackberries, cream, buttermilk, sugar, lemon juice, vanilla, and salt in a food processor. Pulse 2 or 3 times until combined and mixture turns light purple; there should still be chunks of berries visible (do not puree).
Pour mixture into an ice cream maker and churn according to manufacturer instructions.
To Assemble:
While ice cream is churning, spread 1/4 cup of jam onto each frozen cookie. Place one cookie (along with the parchment it is stuck to) in the bottom of one 8-by-8-inch baking pan. This pan will serve as an assembly vessel for the final ice cream sandwiches. Return to freezer for at least 10 minutes or until ice cream is ready.
When ice cream is the consistency of soft serve, spoon into baking pan on top of one jam-covered cookie, spreading into an even layer. Invert second cookie and gently place on top of ice cream, jam side down, pressing very lightly to adhere.
Cover pan with foil or plastic wrap and freeze overnight or until solid.
To serve, gently lift out entire block using parchment paper as a handle. Place on a cutting board and cut into squares using a large knife. Serve immediately, or wrap sandwiches in waxed paper and return to freezer until ready to serve.
*Calcium powder to make calcium water is included with the Pomona's brand pectin. If you are substituting another pectin brand/type, please follow the instructions inside your pectin package, paying attention to the process and the proportion of fruit to sugar required by that type of pectin (different kinds of pectin will require different amounts of sugar to properly set).
**This recipe was originally written using an almond flour blend, a product which is no longer available, so I've rewritten it to include a mix of AP and almond flours instead.
Did you make this recipe?
Let us know what you think!
Leave a Comment below or share a photo and tag me on Instagram with the hashtag #loveandoliveoil.