This recipe was created in partnership with McCormick®, whose products spice up our own kitchen on a daily basis. Thanks for supporting us and the brands we love!
A baked version of a vegetarian version of a dinnertime classic.
Although, in my humble opinion it should really be called Eggplant Mozzarella because seriously, with all that perfectly stringy, melty cheese, it's the mozzarella that really steals the show.
The Parmesan is just there for moral support.
This recipe was inspired by a dish we enjoyed on our recent cruise, an eggplant parmesan that is baked rather than breaded and fried, layered in an individual size ramekin not unlike a veg-based lasagna. It's something we've been wanting to recreate, and we figured it would be the perfect way to showcase these new Herb Grinders from McCormick®.
Until now, I've really only seen salt and pepper grinders. Sure they're often blended and flavored but still, salt and pepper. Never herbs. And honestly, I'm surprised no one ever thought of this before.
Unlike typical dried herbs and herb blends, the new Grinders have larger pieces, which allow the herbs to retain more of their natural oils for a fresher and more flavorful experience. The Italian blend is the perfect mix of basil, rosemary, and oregano… no playing with proportions here because it's all ready to go (or should I say, ready to grind?) We added a generous amount to the tomato sauce, and sprinkled it in between the layers too for even more flavor.
The assembly process for this dish is a lot like lasagna (if noodles were made from eggplant), alternating layers of sauce, eggplant, and cheese. Start with sauce and end with cheese, and stack as many layers in the middle as your container will allow.
Ideally, your ramekins should be the same diameter as that of your eggplant (or, rather, buy an eggplant that's about the same size as whatever ramekins you'll be using). The oven-safe bakers we used here are from World Market, and were the perfect size for the largest eggplant I could find (remember the eggplant slices will shrink slightly after baking).
No appropriately-sized ramekins (or giant eggplant)? You can also use a small casserole dish or cast-iron skillet, and layer the eggplant slices in stacks or overlapping with sauce and cheese for a more family-style presentation. Give it a bit longer to bake, but otherwise, it's essentially an identical process.
If you miss the crunch that traditional breaded-and-fried EP provides, feel free to add a sprinkle of panko in between and on top of the final layer of cheese.
Despite what you may have been lead to believe about eggplant, you don't need to salt and drain the bitterness away beforehand. Rather, you just have to be sure it's prepared right. In this case, the eggplant is seasoned, lightly brushed with olive oil, and broiled until tender and lightly browned. Since it'll only get a few minutes in the oven after it is assembled with the sauce and cheese, this pre-cooking step is necessary to ensure the eggplant is fully cooked through when the cheese reaches peak meltiness (and yes, meltiness is totally a word, especially when one is talking about eggplant parmesan). I think you'll find that this method of preparation leaves the eggplant soft and flavorful and without a trace of bitterness.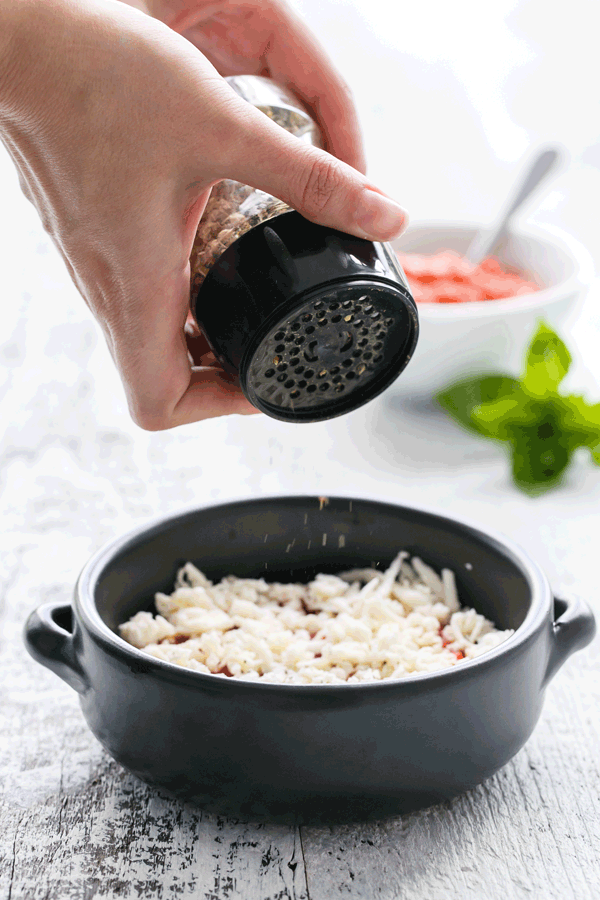 Vegetarian or not… how could you not love all that gooey melty cheese?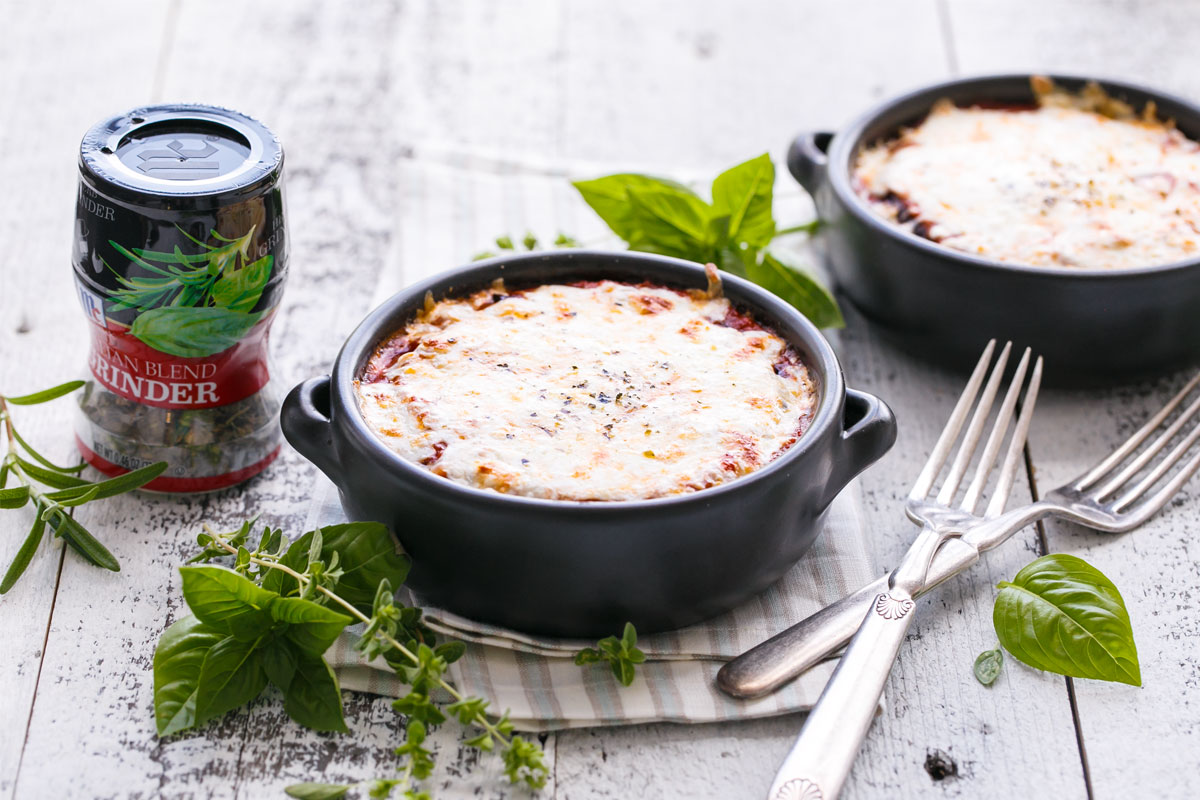 Baked Eggplant Parmesan
Baked (not fried) in individual ramekins, this satisfying vegetarian recipe is a total crowd-pleaser. How could you not love all that gooey melty cheese?
Ingredients:
1/4 cup plus 2 tablespoons olive oil, divided
4 large garlic cloves, minced
1 (28oz) can San Marzano tomato puree (you can also use whole tomatoes, pureed with juices in blender or food processor until smooth)
1 teaspoon McCormick® Italian Blend Herb Grinder, plus more to taste
1/2 teaspoon salt, or to taste
1 large eggplant, sliced into 3/8-inch thick slices
12 ounces fresh mozzarella cheese, grated or sliced (3 cups grated)
1 ounce finely grated Parmesan cheese (1/2 cup grated)
Directions:
Preheat broiler to high; position oven rack in top third of oven (one slot down from the top). Line a baking sheet with aluminum foil and lightly spray with cooking spray. You will also need 4 round ramekins (about 4-6 inches in diameter by 1-inch deep). You can also use a small (2 qt.) casserole instead of individual ramekins.
Heat 2 tablespoons olive oil in a medium saucepan over medium heat. Add garlic and sauté 30 seconds until fragrant. Add tomato puree, Italian seasoning, and salt and gently simmer for about 20 minutes or until sauce is thickened. Remove from heat.
Meanwhile, arrange eggplant slices in a single layer on prepared baking sheet. Brush with olive oil, then season with salt and pepper. Flip and repeat with other side.
Broil eggplant for 4 to 5 minutes per side, until softened and starting to brown. The eggplant shouldn't be so soft that it falls apart when you pick it up, however it should be cooked through.
Set oven temperature to 350 degrees F.
To assemble, spread a spoonful of the sauce into the bottom of each ramekin. Top with a slice of eggplant, followed by another spoonful of sauce. Sprinkle with a bit of Italian seasoning, then an even coating of mozzarella cheese and a bit of parmesan. Repeat, layering two more slices of eggplant with sauce, sprinkle, and finally top with remaining cheese and a final sprinkle of Italian seasoning.
Arrange ramekins on baking sheet and bake for 15 minutes or until heated through (slightly longer if sauce and eggplant were totally cooled when you assembled them). If baking in a casserole dish instead of individual ramekins, bake for 20 to 25 minutes. Turn on oven broiler and broil for 2-3 minutes, watching carefully, until top is bubbly and cheese is browned in spots. Remove from oven and let cool for 5 minutes before serving.
Did you make this recipe?
Let us know what you think!
Leave a Comment below or share a photo and tag me on Instagram with the hashtag #loveandoliveoil.
Disclosure: This recipe was created in partnership with McCormick®. As always, all opinions written are purely our own. We're incredibly grateful for opportunities like these that allow us to continue sharing delicious recipes with you, so thank you for supporting us and the brands we love.